Is Droid Depot worth it with Young Children?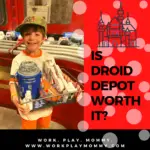 You want to build a droid at Walt Disney World? Then Droid Depot at Disney's Galaxy's Edge in Hollywood Studios is the place to do it. However, what you really want to know is whether that splurge on Droid Depot is worth it!
Our family is a Disney-loving family that has enjoyed many family memories at the parks, resorts, and movies! However, we are also a family on a budget! There are so many things to do at the Disney parks and so many things to see that it can often be difficult to choose where to spend your hard-earned cash.
Before we determine whether Droid Depot is worth the time away from the park and the expense for young children, you might be wondering what all the hype at Droid Depot is about.
Here, we want to share our personal experiences at Droid Depot, what you can expect, and our pros and cons to building a droid as part of your Star Wars Galaxy's Edge experience.
WHAT IS DROID DEPOT?
Secreted in the heart of Batuu in Star Wars Galaxy's Edge in Disney's Hollywood Studios is the Droid Depot. And, while you might find that the bulk of the entertainment at Batuu and Star Wars Galaxy's Edge is aimed at 20-40 year old men looking to relive their favorite movies, Droid Depot stands out for the younger crowd!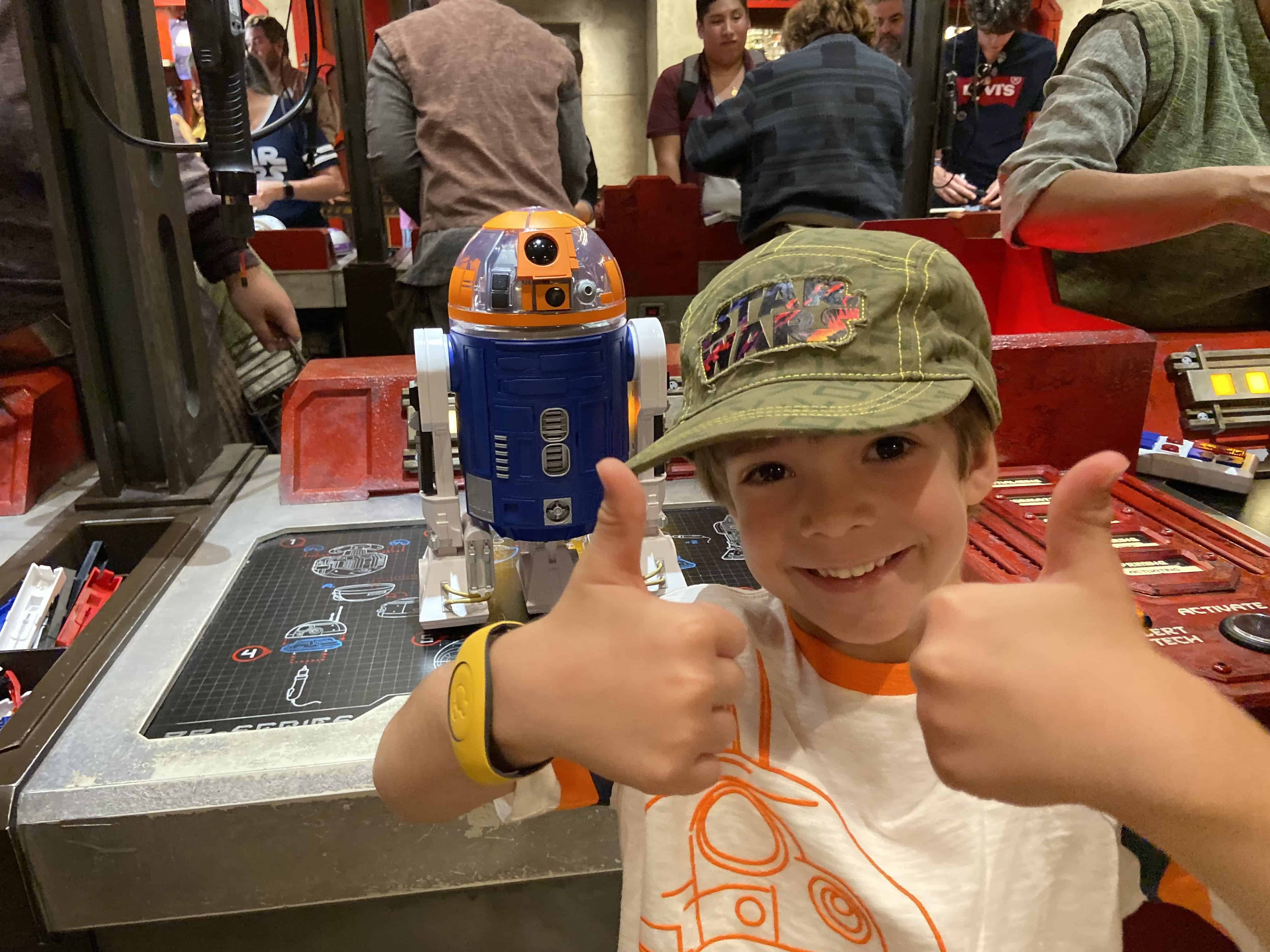 From the outside, Droid Depot is a rustic looking shack on an alien planet. However, when you enter, it is a fair-sized shop that specializes in only 1 product: personalized custom droids.
At Droid Depot, travelers have the opportunity to build a BB series or an R series astromech droid to take home as their very own friend.
These droids aren't simply a hunk of plastic; no, they are remote-controlled, interactive droids that just might become your child's new favorite toy.
HOW DOES DROID DEPOT WORK
BOOK IN ADVANCE
Like many interactive experiences in Star Wars Galaxy's Edge, Droid Depot can fill up in advance. Therefore, if you know that you want to make a droid, then I highly recommend that you book a build- time at Droid Depot well in advance. 
Currently, you can book your reservation through the My Disney Experience App up to 60 days in advance. (Remember you must also have a confirmed park pass and reservation for the day of your build experience.) However, a few day-of spots are available each day for walk-ups.
COST
Every droid at Droid Depot costs the same amount: $119.99. However, as you would expect, you can buy endless customizations for your droid from bags to blasters. You can even purchase customized voice chips, interchangeable color panels, and even replacement parts for your droid before you leave the gift shop.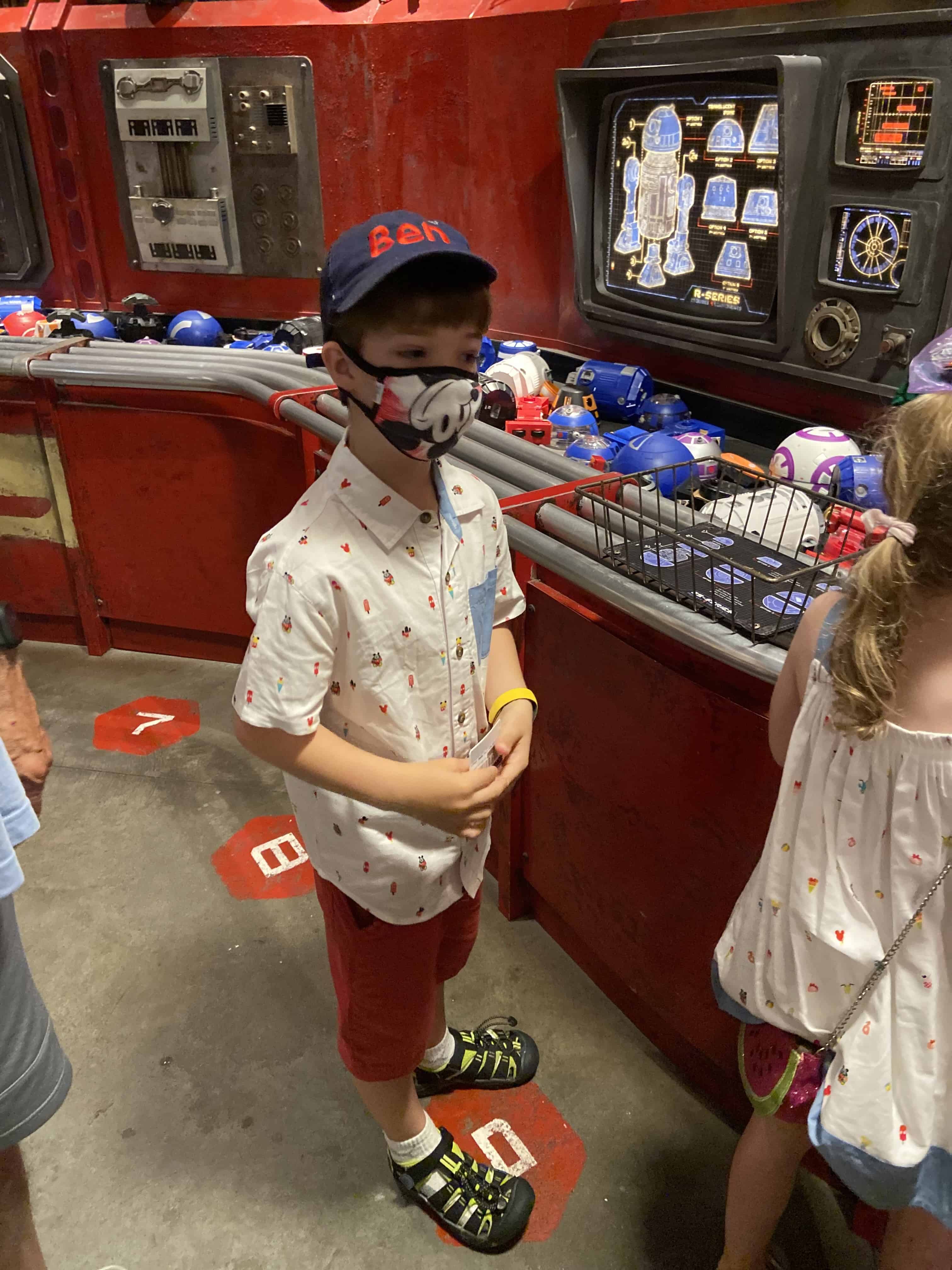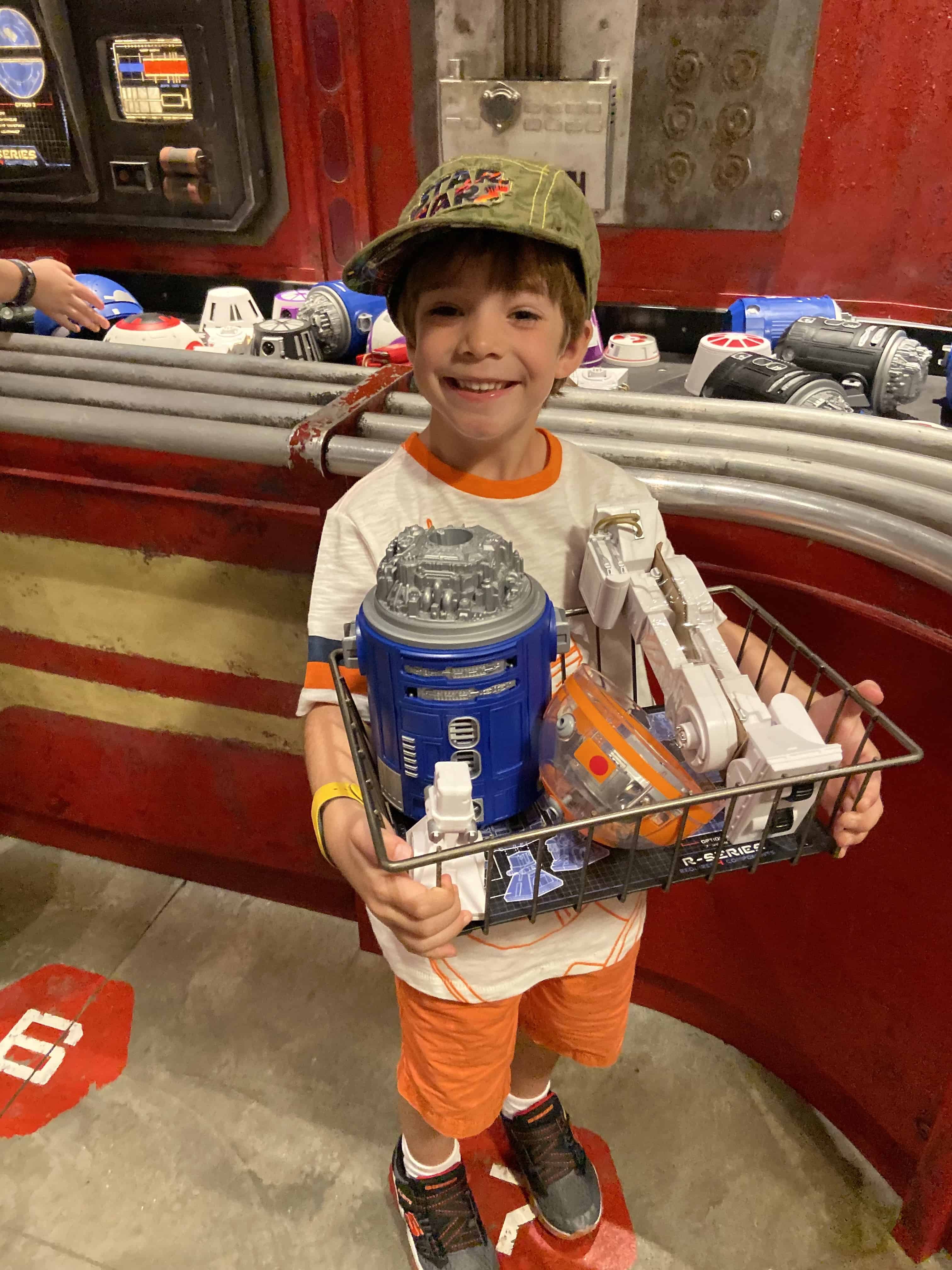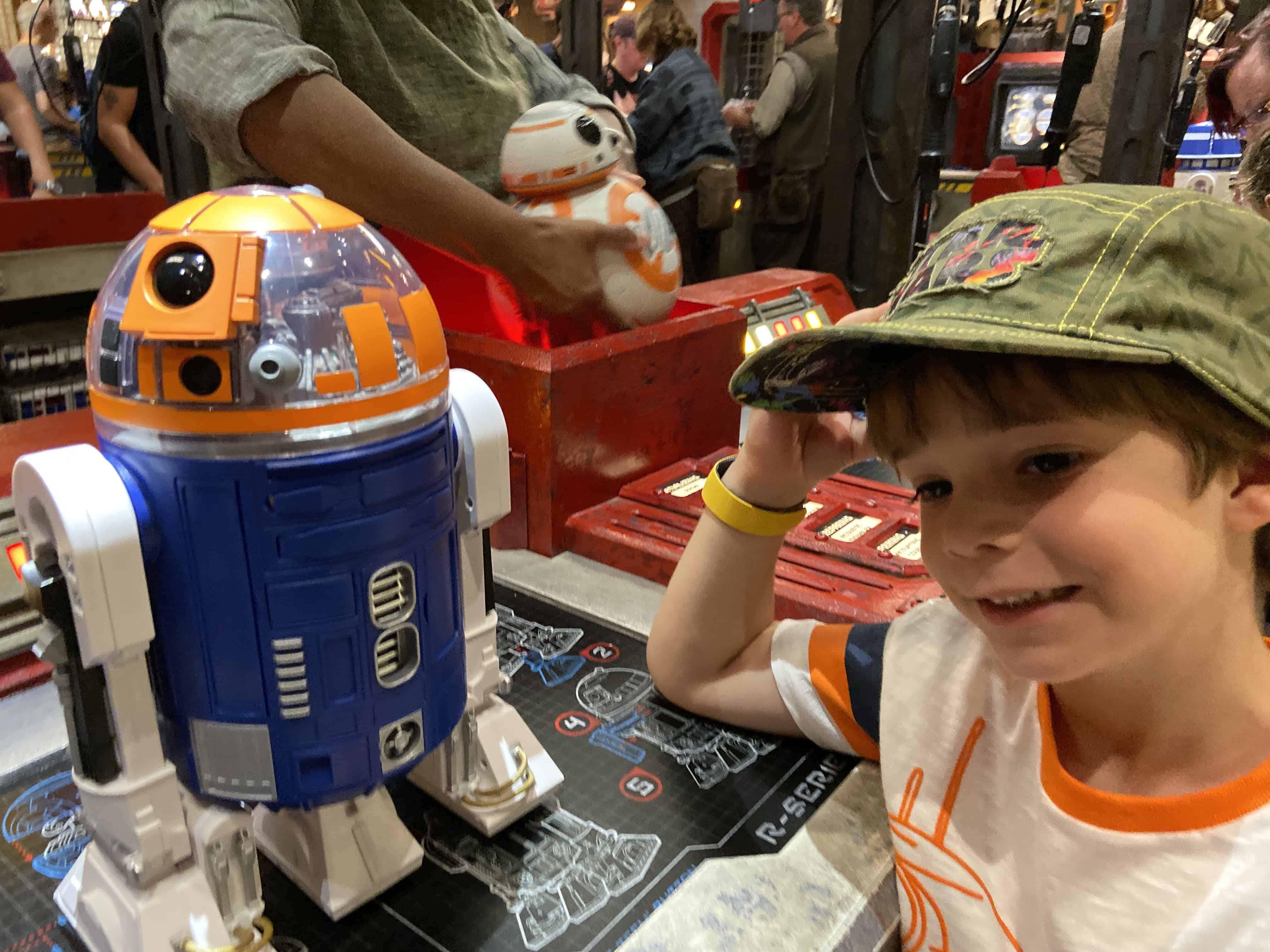 PROCESS
After you pay your $119.99, you move on to the actual designing at the parts station. You or your child has the option to choose colors, features, and designs from the custom parts that move along a conveyor belt. Cast members will instruct you in the types of droids and help you determine what type of droid you want to build. Then, you can use your custom build chart to choose your personalized pieces from there.
After gathering all of the parts from a moving conveyor belt (my son's favorite part), you move on to building! Each builder gets individualized attention from one of the Droid Depot employees at a build station.
At the building station, you or your child has the opportunity to actually construct the robot. Cast members assist builders with using the fun tools provided in the workshop. Your child will love using the specialized drills and watching as their robot comes to life upon activation.
WHAT CAN I EXPECT AT DROID DEPOT
WHO CAN ENTER?
Each builder can enter Droid Depot with one guest. Therefore, if you have a child who is going to make a droid, then you will need to choose only one adult to go with him/her. For a first time child, I highly recommend sending him or her with an adult as the decisions could be overwhelming. But, this does not completely exclude the rest of the family.
HOW TO OBSERVE?
Unlike Savi's Workshop, where the other parent or the rest of the family has to wait outside, Droid Depot has an observation bay. The parent who doesn't get to build with the builder, can still be part of the fun.
If the non-building parent or family enter Droid Depot from the gift shop side, then you can stay behind the gates and watch your child choose his new friend, the colors, the style, and the pieces.
Of course, you might find yourself shopping for additional droid parts while you wait!
WHO PARTICIPATES?
If you are building with your child, you can expect to be swept up in the magic of making a droid with your child! Watching all those parts, pieces, and colors come down the conveyer belt is so much fun! The pieces are all jumbled up, and your child hunts for the pieces that are unique to his specific droid.
The builder doesn't just select a pre-made droid from a cast member; instead the builder does everything from pick the type of droid and customize his or her colors to assembly and activation.
WHAT TYPE OF DROID DO I MAKE?
Astromech droids are available in 3 different types and a nearly endless array of colors. The 3 droid types include:
R-Series
BB-Series
And the new C-Series droids available at Disneyland and Disney's Hollywood Studios.
You or your child can choose to make a replica of the famous BB-8 droid and R2-D2, or you can completely invent your own theme and color scheme!
WHAT COMES WITH MY DROID?
When you leave, you will leave with your droid, an astromech droid box for your new friend, and your remote control. You or your child can carry the droid throughout Black Spire Outpost where the droid can interact with some of the scenery.
There is even a convenient droid testing site outside of droid depot where your children (or your husband!) can play with the droids and watch them interact with others.
Plus, now, you can also download The Droid Depot App to bring even more interactivity to your new friend!
What do I do with the droid after I purchase it?
To make carrying that droid around all day less inconvenient, you can add a droid backpack for an additional charge. However, if you stay at a resort, you can ask that the droid be sent back to your resort for no additional cost!
Resort deliveries from in-park gift shops are yet another reason that staying on-premises is a major must for Disney!
(To read about major on-premises savings with DVC Deluxe resorts, check this out!)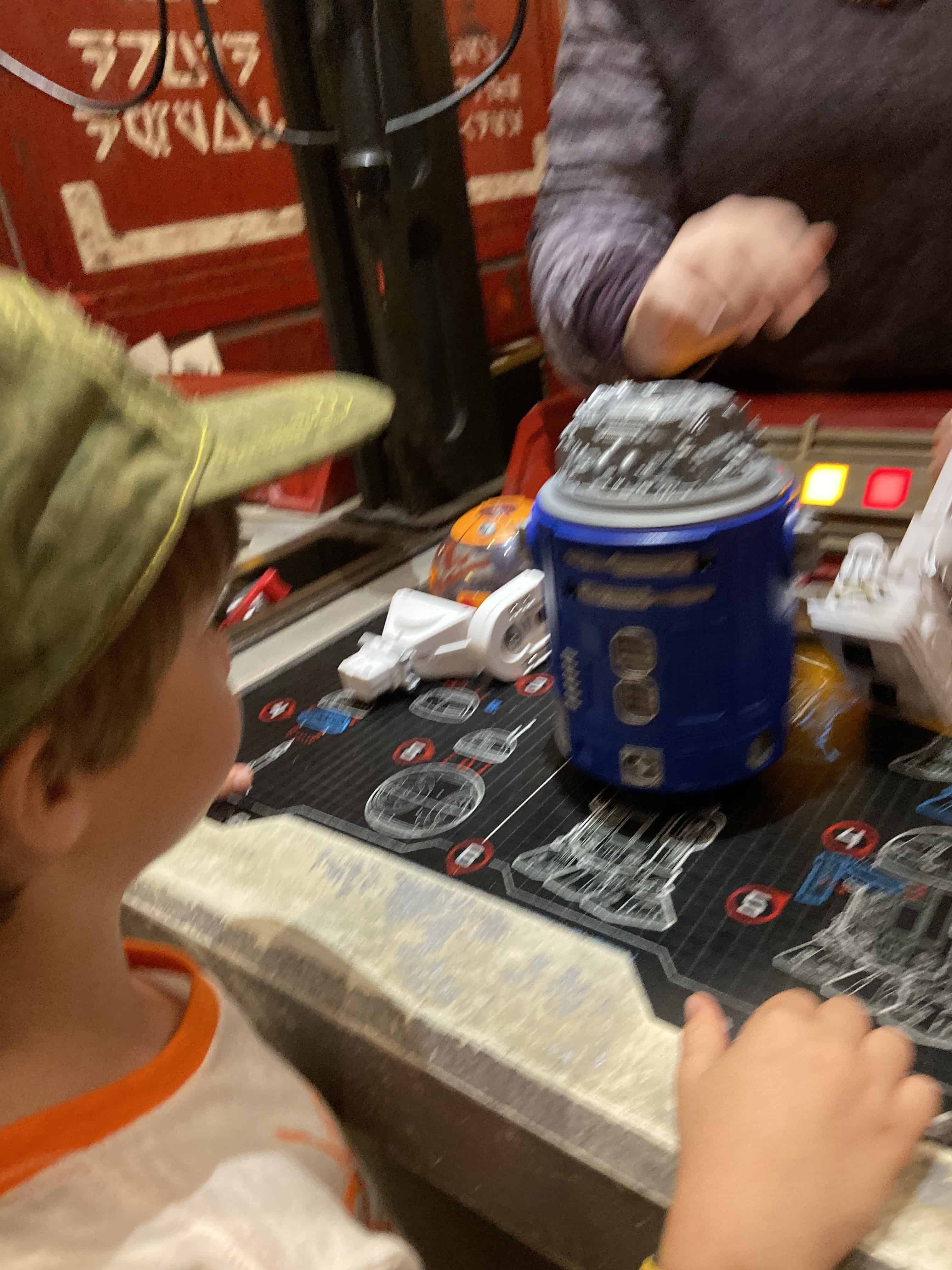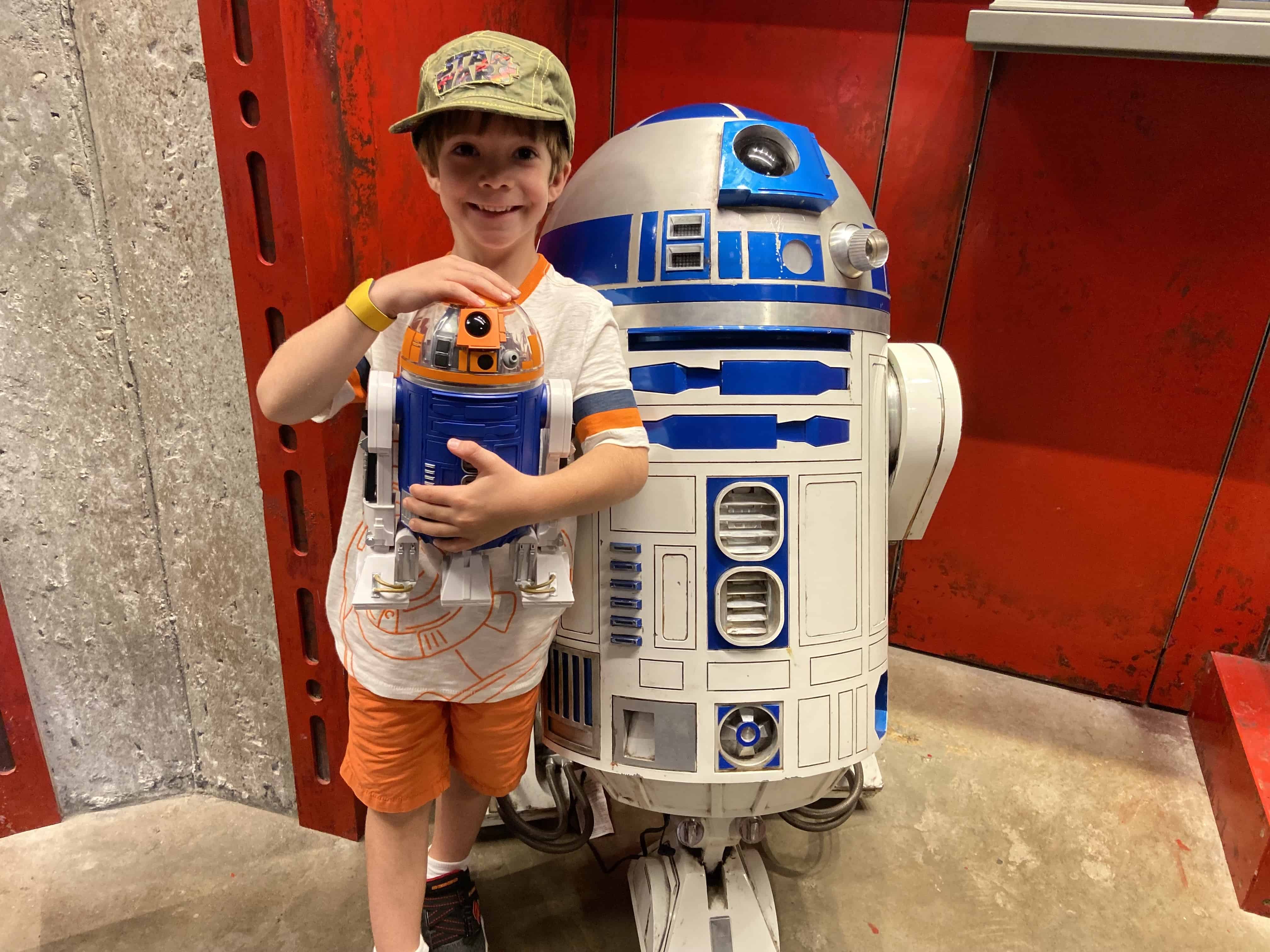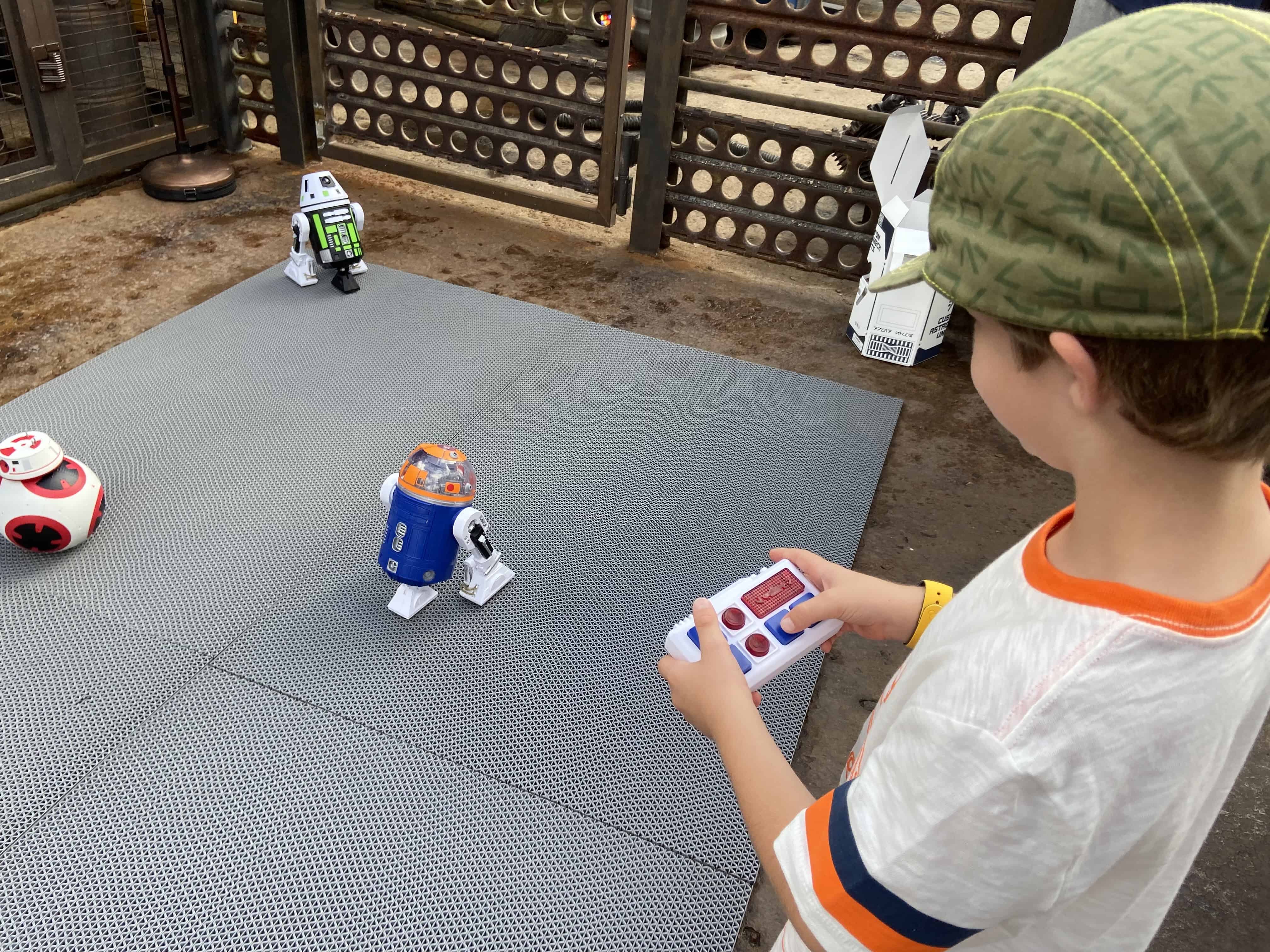 HOW LONG DOES IT TAKE TO BUILD A DROID AT DROID DEPOT?
Expect to spend anywhere from 30 minutes to an hour building your custom astromech droid unit. When all of the building bays are open, the line moves a little faster than when Droid Depot is attempting to enforce and encourage social distancing. Honestly, the time you spend there will be more determined by how long you want to agonize over your design and colors than the actual building.
If you spend 30 minutes picking out your style and colors, then you will probably spend an hour in the shop. If, on the other hand, you know exactly what you want, then you might move from the conveyor belt to a building bay in a matter of 5-10 minutes.
In any event, droid depot is not such a long process that it takes too much time away from coveted park hours!
PERSONALIZED DROID ACCESSORIES
Want more than the basics? In true Disney fashion, there is always the opportunity to upgrade. The droids are endlessly customizable.
You can choose from:
Alternate colors
Personality Chips
Voices
Accessories
Bags/Carriers, and even
Weapons
There is no end to the options for your droid, but the prices go up and up of course.
IS DROID DEPOT WORTH THE PRICE TAG
For our family, Droid Depot is 100% worth the price tag. But, this is for a number of reasons.
First and foremost, our son LOVES robots and is a Star Wars fan. He constantly talks about watching, building, and programming robots. At only 5 years old at his first Droid Depot experience, he was in awe of the entire process. He and I had so much fun picking out his design and colors. The droid followed him around the park the entire day, and he carefully instructed each of us how to properly care for and maintain the droid. For the next several months his droid was his prized possession. He took it for every show-and-tell, meticulously placed it in the carrying box when he wasn't playing with it, and always kept it out of reach of the dog and the baby.
EXPERIENCE. Droid Depot isn't just a toy, its an experience with some of your favorite Star Wars characters. Our kids have a blast at the Disney parks. You might pay an arm and a leg just to get in, and it seems that you can donate an extra foot at every turn. Not all of the extra experiences are worth it. Not all of the extra money is well spent. Although Bibbidi Boppity Boutique might be fun for a couple of days, eventually the hair and makeup wash out.
Droid Depot, on the other hand, is both a toy and an experience. For an hour, your child (or you!) can enjoy the fun and energetic building environment. For the day, your child can enjoy interacting with the robot around the park.
But, for as long as your child has the toy, he can continue enjoying the fun. (Our first robot is nearly 4 years old, and my kids still play with it!)
3. QUALITY. The cost is expensive; I won't deny that. However, nearly every souvenir that my children picked up in the gift shops were from $40 -$100 dollars and amounted to a hunk of fabric or plastic.
Contrastingly, the droid is sturdy, long-lasting, and part of a fond memory. Thus, for our family, the cost of the robot was far more worth it than letting our children spend $50 or $100 on other toys that we knew would make it to the bottom of their toy boxes.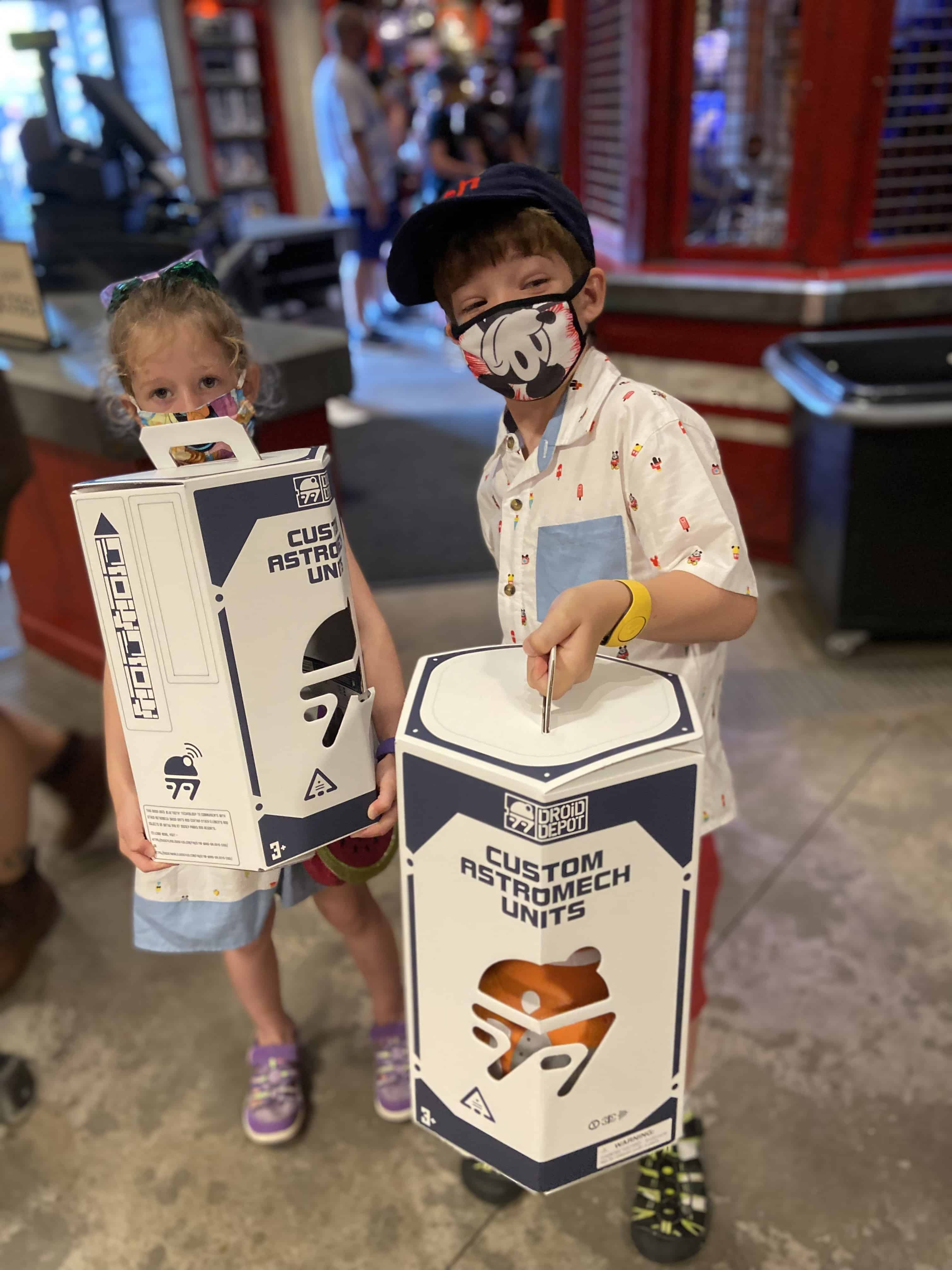 WHICH DROID AT DROID DEPOT IS BETTER?
Our family has had 3 droids for more than 3 years. I can confirm that the R-series has had far fewer operational issues than our BB series droids.
While our children have had fun with all of them, the R-series has had a more reliable battery life, is easier to turn on and off, and has been easier to manuever for little hands.
The BB-series droids are cute and fun to play with, but both of our BB units have had issues with needing reset and being difficult for little hands to manuever the remote control. (Easier for older children than my 3 year old!)
While our children love all of them, if you want my recommendation on which droid will provide fewer headaches for parents, then I would recommend the R-series droid as being the better choice for building at Hollywood Studios.
WHY DROID DEPOT IS WORTH IT
Therefore, if you have droid-loving child who may not fully grasp all of the nuances of Star Wars, Droid Depot is an extremely kid-friendly, fun experience for the whole family.
Our family has 3 droids that crash around our house, and none of them has been a waste of money.
We have even left the gift shop with a few surprise accessories for our kids' Christmas gifts. That way, they can reinvent their droids several months later.
Grab a few blasters, some interchangeable color panels, or a new voice chip, and add it to your child's birthday or Christmas gifts. Then, they can relive the memory of that fun day while also continuing to enjoy their creation.
For us, Droid Depot was definitely worth the money. So much so, that we have now built 3 droids at Droid Depot and can't wait to go back for some new accessories!
YOU MIGHT ALSO BE INTERESTED IN:
To read more tips and tricks for taking small children to the Disney parks, check this out!