Simple pom pom garland Christmas craft for KIDS!
Are you looking for a mess-free and simple Christmas craft for your kids this holiday? I was too! Check out this simple, easy, and mess free Christmas pom pom garland for a fun holiday celebration night!
(As an Amazon affiliate, I may make a commission if you click on one of my links and make a purchase.)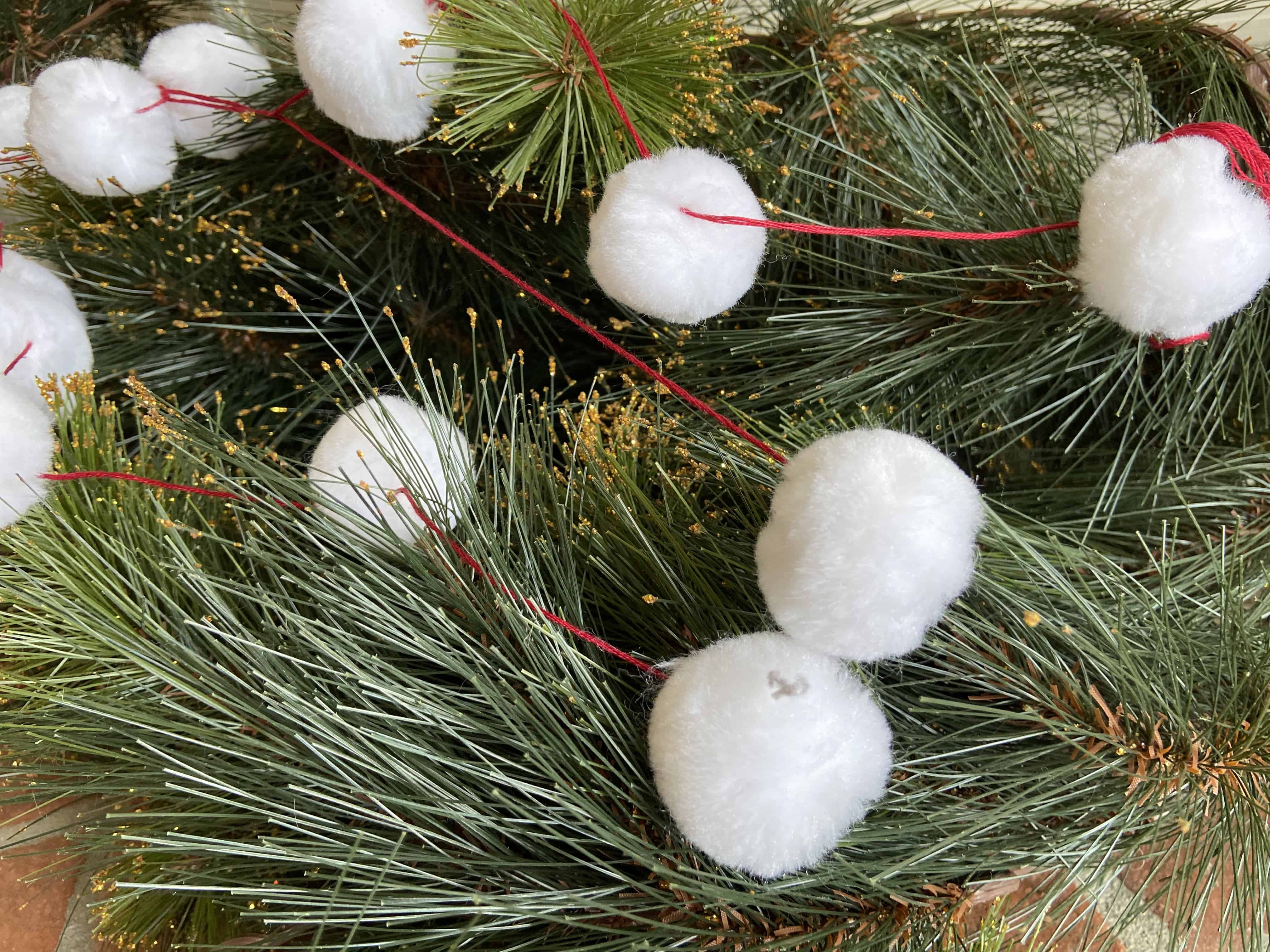 I'll be honest from the get-go. I am not a crafty mom. We don't do glue, scissors, glitter, or even markers in my house. I work on letters, numbers, geography, and more with my young children, but with 3 small children, I leave scissors and gluing skills to the Kindergarten teacher. (Sorry Kindergarten teachers, I'll send an extra coffee gift card your way!)
So, when my kids want to do crafts, I usually send them to Nana's house or simply tell them no. However, feeling a bit inspired and a little guilty about having only store-bought Christmas decorations, I began thinking about what my kids could make.
I didn't want to string popcorn –the dog would eat it. And, I didn't want to string cranberries –it would probably go bad before I took it down. So, I took inspiration from my daughter's Christmas decor (see below!).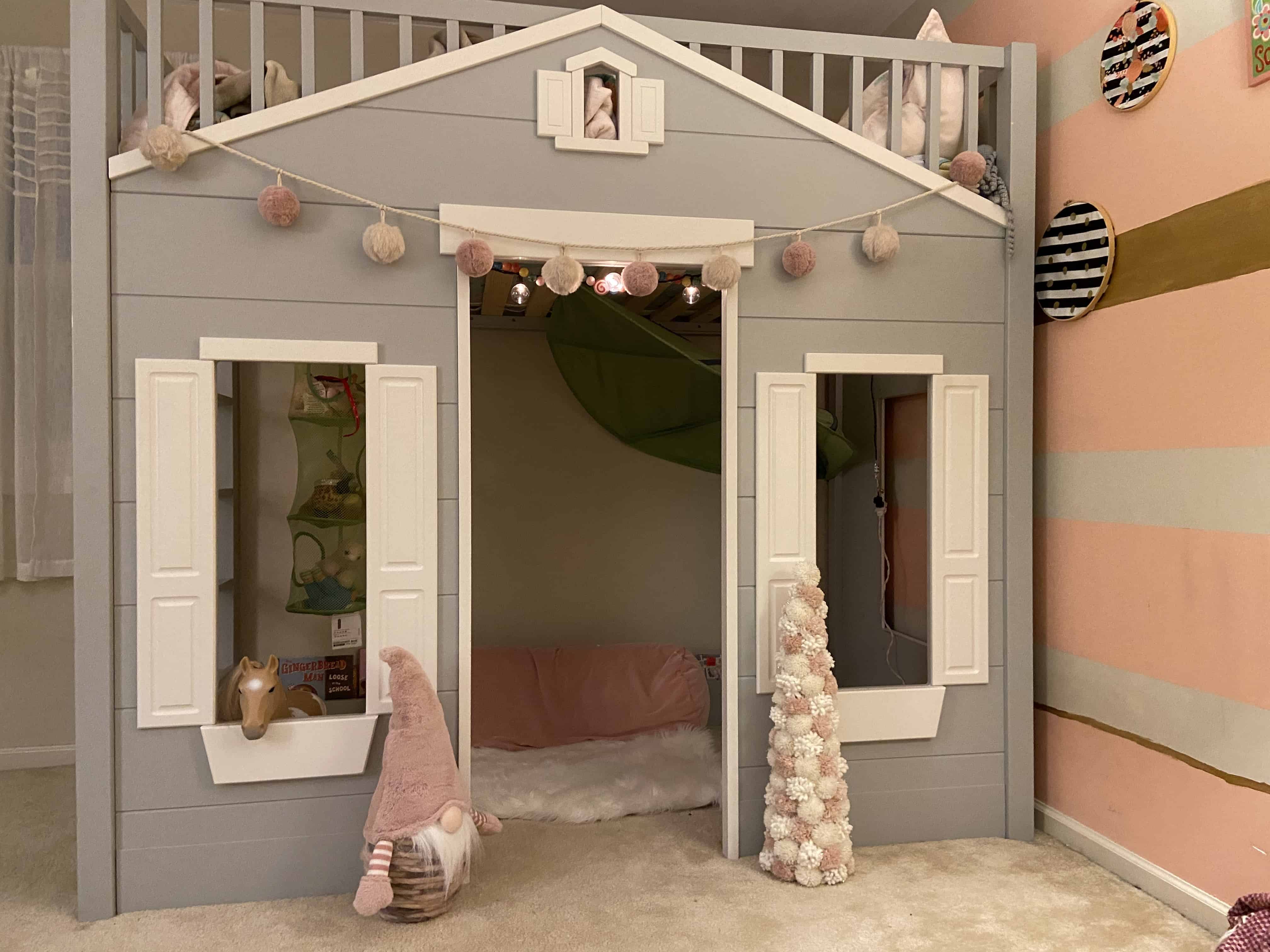 POM POM GARLAND!
I settled on creating a pom pom garland with my kids. This quick and simple task doesn't have to all be done in one evening. And, it takes very little prep work.
As you will see below, your kids can also customize their colors, styles, lengths, and density letting their own unique creativity wander.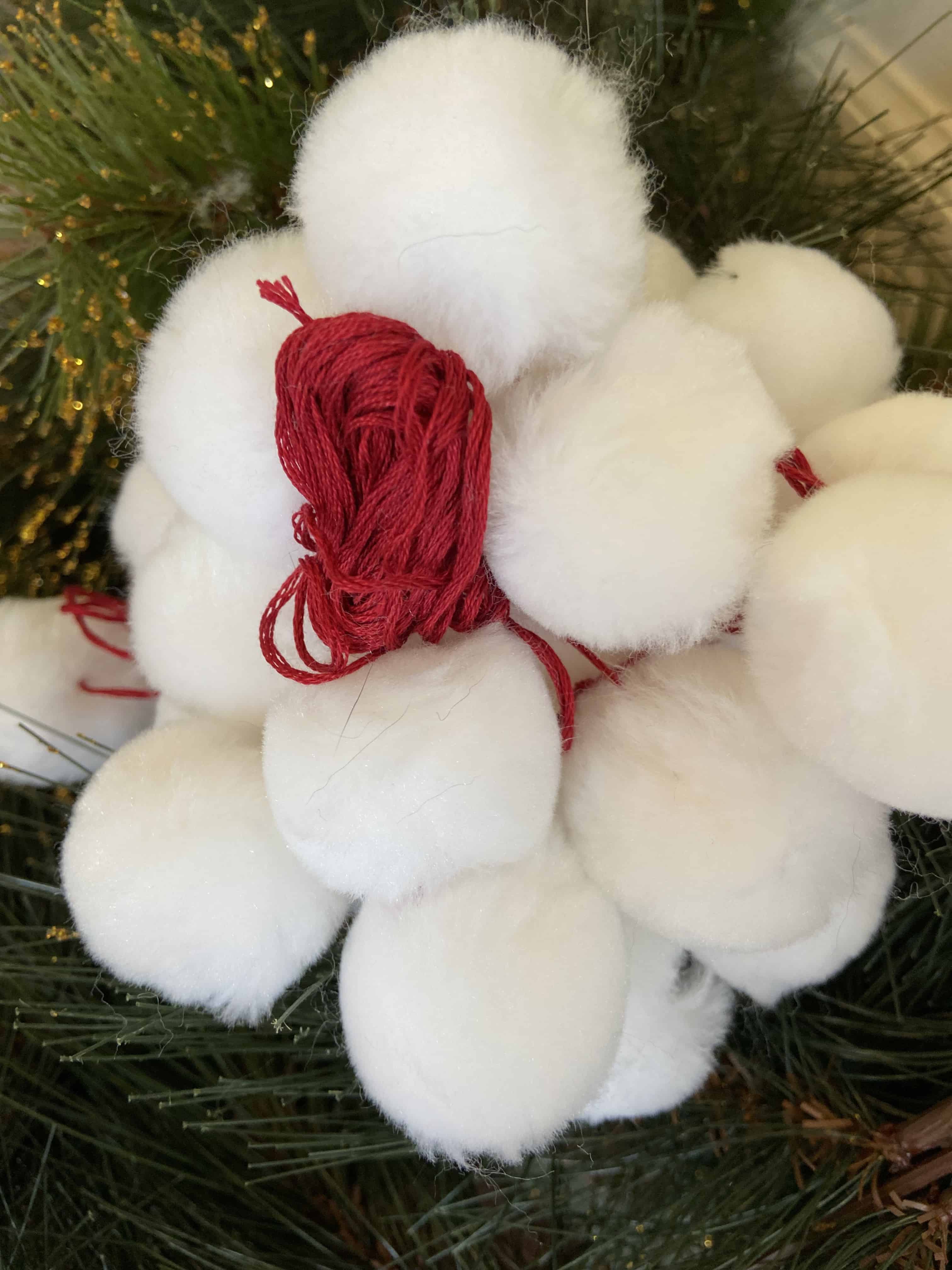 POM POM GARLAND CRAFT SUPPLIES
This simple craft needs only a few simple supplies:
Embroidery floss of desired color
Pom poms of desired color (we mixed 1.25 and 1.5 inch pom poms, however, 2 inch poms would create a fluffier garland)
Sewing needles, or if you don't want your children to use sewing needles, you can opt for plastic children's needles as shown below. They work just as well for this project!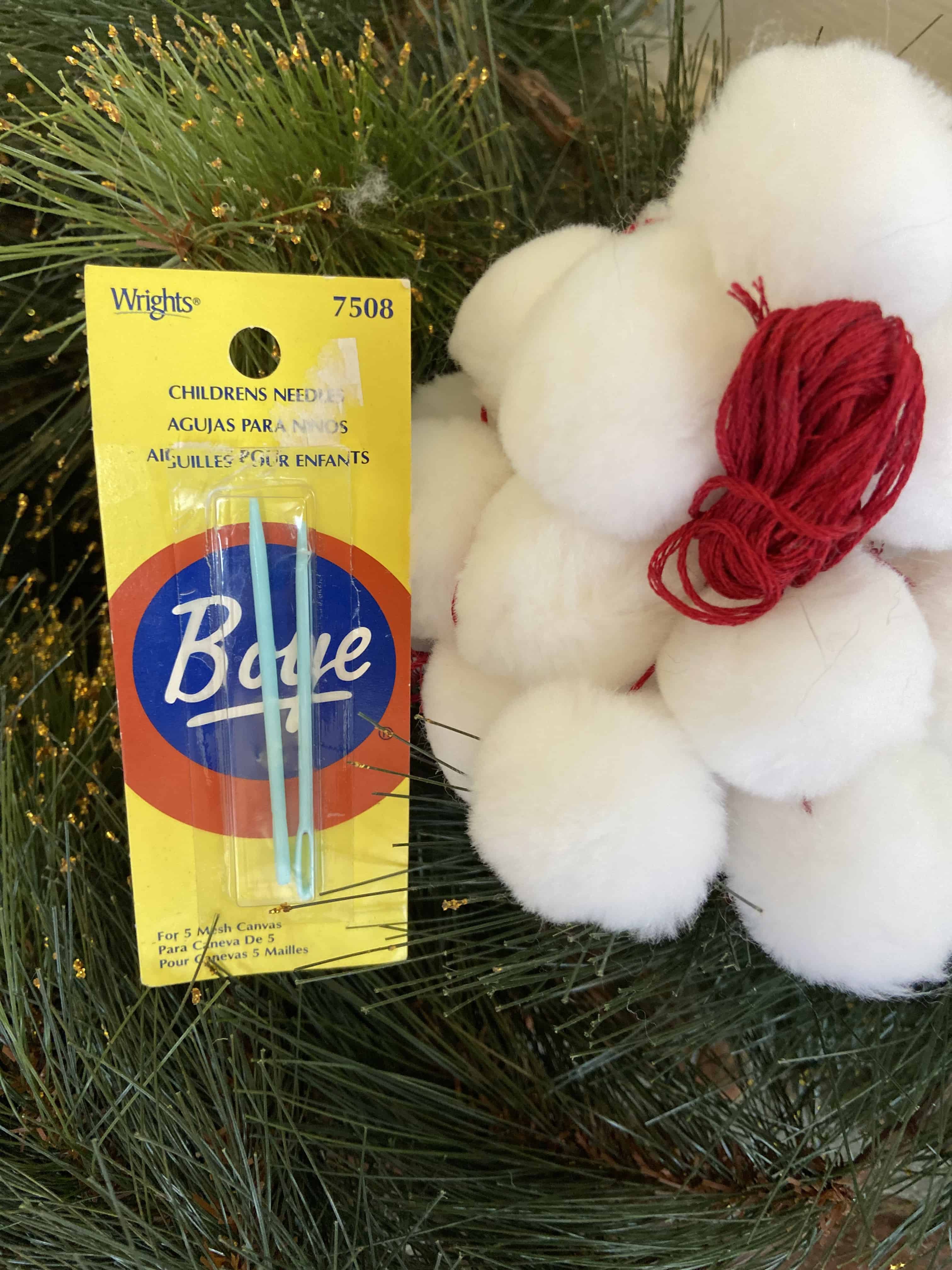 CHRISTMAS POM POM GARLAND WITH KIDS
Even simpler than the supply list is the crafting! Your kids might need some help starting the embroidery floss on the sewing needle, but after that, let them simply push the floss through a fluffy part of the pom poms and string away!
My kids had so much find choosing their colors. You can see that my daughter chose both pink and pink sparkly pom poms to go with her purple embroidery floss. However, my son opted for more Christmassy colors using burgundy embroidery floss and white pom poms.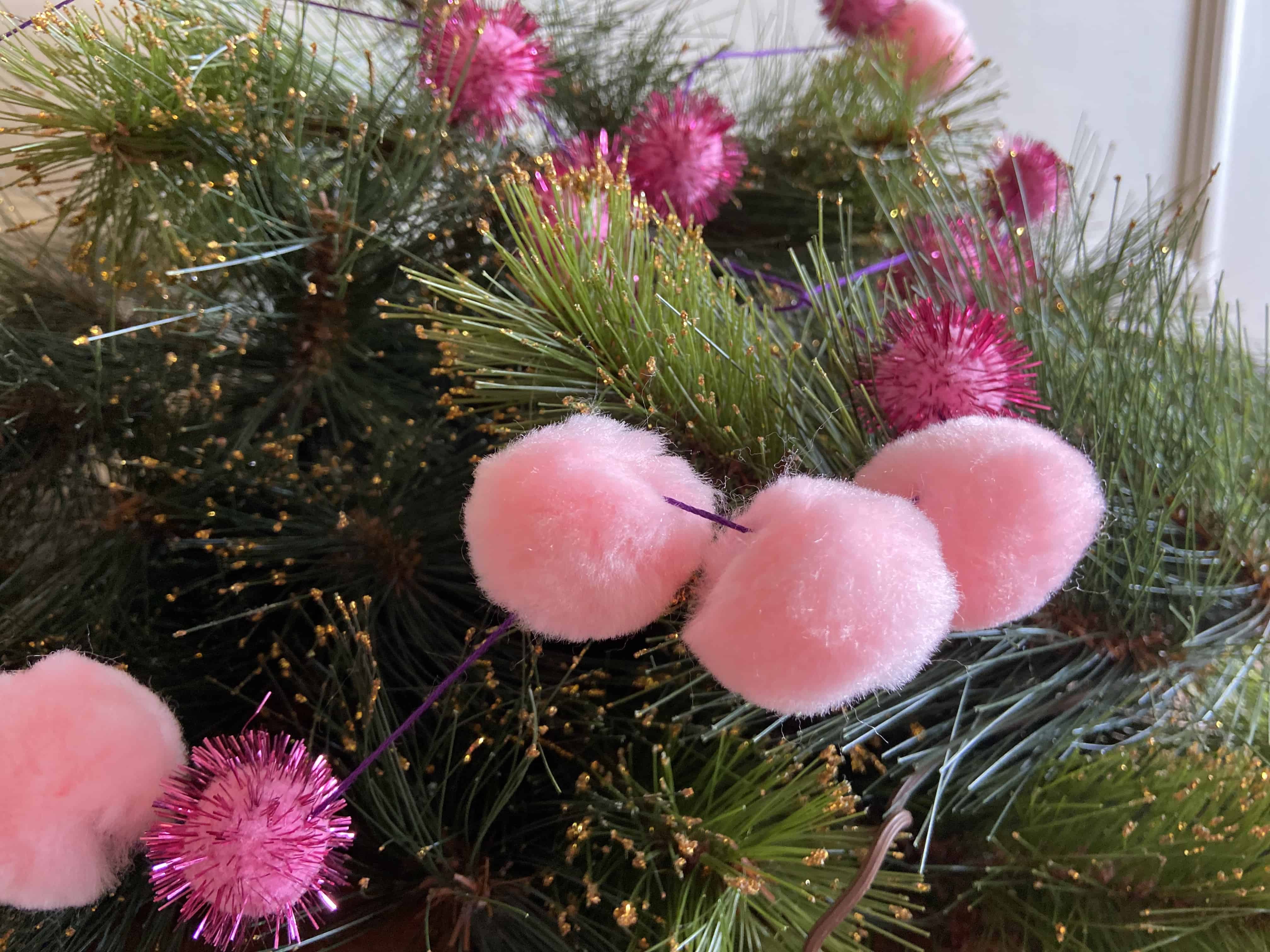 HELPFUL TIPS FOR MAKING YOUR POM POM GARLAND
If you are not sure to put the embroidery floss through a thick part of the pom pom, then it can fall right off. Make sure to help your kids push the needle as close to the center as possible especially if they are using the plastic needles.
My kids sometims had a little bit of trouble making sure that the needle went through a thick enough part of the pom pom.
Also, my kids had a tendency to bunch several poms together. Help them spread them out in their desired length to make a fuller or thinner garland.
Our kids hung their Christmas Pom Pom Garlands across their beds to add to their rooms' Christmas decors.
They spent several days working on the project at their own leisure or while watching Christmas movies! Honestly, I didn't convince them to take them down until well after the new year!
My kids had a great time making this Christmas Pom Pom Garland, it was simple and easy to set up, and it didn't make ANY mess! No glue, scissors, or markers required! Now that's my kind of craft!
Looking for more ways to enjoy the holiday? Check this out!