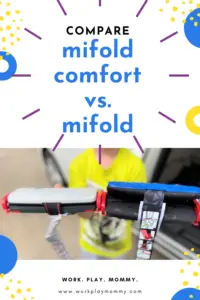 Are you wondering whether your family needs a new mifold comfort? Check out my review, my recommendation, and the pros and cons of this backless booster for your family.
mifold Comfort Review
Our family has three small children, which means that we also have a lot of car seats! After struggling with how to fit 3 car seats across and how to make it more convenient for our kids to travel with grandparents, we discovered the MIFOLD!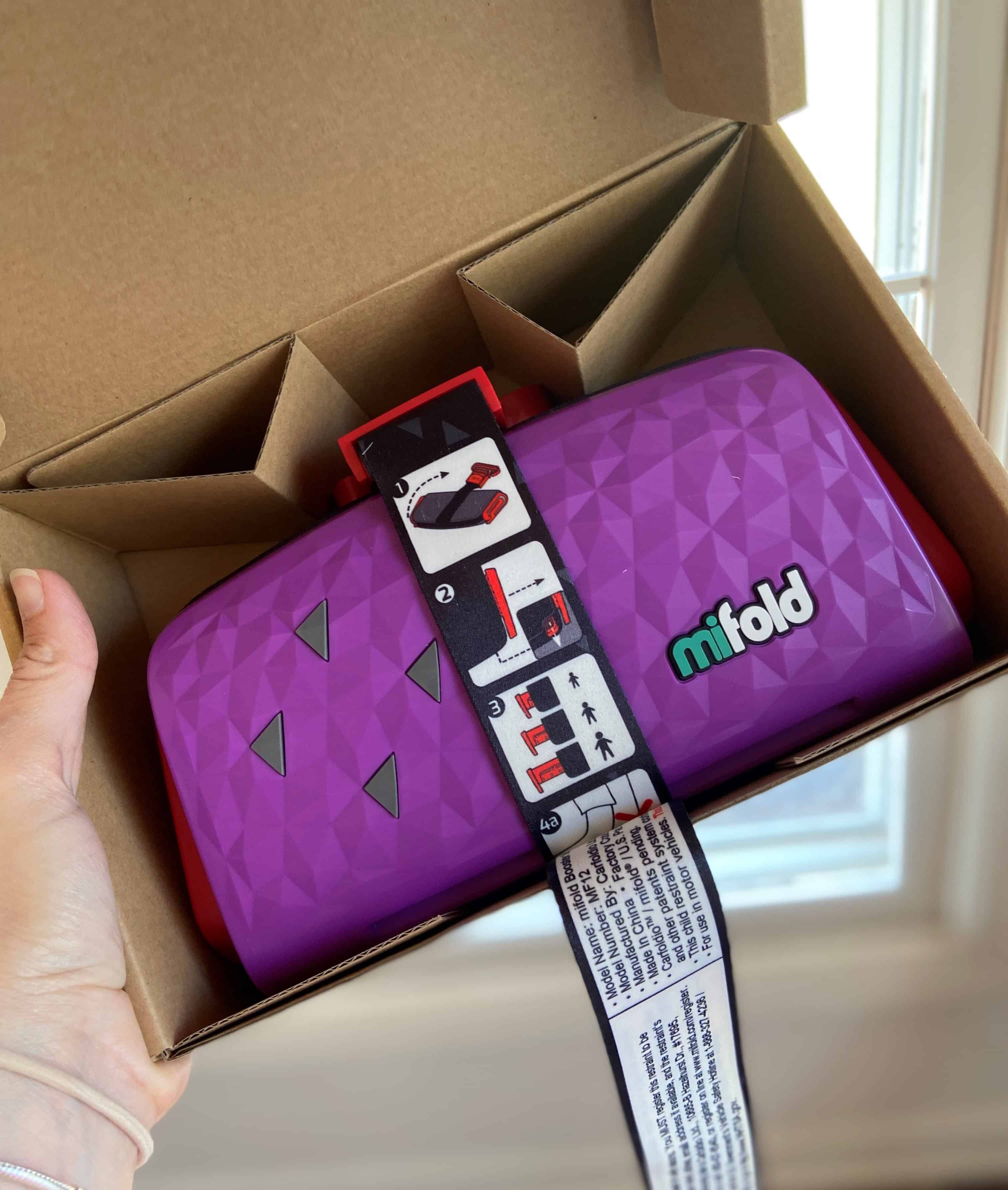 Now, mifold has released a new and improved mifold comfort that solves my childrens' only complaint about the mifold: the comfort.
(This post contains affiliate links from which I may receive a commission if you make a purchase at no additional cost to you.)
Maybe you are new to this mifold business. What in the world is this contraption? Mifolds are an ingenious invention designed to meet or exceed relevant safety ratings for booster seats while saving space and sanity in the process.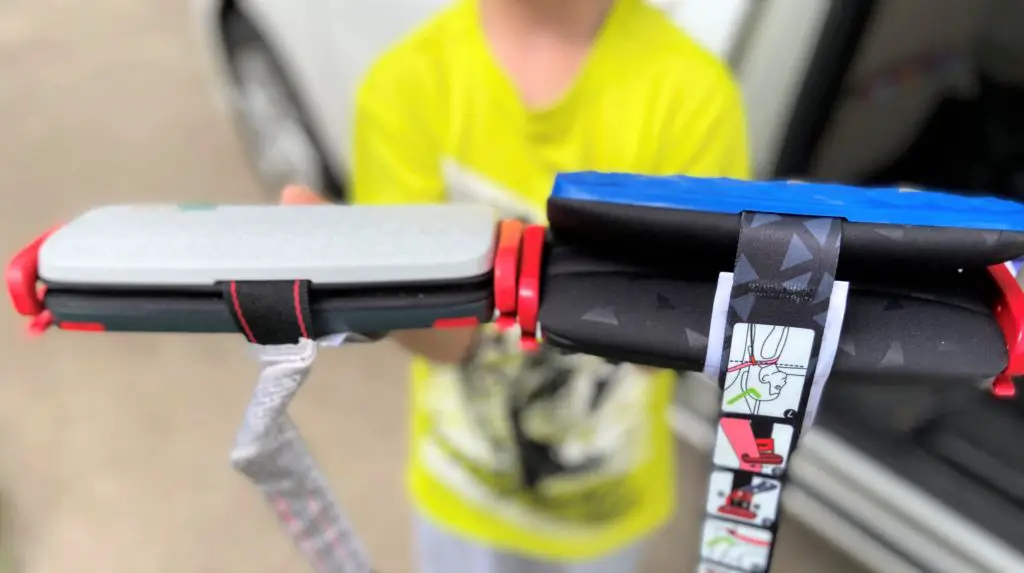 About 10x smaller than the average booster seat, mifolds are a backless booster seat that are easily stowed in your child's backpack, the glove box, or your carry-on luggage.
As opposed to regular booster seats that are designed to raise your child up to the level of an adult in a seatbet, the mifold lowers the shoulder strap.
Installed substantially similarly to a regular backless booster, the mifold has a strap that goes behind your child's back to pull the shoulder strap lower.
The mifold comfort takes the mifold to the next level by offering a more padded and comfortable seat.
WHY WOULD YOU BE INTERESTED IN A MIFOLD COMFORT?
If you already have booster seats for your children, why would you be interested in a mifold comfort?
Easy: they are far more convenient and save a ton of space.
CONVENIENCE AND SIZE OF THE mifold COMFORT
First, in our house, we are constantly shifting car seats from car to car. Car seats can be a real hassle for daily use, visiting friends and family, and vacation.
Second, anytime our kids have friends over, our kids visit family, or we want to take a trip, those bulky car seats and booster seats have to come with us. Or, we have to make sure that visitors bring their own.
With mifolds, you can keep an extra and convenient booster seat on hand –even in your purse or glove box.
Mifolds are so simple and inconspicuous, that you can easily tuck them into your child's school backpack so that he or she is ready for after school pickup. You can easily keep one in a diaper bag or even a purse.
At less than $40.00 per seat, they are an easy, convenient, and inexpensive way to make sure that your children and their friends stay safe at home and while traveling.
What is the difference between the mifold and the mifold COMFORT?
Our kids have been using the mifold for years. When using the classic mifold, the only complaint that I have heard is that after a long trip, the seat is not very comfortable.
I would guess that any large plastic seat would yield the same complaint.
However, mifold heard these complaints and has now improved the design of the classic mifold. Now they have released the mifold comfort.
You can see that it is only slightly larger than the mifold, but it is far more comfortable.
When he first tried it out, my son exclaimed: "that's so much more comfortable."
Now, he uses it for his daily booster seat, and even packs it for overnights with friends and grandparents. Even after hours in the car, our children have never complained about the comfort of the mifold comfort.
Further, after we taught our children how to install the mifold, and they practiced it once or twice, they can easily buckle themselves. Having a car seat that my children can install, carry, AND buckle themselves is so convenient.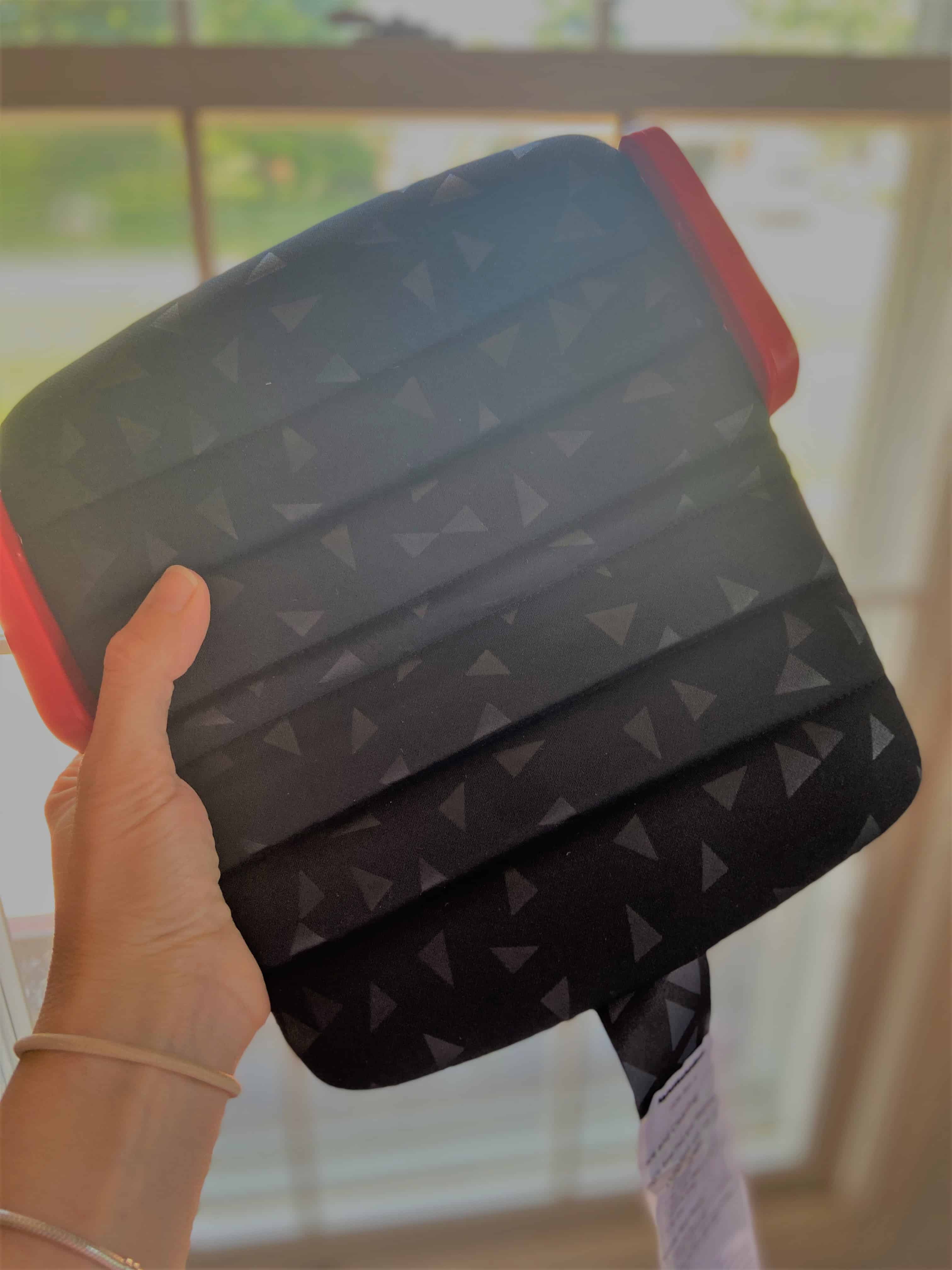 HOW TO INSTALL THE MIFOLD
For a simple tutorial on how to use and install the mifold, check this out: VIDEO
The worst thing about the mifold comfort is that you can order it in multiple colors.
So, being a mom of both a girl and a boy, I ordered a purple and a blue. Now, the only fights about the mifold comfort are who gets which color! So, if they get mixed up in the car, or someone gets stuck with the plain grey mifold, then war starts.
However, the mifolds are so compact and inexpensive that having a couple extra around is no hassle.
You can see that my kids like their mifold comforts. But, mommy likes that they are convenient, compact, easy to use, and safe for my kids.
If you want to see whether the mifold comfort is safe and a list of its safety standards, click here.
As I mentioned above, mifolds work a little differently than standard backless boosters. Instead of raising your child up to the level of an adult, the mifold and mifold comfort lower the shoulder harness. The back strap lowers the shoulder strap to the proper level of your child.
Thus, the length and height of the shoulder strap customizes to the size and height of your child rather than a one-size-fits all solution.
For our family, I feel confident that the mifold and mifold comfort are safe for everyday use. Further, I feel that their convenience will keep us safe as we travel domestically and abroad.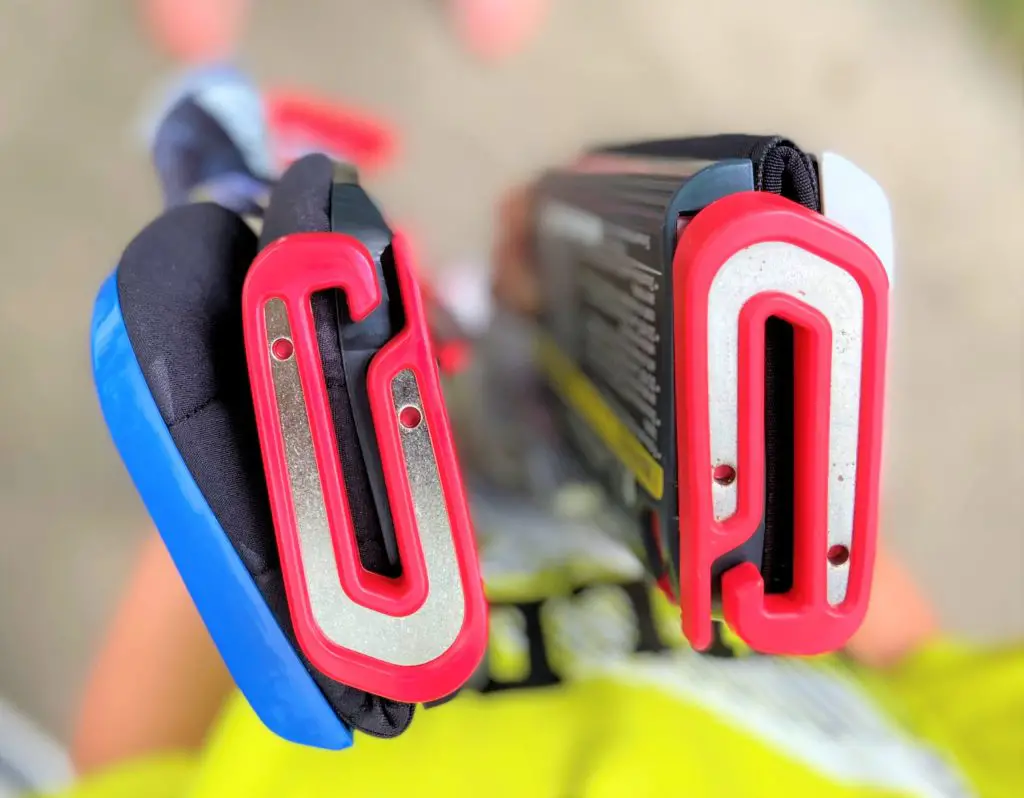 WHAT COUNTRIES HAVE APPROVED THE MIFOLD COMFORT?
Be aware that the mifold and mifold comfort are not approved under every country's safety standards.
However, it is approved by many. So, if you are planning a trip abroad or if you live abroad, be sure to check HERE.
If you are wondering which countries allow use of the mifold, click here. The mifold is not approved by the FAA (at least not at the time of writing this). But, it is approved in many countries for use in vehicles after you land.
Flying with the mifold comfort, for us, is far easier than checking, collecting, and carrying booster seats and car seats. Plus, if your luggage gets lost, you can take solace in knowing that your child can safely travel from the airport to your destination or accommodations safely in his or her car seat/mifold.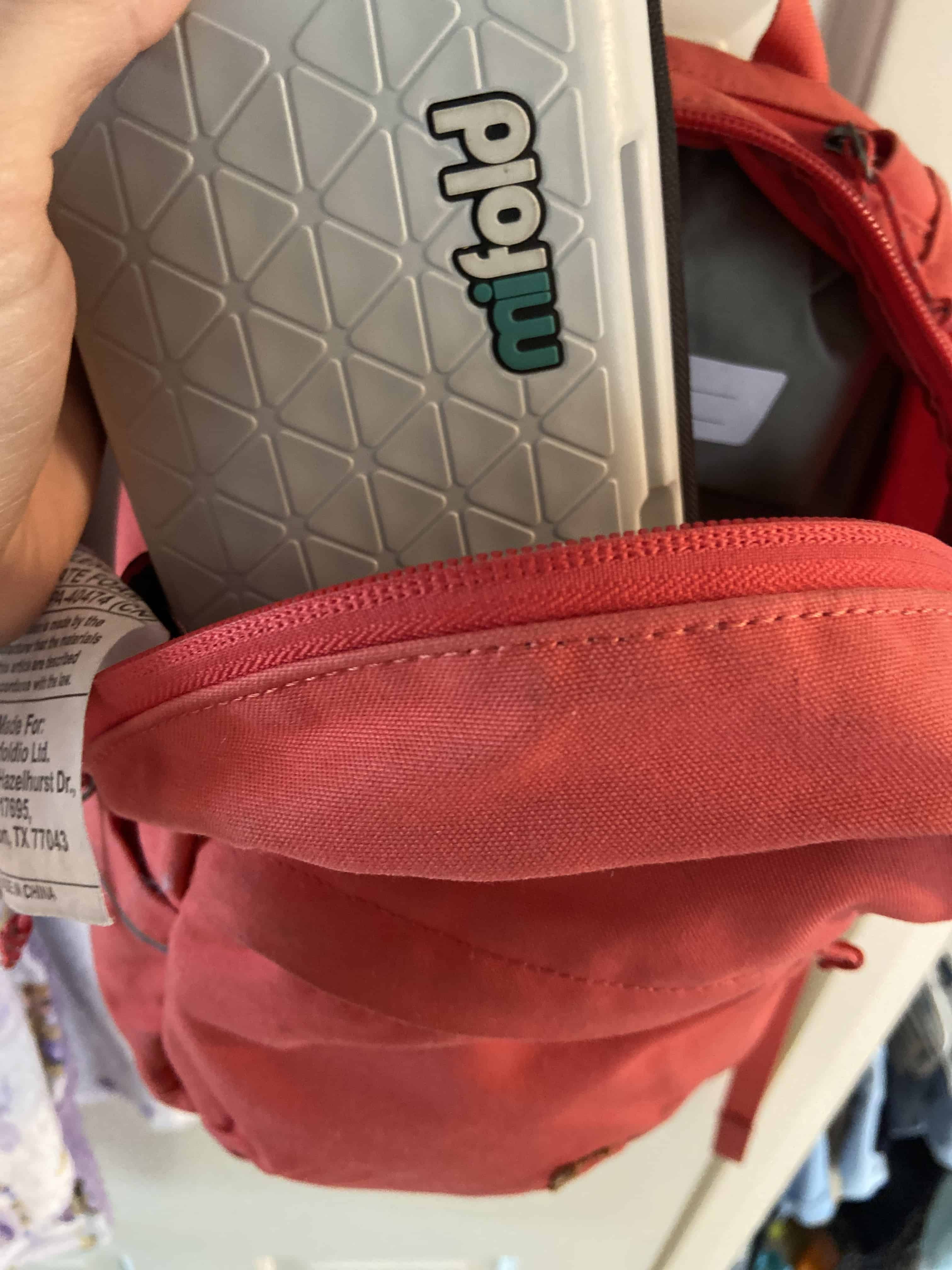 WHAT IF MY CHILD IS NOT READY FOR A MIFOLD COMFORT BACKLESS BOOSTER?
The mifold comfort is not for every child. The mifold comfort is only for children who meet or exceed the safety standards of an ordinary backless booster seat. It should not be used for infants or children who have not met or exceeded the height and weight restrictions of their car seat.
However, if your child is not yet ready for a backless booster, check out the hifold here. It is still compact, meets or exceeds safety standards, and is a simple solution for car seats while traveling!
MIFOLD COMFORT SOLVES THE TRAVEL, FRIENDS, AND THREE ACROSS PROBLEM!
Our family has gotten loads of use out of our mifolds and are pleased to add the mifold comfort to our collection.
Not only are our kids happy with their personalized colors, they are more comfortable with the padded seat. Finally, mommy can rest easy knowing that they are safe wherever we travel with a seat that is custom fitted to their size and height.
For more hacks for traveling with kids, check these out: