DELICIOUS DAIRY FREE S'MORES PUPPY CHOW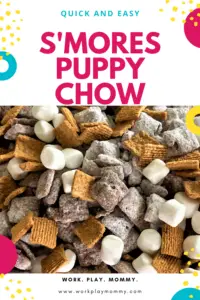 S'mores puppy chow: The perfect summer treat for when it's too rainy for s'mores! 
(This post contains affiliate links from which I may receive a commission if you make a purchase. I am an Amazon affiliate.)
I love a campfire in the summer. The smell of burning wood makes me run for a roasting stick and fresh bag of marshmallows! 
I had planned a great backyard hot dog bash this weekend when the rain started… wah wah wahhhh….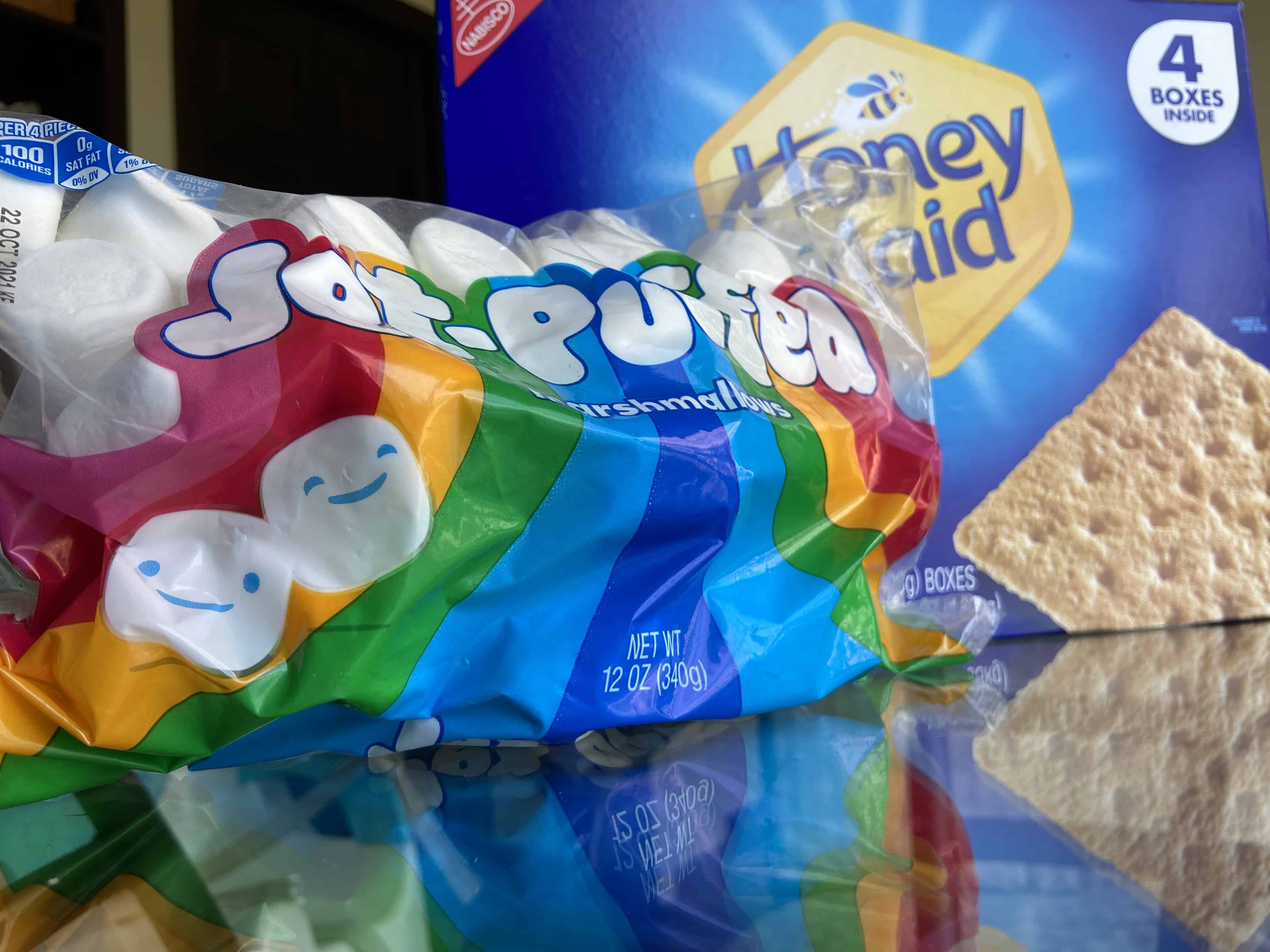 Jump to Recipe
PUPPY CHOW: THE EASIEST DESSERT FOR A CROWD
But, PUPPY CHOW never fails me. It is the easiest, yummiest, kid-friendliest dessert for a crowd. And, I ALWAYS keep the ingredients on hand.  
I am known for whipping up a batch of puppy chow on a quiet Friday night at home, when we are on our way to a spur-of-the-moment event, or even in the middle of the day for an after-school treat.  
With only 1 second of prep time and a max of 15 minutes of actual mixing time, Puppy Chow is a quick and simple treat.  
***SIDE NOTE: What do you call Puppy Chow? Muddy Buddies? White Trash?  
I always grew up calling it Puppy Chow. But, I understand that General Mills actually calls it Muddy Buddies.  
Then, I moved to the South, and everyone thought I was crazy when I told them that I was bringing Puppy Chow to our Super Bowl party. When I arrived with my giant bowl of treats, they exclaimed: "White Trash!!" 
I was shocked. "What did you call me?"  
My friends explained to me that what I was calling "Puppy Chow", they call "White Trash!" 
Ok…back to the S'mores puppy chow.  
S'MORES PUPPY CHOW IS SIMPLE TO PREP IN ADVANCE
The secret to S'mores puppy chow is not to mix in the marshmallows or the Golden Grahams until you are ready to eat it.  
Sadly, if you leave the marshmallows and the Golden Grahams in the mix too long, then they will get stale and gross. Make your Puppy Chow up to 2 days in advance, and it will still be yummy. But, exercise caution as any Puppy Chow laying around our house will not last to an event 2 days later!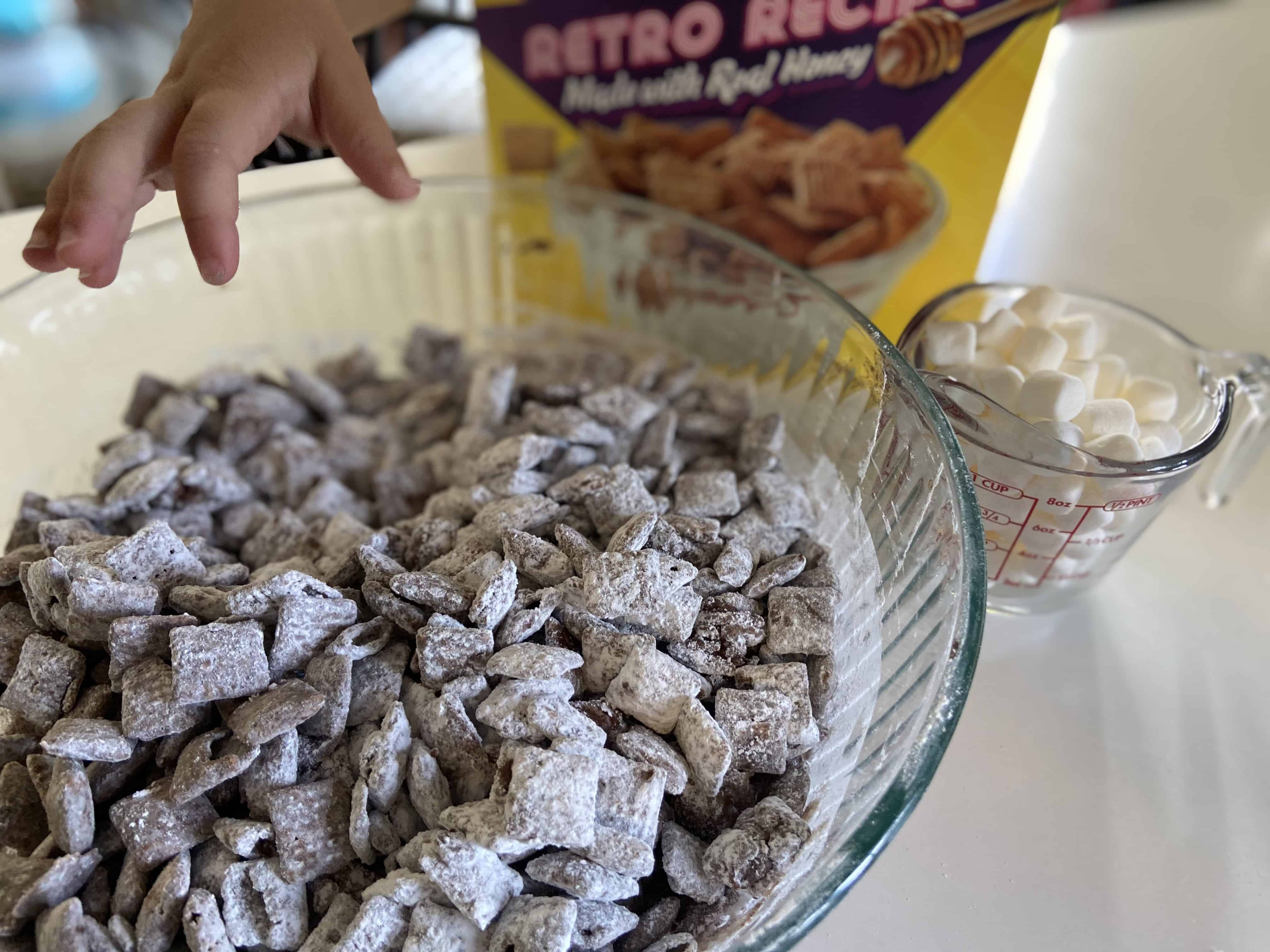 The recipe you will find here is also dairy free. I love to make this simple dessert dairy-free. Our house is not dairy-free, but it is dairy-less. 
Many of my friends who are dairy-free are excited to be able to have a treat at a party that doesn't contain butter, milk, or other dairy products (this does contain soy).  
Generally, I substitute coconut oil in all of my baking for butter. Keep the enormous jar of coconut oil from Costco on hand so you never have to worry about running out! Plus, that giant jar is far cheaper than even the Aldi brand coconut oil.  
And, when you are done with the jar, I use it for kids games and storage! Multi purpose.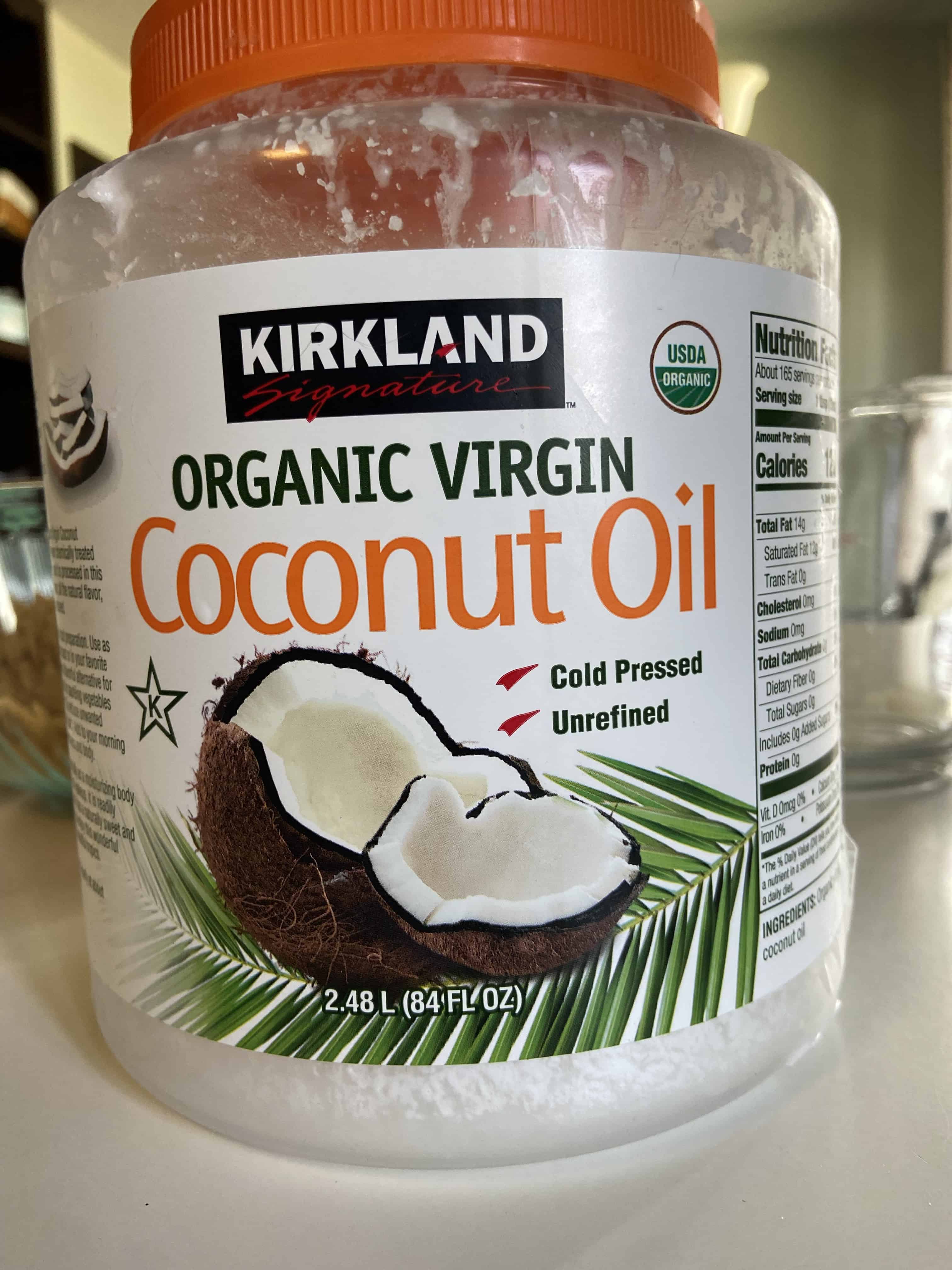 S'Mores Puppy Chow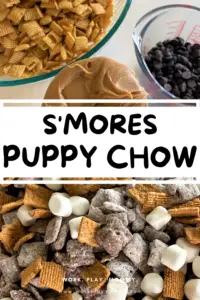 Ok, on to the actual recipe.  
Ingredients:  
8 Cups corn squares cereal  
¼ cup coconut oil 
½ cup creamy peanut butter 
1 cup dairy free chocolate chips 
1 t vanilla extract 
2 C powdered sugar 
1 1/2 C Golden Grahams cereal 
1 1/2 C mini marshmallows 
Pour the corn squares cereal into a large bowl with a lid  
2. In a microwave safe bowl, melt the coconut oil, peanut butter, chocolate chips and vanilla until smooth. Do not overheat it, or it will burn. Melt in 30 second increments stirring between each increment.  
3. Pour chocolate mixture over corn cereal and stir until evenly coated. Stir carefully so as not to crush all of the cereal.  
4. When evenly coated, add 2 cups of powdered sugar to the cereal/chocolate mixture. Place lid on the large bowl, and shake until evenly coated. My kids love to do the shaking part, but my floors usually have a dusting of powdered sugar on them when they are done! 
5. When your corn ceral/chocolate mixture is evenly coated with powdered sugar, let cool. The chocolate will still be warm and sticky.  
6. After the mixture cools completely add Golden Grahams cereal and mini marshmallows. Mix gently.  
Serve and enjoy!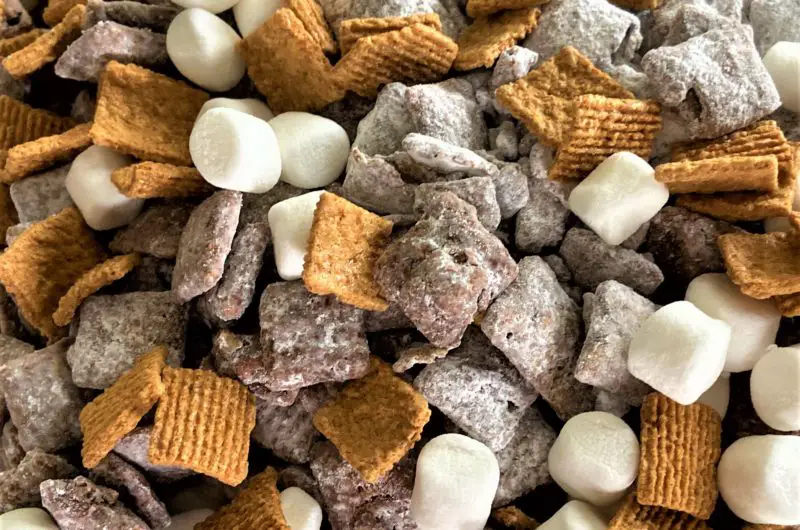 S'MORES PUPPY CHOW
Course: Uncategorized
Difficulty: Easy
Ingredients
8 cups corn squares cereal

1 cup dairy free chocolate chips

1/2 cup creamy peanut butter

1/4 cup coconut oil

1 teaspoon vanilla extract

2 cups powdered sugar

1 1/2 cups Golden Grahams cereal

1 1/2 cups mini marshmallows
Directions
Pour corn cereal into large bowl with lid
Melt chocolate, peanut butter, coconut oil, and vanilla in a microwave safe bowl in 30 second increments until smooth.
Carefully pour chocolate mixture over corn cereal and mix gently until evenly coated.
Add powdered sugar to cereal/chocolate mixture and shake until evenly coated. Add more powdered sugar if needed.
After cereal/chocolate/powdered sugar has cooled completely, add Golden Grahams cereal and Mini Marshmallows and stir gently.
Serve immediately after adding Golden Grahams and mini marshmallows.
Notes
Remember: Don't add the marshmallows and Golden Grahams until you are ready to serve!