Family Getaway to Fair Oaks Farms
Our family loves visiting Fair Oaks Farms especially with our kids. While the parents love the screen-free fun, the kids love the animals, interactive experiences, and, of course, the play areas!
This working farm is a great way to spend a short family getaway or even a great day trip in Indiana just off I-65 between Chicago and Lafayette, Indiana.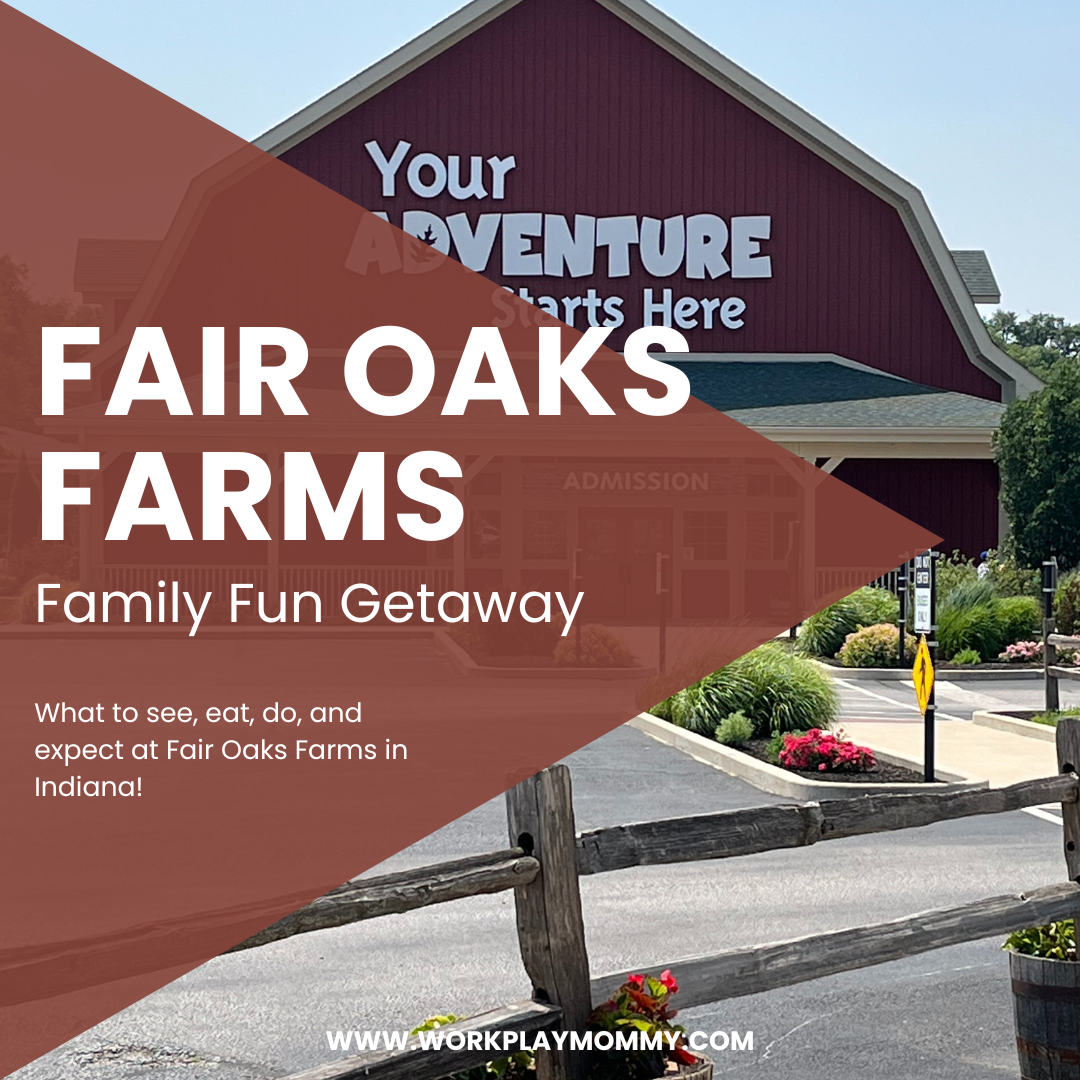 What is Fair Oaks Farms?
Fair Oaks Farms is an enormous working farm featuring dairy barns, pig barns, agricultural education, crops, and more. This farm turned major ecotourism and agritourism destination is chock full of learning experiences and a great place to spend a day or 3 with the entire family.
While farming is a major part of the Indiana economy, farmers make up less than 2% of the United States population. [i] Therefore, Fair Oaks Farms was started by like-minded farmers who want "to be completely transparent in [their] commitment to animal welfare, sustainability, education, and innovation."[ii]
These farmers are so committed to their mission that they now literally invite the public to drive through their barns in buses, watch the birthing and farrowing processes, and partake of the crops and food raised right on the property.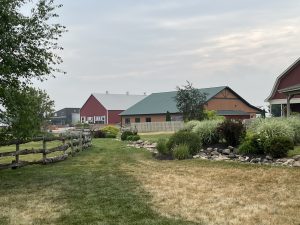 Why is Fair Oaks Farms great for families?
For those of you who are envisioning a stinky trek through pig mud or a day mucking stalls, think again. Fair Oaks has now been developed into a major family entertainment destination.
The farm is a particularly appealing to children who have an interest in farming, agriculture, or baby animals. However, the entire grounds are days of fun aimed specifically at children 10 and under.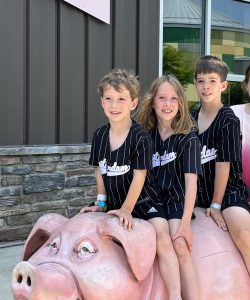 My 3 children and our nieces have been visiting Fair Oaks Farms together for the last 3 years and look forward to their annual trip to the farm!
While the love the beautiful grounds and farm-themed, on-site hotel, their highlights are always the baby pigs and calves.
They have become little Fair Oaks Farms experts who know where the attractions are, how to watch for the birthing lights on the front of the barns, and where the best pool is (See? I told you there was more than just pigs and cows!).
Where is Fair Oaks Farms, and where to stay?
Located just off of Interstate 65 in Indiana equidistant between Chicago and Lafayette, you will find Fair Oaks.
Specifically, you can find the farm at
856 N 600 E
Fair Oaks, IN 47943
Don't worry about finding local accommodations, stay on-site at the Fairfield by Marriott at Fair Oaks Farm.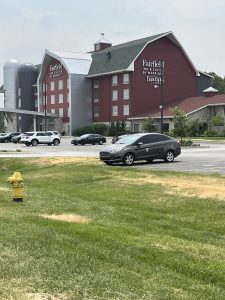 Lodging at Fair Oaks Farms
Featuring family-friendly suites, even our usual group of 7 (2 adults, 5 kids) is always comfortable at the Fairfield at Fair Oaks. Plus, as an added convenience, the Fairfield at Fair Oaks includes a continental breakfast to start your morning on the right foot.
For even more farm family fun, you can book a stay in the iconic silo! The silo family suite has a king sized bed, a pull-out sofa, and bunks for more fun on the farm.
The Fairfield by Marriott at Fair Oaks also has entertainment suites, business suites, and a bridal suite perfect for those farm-perfect weddings!
Finally, the Fairfield by Marriott at Fair Oaks Farms is also pet-friendly, and Fair Oaks also has a dog park making this a destination one for the entire family including Fido!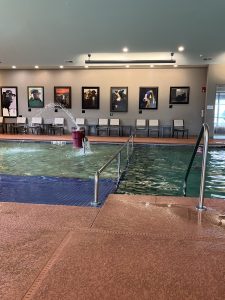 What to do at Fair Oaks Farms
Fair Oaks has loads to do for the whole family. From farm activities to outdoor, active fun, you can easily spend a couple of days with the kids here.
Plus, Fair Oaks features seasonal activities to coincide with the different crop seasons, holidays, and local events.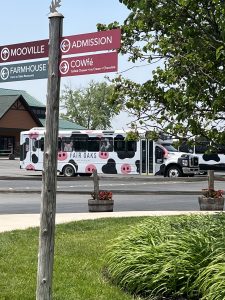 Farm Activities at Fair Oaks Farms
Fair Oaks Dairy Adventure
Dairy Adventure: Fair Oaks Farms is known for its Dairy Adventure, where visitors can learn about the dairy industry and the milk production process. Take a guided bus tour and see cows being milked, learn about cow nutrition, and perhaps even have a chance to milk a cow yourself.
If you are concerned about a droning lecture, don't be. Even my children found the Dairy Adventure engaging. They loved seeing the cows roaming their barns, watching the workers do the milking, and waiting for new calves.
They learned about the changes in dairy farming over the last several decades and how Fair Oaks is taking intentional steps to be on the forefront of animal welfare. Fair Oaks showed our children how vested farmers are in the proper care of animals.
Again, don't worry about wearing your muck boots! The tours take place largely on a temperature-controlled cow bus or behind glass walls where you can see all the action without getting too dirty!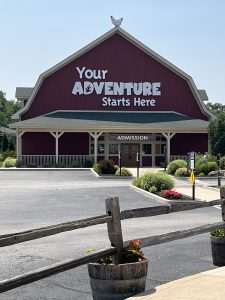 Fair Oaks Pig Adventure
Next on the animal-tour agenda is the Pig Adventure where you can explore the world of pig farming. Take a guided tour to learn about the life cycle of a pig, pig nutrition, and how pigs are raised.
My children were fascinated at how large the litters of piglets were and how the farmers rotate the piglets and mothers through the stalls to accommodate their growth.
Personally, I found the process of farrowing fascinating. Sows birth an average of over 20 piglets at a time, and can have more than 3 litters a year.
Not surprisingly, however, my kids loved the interactive Pig Adventure play area and ropes course too! Fair Oaks does a great job of incorporating learning and fun. While my children were accidentally learning about animal care, feeding, nutrition, and sustainability, they were quite literally climbing the walls and playing games!
Be sure to check out the virtual tour of the Pig Adventure here!
Fair Oaks Crop Adventure
Finally, stop at the Crop Adventure. The Fair Oaks Crop Adventure provides a chance to explore the world of agriculture and understand how crops are grown.
While my children live surrounded by corn fields, this was a chance to experience crops up close and personal. There they discovered different types of crops, learned about the importance of sustainable farming practices, and even had fun with interactive games and activities related to farming.
Plus, when in season, you can even pick your own crops like Sunflowers, Cosmos, Zinnias, vegetables, apples, and pumpkins. (Seasonal)
Is there anything else to do at Fair Oaks Farms other than looking at animals?
If you are worried that Fair Oaks Farms is just sustainable farming, lectures, and livestock, then you might be surprised to find that there are even more family activities.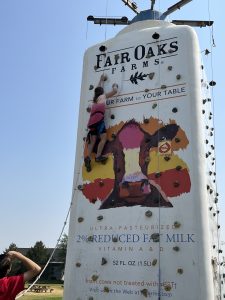 My kids look forward to their annual milk carton climbing wall, seeing who can do the most flips on the trampoline, and spending hours and hours in the indoor and outdoor pools.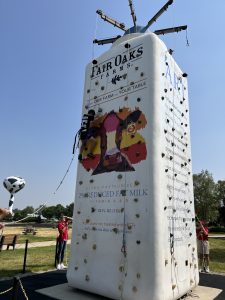 They also spend lots of time playing in Fair Oaks Mooville. Mooville is a petting zoo area where children can interact with various farm animals. Kids can pet and feed animals like goats, sheep, chickens, and more. There's also a miniature cow milking experience, where kids can try their hand at milking a cow.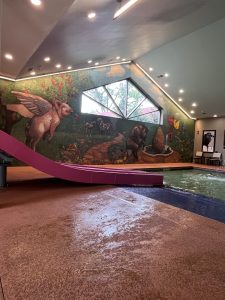 Don't leave without spending time in the gift shop and farm store where you can purchase Fair Oaks memorabilia as well as farm-fresh products, produce, and more.
Where to eat when visiting Fair Oaks Farms?
When the kids and parents are ready for a break from learning and playing, know that you can also eat like a farmer at Fair Oaks.
Fair Oaks has not one but three options for eating and snacking while on the farm. These 3 options are in addition to the continental breakfast served at the Fairfield by Marriott.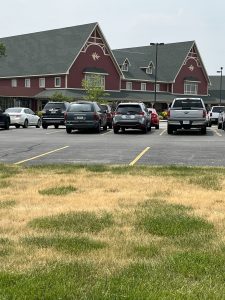 The Farmhouse
For a sit-down dining experience at Fair Oaks, treat your family to The Farmhouse. At The Farmhouse, you can enjoy farm-fresh food prepared beautifully on-site.
Located inside a huge barn-like room, you can eat in front of the giant fireplace and enjoy the farm views.
However, know that The Farmhouse is a bit of a destination in and of itself, so be sure to make reservations during peak times if you want to be sure to have a table on busy days.
To read more about the crop-to-plate experience at Fair Oaks Farms, check this out!
The Dairycatessen
For a more informal meal or snack, mosey over to the Dariycatessen for farm-fresh produce, grab and go meals, and snacks.
The Dairycatessen at Fair Oaks is known along I-65 for its clean facilities and great meals on the go, so you can easily make a quick stop at Fair Oaks even if you are just passing through.
The Cowfe
Finally, my kids favorite: The Cowfe. At the Cowfe you can enjoy the fruits of those hard-working cows! Ice cream is a must when visiting this dairy farm, and farm-fresh is the way to go!
Eat locally made cheese, shop the gift shop, and take some products for home from The Cowfe!
Tips and Cost Savings at Fair Oaks Farms
While my family loves to spend a couple of days at a time enjoying the hotel, the experiences, and the food, you can easily make Fair Oaks Farms a day trip.
If you focus on the Pig and Dairy adventures and a farm-fresh meal, you can experience the best of Fair Oaks in one busy day.
You can also bundle your stay and your pass into one cost-saving package including lodging and the adventures.
However, if you want to spend more than a day at the farm, you might want to consider upgrading that day pass into an annual pass to enjoy the farms at different times of the year.
Snag a day pass for the Adventures for $22.00 per person (under 2 are free), a 2-day pass for $38.00, and a pass for the ropes course for only $5.00.
However, if you, like me, are traveling with 5 kids for more than 1 day, then you will want to purchase an annual Adventure pass that grants entry for 2 adults and up to 5 children for the entire year. (Some seasonal exceptions apply).
2-Day passes for our 2 adults and 5 children would have cost us $266.00 in regular admission. But, with an annual pass, we can enter as many times as we want for only $150.00.
Or, upgrade further to get special access to seasonal events and special discounts all year round.
Get Fair Oaks Farm Tickets here.
What are those special events?
Special Events at Fair Oaks Farms
While Fair Oaks is fun for the whole family that wants to learn more about agritourism and agricultural sustainability, Fair Oaks also has lots of seasonal and special events.
Fall and Winter are Fair Oaks most eventful seasons. But, in late summer, their sunflower fields hit full bloom, and u-pick and photo shoot season begin!
Once the apples are ripe in the orchard and the pumpkins get plump, people from all over come to pick their own fresh apples and prepare their harvest tables!
Finally, in winter, Fair Oaks hosts the Forest of Lights where you can enjoy seasonal light displays, ice activities, and even dinner in an igloo!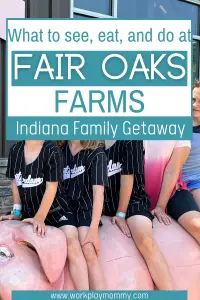 Other Nearby Attractions to Fair Oaks Farms
If Fair Oaks Farms is only one part of your getaway, consider other area attractions in the same I-65 corridor.
No trip for our family to Fair Oaks Farms is complete without a side trip to the Albanese candy factory where my children leave sugar-crazed and laden with candy!
Known as the best gummy bears in the world, Albanese candy factory is located just a short drive from Fair Oaks in Merrillville, Indiana.
Plus, we also love the nearby Wolf Park in Battle Ground, Indiana where my children see another side of animal welfare and sustainability.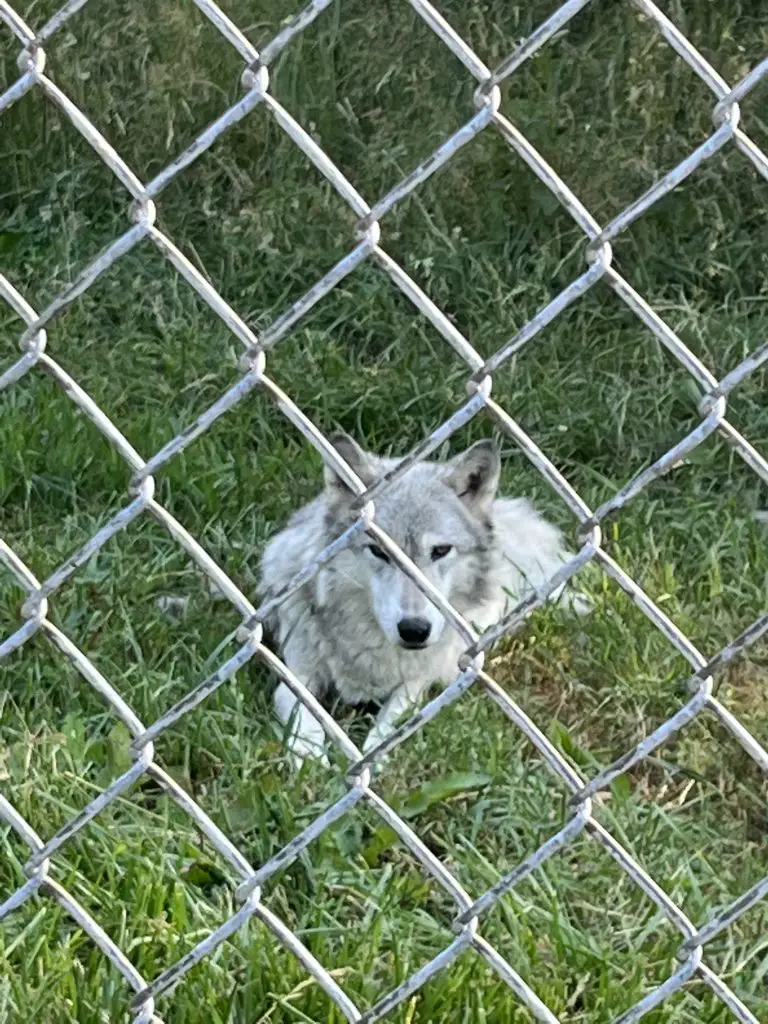 Wolf Park is seeking to preserve and protect natural habitats and wolf populations in Indiana. My children loved visiting the wolves and foxes and learning about how to preserve their homes and numbers.
Purdue University
You can also add a trip to Purdue University and West Lafayette to your itinerary. See a collegiate game, eat on Chauncey Hill, or simply walk the beautiful grounds with the family as an added stop to your Northwestern Indiana adventure.
Indiana Dunes National Park
Another Northern Indiana gem is Indiana Dunes. About an hour from Chicago and 2 hours north of Indianapolis is the sandy waterfront of Indiana. For what to do there plus what to eat and where to stay, check this out.
Fair Oaks Farms is Great Family Fun
Fair Oaks Farms is one of our repeat family destinations with kids. The grounds are immaculate, the experience is fun and educational, and my kids have great family memories there.
Even if pigs, cows, and crops don't seem particularly interesting to you, Fair Oaks does a great job of capturing your attention, highlighting unique and interesting facts, and even drawing you into the experience.
Plus, who doesn't at least love watching newborn calves stumble to their mothers and baby piglets rolling in straw.
I can highly recommend a family trip to Fair Oaks Farms.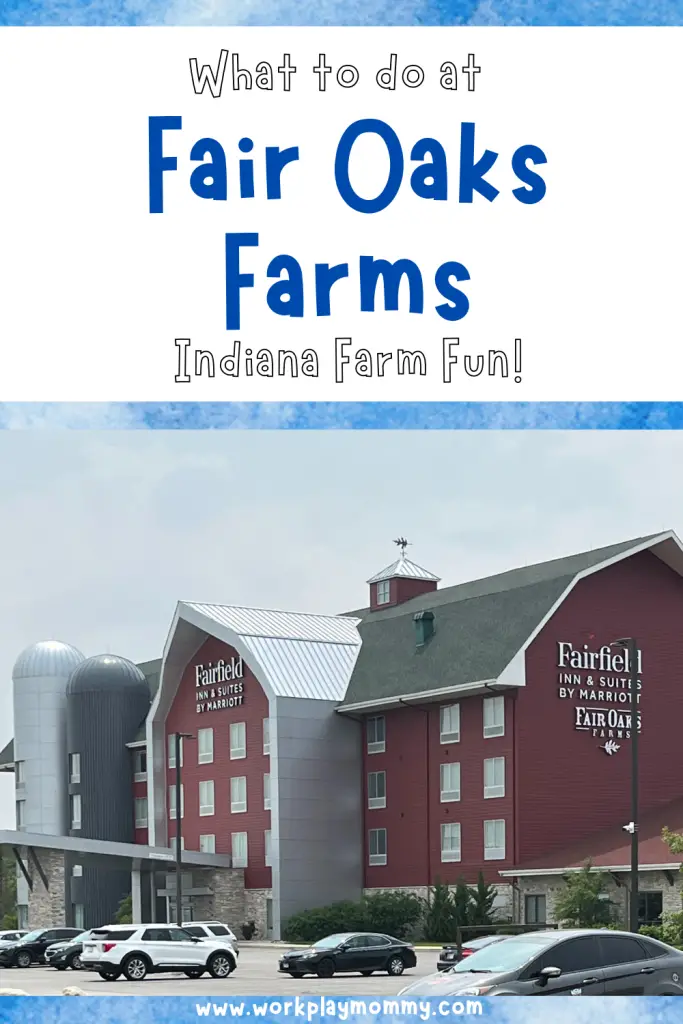 ---
[i] https://www.ers.usda.gov/data-products/ag-and-food-statistics-charting-the-essentials/ag-and-food-sectors-and-the-economy/#:~:text=In%202021%2C%2021.1%20million%20full,1.3%20percent%20of%20U.S.%20employment.
[ii] https://fofarms.com/agriculture/
You Might Also Be Interested In: