TESLA Y WITH 7 SEATS REVIEW: A DISAPPOINTING OPTION FOR FAMILIES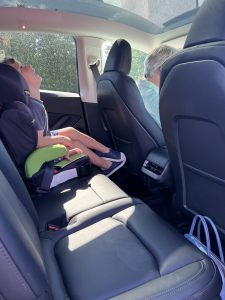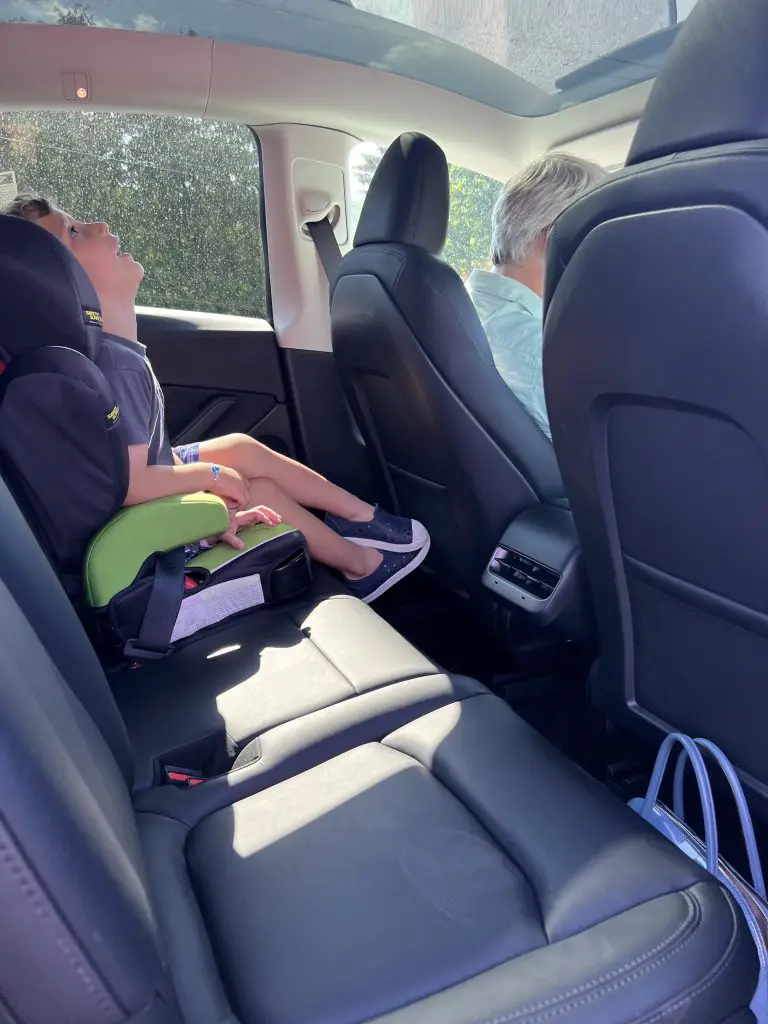 The Tesla Y 7 Seater has a sleek and futuristic exterior. It boasts a clean and minimalist interior. The Tesla Y has a lot of get-up-and-go, and you can't deny that Tesla has become the premium luxury standard. However, the Tesla Y 7 Seater is a disappointing option for families.
Even if it isn't right for my family, the 2023 updates to the Inflation Reduction Act might make this vehicle right for your family. Now that you can get thousands in tax credits and deductions, this model is worth a second look especially for families.
This sleek vehicle for up to 7 might have all the bells, whistles, space, and savings you need!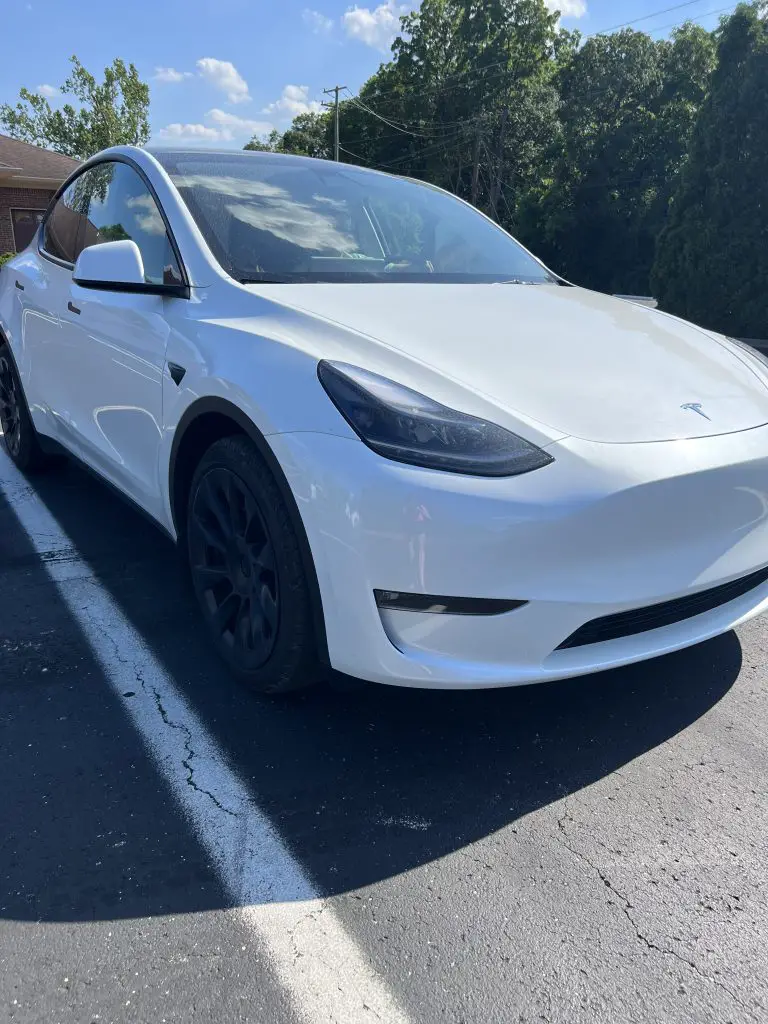 RELATED POST: Tesla Model X 7 Seater Family Review
This site contains affiliate links from which I may receive a small commission if you make a purchase. However, I am not compensated for this review, and these opinions are entirely my own.
You can't deny the luxury style of the Tesla. They are sleek, exclusive, and a symbol of a more progressive way of living. Best of all for us moms, they aren't just for the forever-bachelor or the retired millionaire. Want to know about the Tesla that seats 7 and is less expensive than many leading minivans and gas-powered SUVs?  
THE TESLA Y WITH 7 SEATS
My husband is a huge Tesla nerd. He excitedly points them out every single time we pass one. He shares strange Tesla factoids, release dates, shortage information, and resale values.
And, lately, he has been sharing every tax break related to the luxury eco vehicles.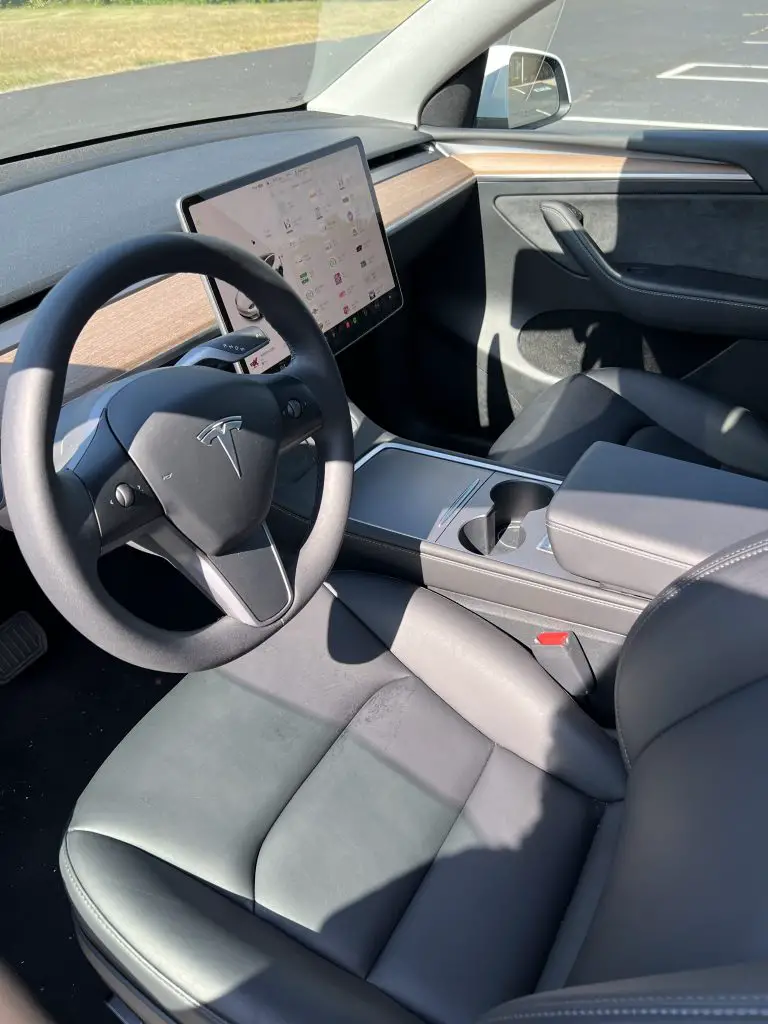 Having a Tesla is on his long-term goal list. He has been trying to figure out how to make a Tesla model work for our family.
(To read more about how we are reaching our dreams on a budget, click here!)
Sadly, Tesla isn't exactly marketed as a comfortable family vehicle. With 3 small children, our family needs a vehicle that not only transports our children but also transports their car seats and their junk. Luxury vehicles are not on our radar right now.
Therefore, the Toyota Sienna Hybrid was the prevailing vehicle of choice for our family. Despite its price tag, the mpgs, resale value, and features seem to be more than worth it.
BUT TESLA SHOCKED ME! I had never considered that Tesla might have a model that rivaled the Sienna given that minivans don't exactly fit the Tesla reputation.
TESLA'S FAMILY OPTIONS
The Tesla Y is Tesla's response to today's SUV and hatchbacks. You are likely familiar with the Tesla sedans, but Tesla also has 2 family vehicles including the Y and the X.
I love to research products including vehicles, and have spent months studying and ultimately purchasing the Toyota Sienna hybrid. Further, my husband has been stressing to me that we could technically fit our family into the X or the Y with the third row seating.
So, now that I knew that Tesla had a 7 seat option, I had to look through the specs and try it out!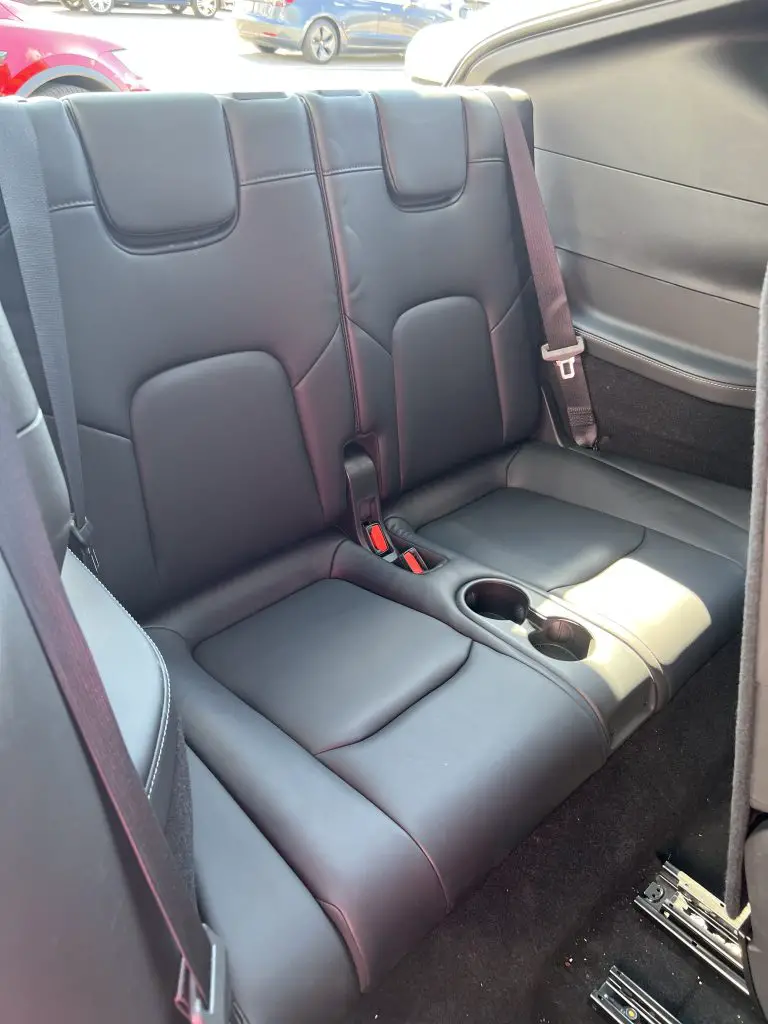 (To read my review of the Toyota Sienna Hybrid and my recommendations to Toyota for simplifying test driving vehicles along with toddlers, click here.)
THE TESLA Y AND TESLA X: COMPARABLE FAMILY OPTIONS
You can find all of the specs and information regarding the Tesla X and the Tesla Y here. However, what was important to me was the price, the cost of ownership, and the size of the interior.
After reading all of the studies, the facts, and the specs, I was still interested!
Even though both the Tesla X and the Tesla Y have optional seating for 7 and feature a similar exterior style, they sharply deviate at price and size.
While the Tesla X runs more than $116,000, the Tesla Y runs in the $50,000.00 range. With applicable credits and rebates, the current price is closer to $40,000.00.
The $40,000.00 – $50,000.00 price tag of the Tesla Y makes it comparable in price to the Toyota Sienna or the Honda Odyssey. Add the gas savings, and you have a competitively priced family vehicle.
Both still also have extra cargo space. While the Tesla X has more than 90 cu ft of cargo space, the Y has more than 76 cu ft of cargo space. So, even though the price tag is sharply distinct, so is the size. And, while both the X and the Y boast an optional 3rd row, the X will have substantially more space.
TESLA Y COST OF OWNERSHIP
When you look at the price tags, however, keep in mind that with the Tesla, you say bye-bye to the gas pump and adopt totally electric transportation.
Not only will you be saving gas money, you do a bit to help alleviate some of the damages of fossil fuels to our environment.
While you compare prices, be sure you understand that it isn't "free" to run a Tesla. Electricity doesn't grow on trees! And, those Tesla Superchargers are not free either.
Tesla markets that the Tesla Y runs for up to 320 miles per charge while the Tesla X runs for up to 340 per charge.
However, my husband and I have had the opportunity to interview a Y owner whose only complaint about his ownership of the Y was that the charge was more in the 250 range than the 300 range. Further, on one test drive of the Y (see more about our test drives below), it was fully charged and estimated that we had less than 260 miles to the next recharge.
Regardless, paying only about $6.00 for 250 miles of charge is a lot more appealing than the cost of gas, and it will be a substantial cost savings over the life of the vehicle. This is especially true if you plan on using the vehicle for daily commutes and short trips that allow you to fully charge the Tesla prior to needing to drive it again.
ADDITIONAL COST SAVINGS OF A TESLA
The cost savings doesn't even consider that Tesla's cost of maintenance is far lower than other competing models. No oil to change, no gas to buy… the pros list gets longer and longer!
A family vehicle with seating for our growing family, no gas to buy, and lower long-term maintenance? I had to give it a try! Truly, I wanted this to be the right vehicle for our family.
I was sold before I arrived, but Tesla promptly disappointed us.
THE TESLA Y 7 SEATER TEST DRIVE MOM REVIEW
We set up our touchless Tesla test drive with our nearest Tesla retailer. We chose to compare both the Tesla Y and the Tesla 3 given that the Tesla X will not be in our budget anytime soon.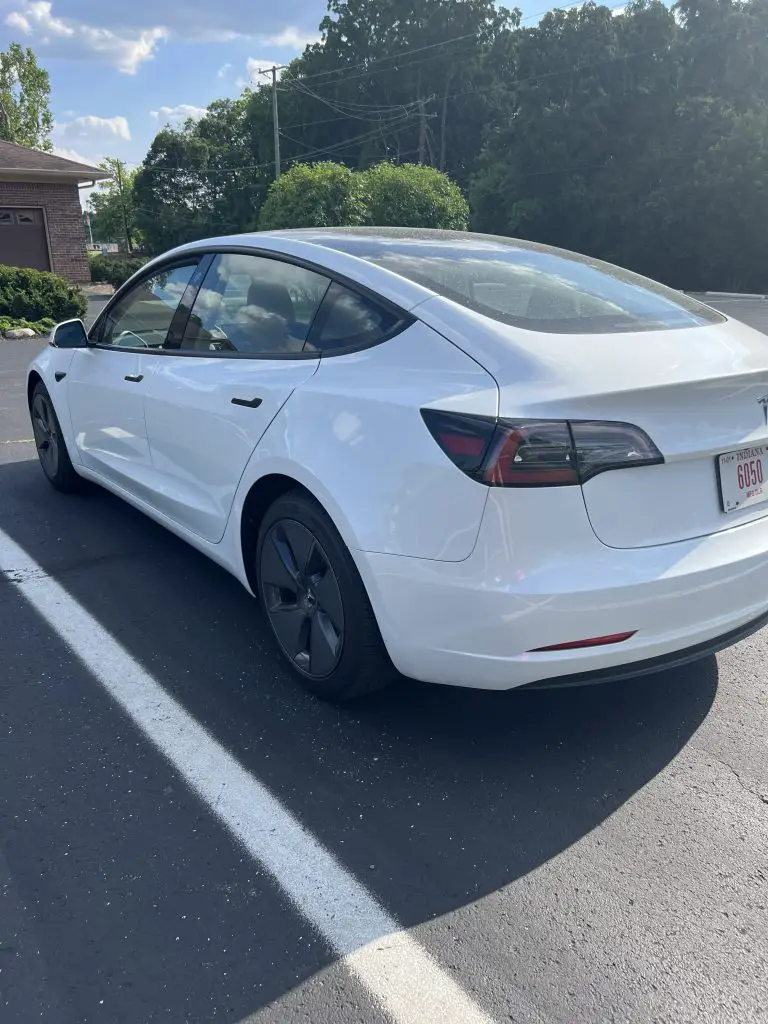 Much like the vehicles themselves, Tesla dealerships are sleek innovative machines. Unlike a dealership where you are swarmed at the lot by a crowd of eager sales folks, our experience at Tesla began online.
Tesla has a contactless test drive system where you can register for a vehicle, upload your driver's license, and schedule your arrival time. This made finding an available vehicle and time slot for the test extremely convenient.
Book your contactless test drive here.
We arrived shortly before our arrival window and were wisked off to a waiting room with a kid's section, wi-fi, and comfy seating. Our toddler quickly found the Elon Musk books in the children's area while my husband and I looked through interior colors, exterior styles, and models.
Before the test drive I was almost completely sold on the 7 passenger Y. I loved the idea of a family vehicle that does its part to reduce emissions and cuts down on gas costs.
Then, the sales person pulled up with our 7 seater Y test vehicle, and I knew we were going to have issues.
SEVERAL SEAT CONFIGURATIONS
When it was our turn to test drive, our representative was gracious enough to locate the 7 seater Tesla Y. He let us play with the seating configuration. We moved the car seats around. And, he even taught us to use the systems.
Considering the day was a blistering 100 degree day, our representative went above and beyond to stand out on the hot lot while we climbed in and out of the three rows. He even helped us move the seats, wiggle the car seat around, and chase our toddler.
We chose to put our 2 oldest children in the third row since they would be the most adept at opening and closing the middle row.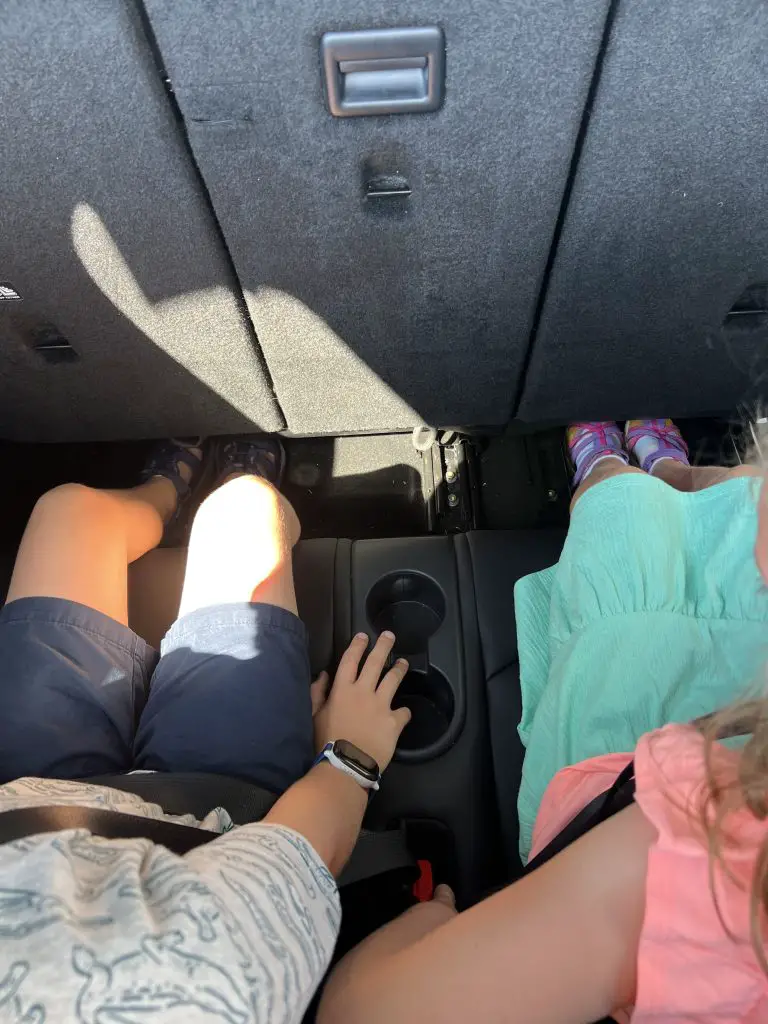 Our youngest, who is now in a backed booster, was in the middle row.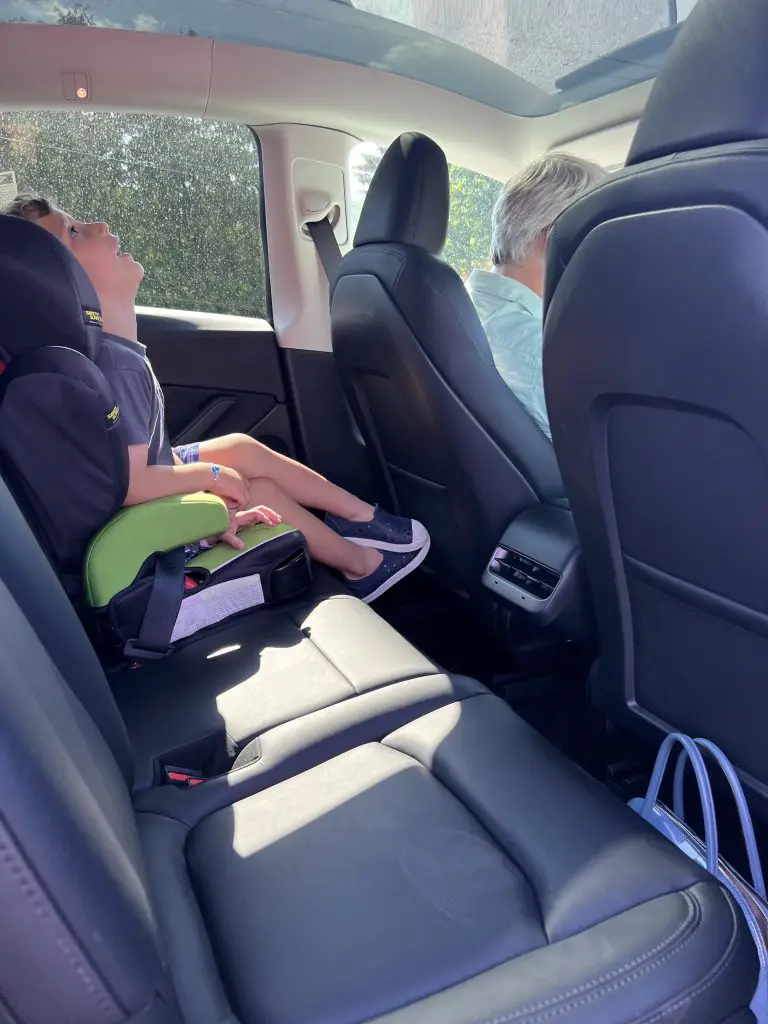 We carefully closed the middle row –careful not to sever any toes–and rolled the middle row forward to give them just enough space to hold their feet at an angle. Within seconds, our oldest were asking to get out because it was too tight even for our petite 7 year old.
Within minutes, after we moved the seats, reconfigured the rows, played with the seat releases, and loaded car seats, we came to one very simple conclusion: the Tesla Y 7 Seater is not for us. Frankly, the Tesla Y 7 seater is not for families with more than 2 kids. Why?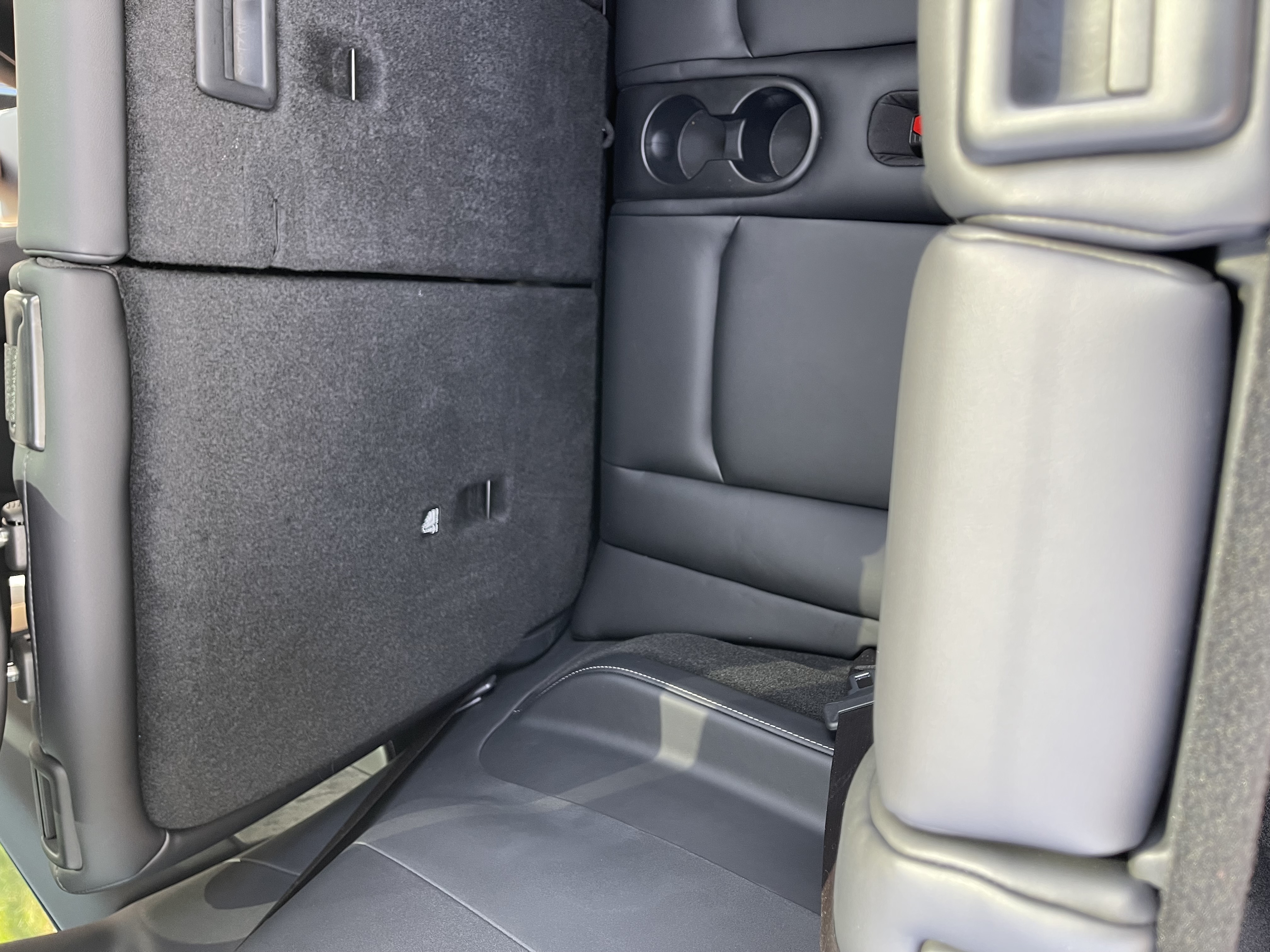 THE TESLA Y 7 SEATER THIRD ROW
The third row is completely unusable for a family. My kids are small, and they could not even put their feet flat on the floor.
Plus, the only way to even fit their feet at an angle was to roll the middle row forward so that our toddler could keep his feet at an angle between the driver seat and middle row.
Our family is accustomed to sitting in a compact family vehicle where everyone can still touch everyone. So, we did not check out the Tesla expecting wide rows and excess storage. But, it was FAR worse than we expected.
As a point for Tesla, my husband, a grown average size man, was able to climb into the third row, and close the seat in front of him. While he would not be able to move his feet or his legs, he could sit in that seat if it were absolutely necessary.
BUT…
The third row was only usable if the second row was pushed forward. This meant that not only were his knees and feet completely pressed up to the back of the second row, but my knees and feet were pressed up to the back of the driver's seat.
Correspondingly, I had already pulled the driver's seat up so that I could reach the pedals. One change in the seat configuration would render the 3rd row completely useless.
CAR SEATS AND THE THIRD ROW
Now add a car seat. Even with our son's backed booster, not to mention a rear-facing infant seat, we could not figure out a method where all three rows were usable without knees and feet smashed up against the seats in front of them.
But, this wasn't a complete deal breaker.
For lower long-term ownership costs and a reduction in our carbon footprint, we might have been able to handle being tight on space IF that were the only problem.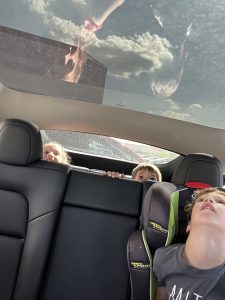 SPACE IS NOT THE ONLY ISSUE
The larger problem was that the only access to the third row was by completely lifting the second row.
This meant that everyone in the second row would have to get out to let someone in the third row out. Further, it meant that I would have to risk severing one of my children's toes every time that they climbed in.
While my children might ultimately fit in the vehicle, they would be neither comfortable nor safe from accidental dismemberment. A captain's seat option would have been a much more practical configuration.
The lack of accessible space in the Tesla Y 7 seater was a complete veto for our family with 3 small children.  
Even my children said that they didn't want to ride in it and preferred the three-across seating of the Tesla 3.
TESLA Y 7 SEATER CARGO SPACE
As a bit of redemption, let's talk about the cargo space. While the third row was completely unusable, except in emergency circumstances, the cargo space remained reasonable.
Even with the third row set up, you would still be able to load luggage or groceries in the cargo space. Further, you would have the added bonus of the Tesla's frunk.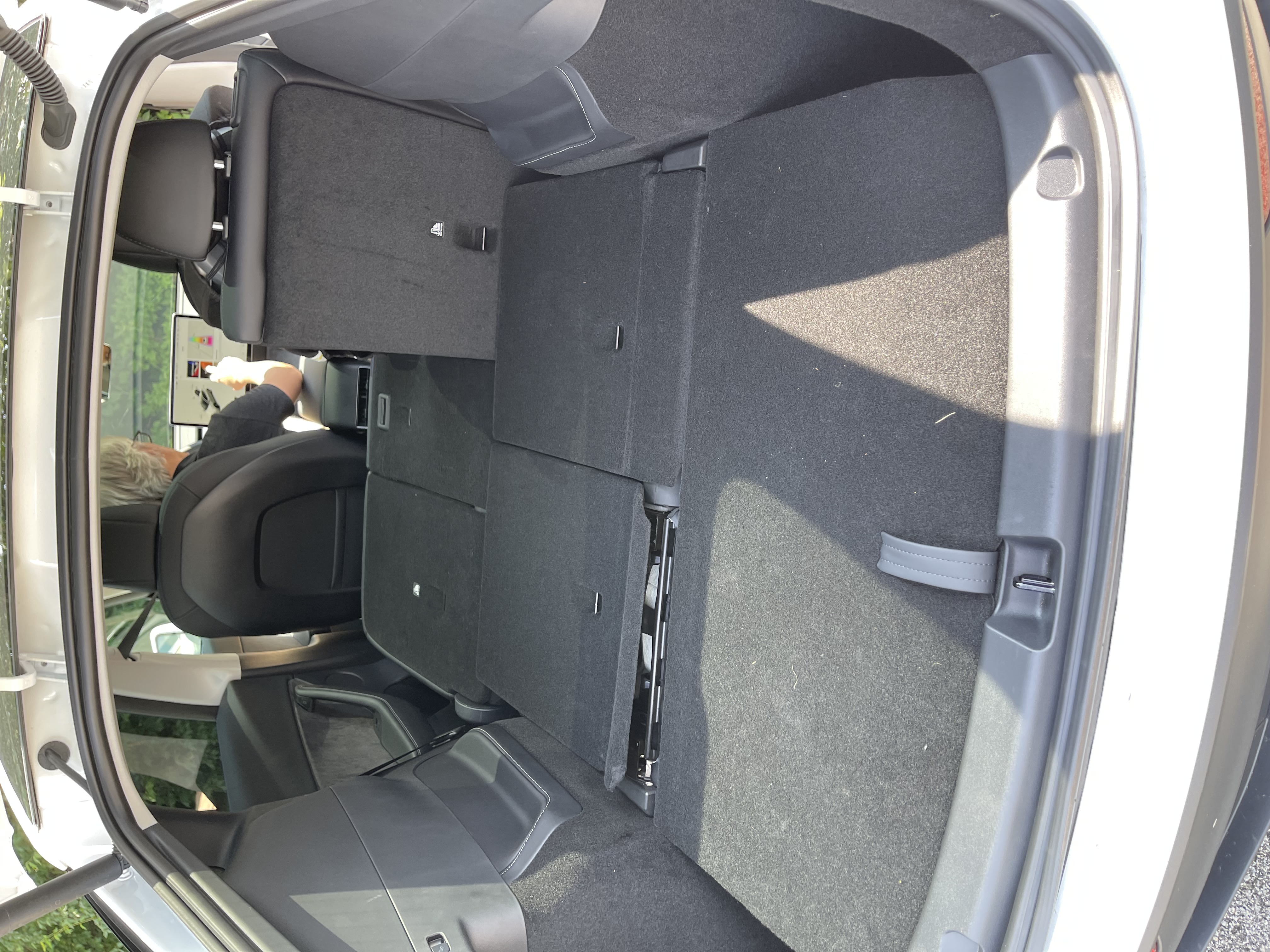 With the third row stowed, the cargo space could easily meet all your family travel needs: bikes, luggage, sporting equipment, etc.
Shockingly, where Tesla skimped on leg room, it made up for in cargo space.
Sadly, being able to load a suitcase into the back of the Tesla Y does not make up for the inability to actually seat my small children in the back seat.
TESLA TECH
Despite the lack of size, the tech is unmatched! It's awesome!
Not only is the layout of the vehicle and the in-dash computer next gen, the vehicle is just plain fun.
My husband giggled like an idiot when he discovered that he could add a whoopie cushion to each seat in the car.
My son sang "Let It Go" at the top of his lungs in the karaoke option,
And, we were all mesmerized as the detection systems mapped the cars, lights, and stop signs around us on the screen.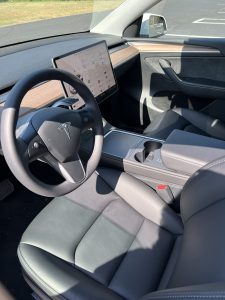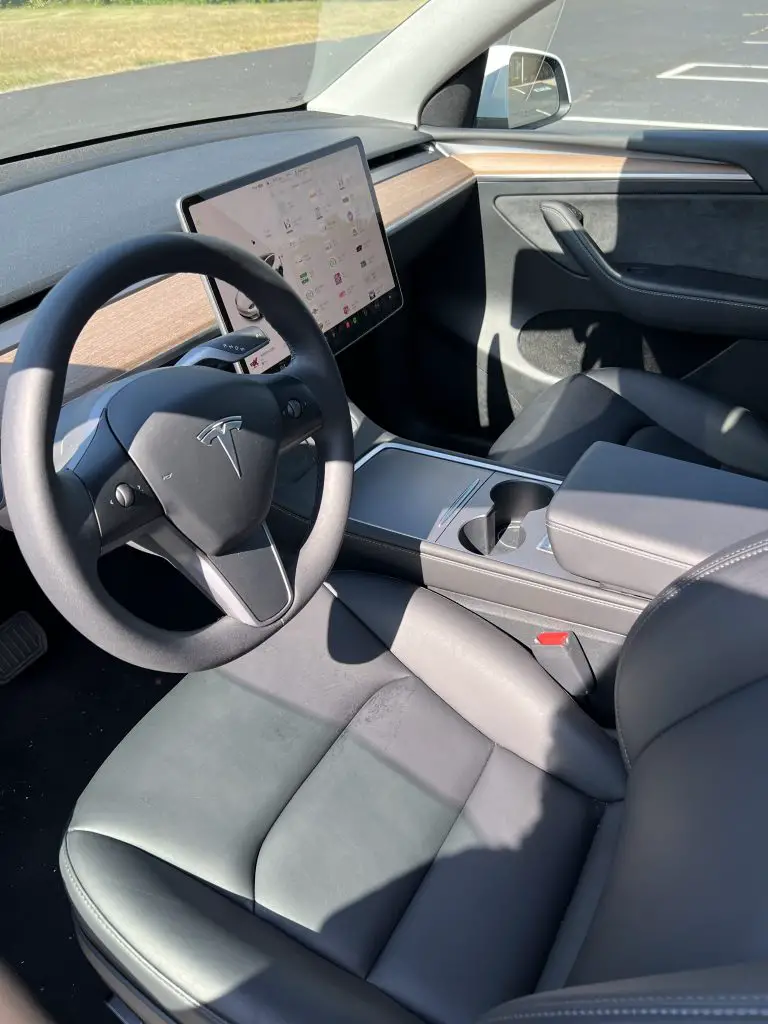 Plus, my children had unobstructed views of the sky through the front to back moonroof. They loved being able to watch the airplanes fly overhead!
If we had only 2 children and didn't have a growing family, this vehicle would have been a top contender just from the standpoint of fun. Tesla is redefining the drive.
From superchargers popping up across the country to Tesla-oriented road trips maximized for distance and charging, these cars are cool.
Sadly, the fun and kooky features of the Tesla in-dash computer and innovative design were not enough to overcome the need for space.
TESLA Y 7 SEATER IS A DISAPPOINTING OPTION FOR FAMILIES
Owning a Tesla is still on our family dream list. It will likely happen someday. But, the Tesla Y 7 Seater will not be the answer to our current family vehicle search.
If you are a family in the market for a comparably priced vehicle that seats more than 3 children and is 100% electric, then the Tesla X and Y are probably your top, if not your only, options.
The Tesla style is yet unmatched. The gas savings are unrivaled. Further, the cost of ownership shaves thousands of dollars off of the purchase price. Not to mention the tax savings available now.
However, if you plan to use the vehicle as a family vehicle where your children can not only access but sit comfortably in their seats, then the Tesla Y is not for you.
I WANT TO LOVE THE TESLA Y FOR FAMILIES, BUT I CAN'T
No matter how much I wanted it to be right for our family, regardless of the specs and reviews I read before test driving, and irrespective of our desire to own a Tesla, we could not make it work.
Yes, our kids could technically get into the vehicle with practice and supervision. Yes, we could technically use it on family trips and daily commuting. However, the style, luxury, and technicalities just won't work for us.
Our kids were glad to get out of the car and asked that we not get it because it was too cramped.
(If you are still interested in an electric family vehicle, check out the Tesla X that has far more space than the Y. I have not reviewed it yet, but would love to!)
Let me know if you have made the Tesla X or the Tesla Y work for your family!
To check out my review of the Tesla X 7 Seater for the family, read this!