Kings Island tips for the whole family traveling with kids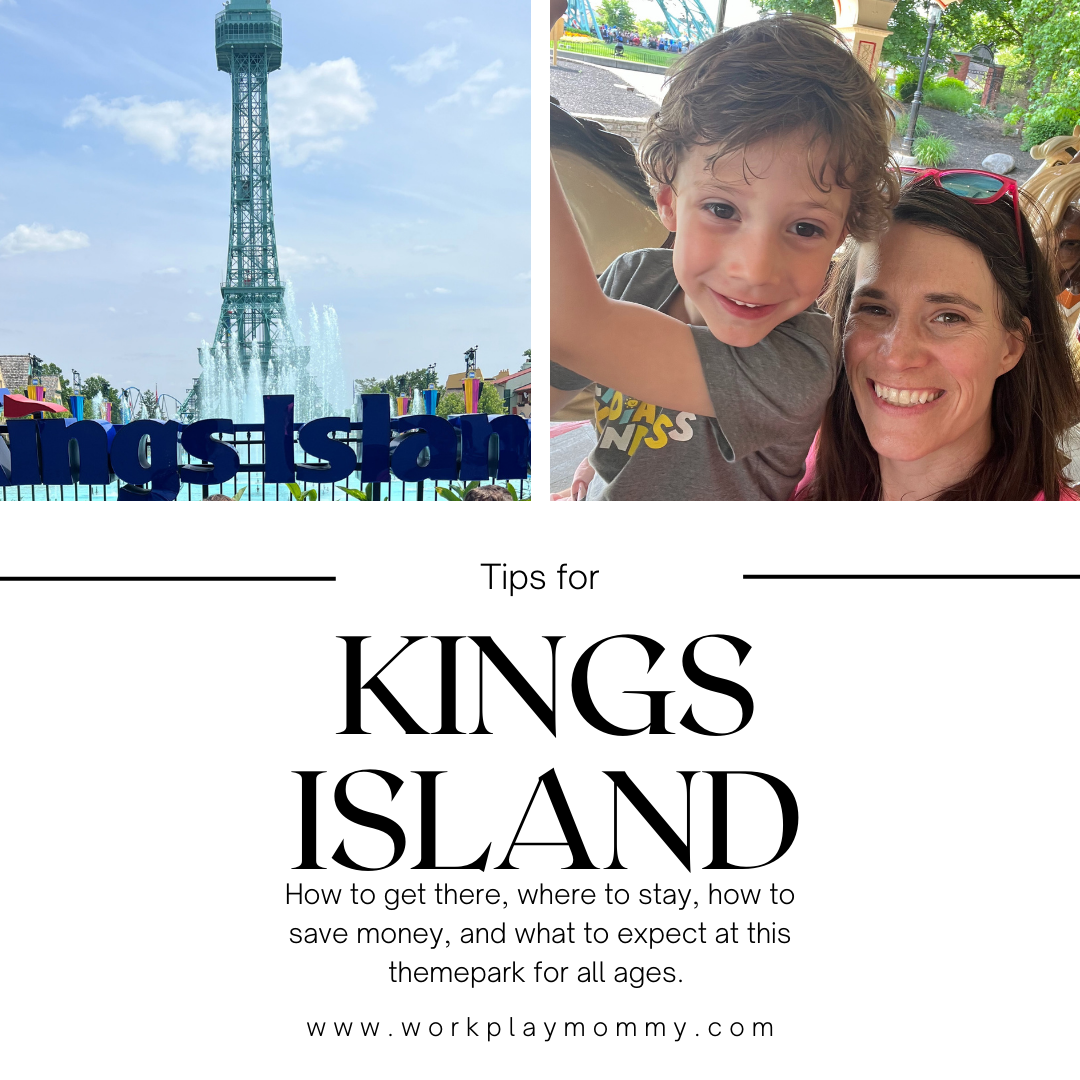 What Is Kings Island?
Kings Island is a popular amusement park located in Mason, Ohio, just outside of Cincinnati. It is a thrilling destination that offers a wide range of attractions and entertainment for visitors of all ages. Looking for Kings Island tips including what to expect, where to stay, how to save money, and more?
If you want to know why Kings Island is great for families of all ages including toddlers, check this post out.
Our family loves visiting Kings Island because it has something for our whole family –toddler included!
Thrill-seekers, like my oldest, can experience adrenaline-pumping rides like the Beast, one of the world's longest wooden roller coasters, or Diamondback, a steel coaster known for its exhilarating drops. (But, he will tell you that his favorite is Orion!)
The park also has a waterpark with water rides at Soak City Waterpark. There you can cool off on slides, wave pools, and lazy rivers. Additionally, Kings Island hosts live shows, has a variety of dining options, and offers entertainment for younger guests with family rides, a children's area, and character meet-and-greets.
Located in Mason, Ohio, Kings Island is conveniently situated near Cincinnati and easily accessible by car or public transportation.
Find it with your GPS at
6300 Kings Island Drive, Mason, OH 45040.
The park's proximity to major cities and its thrilling attractions make it a popular destination for locals and tourists alike, providing a fun-filled experience for everyone who visits.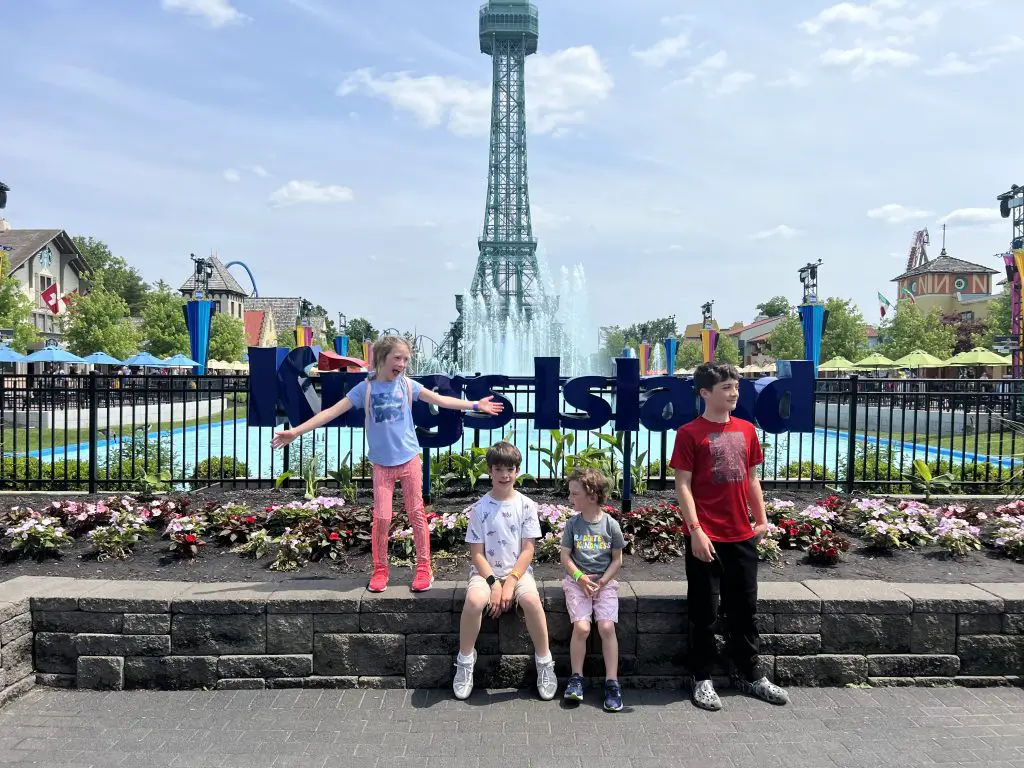 Where is Kings Island?
Kings Island is located in Mason, Ohio off of Interstate 71. Mason is in Southwest Ohio between Cincinnati and Dayton.
It is approximately 215 miles southwest of Cleveland, Ohio.
It is approximately 120 miles southwest of Columbus, Ohio.
It is approximately 22 miles northeast of Cincinnati, Ohio.
It is approximately 110 miles southeast of Indianapolis, Indiana.
For Midwesterners, this park is an easy drive from almost any direction and is rivaled in the region only by Cedar Point for size and thrill!
For thrill seekers and roller coaster enthusiasts, Kings Island is near the top of the list of must-visit amusement parks and can be accessed easily from both the Cincinnati and Columbus airports with a short drive.
Where to stay when visiting Kings Island?
Mason, Ohio boasts dozens of hotels and accommodations near Kings Island. Larger families like ours love the Embassy Suites or the Residence Inn nearby.
However, if you really want to have a great family experience at both the park and at your hotel, stay at the Great Wolf Lodge!
What to pack for Great Wolf Lodge!
The Great Wolf Lodge in Mason not only has all the fun and entertainment you would expect from an indoor waterpark but also has a connecting sidewalk to Kings Island.
Your family can enjoy a day at the park and a day at the waterpark without ever piling into the car or paying for parking!
Best Times to Visit Kings Island
Depending on your interests, you might want to calculate your trip to Kings Island.
Whether you are looking for the lowest crowds or the most exciting special events, times and recommended schedules vary.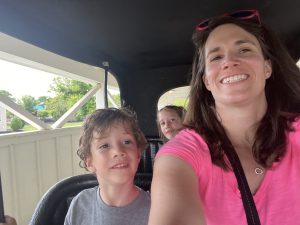 When to go to Kings Island for the Lowest Crowds
Kings Island can get really crowded. Because it is only open during the warmer seasons, Kings Island can get especially crowded during summer school breaks and weekends.
To take advantage of lower crowds, and in turn shorter lines, visit during off-peak seasons like late Spring or early fall. Also take advantage of slower weekday crowds when attendance tends to be lower.
Our family chose to visit on a Monday while most schools were still in session. We rode every large ride in the park without ever waiting more than 20-30 minutes. Some we even rode repeatedly!
Here are some of the best times to visit Kings Island for lower crowds:
Spring and Fall: The months of April, May, September, and October are ideal for visiting Kings Island with lighter crowds. These periods are considered off-peak seasons, especially weekdays outside of holidays and school breaks.
Weekdays: If possible, plan your visit on a weekday rather than a weekend. This is when the park tends to be less crowded as many people are at work or school. Tuesdays, Wednesdays, and Thursdays usually have the lowest attendance.
Avoiding Holidays and School Breaks: Try to avoid visiting Kings Island during major holidays like Memorial Day, Fourth of July, and Labor Day, as well as during school breaks such as spring break and summer vacation. These periods typically attract larger crowds.
Early Mornings and Late Evenings: Arriving early when the park opens or staying late towards closing time can also help you enjoy shorter lines and fewer crowds. Many visitors tend to arrive later in the day, so taking advantage of the park's full operating hours can enhance your experience.
Remember that weather conditions, special events, and promotional offers can also impact crowd levels. It's a good idea to check the park's official website or contact guest services for any updates or information that may affect your visit.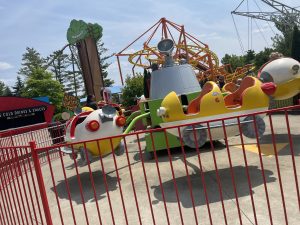 When to go to Kings Island for Special Events
Kings Island also hosts several special events throughout the year, each offering unique experiences and entertainment.
Some of my favorite memories with my husband are of attending concerts at Kings Island's large outdoor amphitheater venue!
To make the most of these events with your whole family, here are some of the best times to visit Kings Island:
Halloween Haunt: If you enjoy spooky festivities, plan your visit during Kings Island's Halloween Haunt. This event typically runs on select nights from September through October, transforming the park into a haunted wonderland. You can experience haunted mazes, scare zones, live shows, and thrilling Halloween-themed attractions.
WinterFest: Kings Island's WinterFest is a fantastic event held during the holiday season, usually from late November to December. The park is transformed into a winter wonderland with dazzling lights, ice-skating, live entertainment, festive shows, and opportunities to meet Santa Claus. Visiting during WinterFest allows you to enjoy the magical atmosphere of the holiday season.
Special Concerts and Performances: Throughout the year, Kings Island occasionally hosts special concerts or performances featuring popular artists or entertainers. I've seen dozens of artists perform at Kings Island over the years!
Opening Weekend or Closing Weekend: Attending Kings Island during the opening or closing weekends of the regular operating season can be a great time to visit. These weekends often feature special celebrations, entertainment, and promotional offers. It's an opportunity to experience the park at the beginning or end of the season while enjoying the added festivities.
To plan your visit around these special events, be sure to check the park's official website here or contact guest services for specific dates, event details, and any additional information or requirements.
Special Considerations for Visiting Kings Island
Kings Island takes lots of steps to ensure a safe and comfortable visit for all of the visitors. Some special considerations include first aid stations, handicap access, baby care, dietary considerations, and more.
Special Considerations for Health and Safety at Kings Island
First Aid: Familiarize yourself with the location of the park's First Aid facilities. They are staffed with medical professionals who can assist with minor injuries, medical emergencies, or provide necessary care. Carry any necessary medications or medical supplies with you, and don't hesitate to seek help if needed. Stay cool and hydrated to avoid lots of common maladies!
Handicap Access: Kings Island is committed to providing accessibility for guests with disabilities. The park offers accessible parking, wheelchair rental, and accessible restrooms throughout the premises. Wheelchair access is available for most rides and attractions, and there are designated viewing areas for shows. Contact guest services or visit the park's website for detailed information on accessibility services and facilities.
Baby Care: For parents with infants or young children, Kings Island provides Baby Care Centers. These centers offer private nursing rooms, diaper-changing stations, feeding areas, and a selection of essential baby care products for purchase. The centers are conveniently located within the park and provide a comfortable and convenient space for parents to attend to their baby's needs.
Dietary Restrictions: If you have specific dietary restrictions or allergies, Kings Island offers a variety of dining options that cater to different dietary needs. The park has food stands and restaurants that provide vegetarian, vegan, gluten-free, and allergen-friendly food choices. Inform the food service staff about your requirements, and they will assist you in finding suitable options.
Assistance Animals: Guests with disabilities who require the assistance of service animals are generally allowed to bring them into the park. It is recommended to contact guest services in advance to ensure compliance with the park's policies and to obtain any necessary information or assistance.
Remember to plan your visit in advance, review the park's official website for specific details and policies, and reach out to guest services for any additional information or specific accommodations you may require.
Kings Island strives to provide a welcoming and inclusive environment for all guests, and their staff is available to assist with any special considerations or needs you may have during your visit.
What to Wear to Kings Island?
When visiting Kings Island, it's important to dress comfortably and appropriately for a day of outdoor activities. Here are some simple criteria to consider when choosing your attire:
General Clothing Considerations
Comfortable Clothing: Opt for clothing that allows freedom of movement and keeps you comfortable throughout the day. Choose lightweight, breathable fabrics, such as cotton or moisture-wicking materials, to help you stay cool during warm weather. Don't wear clothing that is likely to fly off in a loop-to-loop or slide up/down as you soar over hills at multiple Gs!
Practical Footwear: Select footwear that is comfortable and suitable for walking long distances. Closed-toe shoes or athletic sneakers are recommended, as they provide support and protection for your feet. Further, shoes that are closed are less likely to fly off of rides! You will see lots of flip flops on the ground surrounding some of the rides!
Weather-Appropriate Attire: Check the weather forecast before your visit and dress accordingly. Bring appropriate layers or outerwear for cooler temperatures or inclement weather. Many of the lines are not shaded, and rain and heat can make for an uncomfortable day. Consider packing a light jacket or sweater for evening hours when temperatures may drop. Additionally, bring sun protection such as a hat, sunglasses, and sunscreen for sunny days.
Park Specific Considerations
Modest Attire: Kings Island maintains a family-friendly environment, so it's advisable to dress modestly. Avoid clothing with offensive or inappropriate graphics, slogans, or images. Refrain from wearing excessively revealing outfits that may be deemed inappropriate for a public setting.
Swimwear: If you plan to visit the Soak City Waterpark within Kings Island, make sure to wear appropriate swimwear. Follow the park's guidelines regarding swimwear attire, which typically require appropriate bathing suits and prohibit denim or cotton clothing in the water attractions. From personal experiences, our family can recommend one-piece suits and drawstrings for the water slides!
Bag or backpack: Kings Island does not permit you to bring it outside food or drinks, but it does have storage lockers at the front of the park. I find it better; however, to bring only a small bag of absolute essentials that can be secured tightly on your body during rides. Loose bags or backpacks are not permitted on many of the rides.
By following these simple criteria, you'll be dressed comfortably and appropriately for your visit to Kings Island. Remember to also bring any necessary accessories like hats, sunglasses, and sunscreen to protect yourself from the sun and ensure a pleasant experience throughout the day.
Drinks, Food, and Dining at Kings Island
Personally, I am not much of a foodie, but I do love to snack, and Kings Island has all the snacks I might be looking for.
While Kings Island has several dining options for full meals some are more like giant cafeterias than restaurants.
Where to eat at Kings Island
Five of the most popular places to eat a full meal at Kings Island are
Coney Bar B Que: This restaurant offers a delicious selection of barbeque favorites, including pulled pork, smoked chicken, ribs, and sides like macaroni and cheese and cornbread. It's known for its flavorful meats and generous portions.
Festhaus: Festhaus is a popular dining option that serves a variety of international cuisines in a festive and lively atmosphere (read loud!). You can enjoy dishes like pizza, pasta, salads, and even traditional German fare. Basically it has everything that a big group of teenagers would be looking for!
Hank's Mexican Grill: Hank's Mexican Grill is a favorite among visitors craving Mexican cuisine. It offers a range of options, including tacos, burritos, nachos, and Mexican street corn. As Kings Island expands its southern flavors at Adventure Port, some of these Tex-Mex cuisines are getting new features and boosts.
Miami River Brewhouse: Miami River Brewhouse features a selection of craft beers and a gastropub-style menu.
Chicken Shack: Chicken Shack is a go-to spot for fried chicken lovers. The restaurant serves crispy, golden-fried chicken tenders, wings, and sides like coleslaw and fries.
Please note that availability and offerings at each restaurant may be subject to change, so it's always a good idea to check the park's official website or contact guest services for the most up-to-date information on dining options.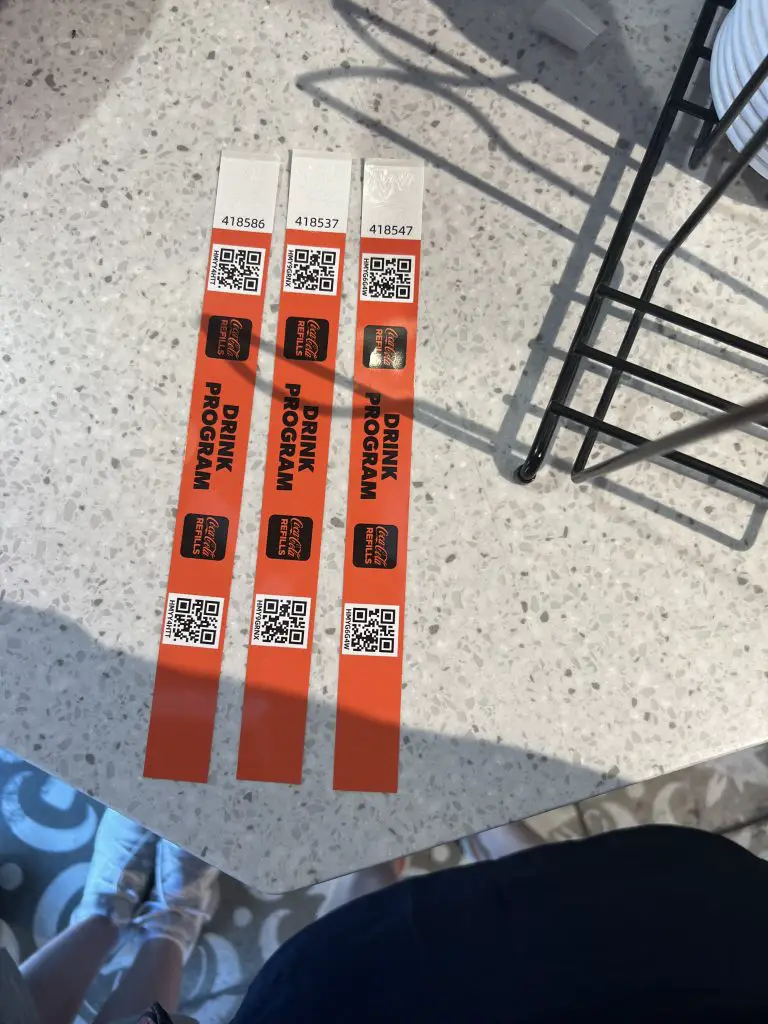 Drink Plan at Kings Island
One of the additions that we love at Kings Island is the unlimited drink program. If you purchase an unlimited drink package with your advance ticket, it is currently only a $5.00 upgrade.
Even if you only drink water all day, this plan pays for itself several times over in both sanity and cost.
A simple bottle of water at Kings Island can cost upwards of $5.00, and knowing that your family is well hydrated in the heat and sun gives peace of mind.
The unlimited drink plan grants the holder 1 fountain drink every 15 minutes (fountains include water). Simply scan your wristband at the drink kiosks, and you never have to worry about whether the family is staying hydrated.
You can even upgrade your all-day drink plan to an all-day food plan as well. Read more about the drink and dining plans here.
Make Your Day Thrilling at Kings Island with Kids
Kings Island is great fun for the whole family. Your thrill seekers will love the world-renowned coasters, and your toddlers will love Planet Snoopy.
With something for everyone, this roller coaster park is conveniently located with lots of great local accommodations.
Children and adults alike will enjoy a day of thrills, fun, shows, food, snacks, and more at Kings Island.
Make the most of your trip with insider tips on where to stay, what to do, and how to make sure that you have the safest trip you can.