The top ten reasons why you should travel with your kids!
OUR ROMANTIC GETAWAY PLANS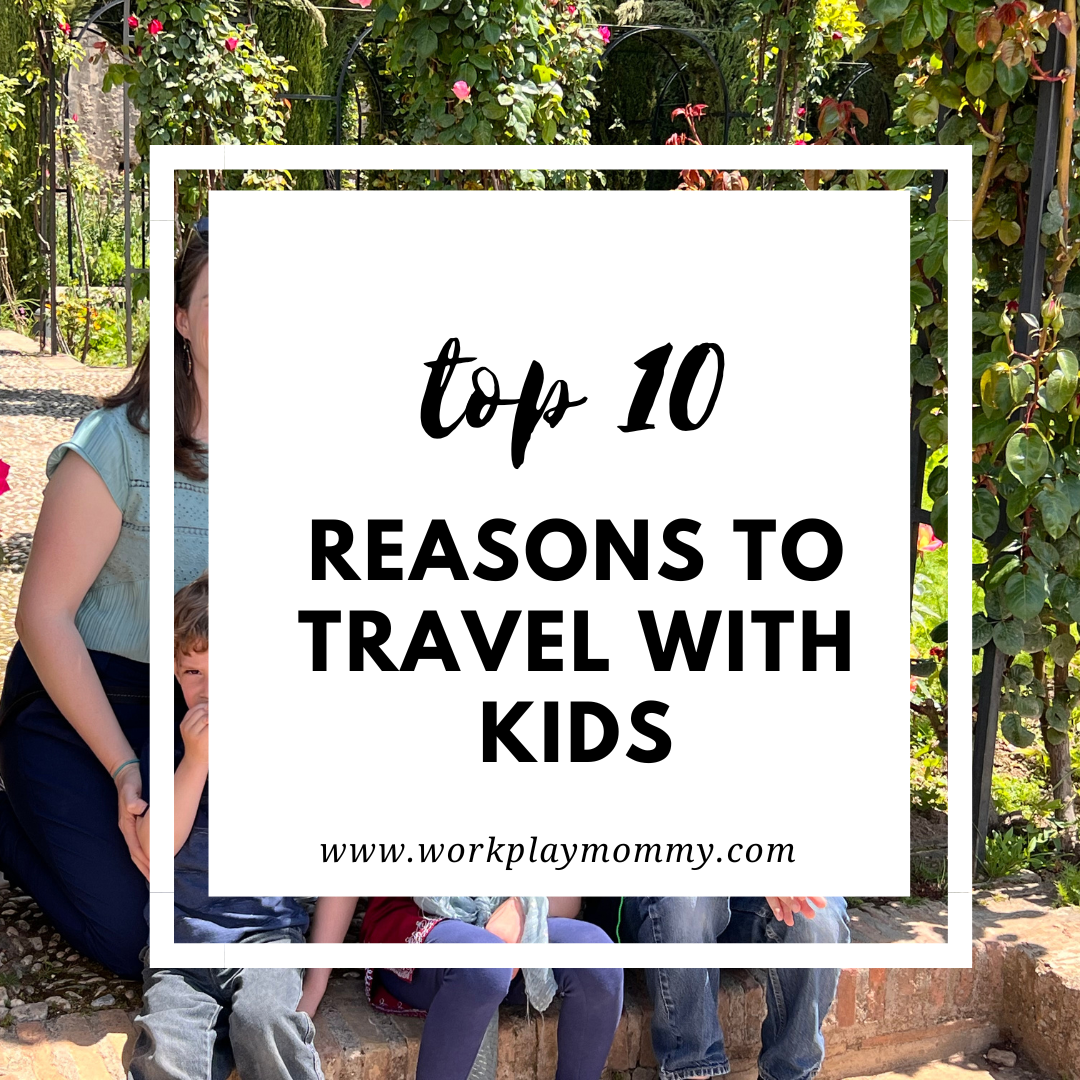 For nearly 10 years, my husband and I planned to go big on our tenth anniversary. Then, I was pregnant on our tenth anniversary, and since pregnancy never goes well for me (read more here), we postponed it to our eleventh anniversary.  
(This site uses affiliate links from which I may receive a commission at no additional cost to you.)
We booked a dreamy once-in-a-lifetime romantic getaway to HAWAII. Then, everything went crazy; we lost our trip, and we were left without our big anniversary getaway.  
With three kids at home…all.the.time, we thought we really wanted to get away. We wanted to do something different, exciting, and new. But, when it came down to it, when we finally made our replacement plans, we took the kids!!! And, we never regretted it.  
Travel with kids can be better than without them!
Traveling with kids can be even more fun than traveling without them! 
When my husband and I finally went out to eat for the first time in months, it was the first time we had been out without our kids in even longer. In fact, it was our anniversary over a month late because we couldn't make it happen at any time near the actual anniversary. (When we were supposed to be in Hawaii!) And, what happened?  
Nope, we didn't talk about how much we loved each other. We didn't reminisce about our dating years, and we didn't talk about retirement. Instead, we spent the vast majority of the night talking about our kids. In fact, the only conversations that interrupted discussions about our kids were likely discussions about the vast quantities of calories we were consuming and discussions about our budget. (Romantic, right??!!) 
You see, it always seems to go that way. Whenever we have a night out, a free afternoon, a quiet house, we revert to missing our kids. I know you feel the exact same way that I do: you know that you have the best kids in the entire world.  
Your whole life revolves around them: what they need, what they want, what they are wearing/learning/eating. I find them fascinating; strange blobs of wonder and energy.  
Taking kids on vacation with you or traveling with you is like seeing all those strange and wonderful quirks magnified.  
WHY TRAVEL WITH KIDS CAN BE MORE FUN!
Here are some of the reasons that we have more fun traveling with our kids than without them! 
10. You will try more new things when you travel with kids.  
When traveling with kids, you might have to travel off the beaten path a little bit more. Further, due to the range of interests and ages that you are traveling with, you might be pushed out of your comfort zone. You may have to try and experience new and different sites or entertainment.  
I would never be drawn to the arcade on the boardwalk, the enormous candy store, or the dolphin encounter. But my kids are. Water terrifies me; bugs disgust me, and cold paralyzes me. But, my kids love to body surf, dig in the mud, and snow tube. 
Traveling with my kids forces me to try new things just because I love to see them happy and trying new things! Sometimes, I even enjoy myself! 
9. You will have to slow down and enjoy more.  
With three little ones, I have a motto. "We go nowhere fast." By the time that we fight the bathroom fight for the third time, locate 6 matching and fitting shoes, and buckle 3 harnesses in the car, more than 30 minutes have gone by.  
The same is true on vacation. Before we make it to the beach, we must pack snacks, towels, sun shade, hats, toys, and first aid essentials. Applying sunscreen to 3 children excited to go to the beach is no small task. And, at some point, mommy and daddy have to get ready too.  
Knowing that our kids will take a long time to do ANYTHING forces us to accept that we move at a slower pace. Because of that, we have meandered along the shoreline for hours watching rays, dolphins, and crabs.  
Because we slowed down, we were able to schedule naptimes at Disney World making the trip more enjoyable for all of us. And, due to slowing down we have been able to cover far more mountain than I ever imagined little 4-year-old legs could climb. Walking at my kids' pace really made our trips more enjoyable. 
8. You will be more active when you travel with your kids.  
Ever chased a toddler? Ever chased a toddler where there are cliffs, water, and hundreds of other people? It is physically exhausting but so much fun! Everything is exciting for these little balls of energy.  
Even my big kids do not accept naps as vacation! They don't enjoy a slow, leisurely dinner or simply browsing through a store. Instead, they want to constantly play, climb, experience, discover, and explore.  
SO, that means that we explore with them. We play the imaginary games with them. The kids teach us to create silly stories for the sites, people, and animals we see. And, they force us to see things that we had taken for granted from a new and different perspective.  
7. You will have to be more intentional about your planning.   
Going to dinner with littles isn't easy. But you know this already. In no event can we leave our room/condo any later than 5:00 pm to have dinner when we travel with our kids. My children turn to stone…more like flailing monsters…if they are forced to sit still after 7:00pm.  
Then, heaven forbid the menu not contain chicken nuggets, macaroni and cheese, or pizza.  
We have to plan around food, naptime, weather, and family hours.  
Therefore, we always have to think in advance about what/when we are going to eat. And, we always try to come up with some semblance of an itinerary for the entire trip.  
Having a plan helps us to plan reservations in advance, purchase tickets in advance, check for coupons, or double check for peak/off-peak times. It is a huge money saver and saves us from the horrible "what do you want to do tonight" conversation.  
6. You will have to let some of your plans go. 
I know; I know. I just told you that traveling with kids forces you to have a plan. But, sometimes, kids just throw plans out the window. At that point, you have to decide whether you will go with the flow or be disappointed and ruin the trip.  
Case and point: On our recent trip to Disney World, we planned one very special day to see a very specific limited-time fireworks show. I had planned the entire trip in 2-3 hour increments including food, rides, and entertainment plans.  
As we finished up our dinner, two of our children announced that they didn't feel well and proceeded to spend the next 24 hours using their popcorn buckets in a new and disgusting way. Sadly, we missed the fireworks, but we were so well cared for by the Disney staff that my children both came away with unique sick-at-Disney-World souvenirs that have become special favorites at home.  
In that case, although the sickness was gross and an inconvenience, for some strange reason, that change in plans became a fond memory.  
(Bonus pro tip…go for the refillable popcorn bucket. They are multipurpose!!) 
And, like I already said, when we had to cancel our Hawaii plans, it became an extended hiking family weekend. We weren't disappointed! 
5. The kids build bridges. 
Kids have a special way of disarming people. They can say weird and wonderful things that adults either can't or won't say. Sometimes kids even open doors into new experiences.  
When traveling to new and unique places, my kids have strange ways of adding smiles to stranger's faces, of finding exclusive activities, and teaching us about familiar places in new ways.  
Joy and pride fill me up when I travel with my kids and I see them reach others with their innocence, their giggles, or just their personalities.  
4. They learn more.  
I had the privilege of growing up with a history teacher for a father. That meant that my ears were constantly being filled with dates, factoids, and bits of knowledge about wars, the Founding Fathers, and events.  
None of it stuck. 
But, I also can't count how many times that we went to Gettysburg. He took me to walk the red brick trail in Boston. He drove me to Mt. Rushmore, and he dragged me through many a reenactment.
Sometimes it was hot and boring, but I learned more about the Civil War, Founding Fathers, and the formation of the United States than I learned from his lectures. 
In the same way, when you travel with kids, they start understanding more about language, culture, time, and geography. They might be more willing to try new foods together, and they might spend more time with people who don't look or sound like them.  
If you are looking for a way to connect your kids with history, culture, geography, or even geology, take them for a trip.  
3. They become better travelers the more we go.  
Plus, the more times that we travel with kids, the better travelers they become. As they learn, they become more respectful and aware. As they stretch their minds and bodies, they become more and more able to sit in the car for 22 hours at a time, to go to dinner later if need be, and to deal with minor discomforts and sicknesses.  
They become more interested in your next trip, your next adventure, and your next family memory. And, as they become more and more travel competent, they make the trip more enjoyable for you.  
That brings us back to the reason we didn't want to leave them behind in the first place! Our kids make our trips more fun!
2. They become more respectful world citizens.  
Not only do the trips become more enjoyable for you and the kids, you are building children who have more respect for their neighbor, their country, and their world. Kids who travel grow in sensitivity to doing things differently, seeing things from a new perspective, or exploring unique experiences.  
1. You may not get the chance to travel with your kids again.  
Your children will grow, change, evolve, and grow apart from you. Your children will develop their own interests and their own group of friends.  
They will not always want to hang on your leg, sleep across your lap, or share your food. Someday they may not want to be seen in public with you or travel with you.  
Your family travels will someday be a part of their fondest memories. At that point, you can return to the romantic couple getaways. There will be plenty of time then for quiet, late-night dinners. But, there may not always be more time for traveling as a family with your kids.  
TRAVEL WITH KIDS CAN BE MORE FUN! 
Waiting until your children are "old enough" to travel is like waiting until your children can read to enjoy books together. (Want a great reading list for preschoolers, check this out.) 
It may sound strange to you, but we actually think traveling with our kids can be more fun than traveling without them. That is not to say that you can't have fun without them, but if you are waffling between taking them or not, I would always encourage you to take the kids.  
No, your trip might not be more convenient, cheaper, or more relaxing. Your kids will stretch you in new and wonderful ways. But, you might also find that you and your kids learn more about yourselves, each other, and the world when you travel together.
Want to take your kids hiking? Click here!
Need some ideas for fun family activities? Click here!