Books and activities to get your kids excited about a trip to Japan!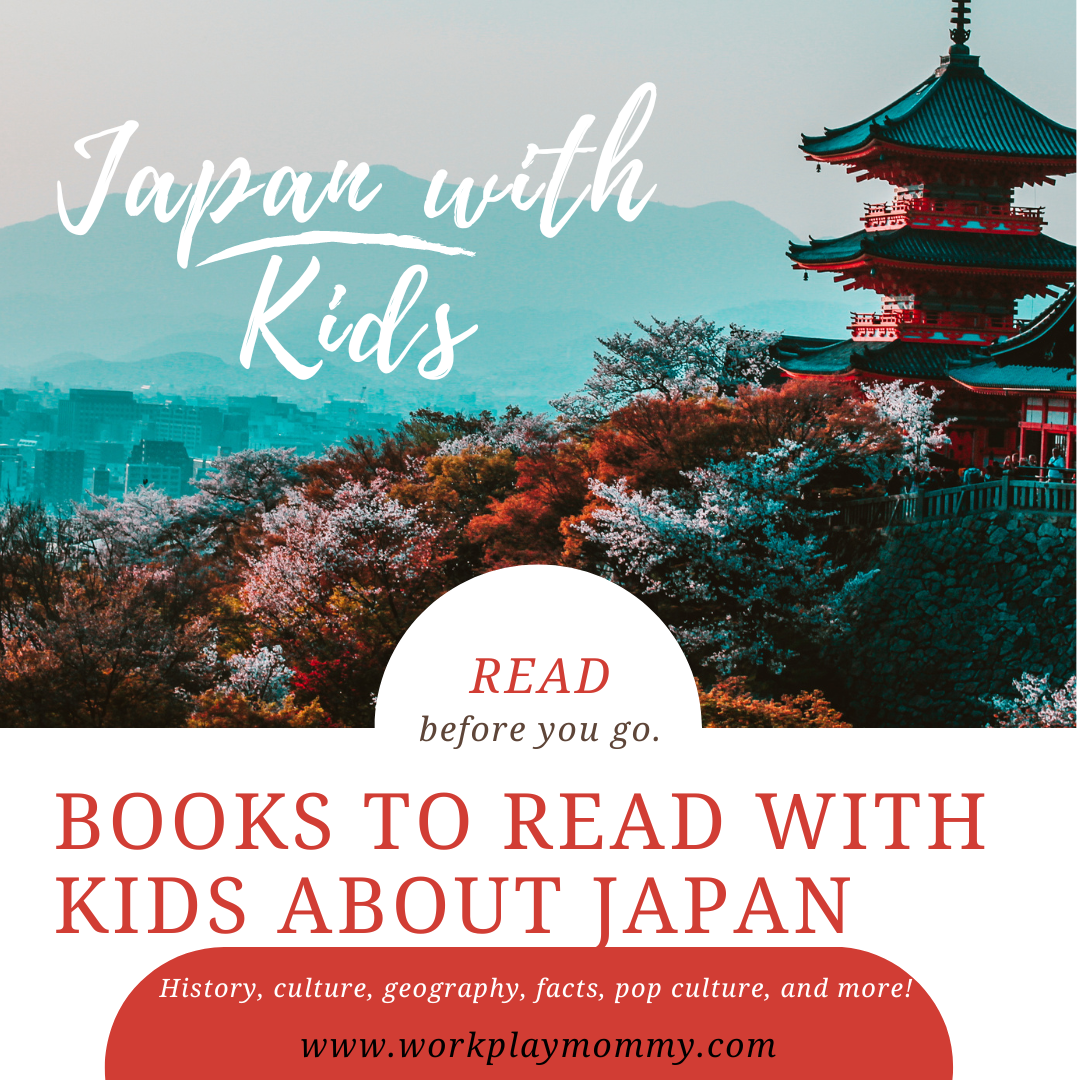 Short Books about Japanese culture, history, geography, or general literature. 
Japan is a rich and diverse culture that differs wildly from my own day to day. Therefore, our family went in pursuit of the best books to give my children a glimpse into Japan and our travels there.
After hours in the library and online, we found the following books that are great reads for kids. These books teach about various aspects of Japan including culture, history, geography, and more!
In fact, we integrated these books and the following activities into a Japan unit that can be used for homeschool or a classroom. 
Some of these books are deeply cultural, while others, like Sadako and the Thousand Paper Cranes describe the deep emotional and physical scars that war has left on Japan. 
Parental warning: ​The following books are what I deem suitable for elementary-aged students. Some can be read alone, while others may require adult explanation and assistance with new words describing historical events or Japanese traditions. I would always encourage parents to review the books first!
As an Amazon Associate I may earn a small commission from purchases at the affiliate links below at no additional charge to you.
Books for Kids About Japanese Culture, Geography, History, and Art
"Crow Boy" by Taro Yashima – This classic picture book tells the story of a young boy named Chibi, who is considered an outcast in his village in rural Japan. It explores themes of loneliness and the importance of acceptance. It also describes life in remote villages of Japan and different skills important to the culture.
"Heart of a Samurai" by Margi Preus – Based on a true story, this historical fiction book follows the adventures of Manjiro, a young Japanese fisherman who becomes the first Japanese person to visit the United States in the 1800s. It highlights themes of resilience, friendship, and cultural exchange.
"Sadako and the Thousand Paper Cranes" by Eleanor Coerr – This moving novel is based on the true story of Sadako Sasaki, a young girl who survived the atomic bombing of Hiroshima ending World War II and developed leukemia as a result. Throughout her suffering she teaches her family, her village, and ultimately the world about her struggle and the hope she retains. She learns about the Japanese tradition of folding 1,000 paper cranes for good luck and sets out to complete them in hopes of recovering from her illness.
"Grandfather's Journey" by Allen Say This beautifully illustrated children's book tells the story of a young Japanese man who immigrates to the United States. Although he finds similarities and new beauty, he longs for his homeland. Eventually the man returns to Japan and builds his life, but his life is brutally impacted and interrupted by war. This book provides a unique perspective on the immigrant experience, the impact of war, and the connections between Japan and the United States.
"Japanese Celebrations: Cherry Blossoms, Lanterns and Stars!" by Betty Reynolds – This informative and beautifully illustrated book introduces readers to various Japanese celebrations and traditions, such as Hanami (cherry blossom viewing), Tanabata (Star Festival), and Obon (a festival to honor ancestors). This book is a brilliant way to quickly introduce your children to Japanese traditions, decor, and seasonal celebrations.
"Wabi Sabi" by Mark Reibstein – Your kids will love "Wabi Sabi" a poetic picture book telling the story of a cat named Wabi Sabi who embarks on a journey to discover the meaning of her name. Along the way, she encounters various aspects of Japanese culture, such as haiku poetry and Zen philosophy, while learning to appreciate the beauty of imperfection. Eventually we all learn that Wabi Sabi does not have a direct English translation but describes a more general concept. 
"The Beckoning Cat: Based on a Japanese Folktale" by Koko Nishizuka – This folktale retelling is about a kind and generous old couple who takes in a stray cat during a storm. In return, the cat brings them good fortune and becomes a symbol of good luck in Japanese culture, known as the "maneki-neko" or beckoning cat. If your children love the bobble-armed cat of Japan, this is the book for them!
"Hachiko: The True Story of a Loyal Dog" by Pamela S. Turner – This heartwarming true story is about Hachiko, a loyal Akita dog who waited at a train station in Tokyo for his owner to return every day, even after his owner's death. It highlights the bond between humans and animals while giving your child a glimpse into everyday life in Japan. This is a great short novel read for your animal lovers, and of course is the inspiration for the movie, "Hachi".
Best Books for Teaching Your Children about Tourism and Important Sites in Japan: Japan Travel Books for Kids
"Lonely Planet Kids – City Trails Tokyo" by Lonely Planet Kids – This illustrated guidebook introduces kids to the culture, history, and geography of Japan and Tokyo. It covers famous landmarks, traditional customs, and fun facts about Tokyo in an engaging and interactive way. This book is great for kids because it has full-color illustrations but also contains descriptive summaries of the city, locations, and activities.
"The Culture and Crafts of Japan" by Miriam Coleman – This book explores the rich cultural heritage of Japan, including its art, crafts, and traditions. It covers topics such as calligraphy, origami, tea ceremonies, and martial arts, providing kids with a deeper understanding of Japan's cultural richness.
"My Awesome Japan Adventure: A Diary about the Best 4 Months Ever!" by Rebecca Otowa – This book follows the adventures of an American boy who moves to Japan for four months. Through his diary entries and illustrations, kids can learn about Japanese daily life, customs, and cultural experiences from the perspective of a young foreigner.
Books to Get Your Kids Interested in the Pop Culture of Japan
If you want your child to get excited about a trip to Japan, then why not encourage them to engage in the interests of lots of Japanese kids? Below is a list of popular books or books about popular culture in Japan that give your child an idea of what kids in Japan might also like! 
"Hello Kitty: Surprise!" by Sanrio – Of course Hello Kitty is a major Japanese character. She is everywhere including the famous Shinkansen bullet trains. If your child doesn't already have a Hello Kitty book or two, try this simple book to start. This colorful and engaging picture book features the beloved character Hello Kitty and her friends as they embark on an adventure. It's a great introduction to Hello Kitty and her cute and charming world.
"Pokémon Deluxe Essential Handbook: The Need-to-Know Stats and Facts on Over 700 Pokémon" by Scholastic – This comprehensive guidebook is perfect for Pokémon fans, providing detailed information about over 700 Pokémon species, their characteristics, and evolutions. It's a must-have for kids who are interested in the popular Japanese franchise.
"Japanese Children's Favorite Stories" by Florence Sakade – This book features a collection of Japanese folktales, legends, and fairy tales that are popular among children in Japan. It offers a glimpse into Japanese storytelling culture and provides an insight into the values and traditions of Japan.
"My Neighbor Totoro: The Novel" by Tsugiko Kubo – Based on the beloved Studio Ghibli film, this illustrated novel tells the story of two sisters who encounter a forest spirit named Totoro. It's a heartwarming tale that captures the magic and wonder of Japanese animation, perfect for elementary age kids.
"Origami Extravaganza Tuttle Publishing – Origami, the traditional Japanese art of paper folding, is a popular cultural activity in Japan. This book provides step-by-step instructions and colorful illustrations for kids to create their own origami projects, offering a fun and creative way to explore Japanese culture.
"Karate Kid" by Kim Smith – This picture book tells the story of a young boy who learns karate, a popular martial art originated in Japan. It introduces kids to the basics of karate and highlights the values of discipline, perseverance, and respect that are integral to Japanese martial arts.
"Manga for the Beginner: Everything You Need to Start Drawing Right Away!" by Christopher Hart – Manga, the Japanese style of comics and graphic novels, is a prominent part of Japanese popular culture. This instructional book provides step-by-step guidance and tips for kids to learn how to draw manga characters, making it a great resource for budding artists and manga enthusiasts.
Other Activities to Get Your Child Excited About a Trip to Japan
If you are looking for other ways to get your child excited about a trip, be sure to out my list of ideas for preparing your kids for a specific destination. 
However, if you want more ideas about preparing your child for your Japanese adventure specifically, try these other tips: 
Watch Japanese Movies 
Practice Origami
Spend 15 Minutes a Day Learning Japanese
Use DuoLingo, Babel, or another language app to learn important, helpful phrases for your trip to Japan. My kids love using DuoLingo to learn bits of Japanese in a game form, but you could also post a vocabulary list around the house or common phrases or translations in obvious locations. 
Eat Traditional Japanese Foods In Traditional Japanese Ways
Another way to help your child get excited about a trip to Japan is to prepare them for the food and customs of the country. 
Spend some time preparing traditional Japanese foods like sushi, miso, ramen, or even green tea. 
Then, practice eating with chopsticks. Our kids love their simple chopstick trainers that they get to use when we try new Japanese foods! 
Best Books for Kids To Learn About Japan
Japan is likely very different from what your children experience every day. Therefore, exposing them to the art, history, culture, and geography of this beautiful nation can be a great way to learn.
Encourage your children to engage with these books and activities to broaden their interest, knowledge, and awareness of Japan.