Top Reasons to add Kings Island to Your List of Family Thrilling Fun for All Ages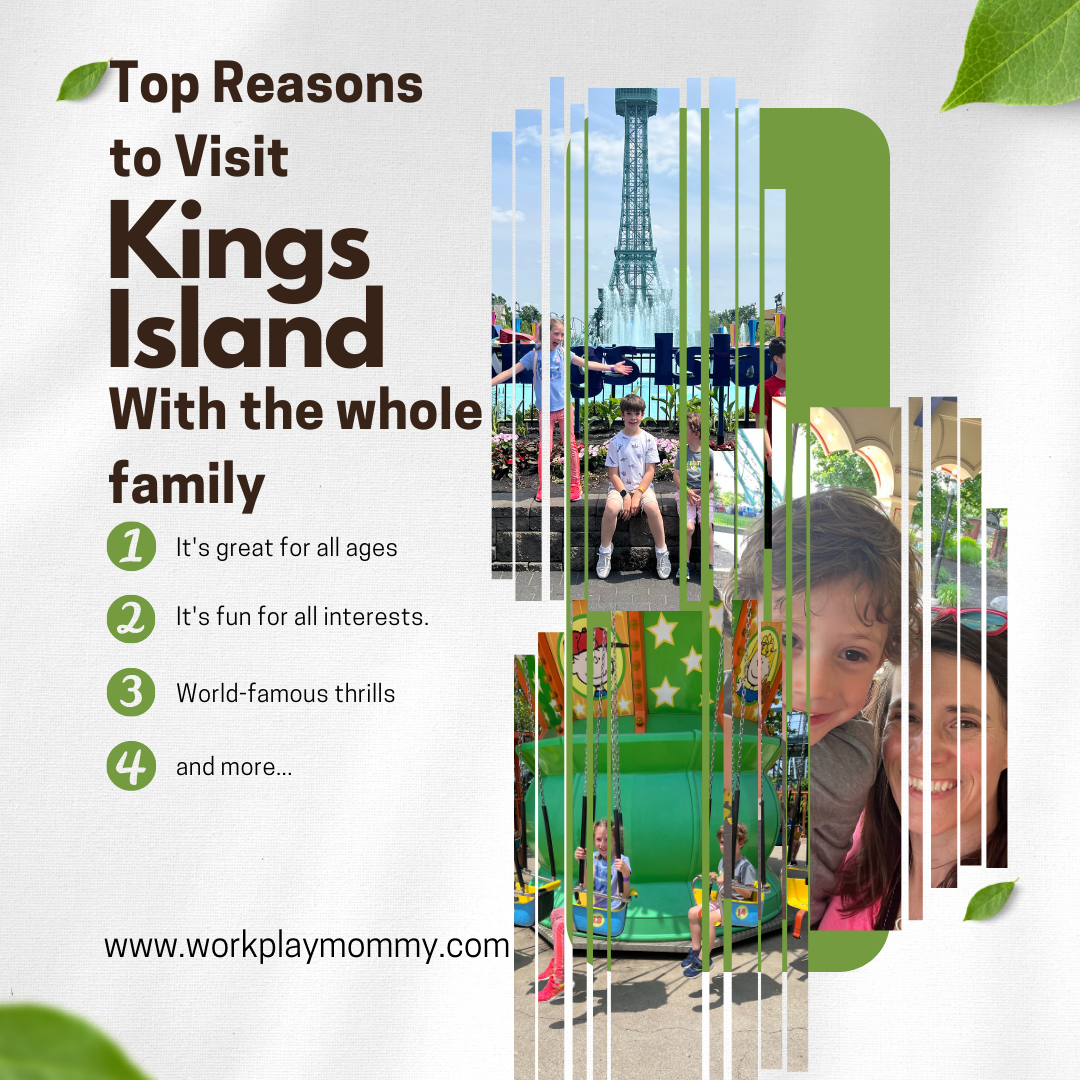 Kings Island is one of the top theme park destinations in the U.S. From the tallest and fastest coasters to some of the best events, this park has a reputation for thrills and fun. Even your toddlers will love Kings Island.
If you are looking for more about what Kings Island is, where it is, where to stay, and what to expect there, check out this post!
Kings Island is great fun for the whole family of all ages. Our family loves Kings Island but was skeptical about taking our youngest to the park for a long, hot day.
We needn't have been concerned. Even our toddler had as much fun as the older children despite not being tall enough to ride the largest rides.
Kings Island really does cater to all ages, and has tons of other great features too.
Here are my top reasons to add Kings Island to your family destination list!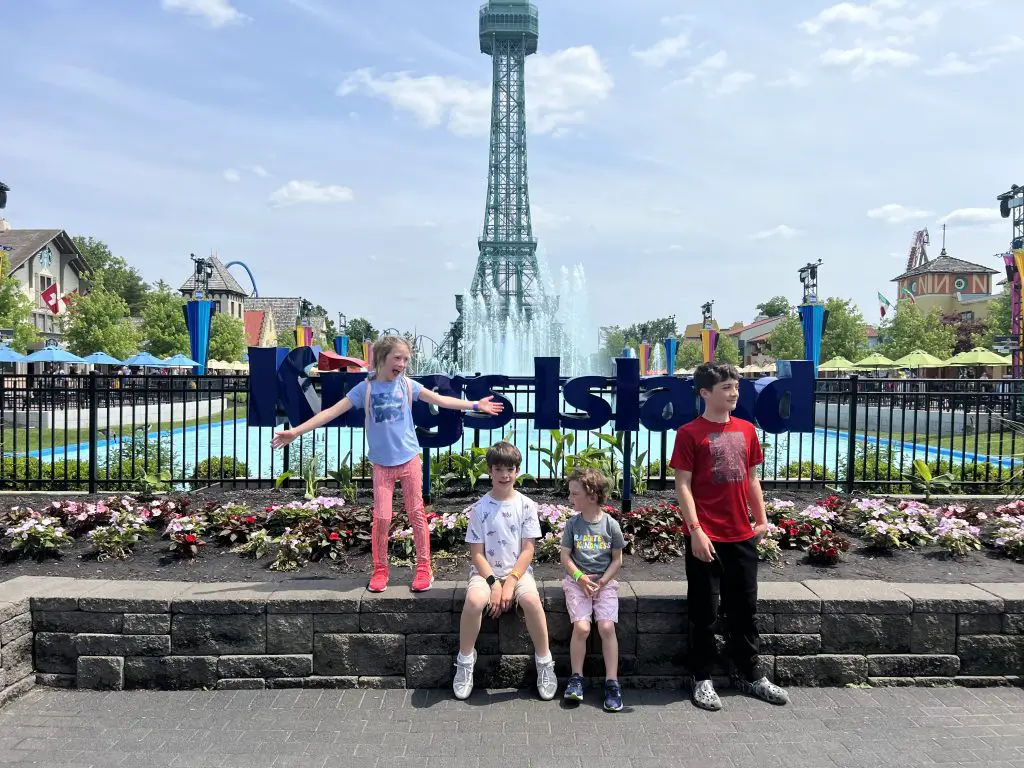 1. Kings Island has some of the biggest, fastest, and most thrilling roller coasters in the world.
Kings Island is renowned as a great destination for thrill-seekers due to its impressive collection of thrill rides. Here's why Kings Island stands out in terms of its thrilling attractions:
Tallest Ride: One of the standout attractions at Kings Island is the Drop Tower: Scream Zone. It stands at a staggering height of 315 feet, making it the tallest ride in the park. This thrilling drop tower experience provides riders with breathtaking views before plunging them at high speeds toward the ground, delivering an adrenaline rush like no other. While my son was nervous about plummeting to the earth, he proudly exclaimed that he couldn't wait to do it again!
Fastest Ride: When it comes to speed, Kings Island rocks the Diamondback roller coaster. It reaches speeds of up to 80 miles per hour, making it the fastest ride in the park. This steel coaster features numerous drops, twists, and turns, providing an exhilarating experience that leaves riders screaming with excitement. We also found it to be one of the smoother rides in the park great for these tired but excited parents!
Most Thrilling Ride: The Beast holds the title of the most thrilling ride at Kings Island. It is not only an iconic roller coaster but also one of the longest wooden roller coasters in the world. With its intense speed, massive drops, and intricate layout, The Beast offers a thrilling and unforgettable experience that has captivated riders since its debut in 1979. My son loved it so much he rode it twice!
My husband and I grew up visiting Kings Island and were thrilled to finally get to share it with our children. Our stomachs were a couple of decades older, but we found the rides to be just as fun and thrilling.
What really shocked us was how much our young children were able to enjoy the park too. Even our 9 year old loved these enormous coasters and proclaimed that the Orion was his top ride!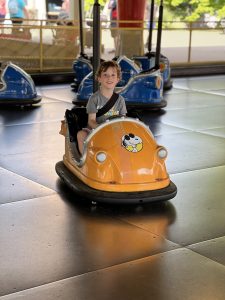 2. Kings Island is Great for Toddlers
If you are concerned about taking a group with an infant or toddler, don't be. Kings Island goes above and beyond to cater to little ones too.
From Planet Snoopy to rides without any height restriction, there are lots of attractions to delight those little thrill seekers.
Planet Snoopy
Planet Snoopy: Planet Snoopy is a dedicated area within Kings Island designed specifically for younger children. It features a wide array of rides, attractions, and entertainment themed around beloved Peanuts characters like Snoopy, Charlie Brown, and their friends. Toddlers can enjoy gentle rides, interactive play areas, kid-friendly shows, and even meet and greet opportunities with their favorite characters.
Planet Snoopy cannot be undersold especially for toddlers and small children. My 4-year-old begged and pleaded to spend his entire day there. He rode the bumper cars at Joe Dodgem's School over and over and giggled raucously every time.
Planet Snoopy was even popular for my 7 year old who wasn't quite confident enough to ride some of the larger roller coasters. They spent hours enjoying these rides, and mommy was happy that they truly enjoyed their day.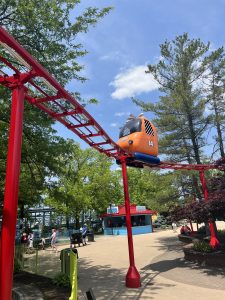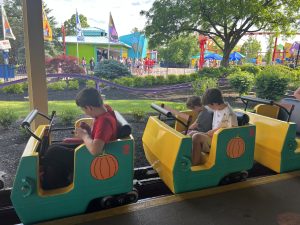 Attractions with No Height Restrictions: Kings Island offers a variety of activities and attractions that have no height restrictions so children of all ages can enjoy them. Adults can ride with little ones on the carousel, families can enjoy the waterpark with infants or toddlers, and games and booths around the park are for all ages.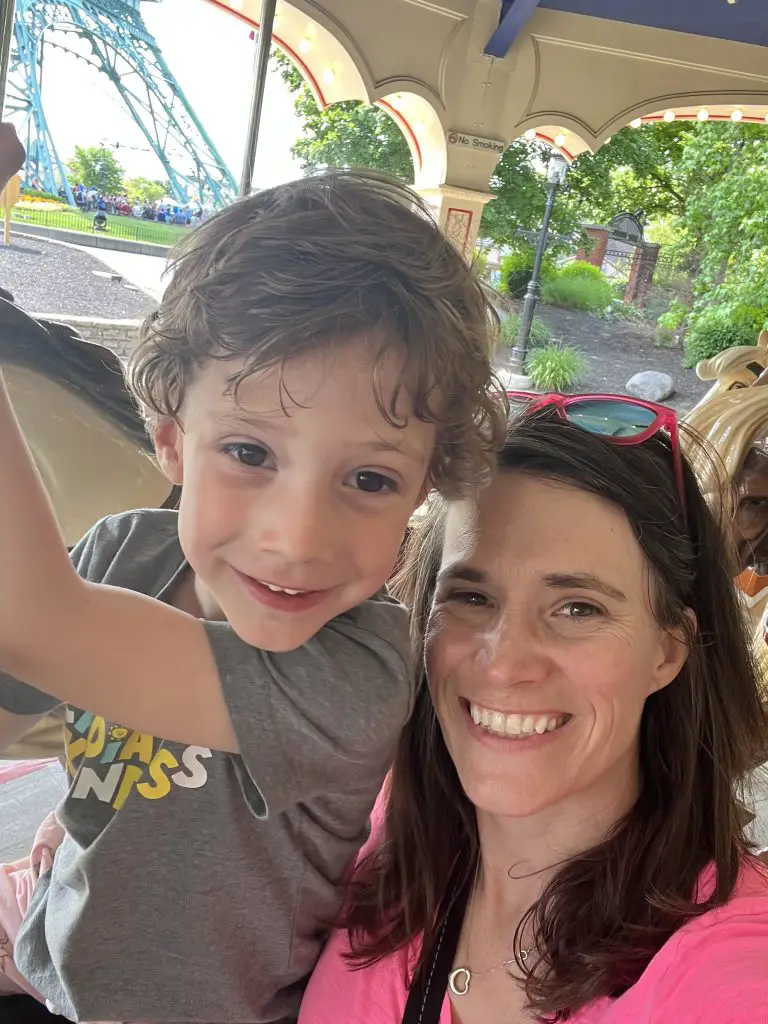 Finally, don't forget to take your children of all heights and ages to the top of Kings Island's Eiffel Tower.
The Eiffel Tower: The Eiffel Tower is a centerpiece of Kings Island and provides a unique experience for visitors of all ages, including toddlers. Although they may not be able to go on some of the larger rides, they can still enjoy the breathtaking views from the top of the tower. The gentle elevator ride up offers a scenic vantage point where toddlers can take in the beauty of the park and its surroundings.
3. Kings Island Offers Great Advance Family Discounts
At the time of this writing, Kings Island is offering a number of advance ticket discounts. This includes a substantial reduction in admission prices as well as the chance to bundle additional benefits.
Specifically, purchasing in advance allows you to include parking for no additional charge –a savings of up to $20.00 if you don't have advance purchase. And, you can add an unlimited drink pass for as low as a mere $5.00 surcharge in advance.
Finally, you can even choose to bundle a meal plan with your advance ticket. Bundling all of them in advance makes your admission the same price or cheaper than the gate price making the advance purchase well worth it and a great option for budget-conscious families!
Our family purchased tickets for 6 people and didn't pay half as much as we would have paid for gate entry prices.
4. Kings Island Doesn't Nickel and Dime You For a Good Time
Some theme parks have been getting a bad wrap lately for all of their add-ons. No one wants to enter a theme park and suddenly find that they have to pay an additional charge to ride the newest ride or be guilted into paying for their family to skip the line.
Kings Island does have an option for purchasing tickets to get you to the front of the line, and they do have extras you can purchase. However, your family doesn't have to pay extra to enjoy Planet Snoopy, all of the most popular attractions, or see the shows.
If you are looking for a fun time for the whole time without surprise charges and exceptions, then Kings Island is a good choice!
5. Kings Island Mobile App Makes Your Day Even Easier
The Kings Island Mobile App further adds to the fun of your day by helping you avoid the longest lines, order your food, track show times, and more.
Show Tracking: The app provides a schedule of shows and entertainment options available at Kings Island. Users can view showtimes, locations, and even set reminders, ensuring they don't miss their favorite performances.
Line Tracking and Wait Times: One of the most significant advantages of the app is its ability to provide real-time information on ride wait times. Guests can access up-to-date wait times for various attractions, allowing them to plan their rides strategically and minimize time spent in queues. We were able to avoid the longest lines and come back to them later as we monitored the app.
Important Park Information: The app serves as a hub for essential park information, including maps, dining options, restroom locations, and guest services. You can even keep track of where you parked your car in the app.
Exclusive Offers and Notifications: Kings Island's Mobile app often provides exclusive offers, discounts, and promotions to app users. These special deals may include discounts on food, merchandise, or even fast lane passes. Additionally, users can receive push notifications about park updates, special events, or ride closures.
Download the app before you enter the park for a better experience for the whole family.
6. Family Care Centers
If you are traveling with kids of all ages, you might also be concerned for the care of your baby in tow. However, Kings Island has a great Family (Baby) Care Center (adorably attended by Woodstock!) where your littlest thrill seeker can get the care they need.
I thought that the Family Care Center was also adorable because it was built into a tiny house with a landscaped walkway welcoming us into the temperature-controlled respite!
These centers make caring for your littlest simpler and more convenient.
The Baby and Family Care Center has:
Private Nursing Rooms
Clean and equipped diaper changing stations
A feeding area
Baby supplies
Convenient Amenities (microwave, a place to relax, etc.)
7. Kings Island Is More Than Just Thrill Rides
If you read all of these reasons why Kings Island is great for thrill seekers of all ages, then you might not be convinced if you don't like thrills. However, Kings Island is waayyyy more than just roller coasters.
Kings Island has more than award-winning roller coasters, death-defying drops, and topsy-turvy twists.
Kings Island has a water park, loads of seasonal events, and even concert series.
Even if you never stepped onto a thrill ride, you would still find lots of fun in the performances, the adorable shops, the food, and the games throughout the park.
Don't cross Kings Island off of your list if you are afraid that there are only coasters. Not only does the park cater to every age, there is something for every interest and thrill level.
Kings Island is for all ages and interests
Kings Island isn't just for thrill-seeking teenagers. Kings Island has loads of fun activities and attractions for the entire family and all interests.
From Planet Snoopy, where your toddlers could easily spend hours upon hours, to gentle attractions like the Eiffel Tower, even your smallest children will have lots of fun.
Further, even if you never set foot on a ride, your whole family will have fun shopping in the unique shops, enjoying the performances, and eating the unique fare.
Don't cross Kings Island off of your family getaway list as you can find something for everyone and every age!