What I Wish I Knew Before Traveling to London with Kids!
London is endless. So many things to do and see. More people and types of people than you can ever imagine. Plus the city is always changing.  It's a wonderful place to adventure with your family. But I wish I would have known a few of these things before I arrived!
Our family spent a month in London while on sabbatical, and here are 10 things that I wished I would have known before traveling to London.
1. London is Sprawling
In many cities around the world, you can stay in the "center" and see most of the main attractions relatively close in proximity to a central point.
One thing to know about London is that it has no "center". London is miles and miles of sprawling buildings, attractions, ancient history, and modern marvels.
Don't expect to take a leisurely walk from Buckingham Palace to Tower Bridge. Sure…you can walk it…if you have all day.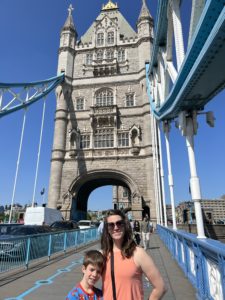 Plus, if you get your London ideas from shows like Downton Abbey, Victoria, or Bridgerton, you might be shocked at the amount of enormous skyscrapers, changing skylines, and distance between attraction points.
It may sound strange, but I severely underestimated the size and breadth of London. Staying in one burough or another might appeal to you, but do not expect to choose one location and see all the sites nearby.
2. Get friendly with public transport
For our family with 3 small children, the train and buses were a bit daunting at first. However, we learned the hard way that we waited too long to get used to London's public transport.
Since walking around to every site is not really a viable option, you will need to use transportation of some sort.
The London bike share program is excellent, but is not a solution for small children.
Taxis are easy to find and convenient, but PRICEY!
Therefore, GET AN OYSTER CARD and download the Underground and London Bus apps.
Although we knew before spending an entire month in London that we would need to use the public transport at one time or another, we had no idea that we would need to use it every day.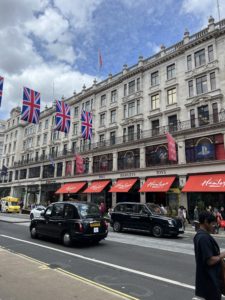 Our children rode free, and for the cost of 1 taxi ride, we covered the expense of buses and underground trains for the entire month.
3. Don't get excited about "English" food.
One of my favorite things to do while traveling is to try local and authentic dishes. Go to Paris; eat macarons and crepes. Go to Spain; sample tapas and Mediterranean fish.
Something you should know about London: don't expect quintessential "London" food.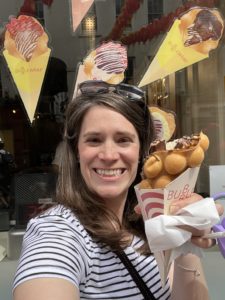 Definitely sample fish and chips, but London isn't known for its "English" food. Instead, London is known for its world-renowned ethnic cuisines from around the world!
In fact, India might argue that London's Indian food is even better, and you will find the most London Michelin stars at Indian restaurants!
Our family had the best Thai food we have ever sampled and even frequented a Georgian bakery where our children loved sampling new flavors!'
Want to try it all? Take a day and eat your way through Borough Market. There you will find local and delicious delicacies that blend cultures and communities from around the world!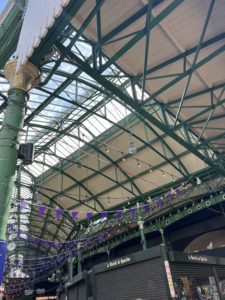 4. People are incredibly friendly.
In our experience, London is easily the friendliest place we have ever traveled. We prepared ourselves for rude encounters, rushed streets, and unaccommodating locals.
Instead, folks from all walks of life were eager to ask us our experience, offer assistance, or even just share a friendly greeting.
We spent afternoons gabbing with people from all over the world at the local parks. My husband even shared a pizza with a couple who was simply intrigued that we are from the same state where "Stranger Things" is set!
Underground workers were helpful, bus drivers were friendly, and strangers on the street offered recommendations and directions.
In fairness, we never asked someone who was in a 3-piece suit and obviously rushing to a business meeting to stop and chat about his London experience. But, we were overwhelmed with how genuinely kind and friendly the people of London were.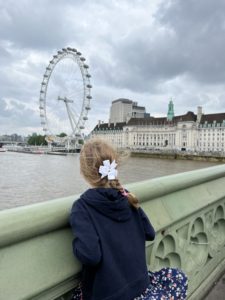 I don't know whether it is because London is such a melting pot, and everyone was once new to the city or whether the city really values tourism after so many months of closure, but in any event, London was incredibly friendly.
Need help? Ask someone. They will probably help you with a smile and a kind word!
5. Learn Some New Vocabulary, and Prepare for Cultural Differences
Busking, lift, mind, queue, mate…all words that we had to learn to use.
Boots, bonnets, tills, chippies, crisps, and more were all concepts that we had to translate for our children.
Don't believe that simply because America and London have some shared history and a shared language that you are the same. Respect the cultural differences and the language differences the same way you would in any other country.
Take the time to learn the vocabulary differences, the different ways that they wait in line, and even the proper distance to stand from other people while you are talking.
6. Mayonnaise comes on everything.
I don't like mayonnaise. There. I said it. Therefore, I learned very quickly that mayonnaise is the English equivalent to ketchup.
It was served with my chips (French fries), on my sandwiches, with my fish, and offered with all of our takeout.
Even the Queen loved her mayo! Reportedly a tuna mayo sandwich was one of her favorites!
7. The LONDON PASS
Somthing to know about London is that London is EXPENSIVE. So, if you want to see the sites and save some money, then the London Pass is the way to go!
The London Pass gives you access to hundreds of London's most famous sites, museums, and attractions for one price. The catch is that you can only use it for a set number of days.
If you plan to visit London for several days and want to see several of the most famous sites, the London Pass is a great way to save a LOT of money. This is especially true when you are traveling as a family and multiply every entry fee by the number in your group.
Our family opted for a 10 day London Pass so that we could see some of London's most famous sites over the course of nearly 2 weeks, and we saved hundreds of dollars. Plus we saw and experienced some things that we never would have seen or tried otherwise.
RELATED POST: 10 Day London Pass Review
8. London has TONS of FREE stuff
I'll say it again; London is expensive. However, you can find TONS of FREE stuff to do with your family.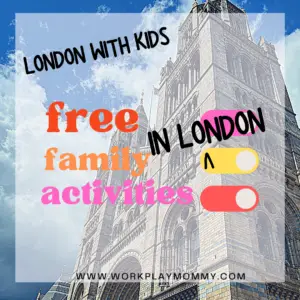 From parks and museums, to walks and gardens, you can find experience some of the greatness of London without ever spending a dime.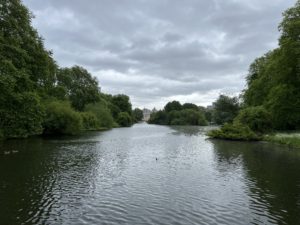 For some of our favorite FREE attractions in London, check this out:
RELATED POST: Free Family Activities in London
9. Tea isn't tea
Sure, the U.K. is known for its tea scene, and the U.S. is known for it's anti-tea scene. So when I heard about the U.K. tea culture I envisioned people sipping brown water with their pinkies out.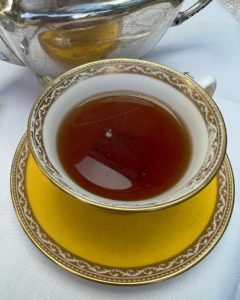 Turns out, tea is more than just a drink. Tea is a chance to have a snack, a sandwich, dessert, and a warm beverage over good conversation with good company.
You can experience some of the most elegant and luxurious afternoon teas in London, but you can also find a group of friends with whom you can share an afternoon snack.
Mid-afternoon break with food and friends? Yes, please!
10. Coffee isn't coffee
While I was thrilled to learn that tea isn't only tea, I was not nearly as thrilled to learn that coffee isn't just coffee!
If you are an American drip coffee drinker like myself and my husband, you will be hard pressed to find a London equivalent.
In fact, we found this to be the case in every European country we visit.
One day we even resorted to trying to purchase a drip coffee at a Starbucks where they informed us that the staff did not know how to use the machine and they kept it just for decoration!
If you are looking for the closest approximation to an American drip coffee, ask for an aptly named Americano, which will be mostly coffee and water rather than mostly milk with espresso.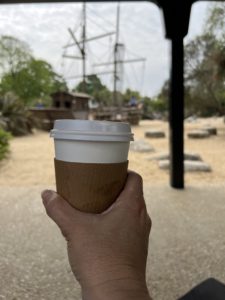 While I love a cappuccino, latte, or flat white as much as the next person, sometimes, I wanted something less rich.
I have to admit, I was very happy to have my coffee machine when I returned home!
What to Know about London BEFORE You Visit!
I learned so much about London, England, the U.K., and my own history while my family was on sabbatical in London! I can't wait to go back, but I sure wish I would have known these few things before I went!
Hopefully these few bits of insights about London will help you plan your family trip to the beautiful city of LONDON!
Want more travel tips with kids? Itineraries? Recommendations, reviews, and more? Check this out!