The best sites of London with kids!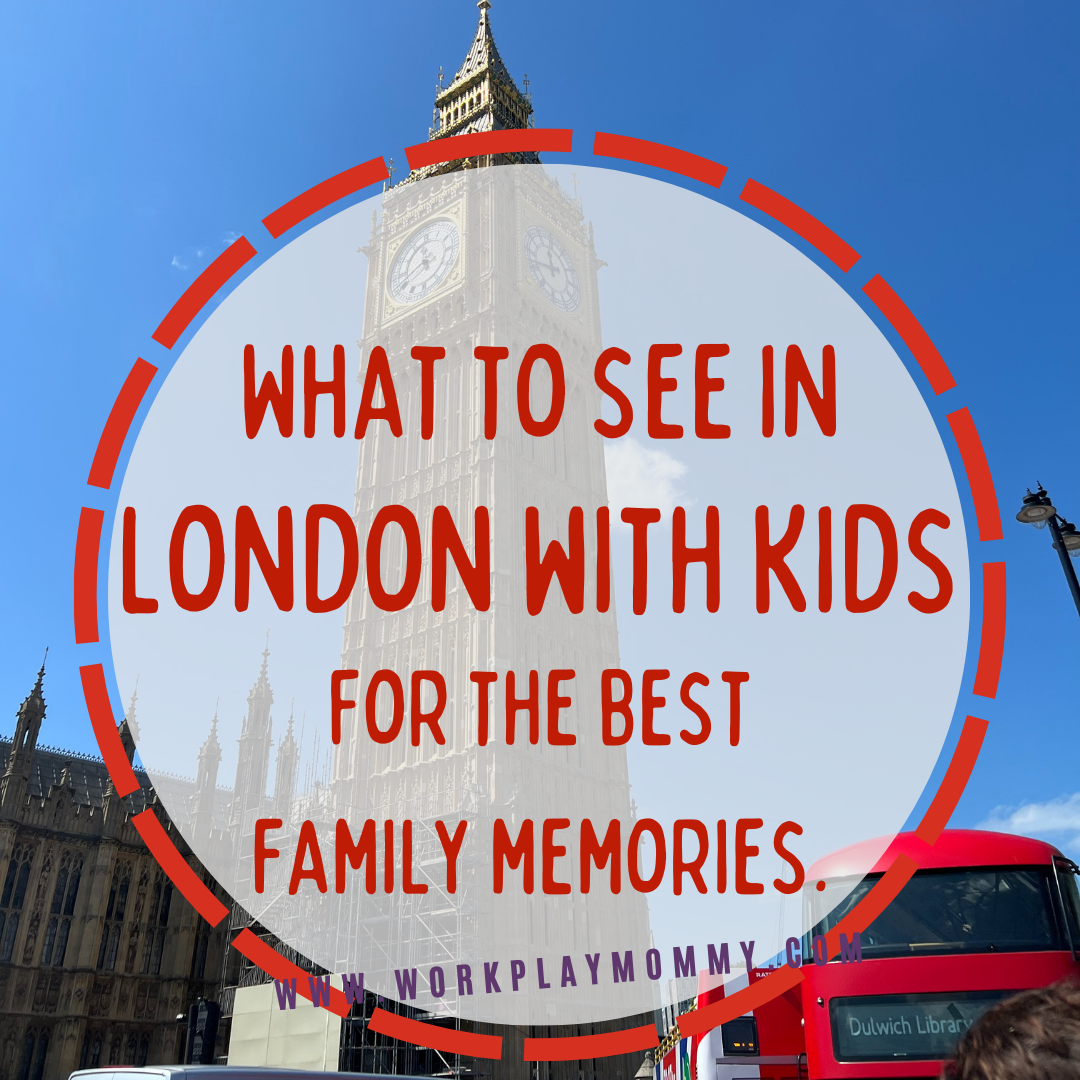 From iconic landmarks, such as Buckingham Palace and Tower Bridge, to world-class museums like the British and Science Museums, London offers a plethora of kid and family-friendly attractions. Kids will delight in exploring London's rich history, vibrant culture, and diverse neighborhoods.
With an abundance of parks, playgrounds, theaters, and interactive exhibits, London is a city that offers endless opportunities for adventure and entertainment for kids of all ages, making it an unforgettable destination for a family vacation.
If you are planning your London vacation, be sure to check out these best sites of London with kids!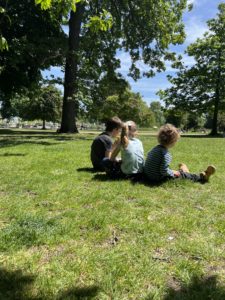 Hyde Park
Hyde Park and the best of London's playgrounds!
London is renowned for its beautiful parks, and the most popular one for families with kids is Hyde Park. Hyde Park, located in the heart of London, is a sprawling 350-acre oasis of greenery, offering a wide range of activities and attractions for kids to enjoy.
The park features vast open spaces perfect for picnics and ball games, a boating lake where kids can pedal boats or rowboats, and the famous Serpentine Lido, a child-friendly swimming area with a sandy beach.
However, the piece de resistance for families in Hyde Park is the Diana, Princess of Wales Memorial Playground.
This unique playground is a tribute to the late Princess Diana and is designed to spark children's imagination with its Peter Pan-themed play area. The playground features a huge wooden pirate ship, a sensory trail, a giant sandpit, and various play structures that encourage imaginative play.
Both Hyde Park and the Princess Diana Memorial Playground are not only about play, but also provide opportunities for learning, history, and discovery. Kids can learn about nature, wildlife, and history through educational signage, sculptures, and interactive exhibits dotted throughout the parks.
Therefore, Hyde Park is not just an outdoor recreational destination but a center for London history, bustling life, and culture!
Families will be glad to know that the park also offers facilities such as cafes, toilets, and baby changing facilities, making them convenient and family-friendly destinations.
London has other famous parks and playgrounds, read more about the best playgrounds here.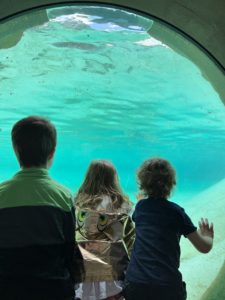 The London Zoo
2. The London Zoo
Located in the picturesque Regent's Park, the London Zoo is one of the oldest and most renowned zoos in the world, housing a wide variety of animals, including lions, tigers, giraffes, penguins, reptiles, insects, and more. Kids can embark on a journey through different habitats, such as the African Savannah, the Rainforest, and the Tiger Territory, learning about the animals and their natural habitats through educational exhibits and interactive displays.
The London Zoo also offers daily animal talks, feeding sessions, and animal encounters, providing kids with the opportunity to get up close and personal with their favorite animals and learn about their behaviors and conservation efforts. 
But did you also know that the London Zoo is also the home of the real life Winnie the Pooh! Visiting the London Zoo is not only fun, but offers valuable educational opportunities for kids to learn 
The London Zoo was one of our very favorite highlights of visiting London with kids and will also be a highlight for older kids! 
Buckingham Palace
3. Buckingham Palace without the Changing of the Guard
While the city shut down during the pandemic and then worked on putting its best foot forward for the Queen's Platinum Jubilee, the Changing of the Guard was suspended or intermittent. However, the world found that there were better ways to see the Palace than the Guard tourist trap.
Experiencing Buckingham Palace with kids can be an exciting adventure, and one unique way to do so is by visiting the palace's café. Instead of taking a formal tour or witnessing the changing of the guard, families can head to the Garden Café, located within the Buckingham Palace Gardens.
Skip the traps at Buckingham Palace
This charming café offers a family-friendly atmosphere with outdoor seating and picturesque views of the palace's stunning gardens. Kids can enjoy delicious treats like ice cream, pastries, and sandwiches, while parents relax and take in the beautiful surroundings.
The Garden Café also provides an opportunity for kids to appreciate the grandeur of Buckingham Palace from a different perspective. They can marvel at the palace's iconic façade, observe the guards patrolling the gates, and even catch glimpses of the Royal Standard flying atop the palace, signaling that the King is in residence.
While visiting the café, families can also take advantage of the green space and enjoy a leisurely stroll through the Buckingham Palace Gardens. The gardens offer ample space for kids to run, play, and even spot wildlife, such as ducks, squirrels, and swans. The serene ambiance of the gardens provides a peaceful escape from the hustle and bustle of the city, allowing families to relax and soak in the royal atmosphere.
Visiting the Buckingham Palace café can be a delightful and low-key way to experience this iconic landmark with kids. It offers a relaxed and enjoyable outing where families can appreciate the palace's grandeur, savor delicious treats, and enjoy the beautiful gardens, without fighting through crowds or hoping for a tour time.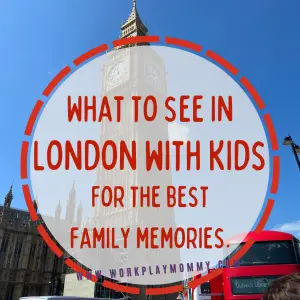 Kensington Palace
4. Kensington Palace
A visit to Kensington Palace with kids can be a fascinating and educational experience especially for any of your princess-loving children. Before entering, be sure to explore the beautiful Kensington Gardens, surrounding the palace.
After entering the palace, families can take a self-guided tour of the State Apartments and learn about the palace's rich history and its royal residents through interactive displays, multimedia exhibits, and informative signage.
Be sure to take extra time to appreciate the jewels and Queen Victoria's toys. Our kids loved viewing these beautifully preserved pieces of history that showed that even the Queens of England were once just children like them.
Kensington Palace also offers family-friendly workshops and events, such as art and craft activities, storytelling sessions, and garden adventures.
Finally, don't miss the chance to sit on the patio of Kensington Palace and enjoy tea and scones in the beauty and serenity of the grounds.
Kensington Palace is a featured attraction on the London Pass, which is a great way to save money across London.
If you have time, after a visit to Kensington Palace, take the short walk to Royal Albert Hall where your music-loving older children will surely love a tour! 
RELATED POST: 10 Day London Pass Review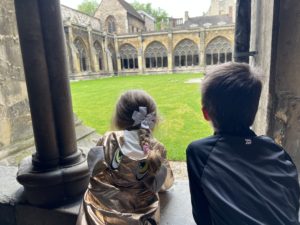 Westminster Abbey
5. Westminster Abbey
Westminster Abbey is not only a historic and iconic landmark but also a great place to visit with kids of all ages. No seriously, my young children still say that Westminster was one of their very favorite sites in London.
The Abbey offers a rich educational and interactive experience for kids and visitors. As one of the oldest and most significant religious buildings in London, Westminster Abbey provides a unique opportunity for kids to learn about British history, architecture, and culture in an immersive and engaging way.
Upon entering Westminster Abbey, kids can marvel at the awe-inspiring Gothic architecture, intricate stained glass windows, and ornate decorations that adorn the abbey's interior. But they will also be greeted with a kids self-guided audio tour that is engaging, entertaining, and informative!
What can kids do in Westminster Abbey?
Through the self-guided tour, your kids can explore the many chapels, tombs, and memorials dedicated to famous historical figures and the important events, personalities, and achievements that have shaped British history.
The Westminster Abbey also offers interactive exhibits, art, and special events for kids. My children made stained-glass crafts and bookmarks alongside Westminster Abbey volunteers and staff.
Your kids can engage with these displays to learn about the abbey's role in coronations, weddings, and funerals of British monarchs, as well as its connection to famous literary works and artistic masterpieces.
In addition to the historical and cultural aspects, Westminster Abbey also offers peaceful and serene spaces for kids to reflect, appreciate the beauty of the architecture, and gain a sense of awe and wonder. It provides a unique educational experience that can inspire kids to appreciate history, art, and architecture, and spark their curiosity about the world around them.
Bus Tour
6. Hop On Hop Off Bus Tour
I know that a Hop On Hop Off Bus Tour is terribly touristy, but if you want to get a full understanding of the size and sprawling nature of London, then I highly recommend one of these tours.
Our family spent an entire day on one of these tours at the beginning of our month-long visit to London, and I'm glad we did.
Our children not only loved the chance to ride on a double-decker bus through the streets of London, we also received an overview of history, geography, and important sites of the city.
Taking the tour was fun, informative, and reassuring for us as we began navigating a new city.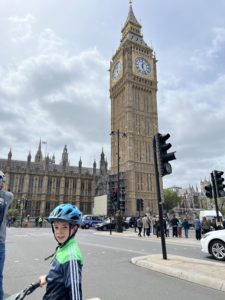 Big Ben
7. Big Ben, Elizabeth Tower, and Parliament
One of the highlights of any London visit with kids or adults alike is the opportunity to witness the famous Big Ben clock face up close. The clock tower is one of the largest and most recognizable clock faces in the world.
Here, kids can learn about the clock's mechanics, including its giant pendulum and the intricate gears that drive its movements, as well as the history of how it was designed and constructed in the mid-19th century.
However, the trivia that they will be proud to leave with is that the iconic clock tower is officially known as Elizabeth Tower. The term "Big Ben" originally referred to the bell inside the clock tower, which is one of the largest and heaviest bells in the UK, weighing over 13 tons.
Kids can learn about the origin of the nickname and the history of the bell, including how it was cast, transported, and installed in the tower. Then follow that up with a quick trip to the Houses of Parliament, also known as the Palace of Westminster.
There kids can learn about the UK's parliamentary system, including the role of the House of Commons and the House of Lords in making laws and governing the country. Kids can explore the historic chambers, learn about the democratic process, and gain an understanding of the importance of government in shaping society.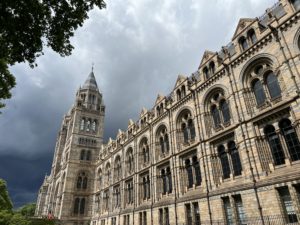 The Best of Free Museums!
8. London's Science and Natural History Museums
The London Science Museum and the London Natural History Museum are two must-visit attractions for families with kids visiting London.
Not only do these museums offer a wealth of educational and interactive exhibits, but they also offer free admission, making them accessible to families on a budget. Kids can explore the wonders of science, technology, and natural history through hands-on exhibits, interactive displays, and immersive experiences.
From learning about space exploration and inventions to discovering fossils and exploring the natural world, these museums provide engaging and educational experiences that can spark kids' curiosity, inspire learning, and create lasting memories.
Several other museums in London are completely free to the public and feature some of the most important works of art, history, and culture in the world.
For a list of completely free things to do in London with kids, be sure to check this out.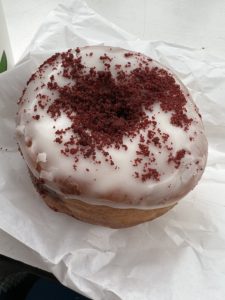 Borough Market
9. Borough Market or Southbank Market
Visiting Borough Market with kids can be a delightful experience that combines food, culture, and history. As one of the oldest markets in London with a history dating back over 1,000 years, Borough Market offers a unique opportunity for kids to learn about the city's trading and culinary heritage.
Kids can explore the vibrant stalls selling fresh produce, baked goods, artisanal products, and street food from around the world. They can sample local and international flavors, engage with friendly traders, and learn about the market's rich history, including its role as a hub of commerce and gastronomy in London.
With its bustling atmosphere, diverse offerings, and rich cultural heritage, Borough Market can be a fun and educational experience for kids of all ages. Plus, it's an iconic and important part of London's history and current culture that has tastes for everyone!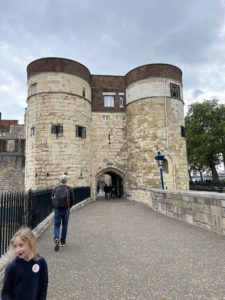 Tower of London
10. Tower of London, the Queen's Jewels, and the Beefeaters!
The Tower of London is a must-visit attraction for families with kids. This fortress offers a unique blend of history, architecture, intrigue, and the macabre!
 Kids can explore the ancient fortress that has guarded the city of London for centuries and learn about its rich and often dark history through engaging exhibits, interactive displays, and guided tours.
My oldest loved the scary stories, my daughter marveled at the crown jewels, and my youngest loved the medieval artillery room!
Kids can also witness the famous Beefeaters in their distinctive uniforms, hear tales of legendary prisoners and daring escapes, and even spot the resident ravens. With its fascinating history, captivating stories, and awe-inspiring architecture, the Tower of London is sure to capture the imagination of kids and provide an unforgettable experience.
Be sure to budget at least 2 hours for the experience and check that day's closing time. This is another featured attraction on the London Pass.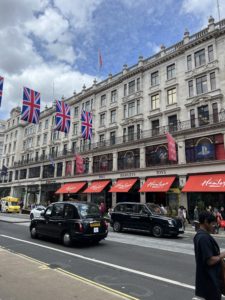 Shopping, Toys, and More!
11. Iconic London Shopping
London is renowned for its iconic shops, but they aren't just for adults. Some of these shops offer unforgettable experiences for families with kids.
For example, Harrods, a world-famous luxury department store, is a must-visit destination where kids can marvel at its opulent displays, explore its vast toy kingdom, and indulge in delicious treats at its legendary Food Halls.
Selfridges, another iconic department store, offers an immersive experience with its trendy fashion, beauty, and homeware offerings, as well as a dedicated Toy Department that will delight kids of all ages.
Hamleys, the oldest toy store in the world, is a paradise for kids with its seven floors of toys, games, and interactive experiences.
The M&M Store is a colorful and interactive wonderland where kids can create their own M&M combinations and shop for unique merchandise.
And, finally, The Lego Store offers a hands-on experience where kids can build, play, and explore the endless possibilities of Lego bricks.
These iconic shops in London provide not only a chance for kids to indulge in retail therapy, but also offer immersive, interactive, and sensory-rich experiences that can ignite their imagination, creativity, and playfulness. From luxurious department stores to legendary toy shops, London's iconic shops provide a world of wonder for kids and create lasting memories for the whole family.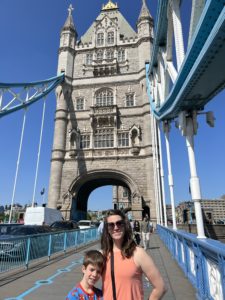 Tower Bridge
12. Tower Bridge (not London Bridge!, but you can see that too!)
Visiting Tower Bridge with kids is a thrilling experience that combines history, engineering, and breathtaking views of the city. Kids can marvel at the iconic Victorian Gothic architecture of the bridge and learn about its fascinating history through exhibits and interactive displays.
They can also walk across the high-level walkways, offering panoramic views of the River Thames and London's skyline. Tower Bridge is a must-visit attraction that will captivate the imaginations of kids and create lasting memories.
To complete your bridge tour, be sure to visit the less-interesting and often-confused "London Bridge" and then take a walk across the famous "Millennium Bridge" known for its engineering blunder but spectacular skyline views!
Taxis, Buses, and The Tube!
13. London Transport: The Tube, The London Bus, and the London Ferries
No trip to London is complete without some time on London transport. Sure, those black taxi cabs are iconic and convenient, but travel like a true Londoner on public transport!
Our kids became pros at swiping our Oyster card, identifying different Tube lines, and even standing without falling over!
Best of all, kids ride free on London's public transport making it an extremely affordable and reliable way for families to see all of London!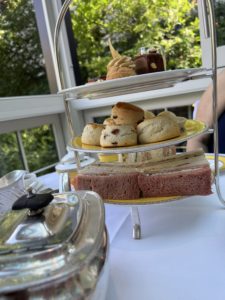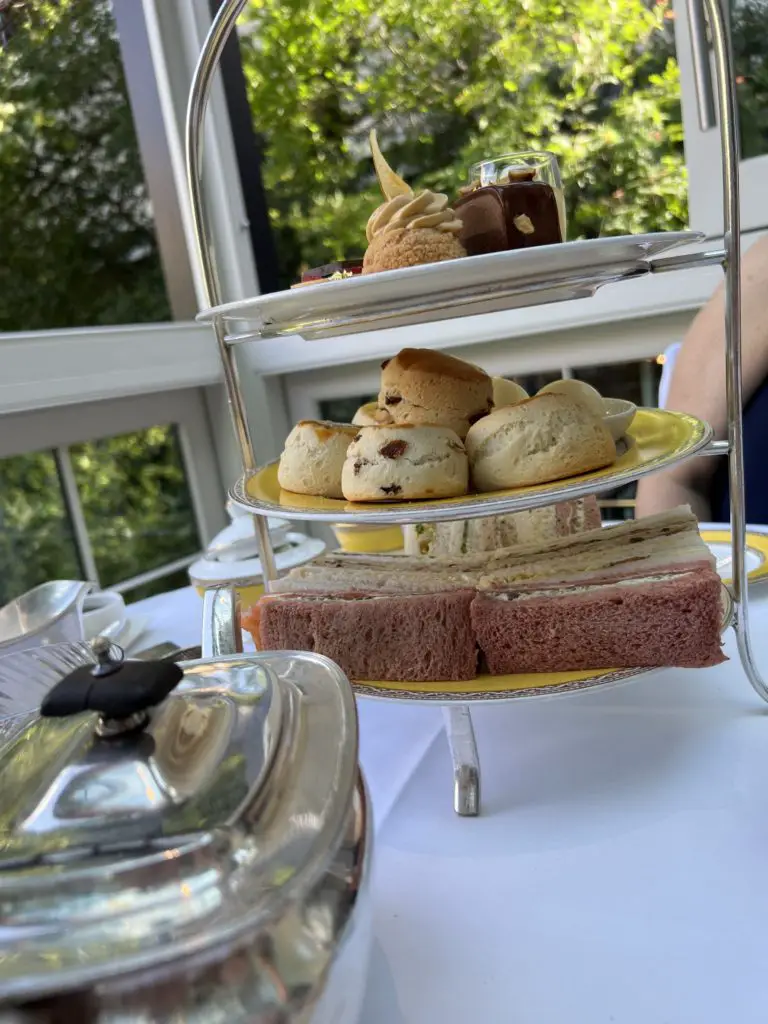 High Tea Even With Kids
14. Luxury Afternoon Tea
One of my must-do London experiences was high tea or afternoon tea. I'm a big Downton Abbey and BBC Masterpiece fan, so I wanted the luxury tea experience even with my children.
So, while I found loads of kid-themed tea experiences featuring Peppa Pig, Frozen, Willy Wonka, and more, I wanted a more traditional experience.
While in London, we visited the Ritz, Harrods, and the Goring hotel, and each of these has a beautiful afternoon tea experience that caters to adults and children alike.
Don't miss afternoon tea in London! Check out these reviews of luxury London teas to determine which is right for you and your children.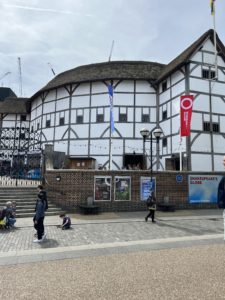 Kid-Friendly Theater
15. Live London Theater
London's theater scene offers a plethora of opportunities to immerse kids in the magic of live performances. From world-class productions to family-friendly shows, there is something for every age and interest.
For younger kids, popular West End musicals such as "The Lion King," "Matilda," and "Wicked" offer dazzling costumes, catchy tunes, and engaging storytelling that will captivate their imaginations.
For budget-friendly shows, check out plays by William Shakespeare, including performances at the historic Shakespeare's Globe theater, for a unique and educational experience.
The Globe often offers inexpensive tickets for standing room or "groundling" tickets, which can be an affordable option for families.
Our kids loved watching the performers at Shakespeare's Globe theater where they didn't entirely understand the history but got a taste of the bard's importance to English and theater history.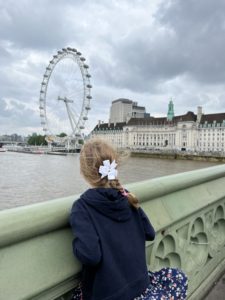 The London Eye
16. Visit and Ride the London Eye
Visiting the London Eye with kids is a thrilling experience that offers panoramic views of the city and an opportunity to learn about its history and landmarks.
The London Eye is a giant Ferris wheel located on the South Bank of the River Thames, and it has become an iconic symbol of London's skyline since its opening in 2000.
Kids can embark on a gentle 30-minute rotation in one of the glass capsules, providing stunning vistas of famous landmarks such as Big Ben, St. Paul's Cathedral, and the River Thames. Nearby are also a famous Sea Life London Aquarium and Shrek attraction that we thought were a bit too touristy to recommend but are nonetheless quite popular.
The London Eye also offers interactive tablets inside the capsules, providing fun facts and information about the city's history and landmarks. Kids can enjoy spotting famous buildings and landmarks, identifying them on the tablets, and learning interesting facts about London's rich heritage.
While the London Eye is new to the London skyline, it has quickly become one of the most iconic sites in the entire country.
London with Kids
London is a fantastic destination for families with kids, offering a plethora of exciting and educational experiences. From iconic landmarks to world-class museums, there are numerous attractions that cater to the interests of children.
Some of the best sites to see in London with kids include the Tower of London, where kids can explore the historic castle and learn about its fascinating history; Buckingham Palace, Hyde Park and the Princess Diana Memorial Playground; the London Science Museum and the Natural History Museum, and more!
Don't miss some of the best of London's culture and food by visiting Borough Market or the iconic shopping of Harrods, Selfridges, Hamleys Toy Store, the M&M Store, and the Lego Store.
London offers tons of unique experience for kids and families making it a truly captivating destination for families with kids.
Other London Attractions worth your time with kids:
If you have more time in London, we have several other recommendations for your visit with kids. Some of our favorite London memories were at:
Trafalgar Square where you can enjoy contemporary art or a bike ride
Southbank market where you can sample new and interesting foods while watching buskers or riding the carousel.
The Queen's Skate and Bowl: where you can escape London weather and enjoy a couple of hours of ice skating!
Notting Hill: a must visit for the Instagram profiles and unique flea market finds
Battersea park: a beautiful escape from the bustle of the city where you can enjoy one of our favorite cafes and playgrounds
The View from the Shard: where you can enjoy 360 degree views of the entire city but possibly a little less interesting to younger children!
The London Transport Museum: where your kids can experience the history and fun of London transport. Not to be confused with a stuffy, old train museum, the London Transport Museum is a hidden gem for kids visiting London.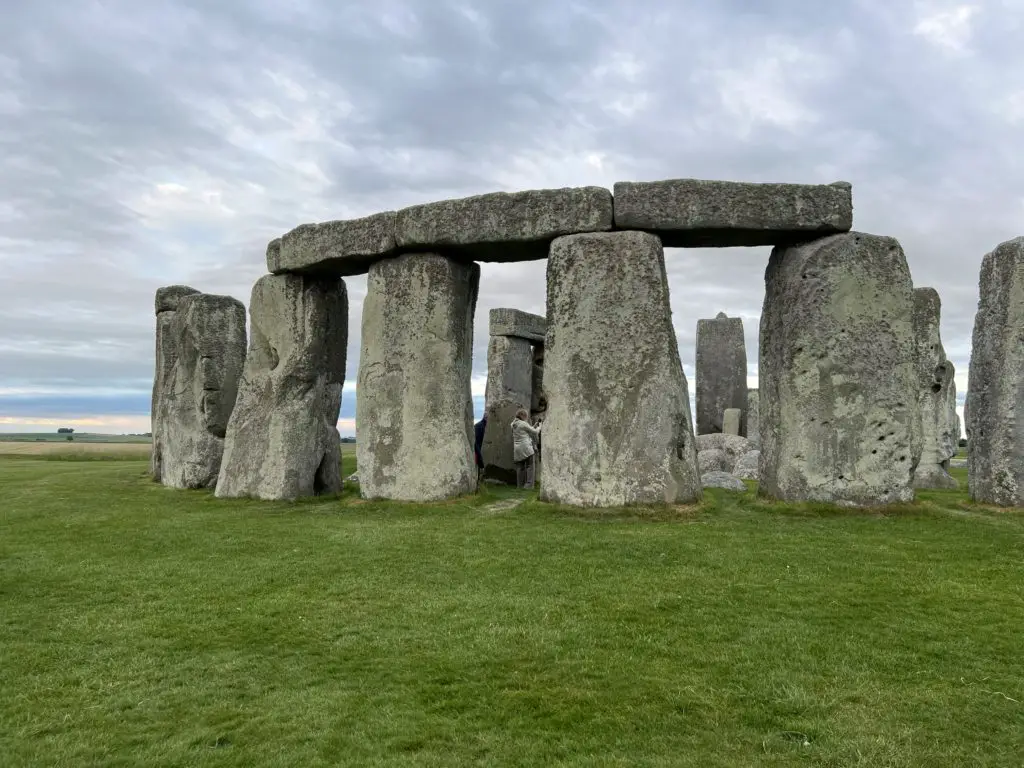 Great Daytrips from London with Kids
If you want to get out of the city and see some of the best sites outside of London, our family highly recommends spending a day to visit Windsor Castle and its extensive grounds and another day to visit Stonehenge.
Or, for the Harry Potter lovers, take a day tour around London to see famous filming sites, then take a day trip to the famous Harry Potter Studio for a Harry Potter Studio tour. 
For more information about visiting Stonehenge with kids from London, check this out.