7 Parenting Lessons I Learned Watching Bluey
You could read the books, watch the videos, or attend the classes. But, when it comes to insightful parenting tips, I have learned a lot of parenting lessons watching Bluey!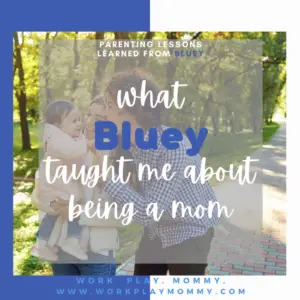 It's no secret that we are a family that not only watches but actually enjoys watching Bluey. To date, it is our favorite childrens' show filled with positive, encouraging, and wholesome episodes.  
Plus, with the new Season 3 hitting the American market on Disney Plus, I found even more reasons to watch Bluey!
To read more about why you shouldn't watch Bluey and my Bluey review, check this out.
Bluey is truly entertaining for both my children and me. I laugh out loud at the jokes, and, I'll admit, some of the episodes have made me cry.  
Finding entertainment for toddlers that also entertains adults is difficult, but the talented creators at Bluey have achieved it! Plus, while it has your attention, Bluey might teach you a thing or two about parenting! 
Watching Bluey has taught me about letting go, watching from a distance, engaging in more silly games, and more.  
Just in case you wanted to learn some parenting tips from Bluey, here are my top parenting lessons learned from watching Bluey with my kids! 
1. It's ok not to be fun all the time.  
If you have ever watched Bluey, then you might have inwardly chastised yourself about not being quite as fun as Bandit, Bluey's dad.  
An endless font of fun and energy, Bandit never says no to the girls' funny games. He never seems to work, and he always seems to be well rested and organized. (Admittedly a very unrealistic feature of a children's show featuring talking cartoon dogs.) 
Enter Chili.  
Chili is the mom. She is the voice of reason in the father's endless shenanigans.  
She regularly tells Bluey and Bingo to comply with certain rules. She regularly tells Bandit that she will not participate in the games as she is completing other household tasks.  
Chili even lets the girls know that she can't stay to play when she needs to go to work.  
Chili is my (cartoon) spirit-animal. She rolls her eyes, she nags at her husband to fix broken fixtures around the house, and every once in a while you will find her taking one of the silly make-believe games to a new level. (See, Tickle Crabs or Neighbors!) 
Just when I was wishing that I was a lot more like Bandit, Chili came in and reminded me that it is ok to be a mom who is not always fun. A mom who sometimes takes a nap instead of going to the park –a mom who sometimes can't get dinner on the table or to drop off on time. It's ok to be a little more like Chili.  
Bluey taught me that it's ok that I am not always a fun mom. 
2. Parenting is isolating, but I'm not alone.  
One of my very favorite features of Bluey is that it is chock full of references that make parents feel seen and heard.  
Ever seen the back of Bandit's Jeep? It's full of wrappers, crayons, stickers, and snacks.  
You haven't seen the back of my car, and I haven't seen the back of yours, but if you have 2, 3, or more small children riding in your car, then it is surely filled with cheesy crackers, crayons, and all the grime that comes from sticky fingers and crumbs.  
The creators of Bluey send subtle messages of understanding: messy cars, laundry on the floor, meal planning, convincing kids to eat.  
Bluey taught me that I am not alone in these little parenting struggles.  
RELATED POST: YOU NEED A MOM WIN: PRACTICAL VICTORIES
Bluey reminds me that there are millions of parents around the world who struggle with the same issues.  
3. My kids are not as weird as I thought that they were.  
Bingo and Bluey are just like my kids except that they have furry ears and a tail! 
My kids say and do some of the strangest things. (For proof, check this out.) Correspondingly that makes me say and do some of the strangest things.  
Every once and awhile Bluey and Bingo say the exact same thing that my kids say. They ask to play with boxes instead of toys They use rude language, throw fits in illogical circumstances, and ask impossible questions.  
Turns out, my kids, Bluey, and Bingo are a lot alike. And, if they are alike, then maybe my kids aren't quite as strange as I thought that they were. Or…maybe the entire show is secretly modeled around life in my house.  
4. Bluey gave me the opportunity to talk about other cultures with my kids.  
While not restricted exclusively to parenting, Bluey has taught me a fair amount of Aussie jargon. 
Dunny and wackadoo are two of our new family favorites. Sometimes I even have to Google the terms that the Heeler family uses.  
While it's a lot of fun to use these different vocabulary words, it also forces me to have conversations with my kids about traditions and cultures around the world. Even though we speak the same language, we live in very different places and thus encounter different struggles.  
Learning those few bits of Aussie jargon facilitates conversations in our home about world travel, geography, and culture.  
Thanks, Bluey.  
5. Bluey helps me talk to my kids about some hard and complex subjects.  
It's a lot of fun to talk to my kids about travel and culture. But, it's less fun to talk to them about hard subjects like death, loss of pets, child development, and being left out.  
In one episode of Bluey, Bingo and Bluey experience the loss of an injured bird.  
Instead of engaging in their usual rambunctious and imaginative games, they instead play a game where they practice telling each other that an animal died and comforting each other.  
In still another episode, Bingo gets left out of a party for older kids. She spends the day inventing games for herself rather than stewing on being left out.  
Bluey taught me to have some of these difficult conversations about feelings, loss, and even disappointment in words and scenarios that my children understand.  
At this point, Bluey hasn't taken on too many adult-themed subjects, and I hope that they keep it that way! 
6. Bluey taught me that kids' shows don't have to be inane 
One of the most important things that Bluey taught me is that kids' television does not have to be inane. Being a parent doesn't mean having no fun at all! 
Shows can be both entertaining for children and creative. They can have multiple levels, complex subjects, and well-planned scripts.  
I wish other juvenile television shows would learn this!  
RELATED POST: ADVENTURE IN MONOTONY: LIVING YOUR DREAMS ALONGSIDE YOUR FAMILY
7. Kids care more about your seeing/hearing them than providing them something special  
Bluey taught me that my kids care more about my efforts and hearing them than what producing something amazing. 
I spend so much time planning or saving for the next big thing. I spend a lot of my time and mental energy on planning events or creating items that will make my kids happy.  
In reality, my kids really just care more about being heard and seen.  
In one episode of Bluey, Bandit is attempting to make a duck cake for one of the girls' birthday. He slaves away all day to create a lopsided cake that loosely resembles a duck. It isn't fancy or neat, but the girls love it.  
They declare it to be perfect and look past the actual shape to the time, effort, and love that went into it.  
In still another episode, the entire family goes to great lengths to organize a complex birthday party for Bingo. However, all Bingo wants is for someone to watch her do a hand stand.  
If one of my kids had asked for a duck cake, my next call would have likely been to the local bakery. But, Bandit teaches me that my own effort and care mean more to my kids than the actual product, and that my time and attention are far more important than money or plans. 
RELATED POST: MY KIDS THINK I'M FUNNY
Bluey taught me a lot about parenting!
In all seriousness, Bluey is a show that I truly enjoy watching with my kids. The episodes are quick 7 minute snippets. They handle both fun and complex subjects, and they genuinely make me laugh out loud.
And, when it comes down to it, Bluey really teaches me a lot about parenting and my children.
To access the official Bluey website, click here.
To sign up on Disney+ to get access to Bluey, click here.