Don't Watch Bluey Season 3 Unless You Want to Learn a Lesson or Two About Yourself and Your Children!
BLUEY SEASON 3 IS NOW ON DISNEY PLUS!!!
SEASON 3 PART 2 IS COMING TO DISNEY PLUS ON JULY 12, 2023! Woohoo!
Bluey is back with a bang for season 3, and it's making me feel all the feels! Bluey Season 3 has all of the beloved characters, real-life relatability, and heartfelt emotion that you have come to love.
SO…WARNING…if you don't want to be challenged as a parent, then definitely skip Bluey Season 3. Otherwise you will find yourself paying more attention to your kids, playing more silly games, and soaking up their innocence!
Don't Watch Bluey Unless You Want to Love it
You already know that I have loads of reasons why you shouldn't watch Bluey if you don't want to love it too. But, you definitely shouldn't watch Bluey Season 3 if you don't want to continue to learn a thing or two about parenting and your children! Not to mention…laugh…cry…sigh…relate!
RELATED POST: Top Ten Reasons Not to Watch Bluey…Unless You Want to Love it Too
What is Bluey?
Wait! Haven't heard of Bluey? If you don't already know, Bluey is an Australian cartoon that has ticked all the boxes. It's funny. It's relatable. It's well-written, and it's something that we (the parents) actually enjoy watching –a rarity for children's television.
Bluey, the show's namesake, is a 6 (ish) year old Blue Heeler who lives with his little sister Bingo and his parents Bandit and Chili.
The nuclear family lives on the end of a quaint cul-de-sac where they enjoy walks to the park and family time.
Sound boring? Well, let's be clear, the real draw of Bluey is the dialogue and the relatability.
Take my personal favorite episode "Baby Race" for example. In that episode, Bluey wants to know whether she is better at the monkey bars than her friend Judo.
Throughout the episode, Chili, Bluey's mother, teaches Bluey all about how we each need to run our own race and need the love and support of others.
The episode "Baby Race" concludes with mothers supporting mothers.
Tears…every time…watch it!
You can watch seasons 1 and 2 on Disney+ now, but the eagerly awaited Bluey Season 3 hits the American markets on August 10th, 2022 on Disney+.
Before you start watching it though, you want to know whether its appropriate for your family.
RELATED POST: Completely Legitimate Reasons to Take a Family Sabbatical.
Is Bluey Season 3 Appropriate?
The question on many parents' minds when they let their children watch a new show is whether or not the show is appropriate for young children.
Well…I am a fairly conservative parent who doesn't allow my young children to watch shows with adult themes, foul language, or excessive potty humor.
Even up to this Season 3, one of the reasons that I really love Bluey is that the topics and tone are hilarious and moving for adults without being adult-themed.
Likewise, the language is almost always G rated, with the exception of some potty humor.
For example, in Bluey episode "Dunny", the parents are quite insistent that the girls do not use that word –a word that doesn't bother my family.
Naturally, the Heeler girls, Bluey and Bingo, use the word dunny constantly just to get a rise out of their parents. However, rarely does Bluey overdo it with potty or toilet humor in any other episode.
Is Bluey Appropriate Even for Conservative Households?
Bluey Season 3 continues in the same vein of keeping all of the topics relevant to children, appropriately themed, and even clean from potty humor.
However, you might have heard about some Bluey censoring! In fact, there are a few exceptions to the usually clean humor in Season 3. And…most of it revolves around potty humor!
Bluey Censoring
If you were lucky enough to watch the original Australian releases, you would notice a few missing scenes or descriptions in the US version.
You would notice that in the episode "Born Yesterday" Bandit doesn't get hit…down there. Further, you would notice a missing mum-on-the-toilet in the episode "FaceyTime", and you would note a missing backpacker relationship.
One entire episode is also based entirely around potty humor though. In the Bluey Season 3 episode "Fluffies" the entire episode is Bandit (Dad) Heeler on trial for whether or not he "fluffies" in Bingo's face.
The entire episode is a hilarious and rigged jury trial where Chili sits as judge –funny for this lawyer-mom. But, if potty humor is a concern for you, then you might want to skip the episode. Most of the other episodes completely eliminate it (hahahahaha)!
I haven't noticed any other points of concern in Bluey Season 3. As of yet, Bluey has not taken a deep dive into any political, social, controversial, or even adult topics even though the issues might be in the periphery.
I hope that they keep it that way!
Unlike many of the other Disney+ children's shows, I don't have to be worried that a character will take a sudden turn into a topic that needs adult supervision or explanation for my 3, 6, and 8-year-olds.
Overall, I find Bluey Season 3 to be not only appropriate for my young children but appropriate in even very conservative households.  
However, I have decided that I should avoid Bluey if I don't want to be convicted about my own parenting.
REAL REASONS THAT PARENTS SHOULD AVOID WATCHING BLUEY SEASON 3
Throughout Bluey seasons 1 and 2, I have continuously been reminded that I need to be a better person. Now, after thoroughly enjoying Season 3,I realize that I am still not half as good of a parent as Bluey's parents.
Don't Watch Bluey Season 3 Unless You Want to Be Reminded that You Are a Mediocre Parent
So, if you don't want to be challenged in your parenting, then you should probably stay away from Bluey Season 3.
Season 3 hits all the same notes while taking the opportunity to show how much I still have to learn about parenting!
RELATED POST: 7 Parenting Lessons I Learned From Bluey
So now, because Bluey opened my eyes to a few of my shortfalls, I am working on a few of my parenting skills
1. Don't Watch Bluey Season 3 Unless You Want to Realize that You Might Be Lazy
For example, in Bluey's premier Season 3 episode, Bingo and Bluey –the adorable girls who are growing up before our eyes decide to split their rooms.
Bandit (the dad) immediately jumps to moving beds, redecorating, and shifting furniture. By the end of the episode, the girls just can't leave each other.
Regardless, Bandit again reminds us that he and Chili are far better parents than we will ever be.
I don't know about you, but my husband and I need a good solid week of warming up before we start moving furniture. And even then, there will be yelling and stubbed toes involved!
Time and again, Bandit and Chili drag their tired-selves to play a game, try a new recipe, or fight a parenting fight. They teach me that I might need to step up my game!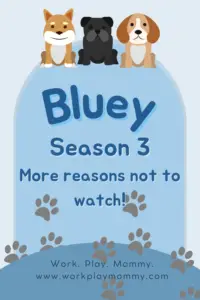 2. Don't Watch Bluey Season 3 If You Don't want to Realize that Your Children Are More Capable Than You Sometimes Believe
Want to really feel like a lousy parent? Tell your kids that they can't do something that they turn out to be more than capable of.
In my new #1 favorite funny episode of Bluey, "Grouchy Granny," Bluey's cousin Muffin pretends to join the "granny" bus crew.
After doubting her ability to distinguish herself as a unique "granny", she embraces the role of "grouchy". As the show progresses, Muffin uses her newfound grouchiness to protect and empower the Heeler's pushover neighbor.
Chili encourages Muffin to stand up to adults, to protect her neighbor, and ultimately to stand her ground.
While many parents would have intervened, Chili stands back and allows Muffin to take charge of an adult situation. In the end, her feisty granny personality more than pays off.
If you want to continue to believe that your children are incapable of doing strong things, then you should probably stay away from Bluey Season 3. But if, like me, you realize that you might be doing a little too much coddling, encourage your children to hold their ground!
3. Don't Watch Bluey Season 3 if You Don't Want to Remember that Your Children Are a Special Kind of Blessing
Bluey episode "Onesie". Watch it.
After the Bluey writers completed Bluey Season 3 episode "Onesie", they had to know that they had a hit on their hands.
I won't give away the plot, but not all of our friends or family members have "the thing that they want the most."
"Onesie" is easily the most emotional episode of the entire Bluey Season 3 and a must-watch for parents.
Related Post: To My Childless Friend
Children are a beautiful and wonderful blessing. Unless you want to be reminded of that blessing in your life as well as how others might be missing that blessing, then you should probably stay away from Bluey Season 3…or at least the episode "Onesie".
4. Don't Watch Bluey Season 3 Unless You Are Ready for New and Even Sillier Games
Are your arms tired from playing "octopus"? Are you tired of being pecked by "Sean"? Oh wait…that's just my family?
We have embraced and incorporated several of the hilarious and silly Bluey games in our family. From tickle crabs to burger shop, our kids regularly entertain us with Bluey reenactments!
However, Bluey Season 3 not only improves on some of our Bluey favorites (bus grannies!), but also teaches us some new games!
Not only has the "grouchy granny" joined our version of bus grannies, but we also pretend to be taken over by animals, talk to stuffed animals and more!
5. Don't Watch Bluey Season 3 If You Don't Want to Teach Your Children About Other Children of Various Abilities
One of the things that I have loved about Bluey is that it gives my children vocabulary to talk about some hard topics.
For example, "Early Baby" teaches my children what premature means, and "Budgie" teaches my children about loss.
However, in Bluey Season 3, the writers and animators also introduce children of various abilities.
This season tackles the issue of children with various abilities.
"Turtleboy" introduces a neighbor of the Heelers who is deaf and speaks sign language with his mother. The episode never embarrasses him or even explains that he is deaf.
Instead, it takes the opportunity to show that this child loves to play the exact same games and with the exact same toys as Bluey and Bingo.
In other words, without saying anything…without making a scene, Bluey taught my children that if they encounter another child with different abilities, then they should just keep playing! They even started asking questions about learning sign language and braille.
Way to go Bluey!
Bluey Season 3 Has Even More Fun, Silliness, and Clean Family Entertainment!
Maybe I should be ashamed to admit it, but some nights in our house are not capped off with a blockbuster movie. Instead, we often find ourselves giggling over the same episodes of Bluey…over and over!
We even had Bluey popcorn parties while on our family sabbatical!
RELATED POST: Reasons to Take a Family Sabbatical
Bluey Season 3 kicks off with the reality that our favorite Heeler girls are growing up and moves me from fits of laughter to tears.
In our opinion, the entire season is appropriate even for very conservative families unless you have a strict "no potty humor" policy in your house!
Bluey did it again. We still love it, and we are tipping our hats to the creators of Season 3!
RELATED POST: Why You Should Travel with Kids!