FOOD, DECORATIONS, and ACTIVITY IDEAS FOR YOUR SIMPLE, FESTIVE BLUEY PARTY
Easy and super fun ways to plan your Bluey Party! Bluey craft ideas, party foods, and even Bluey games for the parents!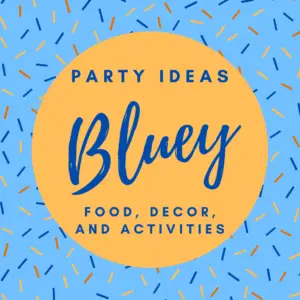 *As an Amazon affiliate, I may earn a small commission if you purchase an item through my affiliate links. This does not add anything to your cost!
BLUEY PARTY FUN
I'm a mom who doesn't do birthday parties, but that doesn't mean that I don't love a good theme night with friends and family!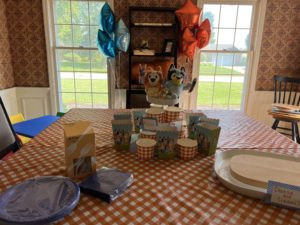 Further, I'm a mom who doesn't craft. Therefore, I'm always looking for simple ways to make a big impact, and these Bluey Party ideas are simple enough for even me to pull off!
RELATED POST: 21 Non-Birthday Party Ideas
Bluey is a big star in our house, so when Season 3 rolled out, we had to have a Bluey watch party!
These are some of my ideas that are great for a Bluey Watch Party, a Bluey Birthday Party, or just a Bluey party in general!
RELATED POST: More Reasons Not to Watch Bluey Season 3
BLUEY FOOD
I loved the idea of serving loads of Australian inspired foods. However, let's be real. I am not a cook, and there was no way that my kids were going to eat anything that looked remotely new or adventurous.
Therefore, if you want to throw a jar of Vegemite in with your toppings, be my guest, but we opted to go with a dog-themed menu in our breakfast-for-dinner party!
Plus, in honor of Chili, we had to add CHEESE AND CRACKERS!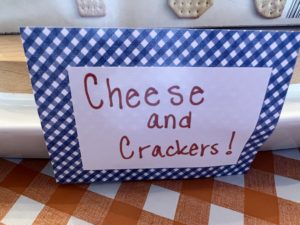 Who doesn't love breakfast for dinner, and at a party where the parents have worked all day, and the children outnumber the adults, pancakes and eggs are a big hit.
MENU:
Pupcakes and toppings (pancakes!)
Scrambled Chicken Rat Eggs
Snausages
Puppy Chow
Pupcorn
Cheese and Crackers!
Plus, if you are celebrating your favorite blue heeler puppies, you are sure to love some dog-themed party food!
Dog-Themed Bluey Food!
Therefore, we served pupcakes (pancakes), chicken rat eggs (scrambled eggs), and snausages (sausage links). The kids loved the food, and the parents appreciated the puns!
I opted for plain pancakes and provided an assortment of fruits and other toppings. Customizing pancakes with blueys (blueberries), strawberries, syrup, chocolate chips, and whipped cream was a great part of the fun for the kiddos!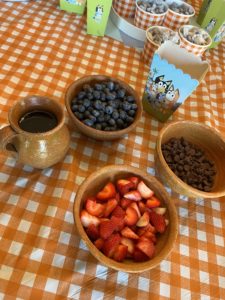 Finally, we couldn't have a watch party without pupcorn (popcorn) and puppy chow, our desserts of choice! Served in Bluey containers and more orange gingham, they were great fun!
RELATED POST: My Favorite Dairy Free Puppy Chow Recipe
BLUEY DÉCOR
It wasn't difficult to choose my Bluey décor! Orange and blue gingham, orange and blue balloons, and even a few guest Bluey and Bingo dolls covered our party.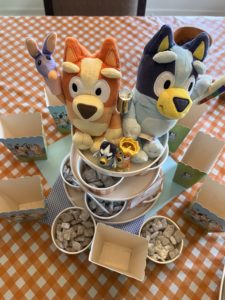 The kids loved the balloons, and I got plenty so that each child could take one home as their gift from the party.
The gingham print made the party a little less cartoony but still cute!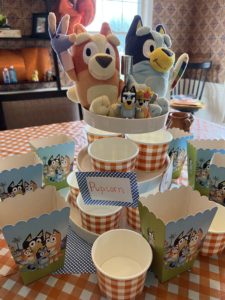 Orange dishes, blue plates and napkins, and finally, a tiered serving dish added more contrast and height to the serving table but left plenty of space for Bluey fun!
BLUEY ACTIVITIES
Don't forget the Bluey crafts and activities! The kids colored Bluey color sheets, made Bluey and Bingo ears, and generally ran amok!
For some adorable Heeler headbands, check this Heeler family headband bundle out! Or make your own!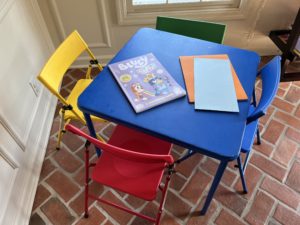 They played and crafted until we started our watch party. Our families all sat down to highlights of Bluey Season 3 and laughed raucously at "Mini Bluey" and a very naughty Socks in "Faceytime"!
RELATED POST: Why You Should Not Watch Bluey Unless You Want to Love it Too
While the parents all enjoyed watching the new episodes too, we also had some fun with Parents Bluey Bingo!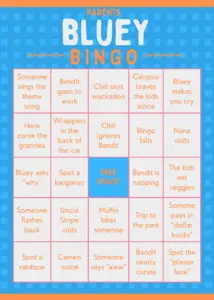 Make a game or even a drinking game out of this Bingo card that draws your attention to some of the hilarious nuances of Bluey that make it even entertaining for parents!
Did Chili say "Wackadoo"? Calypso left the children unattended? Did Bandit ever go to work? Your children might not think twice about these, but you might find them just as notable as I do!
BLUEY PARTY FUN
Bluey is a show aimed predominantly at preschool and early elementary children. However, it has truly become a fun part of our family time.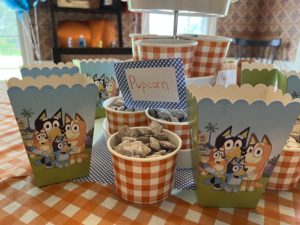 The adults often enjoy the show just as much as the kids, and the show is thoughtful enough to provoke some emotions even in the parents.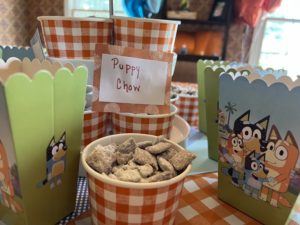 A Bluey party is a great way to join parents and children. I hope some of these party suggestions work for you!