Simple Ways to Get Your Child Excited About Your Next Travel Destination: Family Activities to Prepare for Travel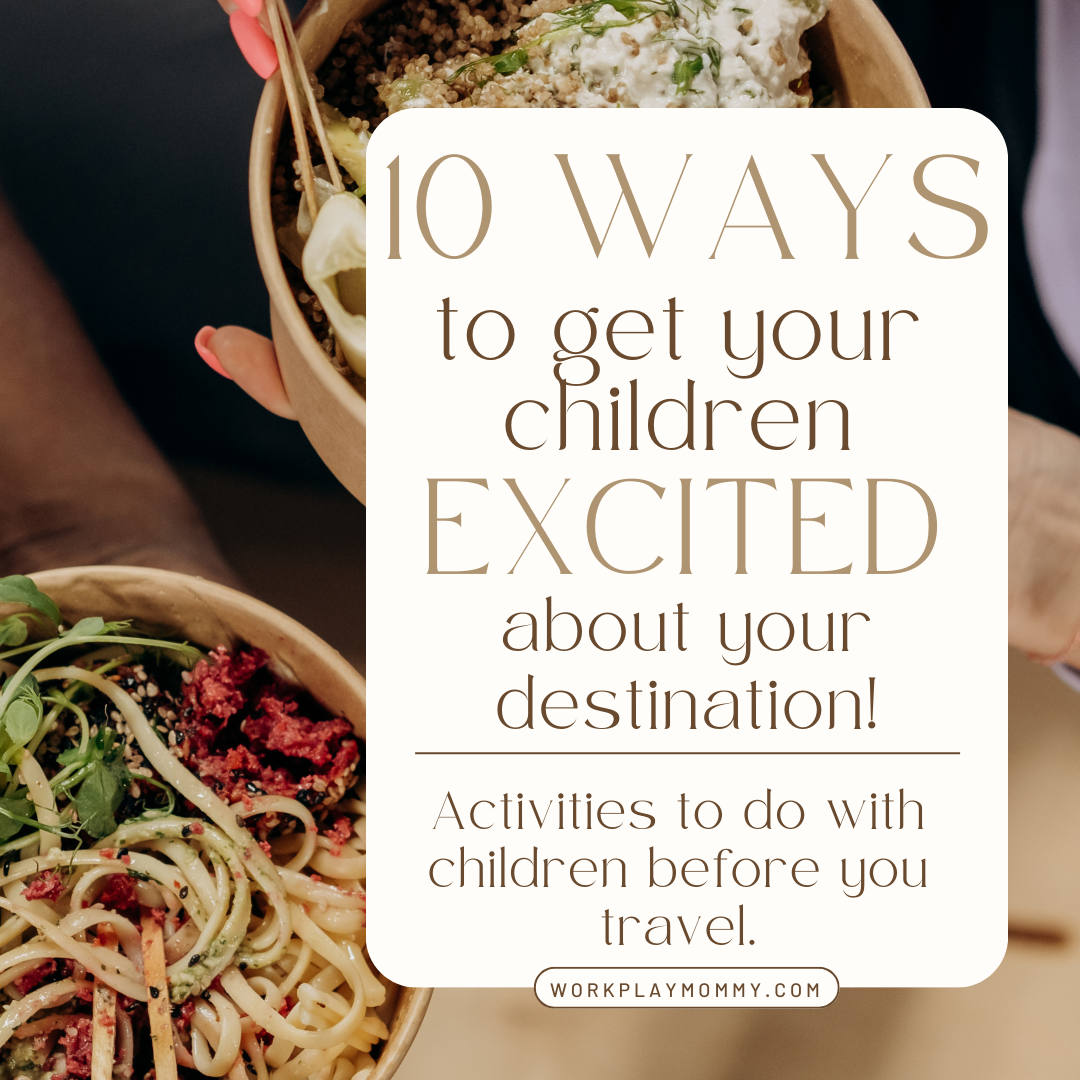 *As an Amazon Associate, I may earn a commission at no additional cost to you from affiliate links on this page.
Get Your Kids Excited About Travel!
Traveling with kids can be an enriching and rewarding experience, but it can also come with its challenges, especially when it comes to getting your child excited about your trip and visiting a new destination.
However, with a little creativity and effort, you can ignite your child's curiosity and enthusiasm for the upcoming trip. I want to share with you some of the absolute best ways for getting your children excited about a destination!
Pick and Choose from Among This List to Get Your Kids Excited About Your Trip
 Choose to incorporate various activities and methods from this list that can help your child learn about your family trip destination and its culture in a fun and engaging way. 
Let's explore 10 ways to get your child excited about visiting a destination before your big trip! Including your kids in the anticipation of a trip makes the trip a more enjoyable and meaningful experience for the whole family.
RELATED POST: 10 Reasons to Take the Kids
TOP TEN WAYS TO GET YOUR KIDS EXCITED ABOUT YOUR TRIP
1. Reading Books about the Destination and Its Culture
Books are a powerful tool to introduce your child to a destination you will be visiting and its culture. Further, books are a great way to introduce children to modes of transportation, types of food, geography, local pop culture, and more.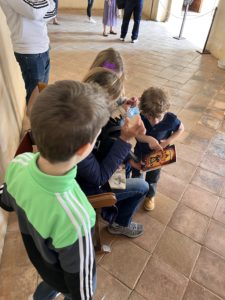 Plan to read age-appropriate books that are set in or about the destination you are traveling to.
Find short stories that focus on the local culture, traditions, and history.
Read travel books for children.
Look at photo atlases about your destination. 
For young kids, picture books with vivid illustrations can be particularly engaging, while older kids may enjoy chapter books or non-fiction books with more detailed information. If your children are readers, set them loose at the library to find as many books about your destination as they can! 
Reading books can help your child learn about the destination's customs, traditions, and way of life, and spark their curiosity and imagination.
Involve your child in choosing the books, either by going to the library together or browsing online for book recommendations. Encourage your child to ask questions or discuss their thoughts and feelings about the books.
Reading books about the destination can help your child develop a sense of connection and familiarity with the place even before the trip, and create a foundation for further exploration and learning during the trip.
If you don't know where to start, try some of our destination based book and activity lists: 
Books to Read Before Going to Japan with Kids
Books to Read Before Going to Spain with Kids
2. Watching Movies and Television Shows about the Location or Culture
Another engaging way to get your child excited about the destination is by watching movies and TV shows that are set in or depict the local culture. Look for movies or TV shows that are appropriate for your child's age and that showcase the destination's landscapes, landmarks, and way of life. 
For example, if you are planning a trip to Japan, you can watch anime movies or shows that feature Japanese culture and traditions, such as "My Neighbor Totoro," "Kiki's Delivery Service," or "Spirited Away."
Similarly, if you are going to France, you can watch movies like "Ratatouille," "The Hunchback of Notre Dame," or "The Artist" to learn more about French culture and history.
I loved watching Ferdinand with our children before we visited Spain and Paddington before we left for London. 
Watching movies and TV shows can provide a visual and immersive experience for your child, allowing them to see the destination and its culture come to life. However, don't limit the television and movies to only animated or children's shows.
More than just cartoons!
Also include non-fiction resources. Sample a mix of:
documentaries,
travel guides, or
behind-the-scenes specials with your children. 
For example, our family watched a documentary about Disney Imagineers before a trip to Disney World. As a family, we spent an evening watching a documentary about native animal species in Hawaii. And, on another occasion, we watched a documentary about U.S. National Parks that we were visiting.
Encourage your child to ask questions or discuss their observations while watching the movies or TV shows.
Invite your children to add their own thoughts and commentary. Ask them to describe: what clothes the people wear, what language they speak, what would be different about daily life if you had to walk everywhere, how can we preserve such a beautiful place, and so on. 
Plan a movie night before your trip, where you watch a selection of movies or shows together as a family to create excitement and anticipation for the upcoming trip.
3. Learning about the Geography of the Location
Our family keeps a large world map on our living room wall. Anytime our children have a question about countries, geography, distance, continents, and more, we refer them to the map. Slowly our children are getting a feel for geography and the size of their world. 
Teaching your child about the geography of the destination can be a fun and educational way to get them excited about the trip. You can use maps, globes, or online resources to show your child the location of the destination, its neighboring countries or regions, and its geographical features such as mountains, rivers, or oceans.
You can also talk about the climate, time zone, and other interesting facts about the destination.
Take a VR Tour to Really Get Your Child Excited About Your Trip!
Don't only show them the destination on a map, but also show them the route you will take to get there. Better yet, if you have a VR program, take a virtual reality tour of the destination.
My kids love interacting with Google Earth on our family Oculus, and they get an idea of some of the most exciting aspects of our destination. 
Map Scavenger Hunt
Another suggestion is to create a scavenger hunt where your child can search for the destination on a map or find interesting landmarks or natural wonders. Ask them to circle the destination on the map, identify what continent it is on, describe the national flag, determine whether it is an island, and so on. 
Learning about the geography of the country, it's size, location, and topography is a great way to get your children excited about visiting new places. 
4. Try Local Food
Food is an important part of any culture and destination. Trying local cuisine can be a delicious and exciting way to introduce your child to the destination you will be visiting. 
Do a little research and find some local dishes or traditional foods of the destination and try to recreate them at home. Better yet, involve your child in the cooking process.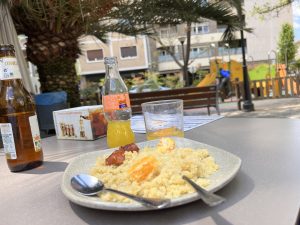 Even if your destination is not far outside of your local region, every destination has a food claim to fame. For example, even the United States has a broad range of BBQ favorites across the country, and seafood differs from one seaboard to the other. 
Include food from your destination as a fun and educational activity that exposes your child to new flavors, ingredients, and cooking techniques but that also prepares them for some of the new and different flavors and textures that they will see on your family trip. 
For a more immersive experience, go out to eat at local restaurants that serve the cuisine of the destination or visit local fairs or community centers that feature those foods. That way your child can not only enjoy the food but also interact with other people who love it! 
Encourage your child to try new foods and ask questions about the ingredients or cooking methods. Discuss the cultural significance of the dishes and how they are enjoyed in the destination. Trying local food can help your child develop an appreciation for the local culture and create anticipation for the flavors they will experience during the trip.
5. Plan Family-Friendly Activities in Your Travel Itinerary Together
A sure way to get your child excited about the destination is to give him ownership over the planning process. Assuring your child that some of the activities in the itinerary are curated to his likes and comfort zone will help him feel reassured. 
Involving your child in the trip planning process can make them feel more invested in the trip and excited about the activities they will be doing. Our kids always like to know where the nearest playground, toy store, pool, or amusement park is! So we spend time showing them where we are going and helping them apportion some of our itinerary.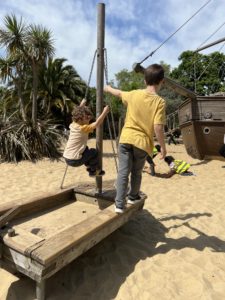 Sit down as a family and research family-friendly activities or attractions in the destination. This can include visiting museums, parks, zoos, theme parks, or other kid-friendly spots. Allow your child to make suggestions and be part of the decision-making process.
Even with little kids, talk about things that will be the same like their usual nap routine, their lovie, or the food. Research the activities together, and talk about what they can expect and what they might learn or experience. Assure them that their input matters.
Involving your child in the planning process can give them a sense of ownership over the trip and make them more enthusiastic about the upcoming adventure.
6. Practice Local Language on Duolingo:
Why not use travel with kids as an excuse to explose them to a new language? If you are visiting a different country or destination where the vocabulary or language has a variation, learn a few basic phrases together. 
Practicing the local language or vocabulary can be a fun and practical way to prepare your child for the trip. Even for a trip to London, we talked about the difference between chips, crisps, bonnets, boots, and Wellies. And, for trips to other countries we insist on practicing at least please and thank you. 
Our favorite language learning app is Duolingo. Our kids love spending time on Duolingo for fun or for learning. Set a daily practice routine where your child can learn and practice basic phrases such as greetings, thank you, please, and other useful expressions.
Make it a game by practicing the phrases together as a family or using flashcards to quiz each other. Encourage your child to use the phrases during the trip, which can be a great way to connect with locals and show respect for the local culture. Learning some local language can also boost your child's confidence and sense of adventure as they navigate a new destination.
My son loved being able to order in Spanish, to say please and thank you in French, and is now practicing how to say yes and no in Japanese with Duolingo. 
7. Listen to Local Music
Music is a universal language that can transcend cultural barriers and connect people from different backgrounds. Expose your child to the local music of the destination you will be visiting by playing traditional songs, folk music, or contemporary popular music from that region. 
You can find local music on streaming platforms, but even better to experience it live. Seek out a local performance from a cultural center or fair where you can listen to music traditional to your destination. 
Listen to the music together as a family and discuss the different instruments, rhythms, and melodies used in the music. You can also learn about the cultural significance of the songs or the stories they tell. 
If you want to go even further, talk about how the music also informs local dances or integrates culture. The Flamenco of Spain, the Kabuki of Japan, the hula of Hawaii…salsa, rumba, lambata, jigs, and more all have specific music relevant to a region, a history, or a culture. 
Encourage your child to dance or sing along with the music, or even try to learn to play an instrument that is popular in the destination. Our kids are practicing ukulele for an upcoming Pacific trip! 
Listening to local music can help your child develop an appreciation for the local culture and create a connection to the destination.
8. Compare Cultural Customs to Get Your Child Excited About Your Destination
Learning about the cultural customs of the destination can help your child understand the local etiquette and behavior expectations, and avoid cultural misunderstandings.
Research the cultural customs of the destination, such as greetings, gestures, dress codes, and social norms and spend time comparing and contrasting them with your children. 
Practice some of those cultural differences with your children. For example, if the destination uses chopsticks, help your child get used to using chopsticks and how to use them properly. If the culture of your destination always uses "sir" or "ma'am", then help your children practice their social etiquette. 
Understanding parts of the local culture and practicing them at home before a trip, can help your child feel more confident on his or her travels and save you the embarrassment of cultural missteps. 
Before you take your next trip, be sure that your children understand how their behavior might be taken as rude in one culture while it would be considered acceptable in another. 
However, also take time to encourage your children to find the cultural connections between themselves and kids in the destination. Do they all like ice cream? Do they all like to play on playgrounds?
I like to teach my children about cultural differences while highlighting the similarities. This way, my children develop more respect as they travel understanding that people all over the world have similar struggles, likes, and needs. 
9. Travel Journals
Travel journals are a great way to get your child excited about a trip and to help them process what they see and experience while there. You can even get a copy of my free travel journal here. 
I like travel journals that start even before the adventure begins, and this travel journal has spaces for your child to work through his packing list, information related to the destination, and even what kind of transportation he is taking. 
By working through the travel journal for a few days before the trip and each day on the trip, your child can record what it is like to ride on a train or airplane, be a passenger on a cruise ship, meet new friends, try new foods, or explore his own emotions about travel.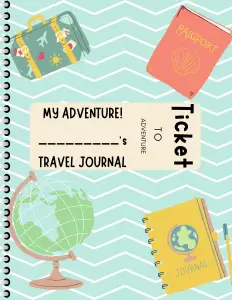 If you are looking for other travel journals, check out this list of some of my favorite travel journals for kids for every age and in both written and digital forms. 
RELATED POST: Travel Journals for Kids
10. Social Media
Don't shortchange the use of social media in preparing your child for your trip. One of my favorite things to do with my children is to watch Youtube videos about the destination with them or check the daily status of amusement parks we will visit. 
Before our trip to Disneyland Paris, my children loved going through the Disneyland Paris instagram to pick out which snacks they wanted to try and what characters they wanted to see.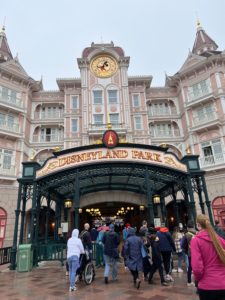 Before our trip to New Zealand, our children are loving watching the views around the Wanaka tree, checking out daily updates around Hobbiton, and even looking through pictures from hikers and bikers across the country. 
Bonus Tip: Packing Help
Finally, to get your child ready, comfortable, and excited for your big family trip, include them in packing all their travel gear. Children who are old enough to help, should.
Having your child help with packing is an excellent way to help them feel comfortable and in control. 
Allow your children to pick out some of their favorite comfort items or lovies to take with you. Have them pack those favorite new pair of shoes purchased especially for the trip, and even include them in choosing their favorite outfits. 
Kids can be nervous about new and unknown experiences. Including them in the packing process lets them feel in control and reassures them that they will have some familiar items on your trip.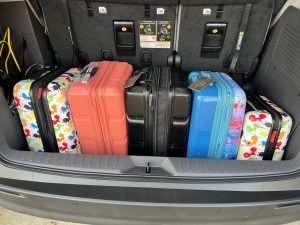 Packing together is yet another opportunity to discuss the new things that you will see together and discuss what clothing and travel items are suitable in the culture or even in a security checkpoint. 
Will there be beaches? Do they need to pack for special activities or drastic changes in weather? Prepare with your children as you discuss what you will see or do, and what you need for a great trip.
How to Get Your Child Excited About Your Trip
Traveling with kids is a great chance to broaden their minds and experiences; it is also a great way to build important and special family memories! Make sure to spend plenty of time getting your children excited about your trip. 
These are several different ways to get your children ready, comfortable, and excited about your destination. Take time to read with them, watch television or movies related to the destination, and warm up to new cuisines! 
Prepare them for long road trips, long lines, or long flights. Reassure them that they will get to have special experiences just for them! And, reinforce their experiences and learning throughout your trip with a travel journal. 
You worked hard to plan and pay for this trip! Make sure that the kids are just as excited and invested as you!