11 Tips for Moms who have husbands who travel… from moms whose husbands travel…a lot!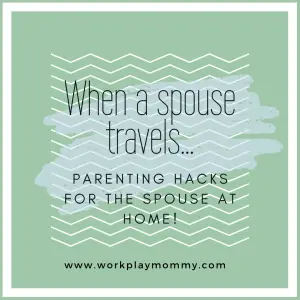 Ever feel like an intermittent single mother as a mom who has a husband who travels for work? Does your spouse leave for days or weeks at a time on business trips? Try these tips from moms who know your pain and want to help you manage the whole show when your husband travels for work!
Intermittent Single Mothers whose Spouses Travel for Work
Do you sometimes feel like the forgotten spouse –the one who is left to keep everything running until your husband comes back home? Here are some tips and hacks for you: the moms who have husbands who travel for work!
Now, I know that you are happy to do it. That you see your service to your family as your utmost calling, but working, caring, meal planning, running errands, or even running your children is a lot of work and doing it alone can be flat out exhausting.
This is especially true when your partner is a long way from home, in a comfy hotel room, watching television by himself!
RELATED POST: Exhausted Working Moms
Work travel can build resentment on both sides. If you are the spouse left at home, you might feel like your traveling spouse gets the benefit of full nights of sleep, balanced meals, and ever-coveted me-time.
You, on the other hand, are left to bathe, tutor, feed, clothe, and clean all those little ones all by yourself even though you aren't a single parent. 
Contrastingly, your traveling spouse may covet the time that you get to spend with your children…IN. YOUR. OWN. HOME. Exhausted, he returns home to you ready for a break, ready for a chance to relax.
Just because he travels for work doesn't mean that you should dump the kids and house and run the moment he runs through the door. Try these small things to help manage your home even when your spouse travels for work.  
TIPS FROM MOMS WHOSE HUSBANDS TRAVEL
So, some moms and I got together to share some tips for a better life for the spouse who is left at home!
My husband travels intermittently, but I have also teamed up with some moms whose husbands travel on a regular basis. 
One is the working mom of a husband whose job requires frequent travel anywhere from Kenya to Kentucky. The other is a stay at home spouse of a husband who travels most weeks for at least a few nights. 
Among us, we have a collective 9 kids that range from infant to 3rd grade. And, despite the fact that all of our husbands have very different jobs and travel demands, we all offer much of the same advice. So we have compiled it here to share with you!
10 MOM HACKS FOR HAVING A SPOUSE WHO TRAVELS FOR WORK
1. RECRUIT THE 'RENTS: Find HELP when your spouse travels
First, and foremost, we all agree that we could never do solo-momming alone. Surviving with a traveling spouse means we all need help from the whole family, parents, or friends to provide a meal, host an intermittent sleepover, or even watch the kids while mommy has a few minutes to herself. 
We agree that one of the keys to being a mommy who doesn't go completely crazy while being the stay-at-home partner, is to make sure that she has help from time to time.
Though some days can be long and tiresome, having grandparents, parents, in-laws, aunts, uncles, sisters, or close friends to step in is very important for surviving having a spouse who travels frequently for work. 
2. MAXIMIZE SLEEPING TIMES
To maintain sanity, maximize the times when the children are asleep. Use the end of the day after bedtime to clean the kitchen or tidy up before crashing for the night. 
Using just a few minutes before the kids get up, during nap time, or even after bedtime to catch up on some emails, finish washing the dishes, or throw a load of laundry will make that couch or your bed feel that much sweeter. Using just a little bit of extra time can help you get ready for another long day of work.
Besides, putting away the toys, cleaning the kitchen, or folding the laundry can sometimes be an exercise in futility that only compounds your exhaustion and frustration while your kids are running around the house destroying every corner!
So, sleep times are a great time for catching up before things get too crazy!
3. DO WHAT YOU WANT
Is there something that you love to do that your spouse never enjoys? Do you enjoy strolling through the botanical gardens, eating vegetarian dinners, or watching your favorite rom coms, but he would roll his eyes the entire time?
If so, this is a good time to do it! Seize the moments by yourself to enjoy doing the things that you want to do. 
"I take the free time that I have to do things that I like [such as crafts, tv shows, etc.]." 
RELATED POST: All Natural At Home Spa Products for Moms!
Planning to do the activities that you enjoy can help you create a more positive attitude about your husband leaving and may help dissipate resentment, if any. At any rate, it may help you appreciate the time that you have for yourself that would otherwise be divided and give you some much needed alone time! 
4. PLAN KID-FRIENDLY ACTIVITIES
Do you have a local gym with childcare? Is there a local mommy and me yoga class? Have you considered a mom's group? Does your local gym have supervised open gym time? 
All of these activities allow you to take care of yourself, find support and encouragement, and also take some of the parenting burden off of you. If you know, in advance, that you will have an hour when your child will be busy doing crafts so that you can sit in a corner sipping your iced coffee, you may adjust better. 
Look for local kid cafés where kids can play while you relax. Check out local community centers or museums for inexpensive kid-friendly activities. Find out when your local story hour starts. Let someone else entertain your child, and allow yourself the time to relax a little. 
RELATED POST: Plazas with Playgrounds in Granada Spain
Our community has an indoor playground with a coffee shop, so I know that I will be spending some time there!
5. DON'T SKIP YOUR ROUTINE WHILE YOUR SPOUSE IS TRAVELING
Just because your spouse is gone does not mean that you should throw your entire routine out the window. In fact, adhering to predominately the same schedule whether or not your partner is traveling can help every day go smoother. 
"My kids thrive on having a predictable schedule."
Sticking to a routine helps the kids know what to expect and what is expected of them. However, the routine also leaves mommy happier.
Eating around the kitchen table, knowing when to get up/go to sleep, and following the same routine on a daily/weekly basis, is good for kids especially when a traveling parent might bring up other concerns for children about permanence and stability. 
6. DON'T OVERDO IT
While we will agree that a routine is important, there are certainly some things that just have to fall off of the priority list. Maybe it means you would prefer to have popcorn for dinner, that the kids have to wear the same socks two days in a row, or that they watch a little more television. 
"I often eat popcorn as my dinner when he isn't home!"
Just because you want to create stability and routine in your home doesn't mean that you have to do absolutely everything.
"Really simplify meals when he is gone. Consider buying a take-and-bake pizza to eat all week, make one big pot of soup, or pass the kids grapes and lunchmeat, and call it a day."
7. PLAN YOUR ESCAPE IN ADVANCE
Dad walks in after a long flight, 5 days of grueling work, and a long layover. While he is thrilled to see you and the kids, he is exhausted, ready to collapse on the couch, and is not ready for the immediate requests to complete the honey-do list. 
At the same time, you, who have been cooped up in the house with the kids by yourself for the entire week, are ready to push the kids off on dad so that you can have a break. 
To be fair, you both need a break in different ways. And, you both know, in advance, that you are both going to be tired at the end of the travel time. 
So, plan both of your escapes in advance. Don't plan to dump the kids and run. But, he also shouldn't plan to immediately withdraw to his own room in silence. 
Instead, if both of you can get on the same page that each of you will have time alone or to do your own thing within 24-48 hours after the end of the travel period, you can both support each other a little better. 
Before he leaves on his next trip, let him know that you are having coffee with your group of friends on Saturday after he comes in on Friday morning. Or, plan a date night, a babysitter, and a movie. You need quality time together and time to recover.
This way both of you, though tired, will have a pre-planned escape to look forward to. Thus, both of you can reduce resentment and show empathy to the other for being tired. 
8. DITCH THE GUILT TRIP
Yes, your husband is traveling. Yes, your husband might be enjoying new and beautiful scenery around the world. Your husband might even have an expense account covering your spouse's travel costs, catering, and a 5 star hotel. But, it's still work, so ditch the guilt trip. 
"[Don't] give [your husband] a hard time when he has to travel for work. If you knew that was a requirement going into the job, you can't fault them for leaving."
Your husband didn't marry you and have kids with you so that he can crush all your hopes and dreams. No, he started traveling because he believed it was good for his family. He is working to provide for you and the kids. And, you love him for that. 
When he is gone, don't imagine him enjoying cocktails by the pool; know that he has other pressing responsibilities, pressures, and his own guilt. Don't nag him into feeling worse. 
9. GET A MOM GROUP.
No matter your age, the number of kids you have, and the amount that your husband travels. Make sure to surround yourself with other moms who can relate and encourage. Having a traveling partner can leave you overwhelmed or with feelings of loneliness.
Moms with traveling husbands say find a group in your neighborhood, your church, your local library, or ballet studio. Or, maybe all of them! 
If you struggle making new friends, show up with a box of coffee or donuts, and you will have friends for life! Simple play dates can be a lonely mom's life saver.
This way, when your husband is traveling, you still have adult time with other women who share some of the same struggles and victories that you do. Plus, you can all rock your Swagger Wagons together.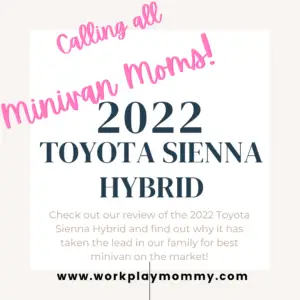 10. JUST BECAUSE YOU CAN, DOESN'T MEAN THAT YOU HAVE TO DO IT ALL WHILE YOUR SPOUSE TRAVELS FOR WORK. 
Sure, plenty of moms take on the responsibility of accountant, maid, chauffeur, cook, baker, disciplinarian, personal assistant, laundromat, and more. However, just because you could theoretically do it all doesn't mean that you have to do it all…alone. Do not try to do everything yourself.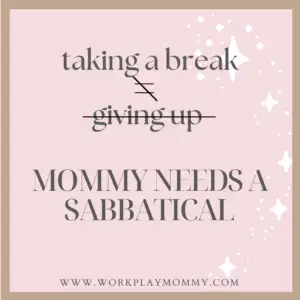 It's ok to take a break.
When your husband takes a work trip, you are going to have to let some daily tasks go. Taking care of a household and the kids is a big enough job during the work day. It is even bigger when you don't have bedtime assistance, someone to snuggle on the couch before bed and unwind with, or consistent help. 
Furthermore, your husband doesn't want you to slam him with a to-do list as soon as he walks in the door. And, he wants to spend time with you when you get home rather than have you spend the entire time cleaning, cooking, and laundering. 
Therefore, if your budget allows, find the room to hire help. Outsource your laundry, drop it at a laundromat, or manage meals by ordering a meal service. Maybe consider even hiring a cleaning service. 
"When my husband first started traveling, we decided that we were going to need help with the house cleaning. At first, we agreed to once a month, but after seeing the difference that it made in our life (and we had our fourth child), we changed it to every two weeks. It's a huge help to both of us!" 
Maybe you give up home-cooked meals while he travels so you can focus on the more important things.
11. CONSIDER PRE-SCHOOL OR DAYCARE. 
If you are a working mom — or even a stay-at-home mom — you might want to consider taking advantage of a pre-school, a daycare, or even just a Mom's Day Out program. Even though you love your children, sometimes a little break can be just what you need. 
"We decided that even our two-year-old would start a preschool program for just a few days a week. He gets a chance to play with other children his age, practice age-appropriate learning, and not fight with his other siblings for a little while. He loves it, and it gives me a chance to focus on our newborn in a way that I can't when he is home. Besides, the preschool has been a huge help in encouraging him to potty train!" 
Even just a few hours or a couple of days a week can open up the space in your life to run the other errands, finish the grocery shopping, or take a deep breath all by yourself.
If you have children that range in age, childcare or preschool might be the opportunity for them to get the tailored attention that they need and you can't always provide. The additional costs might be justified by saved sanity!
Sure, you love creating the crafts, the learning boxes, and even practicing their letters and numbers. But, again, you can't do everything all the time. So, a few hours a week of childcare while you are single-momming might be the right decision for your family. 
TIPS FOR WHEN YOU FEEL LIKE AN INTERMITTENT SINGLE MOTHER AND YOUR SPOUSE IS TRAVELING FOR WORK
Balancing a family member, spouse, or partner who travels with work in and out of the home is tough. Add to that young children, and we agree that moms are just trying to make it!
These tips are just some of the hacks that moms have developed to help them keep a good attitude about having a husband who travels and still stay sane.
Sure, some things just won't get done, but with a few adjustments of both your household and your attitude, you might adjust better to having a traveling husband. 
Want more mommy encouragement? Check out: MOM WINS!: Practical Victories for Moms!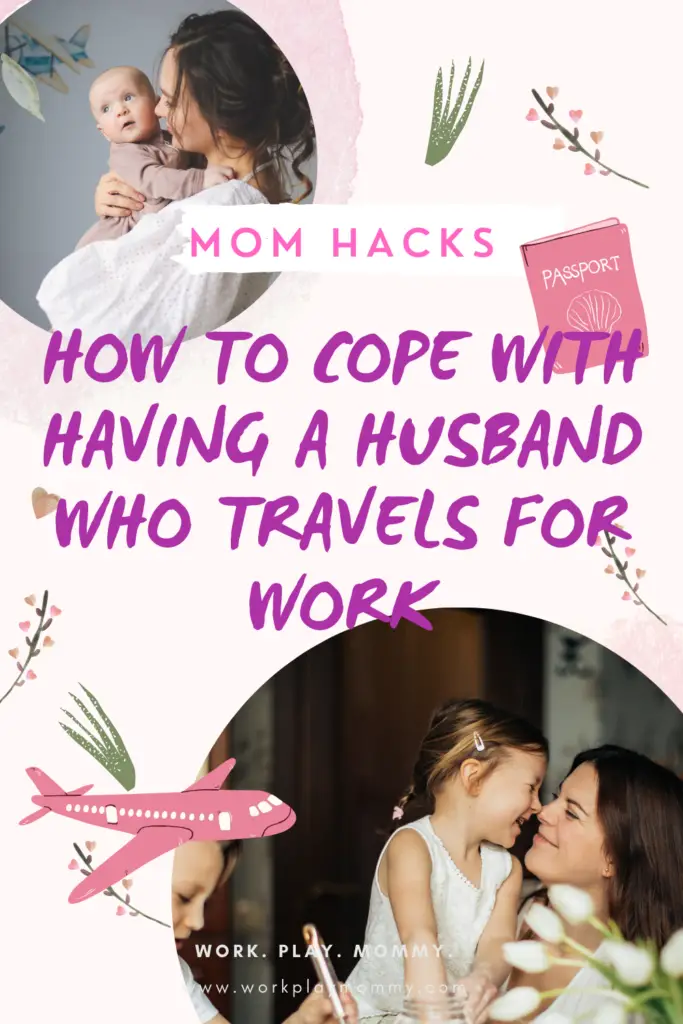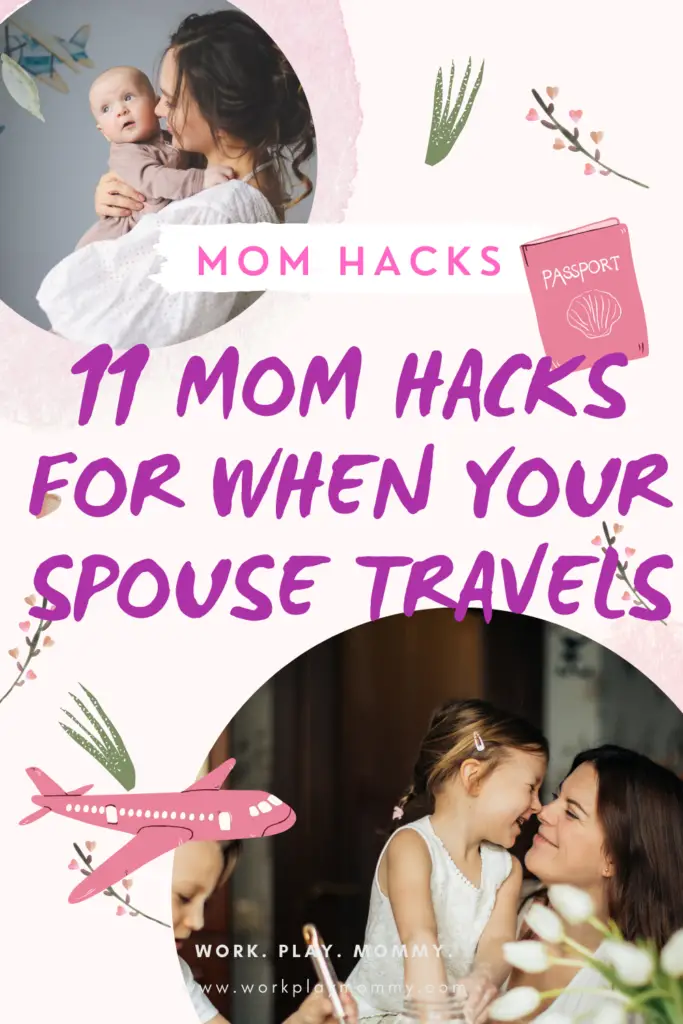 If you are looking for other tips for time-saving check this out. Or, if you just need a laugh about what it means to be a mom, check this out!