Our Family's FAVORITE Chocolate Chip Cookies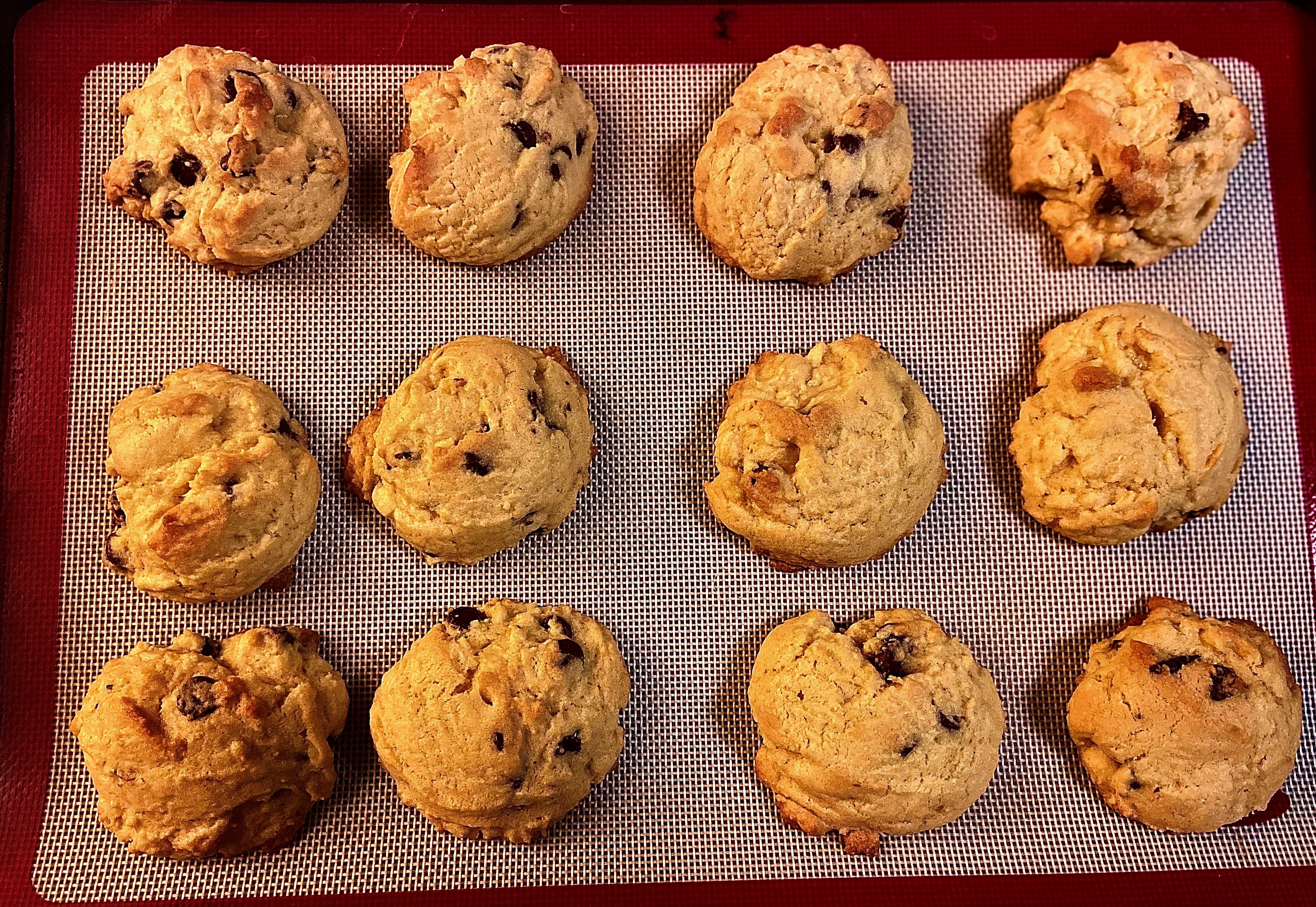 To get right to the recipe, click directly to this Best ever pudding chocolate chip cookie recipe from Jam Hands! Check out her other recipes too!
(This post may contain affiliate links from which I receive a commission if you make a purchase.)
Were you wondering where all the flour and yeast went? Well, I am here to confess, it went to my house. 
No, I didn't stockpile toilet paper or bleach wipes. Instead, I took the opportunity to try, bake, and eat everything that I could! (One of the big reasons for deciding to get in shape in 2021!) 
Among the crowd favorites were cinnamon rolls, baked donuts, French breads, and these pudding CHOCOLATE CHIP COOKIES.  
DITCHING THE SECRET RECIPE
If you are anything like me, for years you have relied on the old secret family recipe hidden in plain sight. My go-to recipe has always been the Nestle Chocolate Chip Cookie recipe conveniently placed on the back of the bag of semi-sweet morsels. You too? Of course! 
But, then faced with an unprecedented amount of home time, my daughter and I embarked on a daring expedition to try several new chocolate chip cookie recipes and discover our very favorite recipe.  
(To be completely fair, I hear rumor around the Pinterest water cooler that Levain's chocolate chip cookie recipe and subsequent Levain knock-offs were also top contenders. However, I have not tried to make the Levain cookies because they have toooooo many ingredients to get me to jump ship quite yet!) 
We, of course, started with Old Trusty –the Nestle recipe. But, that recipe was quickly thrown to the side in favor of others. I found recipes that fell flat, recipes that were too complicated, and recipes that claimed the title of "healthy."  
I don't know about you, but if I plan to eat a cookie, I am not all that concerned about "healthy." I understand the risks and liabilities when I undertake eating a cookie.  
ONLY ONE RECIPE CAME OUT A WINNER
In the end, only one, convenient, and reliable recipe was left standing. This pudding chocolate chip cookie recipe from Jam Hands. Let me tell you why this recipe should make it into your cookie recipe box and why it is the best pudding chocolate chip cookie recipe we have found.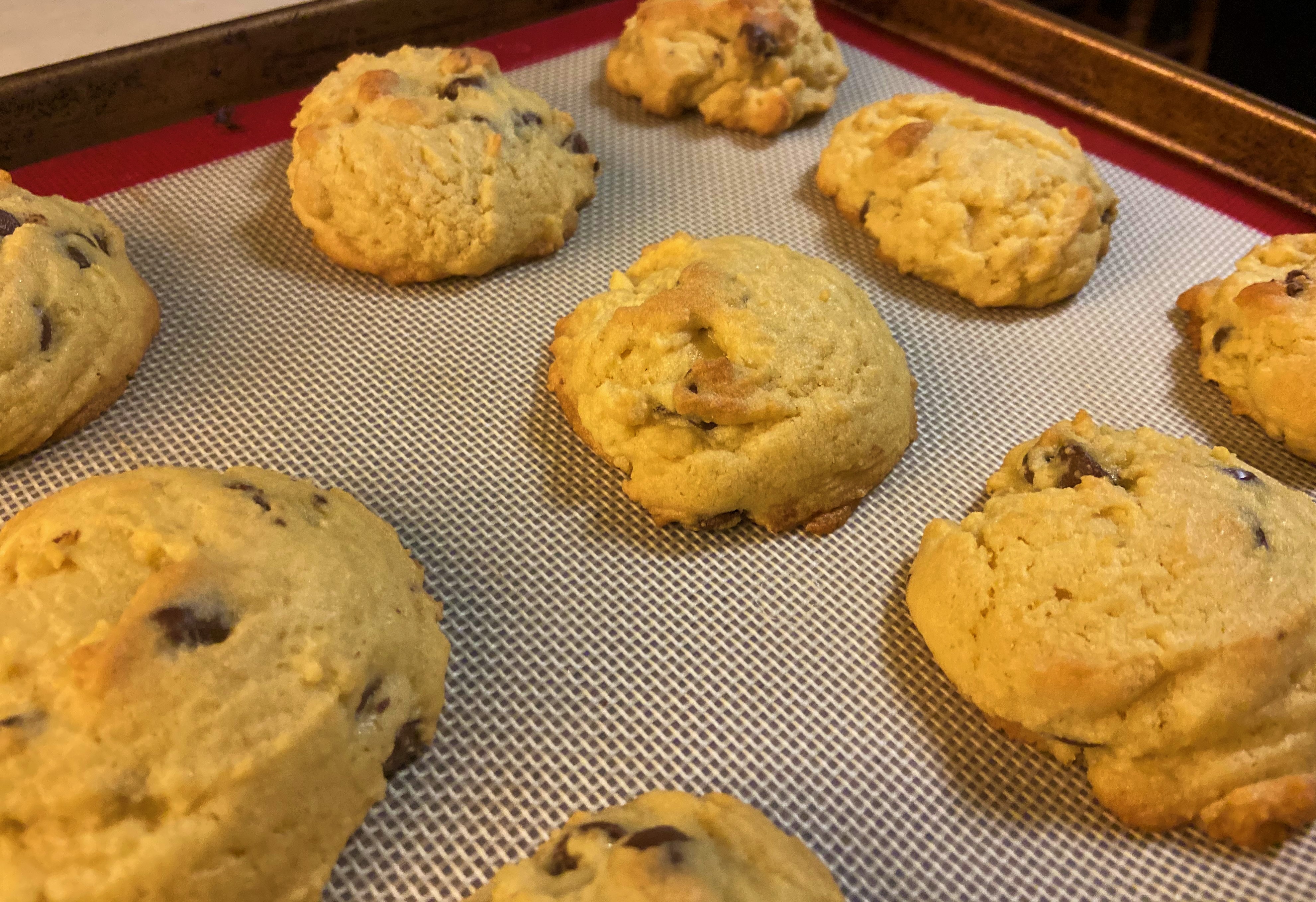 Simple 
First, and probably most importantly, a favorite cookie recipe has to be E.A.S.Y. None of this multiple rises, 29 ingredients, or complicated additives. This recipe is one bowl and ingredients you already have on hand. (You might need to grab some pudding mix at the store!) 
From start to finish, you could be done in 20 minutes. But, this recipe suggests an hour or so to chill. DO IT! Follow her instructions to a T and it will turn out perfectly every time.  
I can throw these together quickly for a simple, yummy after-school treat!
Plus, if you substitute coconut oil for the butter, like I do much of the time, then that chill time is even more important. Coconut oil melts at a higher temperature than butter, and once it is handled, it can become runny. Allowing coconut oil to cool before you bake the cookies can help them maintain that fluffy consistency. (Tip, if you are looking for a dairy free chocolate chip cookie, substitute the butter for coconut oil and use dairy free chocolate chips as a simple way to cut the dairy but maintain a great cookie!) 
Finally, clean up is a cinch if you use these silicon mats. I use them for all my cooking and baking now to make sure that nothing sticks and easy cleanup! Be sure to grab one wtih macaron circles on it so that you don't have to draw your own like we did!
Reliable 
Have you ever made a recipe that turned out great the first time, but you could never recreate it? Have you ever made a recipe that is so fragile that too much time in the mixer or slightly too much flour ruined it?  
These cookies don't disappoint…ever. As I mentioned above, I embarked on the cookie discovery with my 3-year-old. We were not interested in a complicated or fragile baking recipe. Even my young daughter can make these cookies with a little help! 
Fluffy 
Too many of my recipes were falling flat, including my Nestle recipe. Instead of a fluffy, chewy cookie, I ended up with a chewy pancake cookie. (Yes, I checked my baking powder and baking soda!) Plenty of those little cookies taste wonderful, but they leave much to be desired in aesthetics.  
I wanted a cookie recipe that I could put out on a plate at a party or gathering and not have to explain to people that they tasted better than they looked. These cookies are big and fluffy every time! 
I did notice that the cookies pictured on Jam Hands are not even as fluffy as when I make them myself. One of my pandemic purchases was a cookie scoop. 
I'm now convinced that the best way to achieve a fluffy cookie is by using a cookie scoop like this one.   
Crispy outside, gooey inside 
Let's start the debate. Do you like a crunchy cookie or a gooey cookie? Well, I am the judge here, so I say the best chocolate chip cookie should be crispy on the outside and gooey in the inside.  
This recipe delivers. The crisp and crunchy outer layer gives way to soft and gooey chocolatey goodness as soon as you bite in. Doesn't get any better! (At least not yet, but I haven't tried every recipe out there! I'll let you know if I try the Levain cookies.) 
So, if you haven't checked it out yet, go try the recipe by Ali at Jam Hands.  
If you made it all the way to the end of this article, I need some feedback.
My daughter and I try all sorts of new and fun recipes. Would you be interested in us sharing them here?  
Do you claim to have a better, simpler chocolate chip cookie recipe? Post it here, and I will give it a try! 
Want some other food ideas here or here?