FAMILY HOLIDAY TRADITIONS TO PRACTICE GRATITUDE RATHER THAN ENTITLEMENT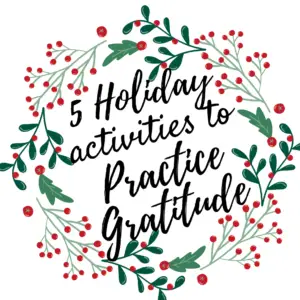 How do you help your kids practice gratitude during the holidays? Are you looking for a way to help your kids be more grateful. Do you want activities to help your children practice gratitude during the holidays? Below are some activities to help you encourage your kids to think less about their presents and more about others during the holiday season.
FORGETTING TO PRACTICE GRATITUDE
The holidays are all about faith, generosity, giving, sharing, love, family, and more. However, my kids, just as much as me, fall into the "I want that for Christmas" trap. Sometimes it is difficult to remember to help my kids practice gratitude.
With all the commercialization, losing sight of the real meaning of the season is simple. It sucks me in to bows, ribbons, gifts, and trappings.  
My kids have everything. They don't need any more toys, and they have more privileges than most children around the world. Yet, despite all that, they will still have mountains of presents under multiple trees –thanks grandparents! 
So, how do I make sure that my young children practice gratitude and generosity when all they can think of is the most recent toy catalog?  
In our house, we have integrated a number of tangible service projects and practices as part of our annual holiday traditions. Try one or all of these activities to help your kids practice gratitude during the holidays:  
5 HOLIDAY ACTIVITIES TO PRACTICE GRATITUDE WITH KIDS
Great Toy Giveaway 
Operation Christmas Child Shoeboxes 
Thankful Pumpkin 
Participate in a live nativity or Christmas parade 
Use your own money to shop for others 
1. The Great Toy Giveaway 
Every October or November, I force my kids to go through ALL of their toys and settle on a few or several to give away. I know that they are going to receive any number of new or new-to-them toys, but I also know that they have boxes of toys that they don't play with.  
This serves several purposes. The first and most obvious purpose is that it helps me clean out the kids' toys.
With three small children, my house is overflowing with kid stuff. Forcing my children to purge their toys gets rid of many of the toys that get little action on the daily in our home.  
But cleaning out unused toys has its challenges. Have you ever had a garage sale with your kids' things? Toys they haven't played with in years are suddenly their most prized possessions.
Although they haven't touched those toys in months, they try to convince you that they can't possibly part with them.  
When my kids start sorting through their toys before Christmas, they try to pull the same shenanigans. "We couldn't possibly part with this toy that has sunk to the very bottom of the toybox", they whine. However, with this time, we concentrate on having intentional conversations about generosity.   
BEING MORE GENEROUS HELPS MY CHILDREN PRACTICE GRATITUDE
Giving toys away forces my children to think about the fact that many other children don't have nearly as many toys as them. We spend the time talking about what other boys and girls their ages might enjoy. We consider who might play with the toys that they don't play with anymore. And, we are always cognizant of the condition of the toys.
I find that as we go along, my kids become more and more generous. And, throughout the year, sometimes my kids will identify toys around the house that they have outgrown or don't play with that they would like to share with other boys and girls.  
After we clean out the toys, we often take them to a local clothes closet, a local community center, a church, or any other organization that is helping families in need with gently used Christmas gifts.  
I never allow my children to take toys that are worn out, have dead batteries, or are broken (those generally go in the trash or recycling). Instead, the toys that are still in great shape or that are outgrown go to a child in need. 
Starting the holiday season giving to others and parting with their own things helps my children practice an attitude of gratitude during the holiday instead of greed.  
Then, we move to Operation Christmas Child!  
2. OPERATION CHRISTMAS CHILD SHOEBOXES 
My favorite way to start the holiday season for the last 20+ years has been to fill a shoebox for Operation Christmas Child. It's a tradition that I remember starting with my mom when I was very young.  
Now that I have children of my own, my children and I fill Operation Christmas Child Shoeboxes together every year.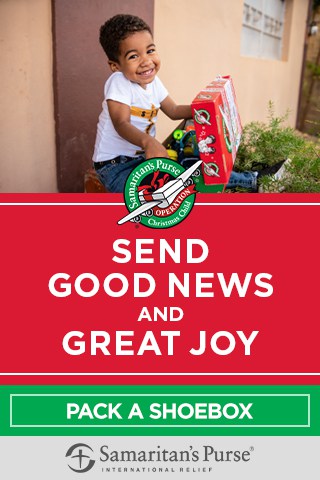 After we finish our toy purge, we do our shoeboxes not only because it is fun but because it is a great way to encourage my children to practice gratitude!! 
My children each fill a shoebox with selected items tailored to a little boy or girl who mirrors the same age and gender as my children. For example, my 6 year old son fills a shoebox for a 6 year old boy.  
Filling a shoebox for Operation Christmas child teaches my kids to start their holiday season with generosity rather than with their Christmas wish list. Plus, the exercise of finding and purchasing items for a child on the other side of the world lends itself to conversations about how other children live and being grateful for what we have.  
WHAT IS OPERATION CHRISTMAS CHILD?  
If you have never participated in filling a shoebox for Operation Christmas Child, you might be wondering what it is. You see, the reality of Christmas around the world is that plenty of children around the world have no Christmas gifts at all. More importantly, many children around the world don't get to hear the true story of Christmas.  
Thus, Operation Christmas Child and Samaritan's purse join with thousands across the country to pack gifts for small children around the world. Each child who receives a shoebox receives not only an individualized gift but also gets to hear the true story of Christmas!  
Who doesn't want to be a part of that?  Practice gratitude with your kids by packing a shoebox!
HOW DO YOU PARTICIPATE IN OPERATION CHRISTMAS CHILD?  
Filling a shoebox is easy. Simply grab a shoebox –I like to find the biggest boxes I can find – and fill it with small toys, gifts, and personal items that would be useful for a small child. You can also pick up a box at Hobby Lobby or several other participating locations or online here. 
Before you start, you will want to make sure that you have one of these guide pamphlets.  These allow you to choose an age range, see a list of recommended gift items, and, most importantly, the items that are prohibited.  
Some ideas for filling your shoebox are:  
Small toys 
Crayons 
Toothbrushes 
Combs 
Coloring books 
School supplies (not scissors) 
Balls 
Animal figures 
Clothing  
Dolls 
Or anything that a child in your selected age range would love.  
Do not include:  
Military or war items 
Scissors, knives, or weapons 
Liquids or semi-liquids (toothpaste) 
Food  
Glass 
Aerosol 
(For a complete list of prohibited items, click here.) 
When we buy the items for our shoeboxes, I ask my children to think about things that boys and girls their age would like. I have them pick out toys, gifts, and personal items that they would like, and then we send it away.  
Inevitably, my children want one or more of the items for themselves, but my husband and I are adamant that this time is for giving not for getting. While we pack shoeboxes, we are focusing on others not receiving ourselves. This helps my children practice gratitude before the Christmas holiday gets underway.  
Then, we include a note, sometimes a picture, a small donation to cover shipping, and dropt it at a conveniently located drop off location like this one.
The shoeboxes take a little bit of planning, time, and generosity, but we find that they are a great way to teach our children about gratitude. Plus, you can practice thankfulness everyday with the THANKFUL PUMPKIN!
3. THANKFUL PUMPKIN 
You can practice gratitude daily with your kids during the holidays with the Thankful Pumpkin!
Most nights, while we sit down for dinner, our family practices High, Low, Buffalo. However, on November 1, we replace High, Low, Buffalo with the Thankful Pumpkin.  
I simply place a large pumpkin in the center of our dinner table with a permanent marker. Our kids then take a turn each night writing something that they are thankful for on the pumpkin.  
I never let them choose the same thing as another person on the same night, and I always let them write their own words on the pumpkin. Although the outcome is not exactly a beautiful work of art, by the end of the month, the entire pumpkin is covered in words for which we are thankful: our family, our home, our food, a special event, a trip, a memory… 
The Thankful Pumpkin helps my children practice gratitude during the holiday season rather than focusing on what they want.
To read more about the Thankful Pumpkin, click here.  
4. PARTICIPATE IN A LIVE NATIVITY OR PARADE 
What better way to help your children practice holiday gratitude than to serve your community? Some of the other ideas here might be difficult for your child to truly understand. But serving locally impacts them immediately!
For several years our family spent several nights in December helping with a live Nativity. The entire community would come out to see the Nativity, listen to the readings, visit over the fires, and drink hot chocolate.  
The whole event was a TON of work, and we spent months preparing. However, it was a beautiful event that served the entire community. We spent many cold and tired nights setting up, working the event, and cleaning up.  
Other years, we have walked in the Christmas parade and handed out candy, waves, and smiles. In addition to being a really fun and festive way to spend an evening, you and your family are forced to think about something other than yourselves and your wish list.  
You might even find that listening to the Christmas story or watching the Nativity helps you appreciate Christmas in a whole new way. And, again, your children will have to spend their time helping and serving others rather than focusing on themselves: PRACTICING GRATITUDE!  
Volunteer at a local live nativity, parade, or other community event to get yourselves in the Christmas spirit while also practicing gratefulness during the holidays.  
5. HAVE YOUR CHILDREN USE THEIR OWN MONEY TO BUY PRESENTS FOR OTHERS 
In our house, we require our children to budget their money every week. They are required to divide their allowance money into 3 categories: Give, Save, Spend. (To read more about how we teach our children about money, click here)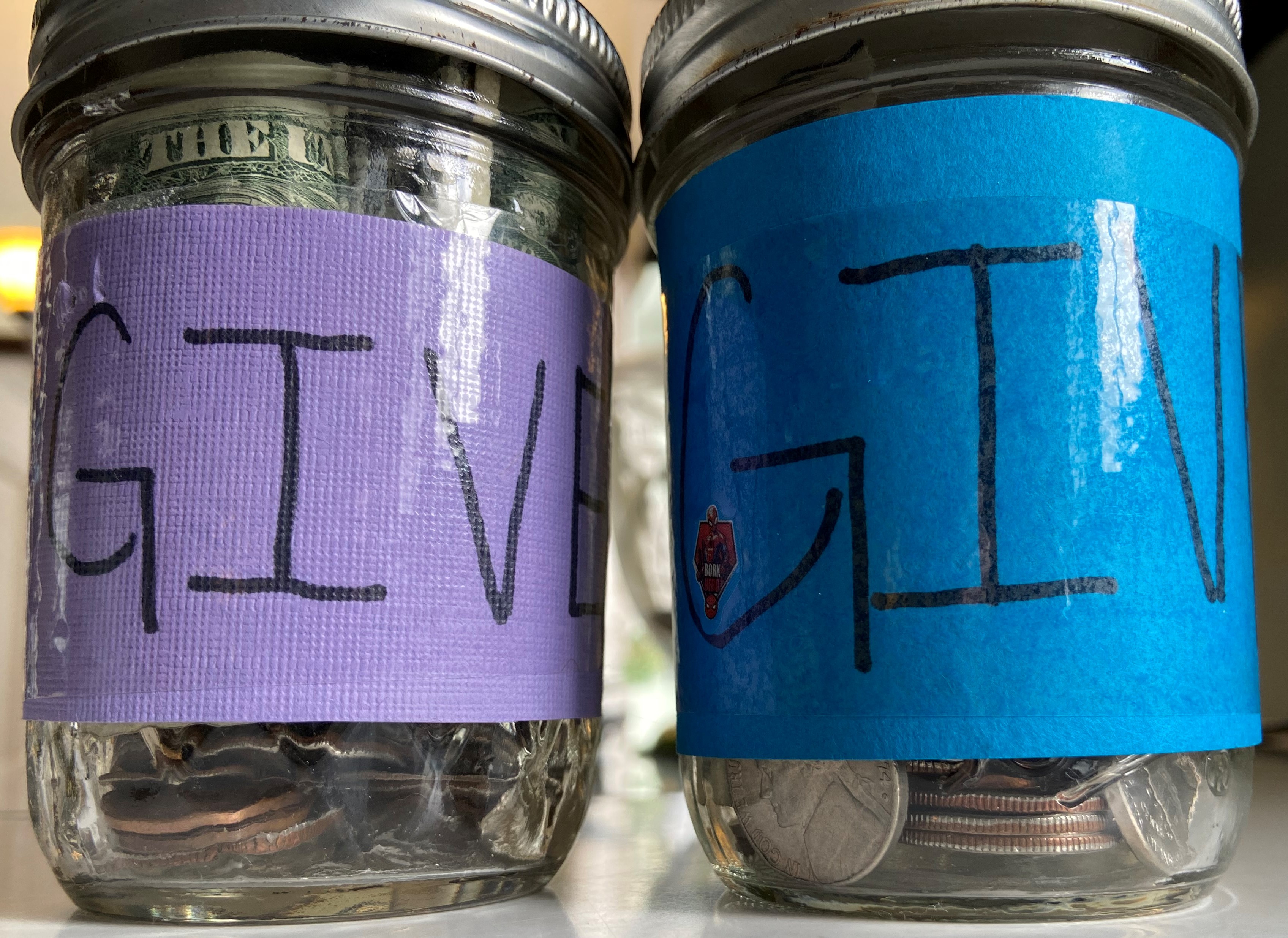 Part of having money in our house is also being GENEROUS.
They each have money in their piggy banks that they can use for gifts for others, albeit a small amount. However, we require our children to use at least some of their money (the amount depends on their age), to purchase gifts for their siblings.  
Beyond our requirement, we also ask them to think about using their own saved money to purchase gifts for others – a teacher, a family member, a friend. We allow them to pick a person, set a budget, and go shopping for that person.  
We find that because we did some other gratitude activities above, our kids are more willing to part with their own money. Practicing gratitude with our children instills releases them of some of their natural entitlement.
Giving them the option to purchase gifts for others, gives them the freedom to decide how generous they want to be. And, giving makes them more grateful for what they receive. When they begin to understand money, cost, time, and the thought involved, they become more grateful for their own blessings.  
Encouraging our children to spend their own money on others, even outside our own family, also encourages gratitude in them.  
HELPING YOUR CHILDREN PRACTICE GRATITUDE DURING THE HOLIDAYS 
If your children are anything like mine, they have more than they will ever need. Further, they know all about Christmas presents, candies, special treats, and family holiday fun. This means, that they can become rather entitled and self-centered during the holidays.  
In an effort to help our children practice gratitude, generosity, and love during the Christmas season, we make sure to integrate these 5 family activities focused on gratitude. These activities are now annual traditions  
So, part with your toys for others to play with; fill a shoebox; count your blessings; serve your community. Sacrifice some of your own time and money to practice gratitude wtih your kids this holiday season. Help your children remember the real meaning of the season by giving with grateful hearts and serving others with some of these holiday activities!