2022 Toyota Sienna Hybrid Family Review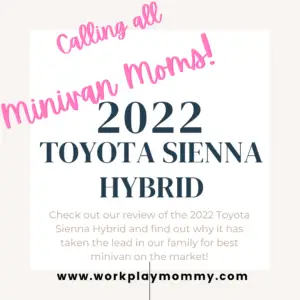 The 2022 Toyota Sienna Hybrid delivers what no other minivan has delivered before it: 36 miles per gallon. In the current gas market, gas-efficiency is incredibly important. But, your family needs more than just gas efficiency. Check out this review of the 2022 Toyota Sienna Hybrid so that you can make your own decision about whether it is right for you.
Minivan Comparisons
What happens when you combine a research-loving mom with the need to upgrade the family vehicle? You get spreadsheets of data, consumer reports, and blogs about the different types, models, years, costs, and longevity of all of the minivans on the market.
After months of research in 2020, I finally landed on the Honda Odyssey. Until 2021 the Honda Odyssey had the most gas efficient minivan stats, a slightly higher safety rating, and just plain looked cooler than the other options.
However, just weeks after starting the search for a Honda Odyssey for our family, Toyota released its 2021 line which boasted a HYBRID in the MINIVAN. No one else is doing this, and my interest was immediately piqued.
RELATED POST: 2021 Toyota Sienna Hybrid Review
Toyota Siennas and Gas Savings
From 2021 on, all Toyota Siennas are hybrids. Not only are they comparable in price to the Honda Odyssey, the Toyota Sienna Hybrids are Major. Gas. Savers.
At a conservative 200,000 mile life, the Toyota Sienna will cost you roughly $22,000.00 in gas at $4.00 per gallon.
The sharp competitor –the Honda Odyssey –for the same conservative life span at $4.00 per gallon would cost you more than $34,000 in gas. More than $12,000 in gas savings in the Toyota Sienna spread out over the life of ownership.
And, for 2022, the costs of both minivans are roughly equivalent depending on your package, upgrades, accessories, and other add-ons. Therefore, if you are on the fence between the two options, the Toyota Sienna is a major cost savings.
However, when shopping for a vehicle you aren't solely looking at cost, you are also looking at style, comfort, and features.
2022 Toyota Sienna Interior
Our family has 3 small children, 3 car seats, and another child on the way someday. Therefore, having child-friendly and car seat-friendly options are a must.
We need cupholders, adjustable seats, safety features, and more in our family vehicle.
The Toyota Sienna has comfort and space in spades. All 8 seats can be easily filled with little humans while Fido rides on the floor and the groceries fill up the cargo space.
With more than 101 cubic feet of interior space, the Toyota Sienna was comfortable for our family even for a long road trip. Even my son's little legs in a forward-facing convertible car seat couldn't kick the back of my driver's seat. A major bonus for mom!
Plus, with more than a dozen cupholders (4 just for mom), I had a place for my water cup, my coffee mug, and my phone. Not to mention the Toyota Sienna Hybrid also has a purse cubby under the center console that makes stashing my purse and retrieving my lipgloss while driving a cinch!
In addition to the many comfort features, the 2022 Toyota Sienna Hybrid has all the tech bells and whistles you have come to expect from high-end family vehicles.
The Toyota Sienna Hybrid Tech
We have had the opportunity to test out a few 2021 and 2022 Toyota Hybrids. One was the Platinum edition that had every upgrade from screens and a 1500 W inverter to heated seats and steering wheel.
While we loved the comfort features like the rear dual temperature controls and the heated AND cooled seats, we didn't love the way-too-complicated entertainment features.
To clarify, 2022 Toyota Sienna Hybrids with the entertainment package (standard in the Platinum edition, optional in other models) have:
1 USB media port,
6 USB charge ports (including USB-C),
1 HDMI port, and
2 1500 W inverters.
This means that everyone in the vehicle can keep their device charging and operational even while on long trips. Heck, it even means that mom can plug a crockpot in the cargo hatch and have dinner ready when you arrive!
While our family loved all the ports, chargers, and media outlets, the entertainment system left much to be desired.
Toyota Sienna Entertainment System
Along with its Sienna Hybrid rollout in 2021, Toyota rolled back its DVD/BluRay players. Therefore, the on-board entertainment system can operate with an HDMI plug, MiraCast, or DLNA.
You can still plug a Blu-Ray player or a computer into the HDMI plug. However, you have to have an HDMI converter to stream an IOS system through the HDMI port.
Further, MiraCast is an app currently only available on Android and is not compatible with IOS devices. Therefore, the on-board entertainment system becomes a mess. This adds cords, plugs, converters, and headache for all of Toyota's IOS clientele.
For that reason, our family opted for a Toyota Sienna Hybrid that did not have an entertainment system. If you have an Android device and have children who are responsible enough to keep track of Toyota's wireless headphones, then the entertainment package might be for you.
But, for our family, a few iPads in the back seat for long road trips will suffice for now.
The entertainment is sure to please your little ones, but will mom and dad be comfortable up front?
2022 Toyota Sienna Hybrid Comfort and Driving
I'm a fairly short person especially in my legs! Therefore, driving large vehicles can be really difficult for me.
When I first started driving the Toyota Sienna Hybrid, I felt like I could barely see over the steering wheel and barely reach the gas pedal.
Turns out that I wasn't only short, I was tech dumb. The Toyota Sienna Hybrid has a convenient power adjusting steering wheel and a driver's seat that goes up, down, forward, back, and everywhere in between.
Once I realized that I could adjust the length, height, and distance in between, driving the minivan was a breeze. I felt completely in control of the entire vehicle, and the safety assist technology helped to minimize blindspots.
Further, the backup camera and 360 degree view camera made backing up, parking, and parallel parking as easy as you would expect in such a large vehicle.
In short, I was comfortable in the driver's seat, and everyone else was stretched out lounging in the back watching their movies. The Toyota Sienna Hybrid is as comfy as your home couch and fun to drive too.
2022 Toyota Sienna Hybrid Family Review
For our family, the Toyota Sienna Hybrid is the right choice. With ever-increasing safety ratings and one of the highest resale values on the market, the Toyota Sienna is already at the top of our family minivan list.
However, when you combine all those features with the fact that it is also the most gas-efficient minivan on the market, then it outranks every other contender by a long shot.
Even when compared with other lower cost minivans like the Kia or the Chrysler, the gas cost savings alone more than make up for the difference in sticker price over the cost of other vehicles.
Will Toyota Sienna be a plug-in soon?
This leads me to some speculation. Toyota already leads the market on Hybrid vehicles. Plus, in 2021 Toyota also introduced its Rav4 Prime –a plug-in hybrid that combines both electric and gas power.
Is it possible that Toyota will make the big breakthrough and introduce a plug-in Toyota Sienna?
While Tesla leads the market on EVs, it only has 2 options in its fleet that seat 7. These include the Model Y and the Model X.
RELATED POSTS: Model Y 7 Seater Family Review and Model X 7 Seater Family Review
However, the Model Y just isn't right for our family as its third row is way too tight for our kids. And, the Model X isn't right for our family because the sticker-price is sky high.
Will Toyota meet us in the middle? Can it provide a middle-class minivan that combines comfort, electric technology, and a reasonable sticker price? I hope that I am writing that review soon!
Toyota Sienna Hybrid Family Review
In sum, the 2022 Toyota Sienna Hybrid is the ultimate minivan. From gas savings to comfort it outranks the competition.
The kids will be happy, mom will be happy, and perhaps you will even keep dinner warm in the back!