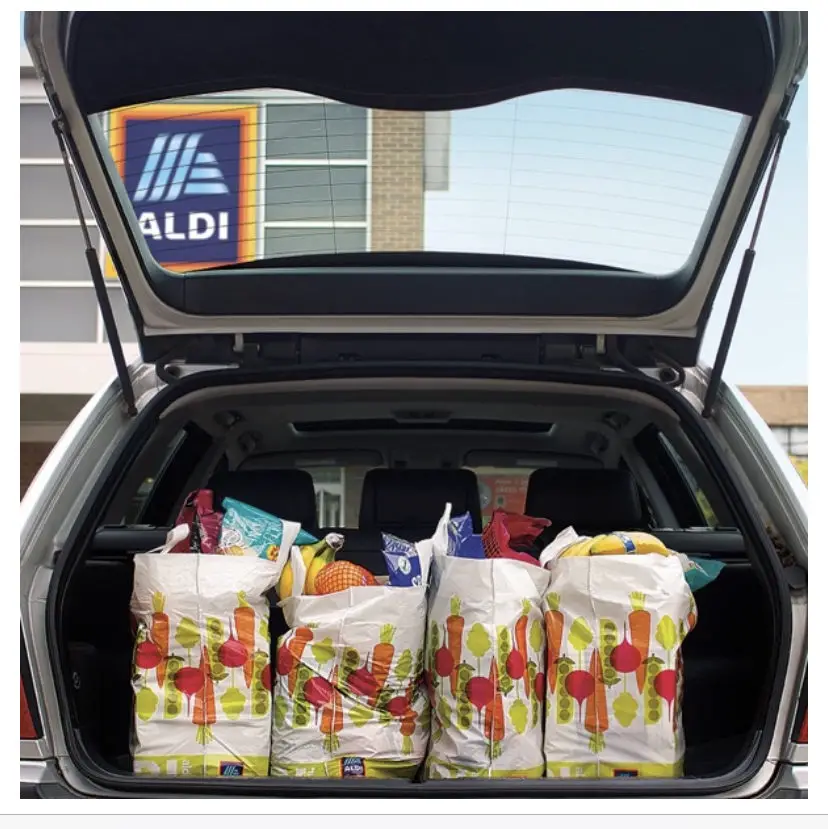 MY HONEST REVIEW OF ALDI GROCERY PICKUP
Plus, tips for a better grocery pickup with Aldi Grocery Pickup.
ALDI GROCERY PICKUP HAS CHANGED GROCERY SHOPPING FOR ME! I dread hauling three small children, a quarter, my shopping list, and my tiny thread of patience into the grocery store. But, it has to be done. I always prep my children with a mixed bag of threats and bribes.
"Do not yell, scream, fight, or hit in the store."
"Do not touch anything."
"If you can be good listeners in the store, you can pick a treat." (My kids still think that the baby food pouches and applesauce are a treat!)
WHAT NOT TO DO IN A GROCERY STORE:
Despite juggling a cart, three children, and their attitudes, on several occasions other customers have asked to check out in front of me. This might be protocol if I have a cart full of items yet the person behind me has only one or two. But, I believe that this policy goes out the window when the woman you want to go in front of is juggling three kids (or two kids and a pregnant belly), a cart full of items, and is already breaking into the crackers just to keep her kids from running the aisle.
Nothing like a worldwide pandemic to force stores and groceries alike to start catering to the needs of women who don't want to take their kids into the grocery store (the world of men, am I right?!). Along came Covid and curbside pickup, online ordering, and delivery services sprang into action. Instacart was already on the map, but now it has become a household name. I was still skeptical, so I gave it a shot.
MY TERRIBLE INSTACART EXPERIENCE
My Instacart service was terrible. To preface, I live in a rural community that has no delivery service. So, I arranged for Instacart service to be delivered to the parking lot of the grocery store. After struggling with the app, struggling with the ordering, and struggling to get three kids in the car to the grocery store at just the right time, I was scammed. My order person claimed that none of the items on my list were available, that delivery could not happen, took her fee and tip, and left me high and dry. I even saw her leave the grocery store sending in her report. I was burned.
I then proceeded to take all three children into the grocery store and purchase every single item on my grocery list. If 3 hours of hassle wasn't enough, then I spent another hour on hold with Instacart customer service to get my money back. Although I eventually received a refund and a credit, I vowed not to go back to Instacart.
BUT THEN: ALDI ANNOUNCES GROCERY PICKUP
But then my favorite grocery store, ALDI, announced that it would be doing curbside pickup. Glorious day. But…only at a select few stores across the country, then a few more, then a few more, and now I have one near me!!!! I jumped at the chance to try Aldi curbside pickup and here is how it went!
PLACING THE ORDER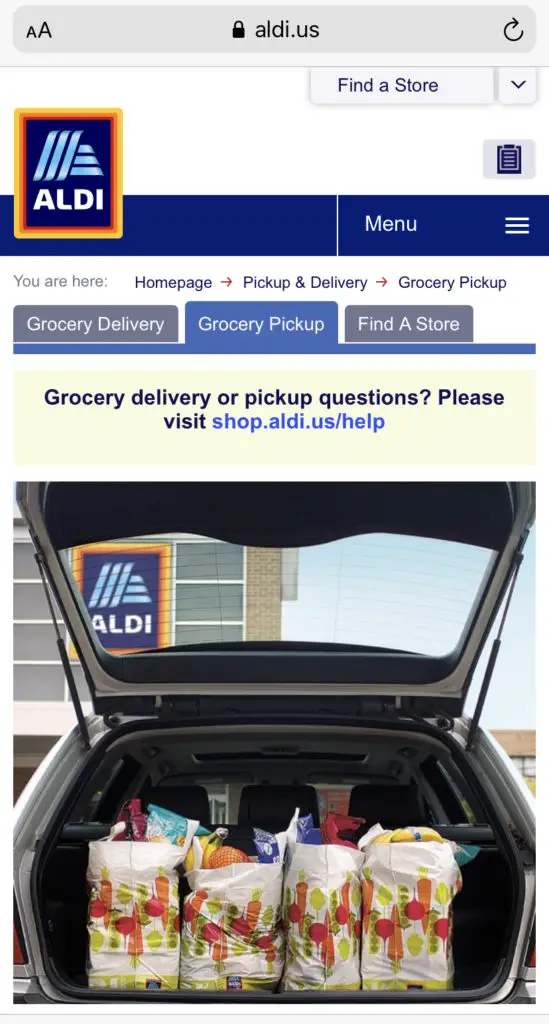 Aldi's online ordering platform is a snap. Simply create an account at https://www.aldi.us/en/pickup-delivery/grocery-pickup/ by selecting the "Grocery Pickup" tab. By clicking on "Start Shopping" you will be directed to an Instacart login and online shopping list.
Be aware, although the program might be managed through Instacart, Aldi employees are actually doing the shopping (at least at this point) and the curbside dropoff. This means that you do not pay a delivery fee but instead a much lower curbside pickup fee. Mine was $1.99. Less than $2.00 and my groceries were collected for me???
*Remember: Aldi does charge for bags. You may be charged for bags over and above the curbside pickup fee. Mine was less than $1.00.  
THE ONLINE PORTAL
I found the online shopping portal to be very easy to use. I was able to find every single item on my list, and a few extra treats and special items to try. You can search by item, department, or even seasonal items. Even Aldi's Weekly Finds are listed. So, if you, like me, enjoy getting lost in the Narnia aisle or the Aisle of Shame at Aldi, you can still browse their specialty and seasonal items.
Within a few minutes, while my children were playing happily, I had my order submitted and was ready to select a pickup time.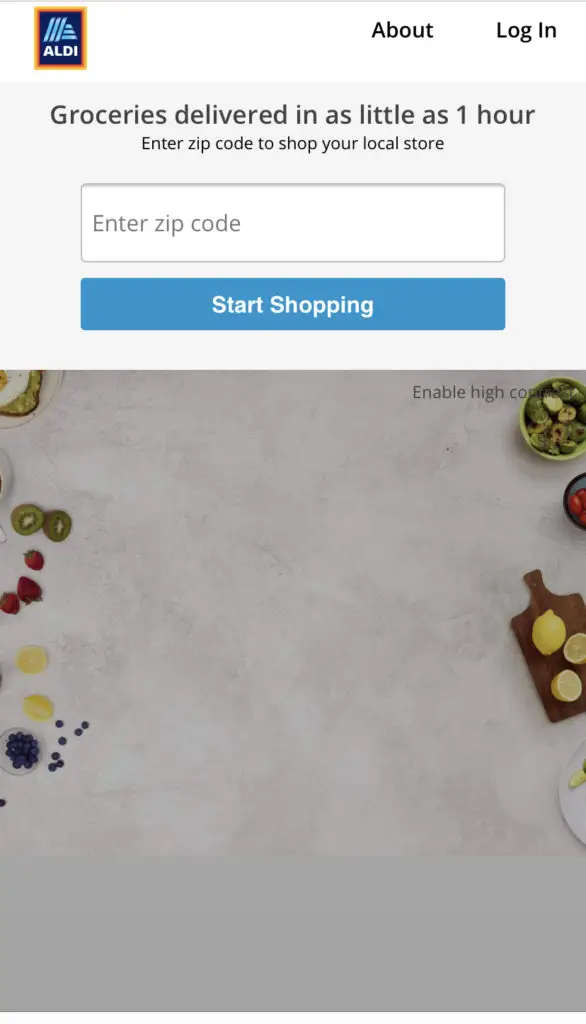 SETTING THE TIME
Did I mention that this is a relatively new offer? Pickup times were extensive, however, so were the already filled pickup times. My closest pickup time was 2 days away in the middle of the afternoon. Not ideal, but I learned a valuable lesson:
Get your order in early.
To be fair, my experience was during the week before Christmas, so more people than usual were grocery shopping. But, if I would have placed my order a few hours or a day earlier, I could have had my prime pickup slot.
In fact, with a little more preparation, I could have had a same day pickup slot. No matter, I was walking on air knowing that this week would be different. This week, I could drink my latte while someone else shopped for, purchased, and loaded my groceries!
COMMUNICATION AND SHOPPING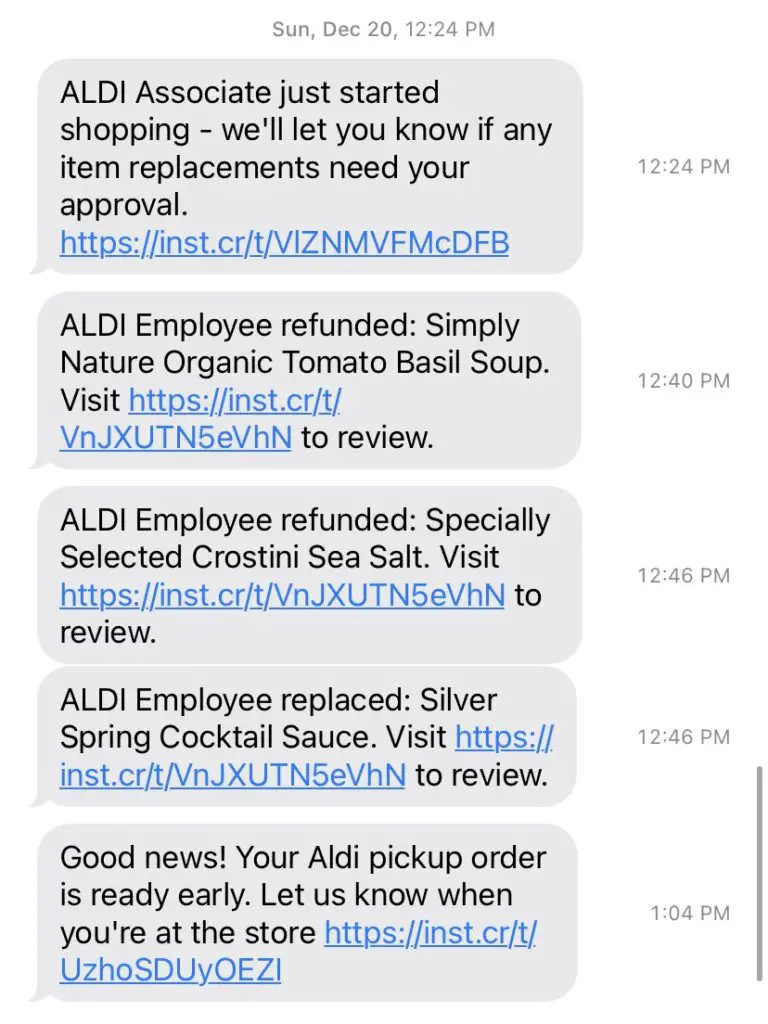 But how do you know what is happening with your order? From the start of shopping to the end, the in-store shopper was clearly and quickly communicating with me by text.
If you have ever shopped at Aldi, you know a few things; 1. Things sell out and are often in limited supply; 2. Only a few people are working in the store; and 3. Compared to other big box stores where there are 17 types of ketchup, Aldi usually only has 1 or 2 of each type of item and thus, shopping does not take nearly as long.
This is especially true for curbside pickup. Your in-store shopper may be starting very early to avoid the busier times of the day. The shopper may find that an item you ordered online is no longer available or for limited item purchase. In that case, your in-store shopper will text you for approval of a replacement, a refund, or let you know that your item limit has been reached. These texts could come at any time. (I happened to be unable to answer my phone at the time that I received the texts.)
Communication
In my experience, my in-store shopper texted me that she started shopping hours before my pickup time. The person texted me several replacements for approval, but by the time I actually saw the texts and looked at the proposed replacement, my shopper confirmed that he or she was done shopping entirely!

I was even notified that if I wanted to pickup earlier, I could simply reply to the text, and an employee would deliver my items to my car! I could have picked up 4 hours earlier than my assigned time! Thank you, Aldi!
PARKING AND PICKUP
Finally, the golden hour arrived and I wondered what to do next. When you arrive for your pickup time, you will need to park in a clearly marked curbside pickup spot. These are conveniently located near the front of the store and make it simple to see when your order is coming out. Do not back into the spot if you know that you are going to load your items into your trunk or hatch.
Upon arrival, you simply text that you have arrived and the parking spot you are in. In less than 2 minutes, a smiling employee was loading my items into the back of my car. She was helpful, patient, wearing a mask and gloves, and made my day!
Within moments, I received a notification that my order had been accepted and received. I could easily submit my feedback, (my glowing approval) or ask for customer service, or submit another order. The app and online ordering portal were very simple to use, and this time, I didn't have to spend another hour on the phone with customer service.
ORDER AND FEEDBACK
I found absolutely no problems with my order. Apart from the items that were refunded or replaced, I received everything on my list. However, I will suggest some edits with ordering fresh produce.
Sadly, when you online order produce, you cannot sift through the bins of fruits and veggies to find the right, size, ripeness, or color you desire. Thus, while I would have chosen some greener bananas, I received more ripe bananas. And, while I would have chosen a very ripe avocado, I received a less ripe avocado.
To remedy this, simply leave notes in the comment section of your order, and you can specify things like replacements, ripeness, and number of items. I will definitely be more specific with my produce the next time I order.
Another good thing to know is that when you place your pickup order, Aldi (Instacart) will place a hold on your card for the approximate amount of your total order. Even if the order pickup is days away, you will have a hold on your card. Then, that amount will be adjusted with the actual order total upon checkout. Don't be surprised to see an Instacart charge several days before your actual pickup time.
WILL I GO BACK?
Finally, I will glowingly endorse Aldi Grocery Pickup. Aldi has been my go-to grocery store for years. Their convenient store layout, inexpensive prices, quality items, and broad spectrum of foods all draw me to return time and again. I can find organic, all-natural, and fresh foods that I could find at other grocery stores but are at Aldi for a fraction of the cost. I can even find seasonal items, name brand products, and new promo items to try. With Aldi prices, I can try them and still stay in budget.
When bigger chain stores began implementing curbside pickup, I just couldn't bring myself to pay their prices, so I continued to shop at Aldi or the other stores sparingly. However, now that Aldi has curbside pickup, this is a game changer! I already have a cart saved in the app with my Whole30 shopping list. (More to come on that later.) And, I am sure that I will be using this program again and again!
Thank you, Aldi!