4th of July Mocktail Party! 
Memorial Day Mocktail Party!
Planning a 4th of July or Memorial Day family-friendly blowout or baby shower??!! Invite everyone including your preggo friends to this 4th of July, Memorial Day, or Patriotic party complete with a fully stocked mocktail bar.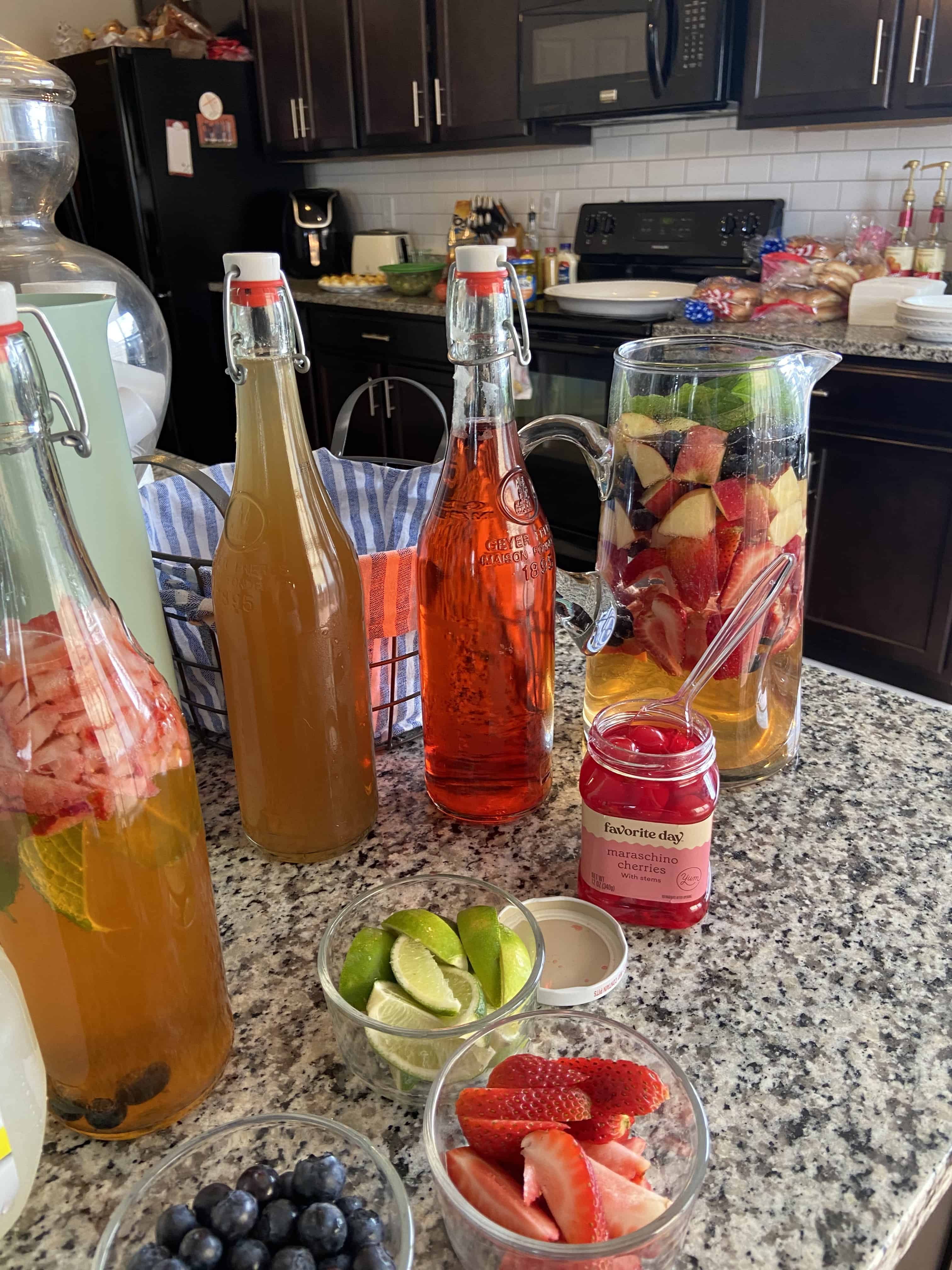 Our family celebrated our annual 4th of July blowout with a non-alcoholic mocktail drink bar. Not only was it tasty, it became the center-piece of the party with everyone mixing new and different flavors to create their own unique drinks.  
The drinks were the backdrop of the party because they are so pretty and colorful. Plus, they double as dessert! Everyone, including the kids, will love this patriotic Fourth of July mocktail bar!
No one has to worry about a DD or being over-served. Instead, everyone gets to have a great evening where the kids and parents alike enjoy these fun and festive treats.  
DON'T LIMIT YOURSELF TO THE RECIPES HERE! Add a summer mocktail bar to your patriotic party. Mix and match your flavors, colors, and ingredients to come up with your own red, white, and blue patriotic concoctions.
 To make planning even easier, check out these fun printable recipe cards and this shopping list for your Patriotic Mocktail Party! 
Patriotic Mocktails for your festive, patriotic, Fourth of July, family party!:  
Add these beautiful alcohol-free but oh-so-yummy mocktail recipe printables for a festive party for kids and adults alike.  
For a full Mocktail Shopping List: Click here 
Red, White, and Blue Sangria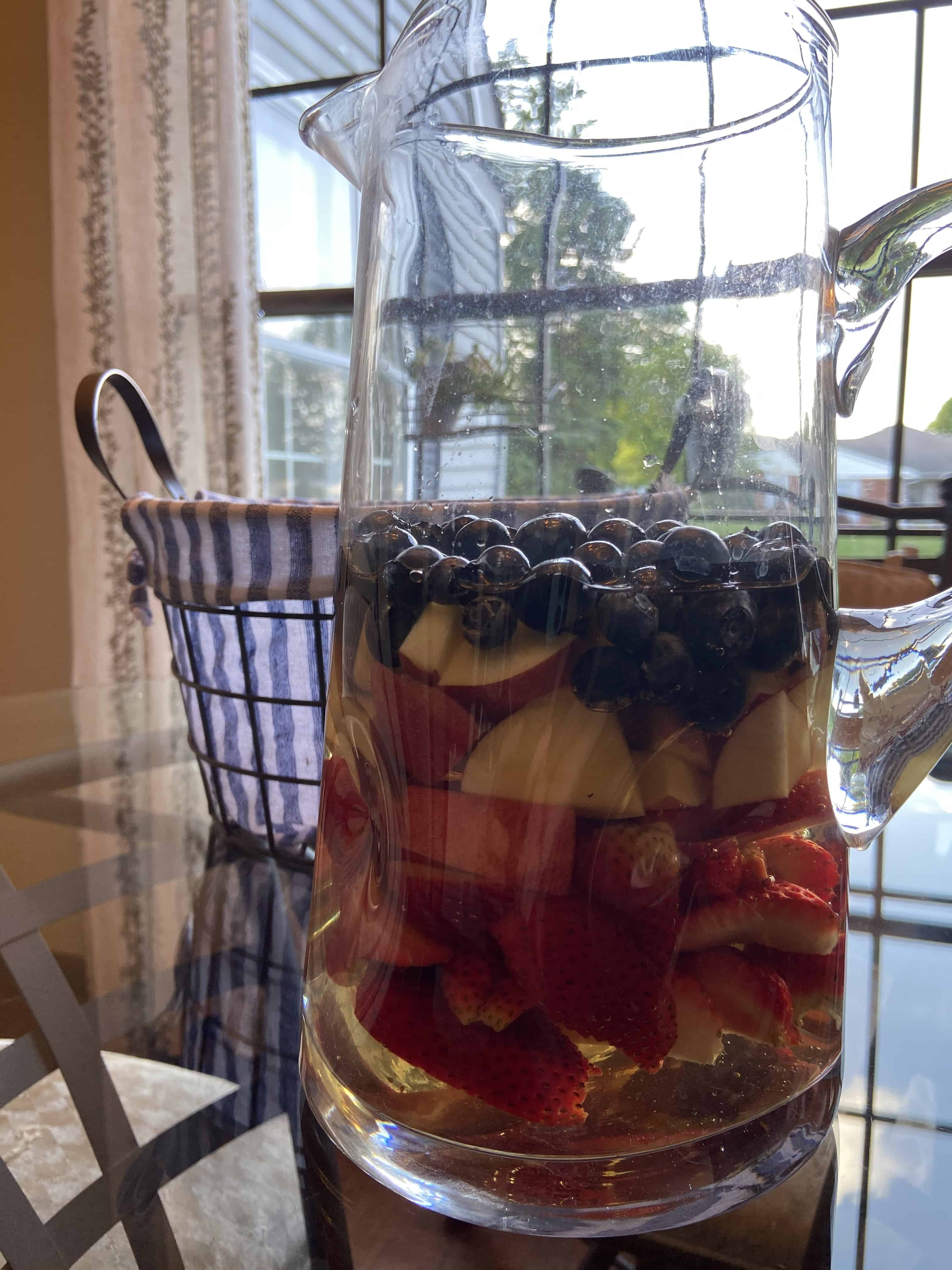 Although this traditionally Spanish drink is usually made with wine, soak your fruits in white grape juice and pour your mix over the pre-soaked strawberries, apples, and blueberries.  
First, dice the strawberries (red) and the apples (white). Layer a generous heap of strawberries, then apples, then blueberries.
HAVE YOU SEEN THIS STRAWBERRY HACK?
Cover the fruit with 3-4 cups of white grape juice and let soak over night in the refrigerator. Be sure that you cover the fruit completely.
As long as the juice totally covers the fruit, it doesn't turn brown, but it adds an even sweeter flavor to this already sweet summertime fruit mix!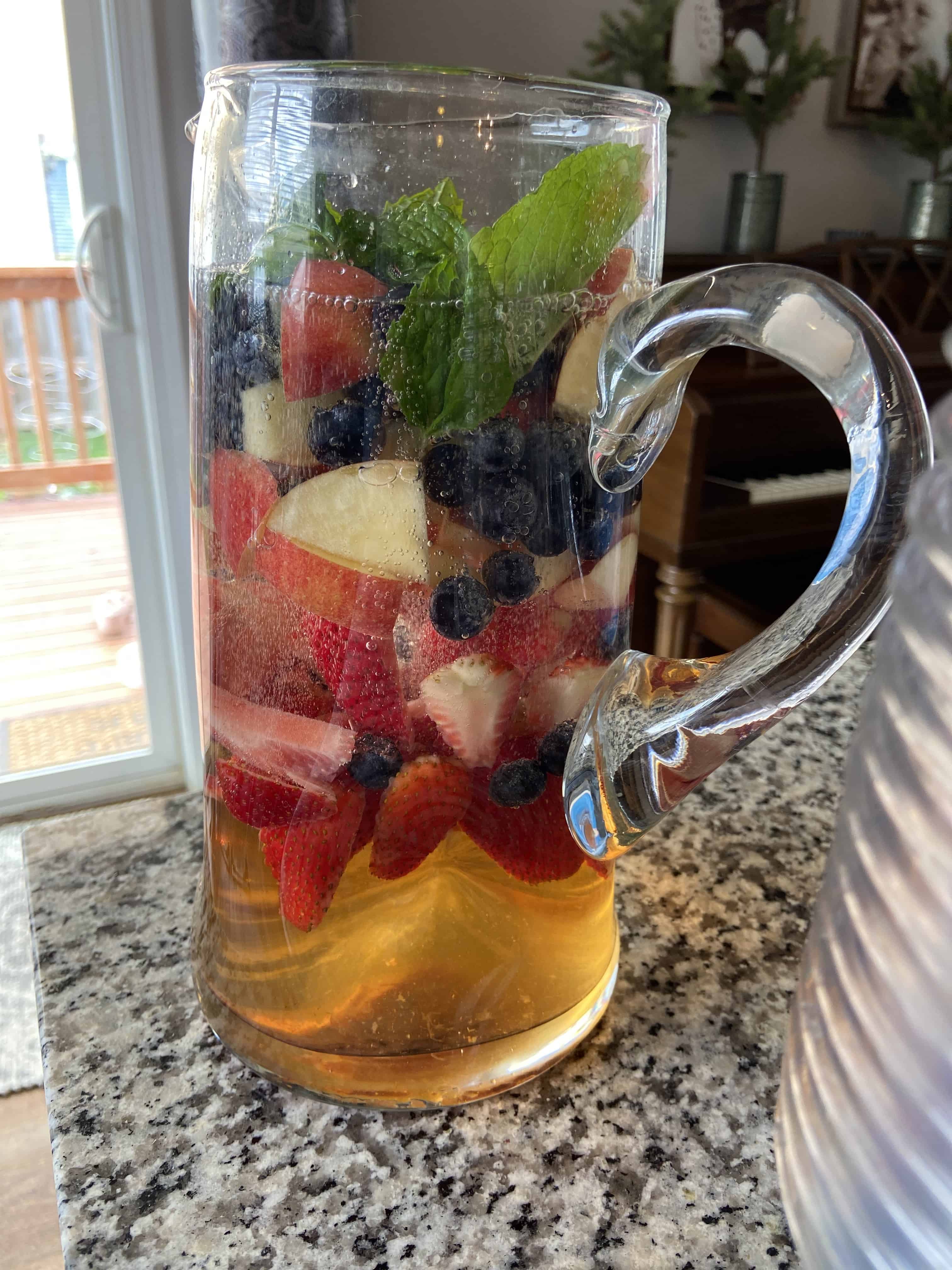 When ready to serve, top with 3-4 cups of sparkling water for a fizzy pop that mellows the sweet flavor. Don't add the sparkling water/seltzer water too soon or the bubbles will be long gone by the time your party starts.
Be sure to put some of the fruit in the bottom of your glass for a drink and a dessert in one!
A drink and a fruit cup your friends and family will love even without the booze.  
Arnold Palmer Sparklers 
Some mocktails never needed any alcohol, and you can't go wrong with a traditional Arnold Palmer.
Switch your boring old lemonade for a sparkling lemonade, and you kick this drink up a notch.  
Your family will love this sweet and sour combo!
Mixing equal parts sparkling lemonade and sweet tea yields a delightful and refreshing treat. (Opt for unsweetened tea to cut out some of the sugar!) 
(Don't forget the recipe cards and shopping list here.)
Stars and Stripes and Shirley Temple Forever 
Premix a batch of these Sparkling Shirley Temples in a large bottle to make your drinks part of your festive décor!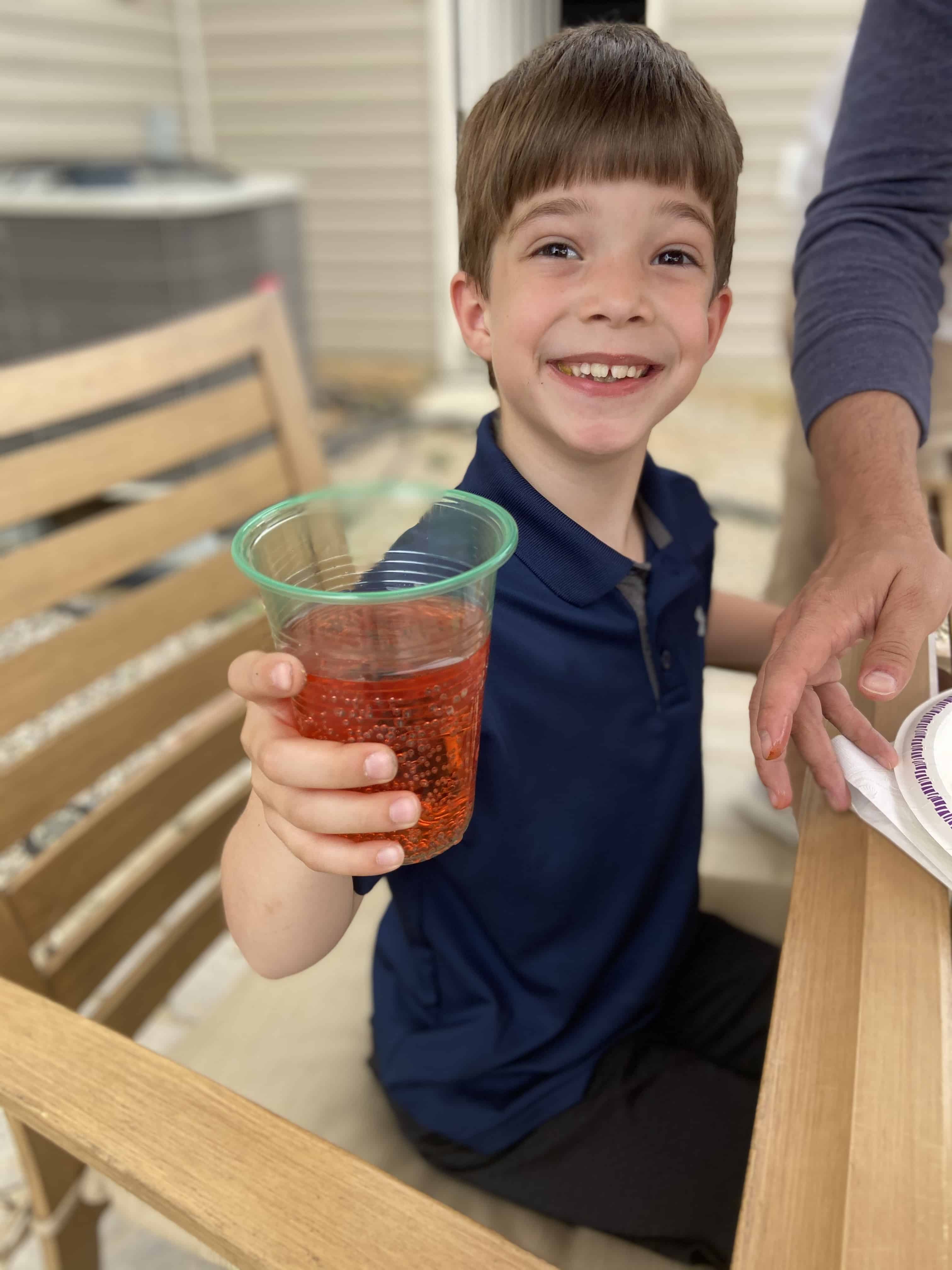 Mix 1 oz grenadine to each 7 oz of lemon lime soda. Although the mixture might be a little sweet for some, it is perfect served over ice with a sprig of mint or a topping of cherries!
Garnish with a few cherries for a touch of sophistication to go with your red Sparkling Shirley Temple mustache!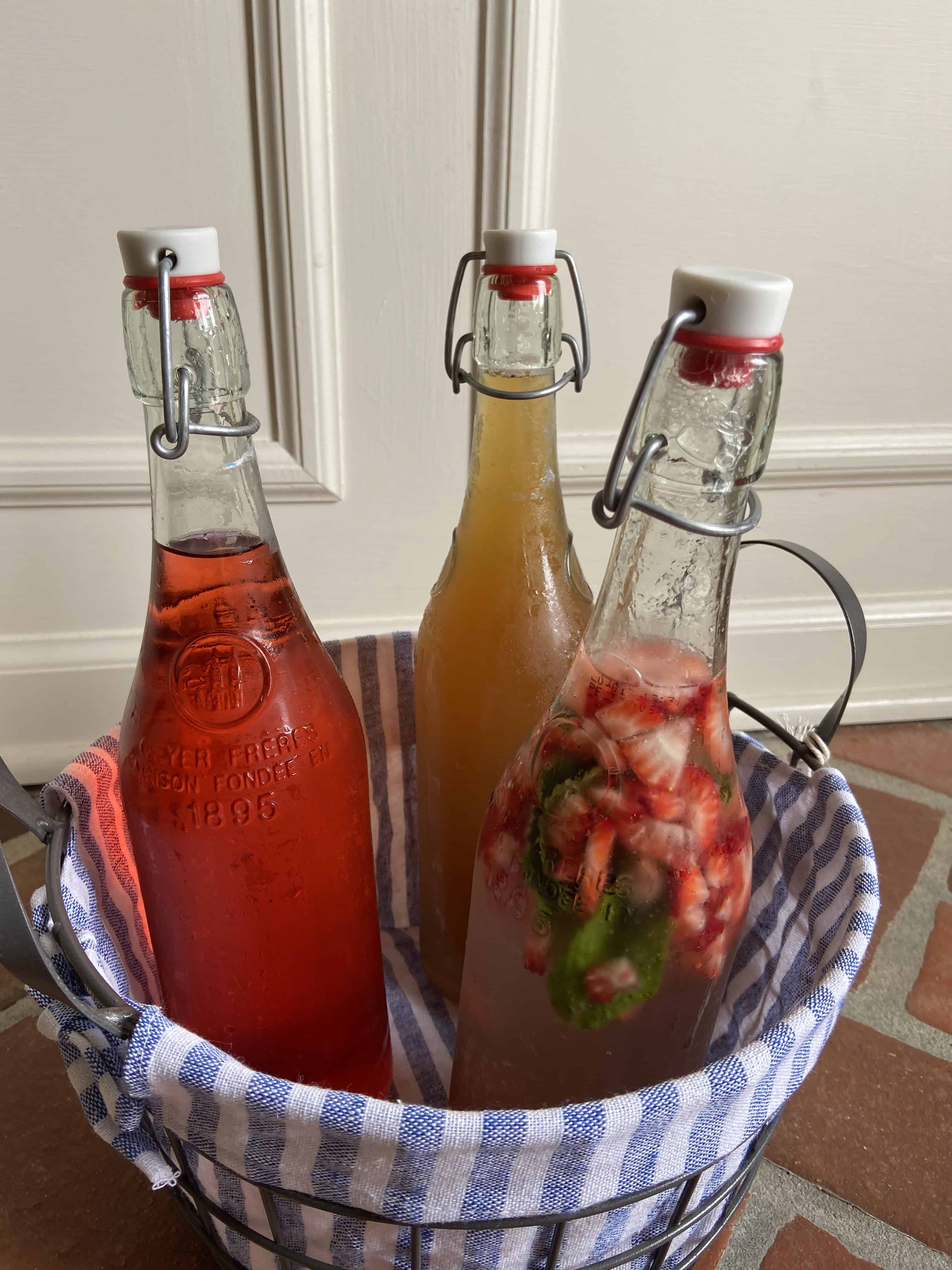 Your guests then can add more lemon lime soda or seltzer to sweeten or mellow the flavor. Maybe even add a lime wedge! 
Firecracker Mojito 
All of the flavors of this Firecracker Mojito are sure to delight! Mint, strawberry, blueberry, and lime result in a slightly more sophisticated drink.  
First, dice strawberries, or even throw them into a food processor for a brief second. Juice a couple of limes, add a few sprigs of mint, and top with lime seltzer water.
To make an entire pitcher ahead of time, I recommend 3 diced strawberries, 2 juiced limes, 3 sprigs of mint, and fill to the top with lime seltzer. Top with blueberries to sweeten this somewhat sour but refreshing drink!

The mint and fruit will add flavor the longer that this sits.
Don't forget a batch of fresh mint straight from your herb garden or your local produce section. 
Throw a 4th of July or Patriotic Bash that the entire family will love!
Our family and friends have had a blast mixing our own drinks, trying new flavors, and sharing laughs over these fun, festive, and delicious drinks.
Finally, be sure to share your Patriotic Mocktail Bash pictures on Instagram, Facebook, or here on www.workplaymommy.com. Don't forget to tag #workplaymommy! 
To grab your printable recipe cards: click here.
To grab your printable shopping list: click here.