DOUBLE CHOCOLATE CHIP PUDDING COOKIES
If you have spent anytime on this site, then you might have found our family's very favorite chocolate chip cookies from JamHands! (Read more here.) They are our absolute favorites not only because they are delicious, but because they are easy to make. However, we decided to use some of our baking knowledge and preferences to develop our very own DOUBLE CHOCOLATE CHIP PUDDING COOKIES.
(This post contains affiliate links from which I may receive a commission if you make a purchase at no additional charge to you. As an Amazon Associate I may earn from qualifying purchases.)
In our house, meals, snacks, and desserts have to be yummy, but they also have to be something that the kids can help with.
Our kids love to make these kid crepes, and we expect our kids to help with mealtime.
Plus, when the kids are melting down from school or just giving me doe-eyes asking for my special homemade cookies, those recipes have to be quick and simple.
Therefore, you won't likely find anything difficult here!
Instead, what we have developed for you today is our double chocolate, chocolate chip, pudding cookies: a mix of your traditional chocolate chip cookie with a few of our favorite swaps, upgrades, and variations!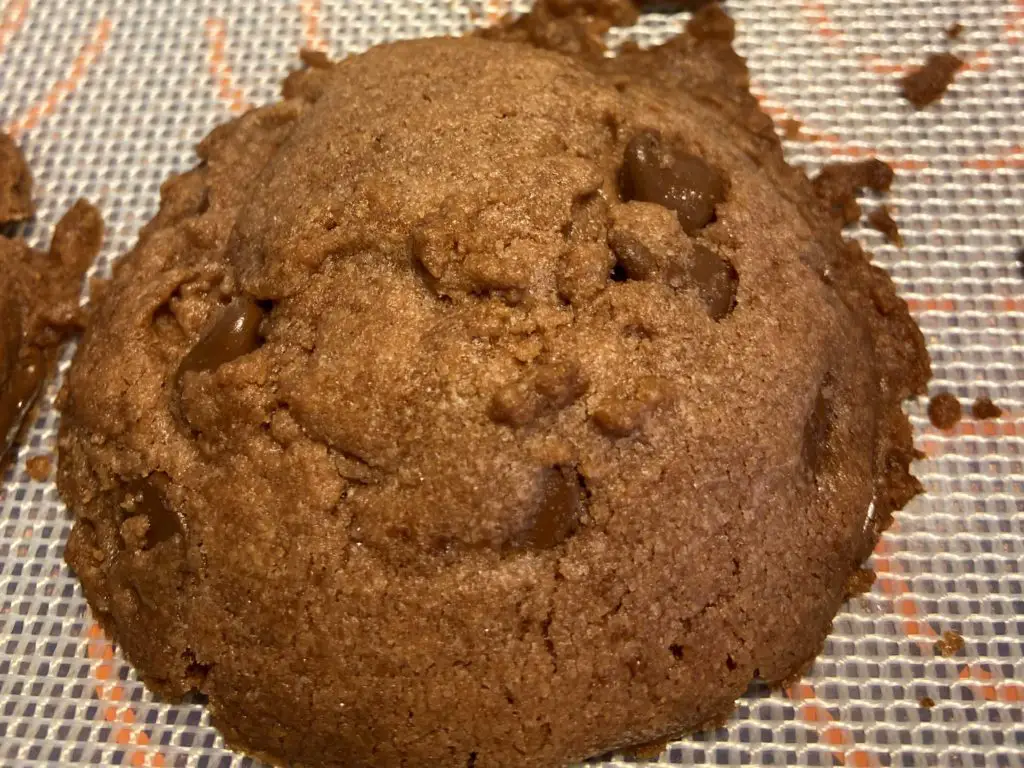 For example we often swap out our dairy. When my youngest was struggling with gaining weight as a newborn, our pediatrician recommended that we try a dairy-free diet.
As someone who loves chocolate and cheese, this was extremely difficult. However, I learned that I like coconut oil better than butter in most of my baking recipes.
BEST BAKING TIPS FOR DOUBLE CHOCOLATE CHIP PUDDING COOKIES
So, this recipe starts with coconut oil rather than butter. Even though this double chocolate chip pudding cookie recipe is far from dairy-free, swapping the butter for coconut oil and the chocolate chips for dairy free chocolate chips could be a simple way to make it dairy-less rather than dairy-free.
However, always remember that coconut oil and butter do not share the same consistency. Coconut oil melts at a much lower temperature than butter. So, when baking with coconut oil, take care to make sure that your coconut oil is soft but not completely melted.
Also, if you find that you do not have enough brown sugar, you can always do ½ C brown sugar and ½ C white sugar instead. Or, you can do a full cup of plain white granulated sugar and cut the brown sugar completely. However, I find that the brown sugar makes for a fluffier and thicker cookie.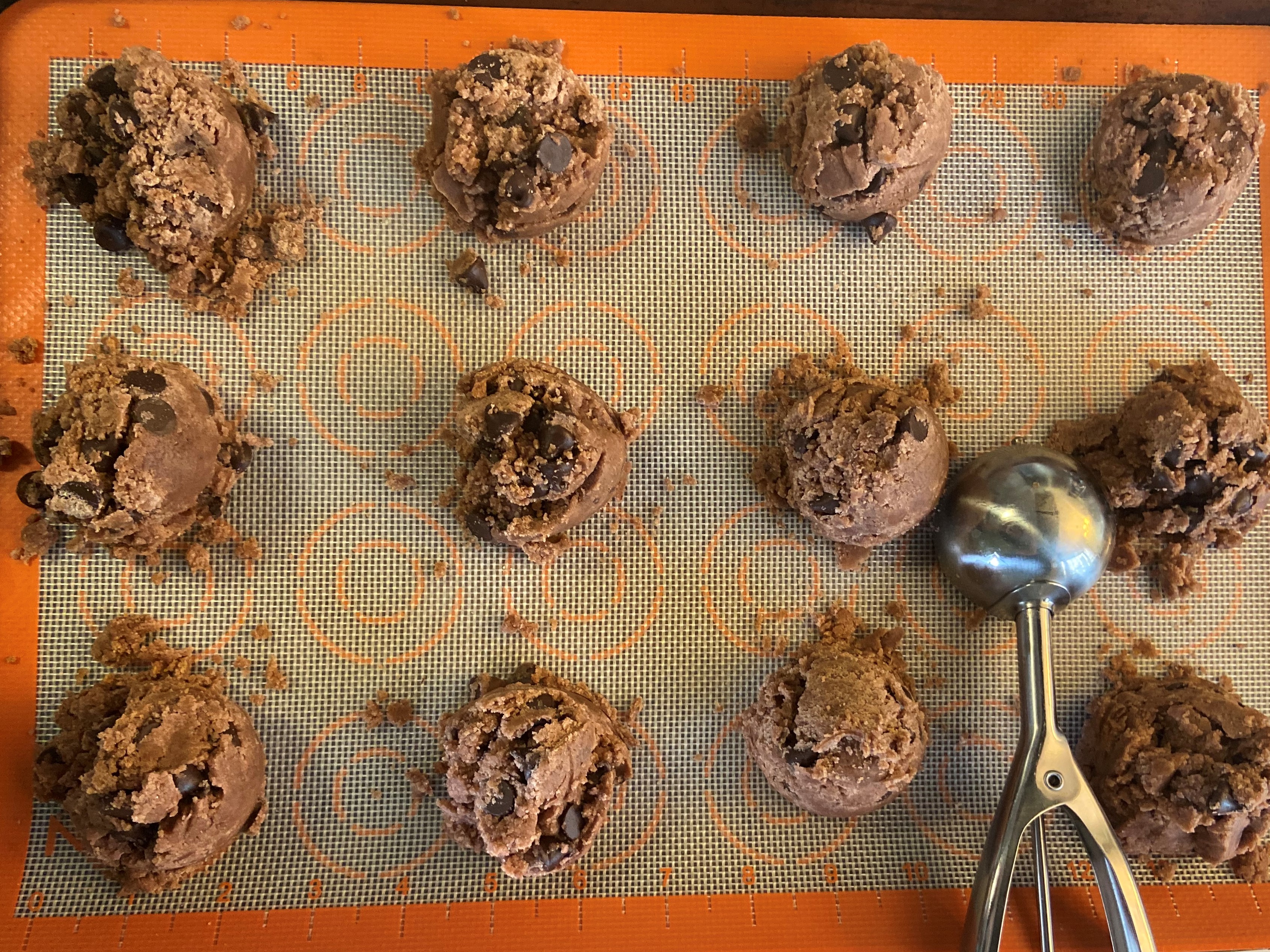 Further, after you mix all of the ingredients, I recommend that you chill the dough at least to return it to a little cooler than room temperature. Exercise a little bit of caution, however; the coconut oil can crumble and harden when you chill it. So, be sure to return the dough to a little colder than room temperature before you bake it; don't freeze it or let it get too hard. If the dough is crumbly, then you need to let it return back to room temperature again to soften the coconut oil.
FAVORITE BAKING ACCESSORIES
Before we get to actually making these delicious double chocolate chip pudding cookies, I have to talk accessories.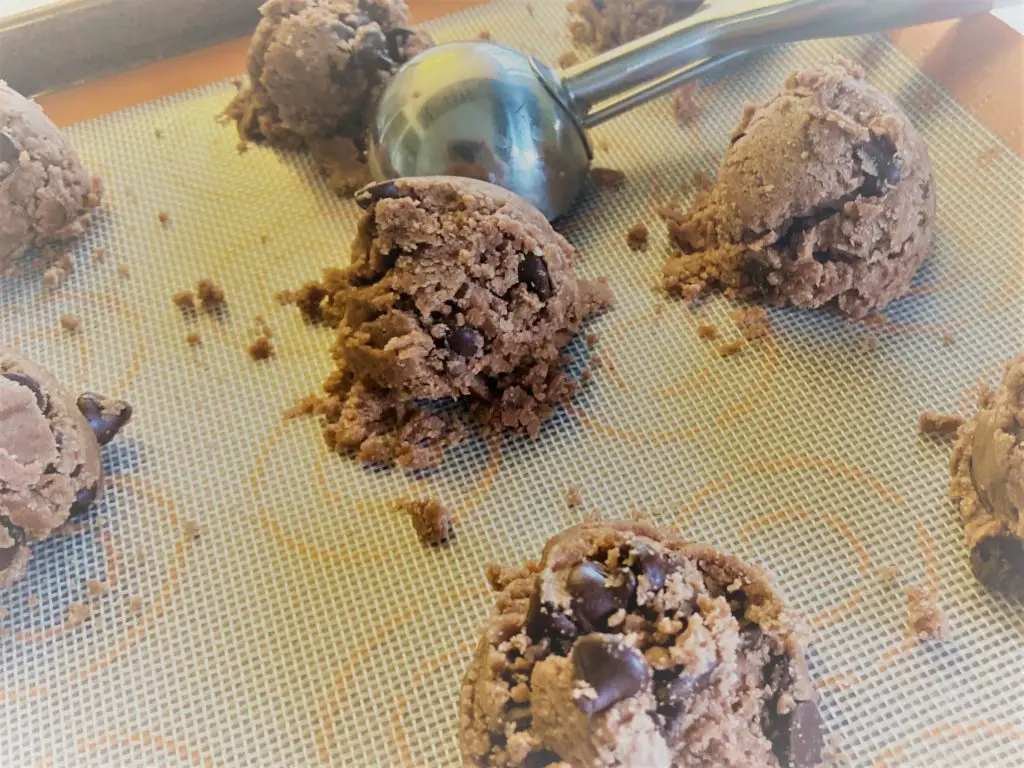 I can't not mention the adorable chef coats that my husband got for my daughter and me (featured in the video above!). They are personalized and make baking together in the kitchen just that much more fun. Check out the coats at Happy Chef here, or try these simpler chef coats available on Amazon.
But, as far as baking goes, I love these silicon mats and these cookie scoops. The mats make for easy cleanup, and the scoops make a perfectly sized and shaped cookie every time.
I hope that you enjoy these!
DELICIOUS DOUBLE CHOCOLATE CHIP PUDDING COOKIES
Course: Uncategorized
Ingredients
1 C Coconut Oil

2/3 C Brown Sugar

1/3 C White Granulated Sugar

1 Package Chocolate Pudding Mix

1 t Cinnamon

2 Eggs

1 t Vanilla Extract

1 t baking soda

1.5 C Chocolate Chips (Kirkland Brand dairy free are my favorite)
Directions
Preheat oven to 350 degrees
Cream (mix until well-blended) coconut oil, brown sugar, white sugar, pudding, cinnamon, and baking soda.
Add eggs and vanilla.
After all ingredients are fully blended, fold in chocolate chips. Don't overmix.
Chill dough 15-20 minutes until firm but not crumbly. Drop by scoops onto baking mat about 1-2 inches apart.
Bake 13-15 minutes until slightly firm.
Let cool then devour!
Notes
You can substitute butter for coconut oil and white sugar for brown sugar, but I prefer the extra sweetness of coconut oil and the density of brown sugar.