I'm a real mom with a real house that gets real dirty. You too? I also know that chemical cleaners can get the job done. But, those cleaners eventually make it back to the water, our skin, or our food. So, I have been trying out a variety of non-harsh-chemical and natural cleaning solutions that actually work in my house.
Don't get me wrong, you will still find chemical cleaners in my home, non-organic food, and non-natural deodorant (although that is another thing that I have thought about trying). I haven't found simple and effective solutions for everything…yet.
But, if you are looking to cut a few of the chemicals out of your house –natural cleaning solutions– and are looking for a real life person's (unsolicited) review of some natural cleaners, then here are some of the solutions that work for us.
*I am not selling anything here. Despite my recommendations, these are simply real products that I use in my own home that help me eliminate some chemicals and keep my children a little safer. I have not been paid for my opinions.
BAKING SODA
It seems I see taglines for how baking soda is a solution for all sorts of dirt and stains. Well, if you haven't tried it, I am here to tell you that it works. Now, don't forget, baking soda is a mild abrasive and shouldn't be used on every surface. Here are some of the ways that I use it.
Carpet freshener: I buy baking soda in bulk and keep a shaker of it by my vacuum cleaner. Every few weeks I sprinkle it over all of my carpets, let it sit for a few hours or overnight, then vacuum it up. It helps freshen the scent of my home and can absorb liquids.
Sink brightening: I use the same baking soda shaker and shake a generous coating all across my sink. I then take a wet scrub brush and gently scrub the sink. It gets out the gunk, water spots, and brightens the stainless steel.
Stains: Baking soda can be used for getting scents and stains out of fabrics, counters, and surfaces. Coffee stain on your white counter? Mix baking soda and water into a thick paste and let it sit on the stain. Wipe off the paste and the stain after it sets awhile or overnight. Freshen a load of laundry with a scoop of baking soda. (be sure to follow the specific instructions for your particular finishes and washing machines).
NORWEX WINDOW CLOTH
Confession: I know very little about Norwex. What I do know is that I was going through bottle after bottle of glass cleaner to clean my glass surfaces. Every single day, we were washing fingerprints off of our tables, windows, and mirrors. Along came a free trial of a Norwex window cloth, and I am never going back. This baby makes my glass shimmer and shine without the nasty residue, streaks, or chemicals of a glass cleaner.
All you need is a little bit of water and the window cloth. No sprays, chemicals, or special skills. A little bit of water on the mirror + window cloth = shiny. Water on the window + window cloth=shiny. Water on the glass table + window cloth = sparkling!
If you are looking to order, holla at my girl, Katie, here.
VINEGAR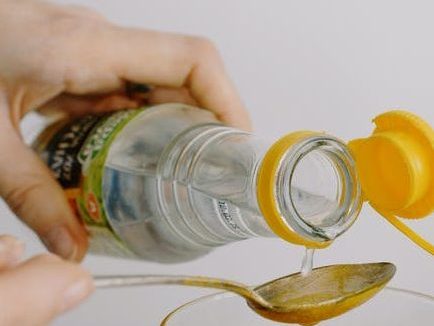 Another cure-all I seem to see everywhere is Vinegar. I cannot endorse every use for vinegar out there, but I can tell you that I buy it in bulk, and we use it to
Clean our garage floors: We can pour a healthy amount of vinegar across our garage floor, spray it out with the hose, and help deodorize and disinfect that nasty floor.
Deodorize our carpets: Especially great if you have pets. Mix water and vinegar into a spray bottle and spray problem areas. No residue, and the vinegar smell quickly dissipates.
Decalcify our coffee machines
Disinfect bathrooms, counters, and other surfaces: Again, I keep a spray bottle mixed with vinegar and water to disinfect my bathrooms and other surfaces in between deep cleaning.
DRYER BALLS
I have kiddos with asthma and eczema; store bought dryer sheets just further aggravate their breathing and their dry skin. Although I don't use any dryer sheets with their clothing, I missed some of the fresh scents when I pulled the laundry out of the dryer.
Now, I drop a few drops of an organic scent from essential oils onto the dryer balls and toss them in. The kids clothes come out fresh, warm, and soothing. I love lavender, but I know the combinations are limitless.
vanilla
orange
chamomile
frankincense
rose…etc
NORWEX MULTIPURPOSE ENVIROCLOTH
Again with the Norwex. I promise I am not a rep, but I have come to love a few of their products (I have only tried a few of their products!). The Norwex Envirocloth is not your standard microfiber cloth. I have plenty of the cheap ones that just seem to move the dirt around, curl, and streak.
If we can keep them clean fast enough, we are always reaching for our Envirocloths for EVERYTHING. Dirty dishes – Envirocloth. Soiled counters – Envirocloth. Sticky hands – Envirocloth. Spills, bathrooms, doors, baseboards, car interior, upholstery – Envirocloth. Even after all of that, ours is still in great shape.
Not only is this a great cleaning solution, but it keeps us from using an entire roll of paper towels every time one of the kids spills something. Further, even my kids know to grab the Envirocloth to clean up their own messes. Win Win.
WATER
See, I told you that I am not trying to sell you a product, just natural cleaning solutions. If you have access to this site, you probably have access to water. Stop telling yourself that absolutely every surface has to be covered with chemicals to be clean. There is a big difference between cleaning and disinfecting. Not everything needs to be disinfected, or at least, not everyday.
Right now, the whole world is being covered in bleach, antimicrobial, and antibacterial. And, while water does not kill germs, it can certainly remove them. Getting rid of the germs without chemicals might be just what you are looking for. Maybe you just need water.
DECLUTTERING AND ORGANIZATION
Maybe your house isn't actually dirty. Maybe it is just covered in stuff (Amen!). Sometimes all your house really needs to feel comfortable and refreshed is for everyone to tidy up. Put away the shoes, hang up the coats in the closet, put the toys where they belong instead of heaped up in the corner. Use the basket method (see post coming) and control the clutter from room to room.
One of the ways we work to control the school paper chaos is by having a magazine bin in our kitchen where each child can put their papers, projects, and crafts. From time to time, we throw out the papers that aren't that special, and file away the important ones as a keepsake.
In all of it however, the sticky fingerprints, the spills, and the messes, don't forget to count your blessings. I do not want to wish away the mess and lose my children. I also don't want my children to believe that a clean home is more important than my time with them. If happy smiles, giggles, and security come at a cost of dirty floors and a pile of dishes, that's a price I will gladly pay.
I hope these few natural cleaning solutions will help you know that your house is a little cleaner and your children are a little safer.