Adventure, memories, and growth that happens when parents let go.
Parents want to protect our children, but how can they grow if we never let go a little. How children can learn and grow when parents learn to let go and let them splash in puddles!
Hiking in the Rain!
Our family loves to hike. With 3 small children, we don't hike treacherous terrain or enormous mountains mind you, but we love to spend the day on trails and being outdoors.  
After a long hiking hiatus, we were finally able to find a day when we had a large block of time to head to a local state park. We packed our gear, including our family favorite toddler carrier: the Minimeis, filled the kids' tummies with a big breakfast, checked the weather, and got in the car. 
(If you are interested in purchasing a Minimeis and want access to 15% off, click here!)
Despite checking the weather on multiple platforms, just as we arrived, the rain started. Just a sprinkle at first, but soon a full-on rain followed. Without any raincoats, boots, or rain gear to speak of, we had to make a decision: We chose to hike in the rain.  
RELATED POST: Hiking with Kids! Read about some of our favorite hiking adventures, tips, and packing list!
HIKING IN THE RAIN WITH KIDS
What we found was that without any whining or complaining, the kids spent the ensuing 3 hours hiking through muddy trails, sloshing through streams, and even jumping in puddles. The rain didn't slow us down until our hats, shoes, socks, and clothes were all completely soaked through.  
My daughters' hands were wet icicles, and my sons' lips were blue, but they beamed with pride about their hike. I honestly don't believe that they even noticed that they were cold, wet, and hungry until we buckled them into their car seats.  
They were exhausted muddy messes by the time we left. They had blisters on their feet, mud on their cheeks, and their clothes were soaked from the rain. But, they also had smiles on their faces, pride in their hearts, and memories. We all made great memories.  
LET THEM GET MUDDY, SPLASH IN PUDDLES, AND EVEN GET HURT 
As mothers, we take the opportunity to shield our children, to protect them, to save them. We always want to save them from hurt, discomfort, sickness, and harm.  
One of my favorite philosophers –Pixar— has a surprisingly insightful take on this sort of overprotective parenting. In the Disney Pixar favorite, Finding Nemo, Marlin, a fish father of a son with an abnormal fin, explains to his newfound friend Dory that he wants to make sure that nothing happens to his son.  
In a shockingly deep response, Dory simply says: "But then nothing will ever happen to him." 
LET THEM GET HURT…Sometimes 
As a mother of 3 small children, I spend a fair amount of time watching cartoons with my children. So, I may tend to read a little too much into fantasy animation. However, the line by Dory struck me.  
(To read about our current favorite, Bluey, check this out!)
I have so many hopes, dreams, and expectations for my children. Honestly, my heavenly Father has bigger dreams for me and my children than even I have for them. All those hopes and dreams require things like risk and possibly even heart-break or injury.  
So, how can I hope that nothing ever happens to them yet at the same time hope that they grow into the best and most amazing versions of themselves? Like Marlin I want to protect them from things that I perceive are too hard, too scary, or too difficult. 
However, like Dory says, if I never let them explore, venture, or stretch, then nothing will ever happen to them. If I never let go or let lose, then they will never grow, learn, or achieve bigger things. They will be stuck forever under the shadow of my fin (excuse yet another cartoon reference!).  
Therefore, on this day, when the rain was pouring, we had no rain gear, and the weather turned cold, we decided to let them splash in the puddles. We let them get wet, we let them slide down muddy rocks, we encouraged them to find their own slippery path.  
My kids learned to look for the higher ground out of the mud. They learned to find flat rocks to make a path across shallow streams. And, my son even learned what happens to skin in hiking boots when you let your socks get wet: blisters.  
They learned valuable lessons.  
LET THEM GET MUDDY 
If we only played outside when it was perfectly sunny and warm out, then our midwest skin would only see the light of day about twice a year. And, if I only sought the comfortable, then I would never grow into a bigger and better version of myself. 
Allowing your children to have some struggles on a safe, marked trail will prepare them for real trials in life. Someday, they will have to drive on the interstate, take a girl out, or even apply for their first job.
No matter how hard it is, part of a parent's responsiblity is to let go.
Part of parenting is letting your children fail safely. They have to learn how to deal with hard situations like falling into creeks, getting blisters, and making the best of situations. Then they learn how to deal with harder and bigger situations.  
If my kids don't experience failure when they have the safe net of parents around them, then they might ultimately fail at things that are so much bigger. Further, if I don't force my kids to get out from in front of the tv even when it is rainy and cold and ugly outside then we won't ever get outside.  
SPLASHING IN PUDDLES MIGHT EVEN BE GOOD FOR THEM!
Let them splash in puddles. It might even lead to better brain development!
According to the Novak Djokovic Foundation, splashing in puddles may lead to brain stimulation and growth. You know, the kind of growth that your kids aren't getting safe at home on the couch in front of the television.
"A child's neurological system is naturally designed to seek out the sensory input it needs in order to develop into a strong and capable individual. If a child is spinning in circles just for fun, it is because he or she needs that sensory input. Movement and physical play facilitate the development of new connections (synapses) among brain cells and the overall organization of the brain. As these connections develop, child's fine and gross motor skills, socialization, personal awareness, language, creativity, problem solving and learning ability are improved. This is why they need to climb the trees, jump on the bed, run through the woods, splash in mud puddles."

https://novakdjokovicfoundation.org/splashing-mud-puddles-beneficial-children/
Set your kids up for later growth, development, strength and challenges by growing synapses when splashing in puddles!!!
LET GO AND LET THEM BE KIDS FOR JUST A LITTLE WHILE 
I am acutely aware of the fact that my children are only allowed to be carefree children for a very short time. Once they are in school, they have to be responsible for tests, and standards, and backpacks, and social relationships.  
While it is my responsibility as their mother to teach them to do hard, difficult, uncomfortable things, it is also my responsibility to let them be kids. To let them splash in puddles, to wear tie dyed pink socks to the park, to let them snuggle with a teddy bear in public, and to carry them when they are tired.  
You might even be surprised at their ability to climb mountains!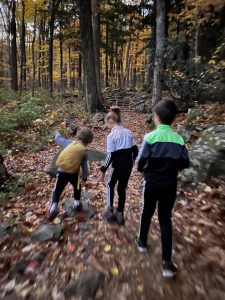 Let go…a little!
So, the next time you plan that family trip, activity, or outing, and the weather or attitudes or naptimes don't quite cooperate…do it anyway. Make the most of it. Dance in the rain. The shoes will wash, the mud will wipe away, and no one cares if you are wearing makeup anyway.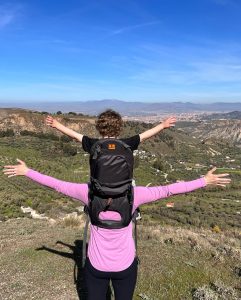 Let the kids splash in the puddles. Let them experience something new and different. They only get to live in that magical world for a short time, and you will be glad to have the memories (and maybe some rain soaked pictures too!) 
Further, your kids need those challenges and experiences to grow and learn. Thus setting themselves up for more success and adventure in the future.
Sure, our van was streaked with mud. The kids shoes were full of water and pebbles. And, all of our family pictures for the day feature a family with droopy hair and wet clothing. But, we chose to stretch ourselves and our children, and we are all better for it! 
You might also be interested in:
Legitimate Reasons to Take a Family Sabbatical: Reasons we took a life-changing trip as a family!
Child of Mine: What Your Mommy is Afraid to Tell You
Granada with Kids: What to do with kids in Granada, Spain (including where to hike as a family!)