WHEN YOU CAN'T ADOPT BUT STILL WANT TO HELP
Guilt or compassion are never the sole reasons for adopting a child from anywhere. For some families, adoption isn't right for a number of reasons. But how do you still help with adoption?
Despite the fact that you might not be right for adoption, you might still want to help with the international orphan crisis. Before we get to some ways that you can be a part of serving children in need around the world even if you cannot adopt, let's talk about why there is a need.
ADOPTION FACTS
Did you know that according to UNICEF, there are more than 150 million orphans worldwide? (https://data.unicef.org/). Children around the world need healthy homes to care for them, and they can't find them.
More than 2.7 million children reside in institutions where they are awaiting a permanent placement back with their family or with an adopting family.
However, some believe that statistic is very low due to the existence of residential care with private placements, the underreporting of country programs, and various other political factors.
In short, there is a giant need for parents in the world. Children need stable, safe homes.
For some children, adoption is the only option.
(To read more about adoption options, click here.)
OUR ADOPTION STORY
When my husband and I decided to start a family, we knew that adoption wasn't a plan B for us. Adoption was always on the table, but God blessed us with beautiful biological children.
Our hearts had always been heavy with a desire to help children around the world. For that reason we had been part of several outreach organizations, served underserved families, and even helped with fundraising and distributing water purifiers in Central America and Africa.
However, due to many of the restrictions on international adoption, our family makeup hadn't been quite right for adoption.
(TO Read more about what you might not know about adoption, CLICK HERE)
Fast forward several years, and the timing was finally right for our family to start pursuing an adoption. Not only did we still want to be a small part of a solution to a terrible problem, we knew that a piece of our family –of our heart –was somewhere else in the world.
(To read more about why I am adopting even after having biological children, click here.)
I am a self-proclaimed research-aholic, so I scoured fact sheets, State Department reviews, blogs, books, and professional recommendations for the program or programs that most suited our family. Finally, among several other decisions, our family settled on adopting from the Philippines.
(To read more about our adoption journey, subscribe to my emails).
Now, although adoption is the journey that our family is on right now, there were several years before now that we felt helpless.
OTHERS WANT TO HELP WITH ADOPTION AND DON'T KNOW HOW
And, we have learned, that many others feel helpless too. Millions of children around the world don't know where their parents are, where their next meal will come from, or where they will sleep tonight. In the meantime, my kids have a pantry full of food and all the doting attention that they could want.
Every child should have that. Every child deserves to have love and care.
Many people want to help but don't know how.
We have been approached by dozens of people who not only want to know more about international adoption but want to know how they can help make a tangible difference.
Crippled by guilt, some people believe that the only way to help solve the orphan crisis is to adopt a child themselves. However, there are a multitude of reasons why adoption might not be right for you.
REASONS WHY YOU MIGHT NOT BE ABLE TO ADOPT
1. You don't want to.
Adoption isn't for everyone. If you don't feel called to adopt –to enter into the difficult and scary world of children from hard places, then you shouldn't. While others may label it selfishness, no matter what it is, if you don't want to adopt, then you shouldn't. That doesn't mean that you can't still participate in helping with adoption around the world.
2. Age
Did you know that many countries, including the US, have age restrictions on adoption? If you do not meet several very age-specific criterion, then you are not eligible to adopt even if you want to.
3. Finances
I'll just put this out there. Both adoption and children can be expensive. And, while there are several state, federal, and private programs to help fund adoptions, your finances might not be able to handle it.
If adoption is off the table because you can't make your own ends meet, then that's ok. There are ways to serve children even if you don't have extra money to spend. (Keep reading for some ideas!!!)
4. Health
Maybe your own health or the health of others in your family precludes you from being eligible to adopt. Children from hard places need the opportunity to move into a more stable situation than that they are leaving.
If you or someone in your family suffers from chronic or terminal ailments, then you might not be a candidate for adoption.
5. And more
Adoption is a deeply personal decision and heart adjustment. Many people don't understand it. Many families don't accept it. And still others don't feel called to be part of it.
There are many reasons not to adopt, and only a few reasons to adopt.
If you are absolutely certain that you are not capable, willing, able, or desirous of raising an adopted child, then that's ok. Don't do it.
However, just because you don't want to adopt or can't adopt does not by any means prevent you from helping with adoption.
Check out some of these ideas for serving children in your own backyard and around the world.
Below are some ideas for how to help even if you can't adopt.
HOW YOU CAN HELP CHILDREN IN NEED EVEN IF YOU CAN'T ADOPT
1. CHILD SPONSORSHIP
The ultimate goal for any child advocate is that there would be no more need for child advocates –no need for adoption, foster care, sponsorship programs, etc.
The real hope is that children at home and around the world could stay in their own homes with their own families and support themselves.
One of the number one reasons why children are approved for adoption is because the family just can't support them.
Some families just need a little help to stay on their feet. That is where child sponsorship comes in. Sponsorship takes many forms from sponsoring a child, a family, or even contributing to community projects.
For example, in addition to supporting a single child, our family also sends annual Christmas gifts like goats, chickens, or small business items to families in other parts of the world.
How?
Here are some of the organizations that we have worked with:
Compassion International can match you with a single child in a different part of the world. Then, you are responsible for sending a donation every month to help support that child. In return, you will receive the name and picture of that child and annual updates on his or her progress.
Your donation covers items like additional food, school clothing and supplies, tuition, and more. Compassion International believes that "nurturing a child, connecting that child to a local church and having someone like you in a child's life is the most strategic way to make a difference in the life of a child in need."
Through  Compassion, you can have a real and tangible impact on a child even without adopting him or her!
And, if child sponsorship isn't right for you, check out their myriad of other programs here.
If you follow along here, you already know that our family loves to participate in Operation Christmas Child through Samaritan's Purse. However, did you know that you can also help children in crisis situations around the world with Samaritan's Purse?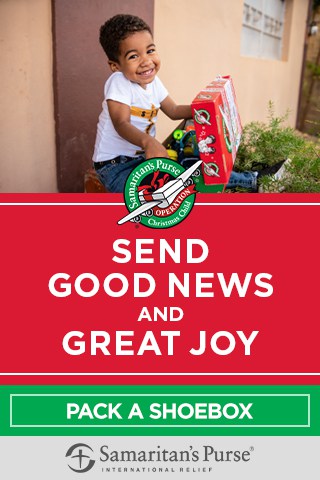 Through their international crisis response program, they situate volunteers and local workers in places where natural disasters, war, famine and other crises have devastated communities.
Or, you can also participate by donating to their Children's Heart Program. The Children's Heart Program, among other missions, provides medical care to children who might not otherwise receive it or have access to it.
If you do not want to commit to a monthly donation or you want to be a part of more specialized help for children around the world, try one of these programs through Samaritan's Purse.
Holt International might best be known as an international adoption agency. But, even if you don't want to adopt, you can still be a part of supporting children and adoptees around the world through Holt International.
Holt has a child sponsorship program where you can support children in foster care or even in their own families.
You can make donations to Holt to assist adopting families  with adoption costs.
Or,  you can even shop the "Gifts of Hope" catalog and send gifts to children and families around the world. Send a sewing machine to a female entrepreneur; send goats to a family's small farm; buy a water filter for a community well. All ways that you can help Holt serve children around the world even without adopting.
D. World Vision
Similar to Compassion International is World Vision. World Vision provides opportunity for child sponsorship, sending gifts to families in need, and even grant support.
You can even check out their financial responsibility information right on their site.
2. Volunteer for a local foster care gift drive
Even if you don't have money to spare for helping children, you might have some extra time or organization skills. Volunteer with your local church, community center, foster care agency, or state department of child services to coordinate a gift drive.
Toys for Tots is often looking for volunteers to help publicize, collect, receive, and distribute items for children in foster care or in need.
Where some people might be more than willing to make monetary gifts for foster care, others might not have the ability to actually shop for the items or deliver them. Give the gift of your time and energy by helping others connect donations to local families and children in need.
Another volunteer program that serves children in need is CASA. The Court Appointed Special Advocates programs needs and trains volunteers who will represent children's needs in court.
Children who have fallen victim to crimes, difficult family situations, or even abandonment need an adult in their corner to investigate their lives and advocate for them. As a CASA volunteer, you would be a child's voice in court without needing to be his or her actual parent or guardian.
While CASA is a significant time commitment, it is a real and genuine way to protect children and ensure that their needs are met.
4. HELP BY MAKING A DONATION TO SOMEONE WHO IS ADOPTING
If adoption has always been heavy on your heart but it isn't right for your family, maybe you want to make sure that as many barriers are removed for others as possible. Adoption is expensive no matter whether it's domestic or international.
Many local grants are available for adopting familes. Some churches set up grants and scholarships. Community agencies might administer state and federal grants. And other private foundations might distribute donations in the form of need-based scholarships for adoption.
One major way to be part of adoption without actually adopting is to make a donation to those who are.
Here is a list of just some grants that accept private donations of funds.
One of the devastating tragedies of this century is the Myanmar/Burma conflict. Stateless Burmese children have fallen victim to war, tragedy, political coups, and violence.
Despite the rising number of refugees and orphaned children, the political conflict makes aid very difficult.
Although children who have no parents might be eligible for adoption through other countries, these children in Burma are left without a state to advocate for them.
Some aid organizations and selfless individuals have uprooted their entire lives to serve on the borders of Thailand and Burma to provide refugee shelters, small business opportunities and even orphan care.
If you want to support underserved children and their families, make a donation to organizations like Outpour Movement in Burma, or other similar organizations.
Outpour Movement receives children and families who have been devastated by the conflicts in Burma and have been further dehumanized by the refusal of government to recognize their existence.
Now, Outpour Movement is constructing a facility where abandoned children can be safe and cared for when no one else can or will. Be a part of saving the lives of these children even while they are not eligible for adoption.
Hopefully someday I will be sharing with you that your help allowed them to start an adoption program!
IT'S ALRIGHT IF YOU CAN'T ADOPT, BUT HERE ARE WAYS THAT YOU CAN STILL HELP WITH ADOPTION!
Adoption isn't for everyone. Even supporting adoption isn't for everyone. But, if you are like the dozens of people who have already approached me since starting our adoption journey, perhaps you are looking for real and tangible ways to help children.
These programs and ideas are ways that you can help with adoption, preserving families, or providing care to children.
Just because you can't adopt doesn't mean that you can't help be part of the solution. There are many reasons not to adopt, but the problem of the orphan crisis persists.
Therefore, if you are looking for ways to serve children in your backyard or around the world, try one of these ideas!