Losing weight and gaining confidence. How one woman lost more than 75 pounds and how she is keeping it off! Weight loss inspiration for your own journey!
SHE FINALLY HAD ENOUGH
On Thanksgiving of 2018 after looking at a new t-shirt, it hit her: she had to make a change. At only 22 years old, she was making excuses about why she didn't want to hang out with friends, avoiding events, and hiding in the back of pictures. Insecure and overweight, she knew something had to change. She knew that she could not continue to eat whatever she wanted and sit on the couch doing nothing.  
(This site uses affiliate links from which I may receive a small commission if you make a purchase.)
Although she is the most kind-hearted and sincere person I know, her self-image was preventing her from being the person she wanted to be.
Weight had taken over her life. It prevented her from all of the events that a young adult should be able to attend. Weight had opened a world of excuses. Excuses for why she dressed a certain way, why she didn't like shopping, why she couldn't go out.  
It wasn't simple, and it didn't happen overnight, but with hard work and accountability, she lost 75 pounds. How did she find her weight loss inspiration?
HOW DID SHE DO IT?
First, she just started watching what she ate. She used food diaries and food trackers to help her understand what she was eating. Being honest about her food intake was the first step.  
Second, she started moving. After a short time she started to see results. 5 pounds. 10 pounds. 20 pounds. 50 pounds. The light came back to her eyes and a new confidence emerged. She is never going back!  
Weight loss inspiration for your journey.
Looking chic in her new workout gear, she has developed a love of the gym, a love/hate relationship with running, and a resistance to over-snacking.
When asked what inspired her the most to lose the weight and stay committed, she said it was accountability. To stay committed, she was intentional about posting progress, daily workouts, and PICTURES of herself. With the encouragement of others, she created a new person and a new image.  
NOW: CONQUERING HER GOALS!
When she started out she hoped:
to run a 5k: CHECK. 
Then, with a little more confidence, she planned:
to run a 10k: CHECK. 
After that, she set her sights higher and made a goal:
to run a half marathon: ☐ 
Sadly, although she signed up for and trained for the half marathon, Covid came in and ruined her plans. Now, with renewed excitement, energy, and motivation, she is ready to try it again! This Spring, she and I are running together! Indy Mini: Here we come!
If you are interested in running the Indy Half Marathon with us, SIGN UP HERE!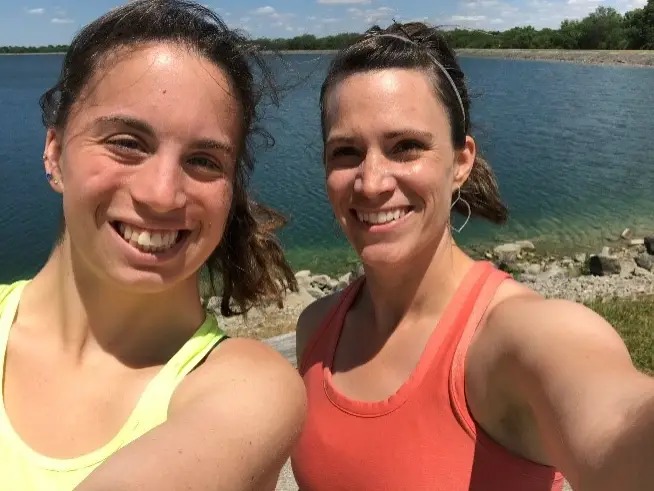 Keep the encouragement coming. Go, Kam! You are an inspiration to all of us.  
FIND SUPPORT! FIND IT HERE!
Hard things are hard. Looking into the mirror at someone or something that you don't want to see is hard. Making a change and exercising will-power are hard. Grab a buddy, grab a few friends, or engage the internet, and find someone who will walk alongside you, cheer you on, and meet you at the finish line. If your goal is to lose some weight, exercise more, or find some new inspiration, don't do it alone! 
Wnt to see more of Kam's journey? click here! 
If you want to find more support, accountability, and inspiration in your weight loss journey, check out my Whole30 adventure here!