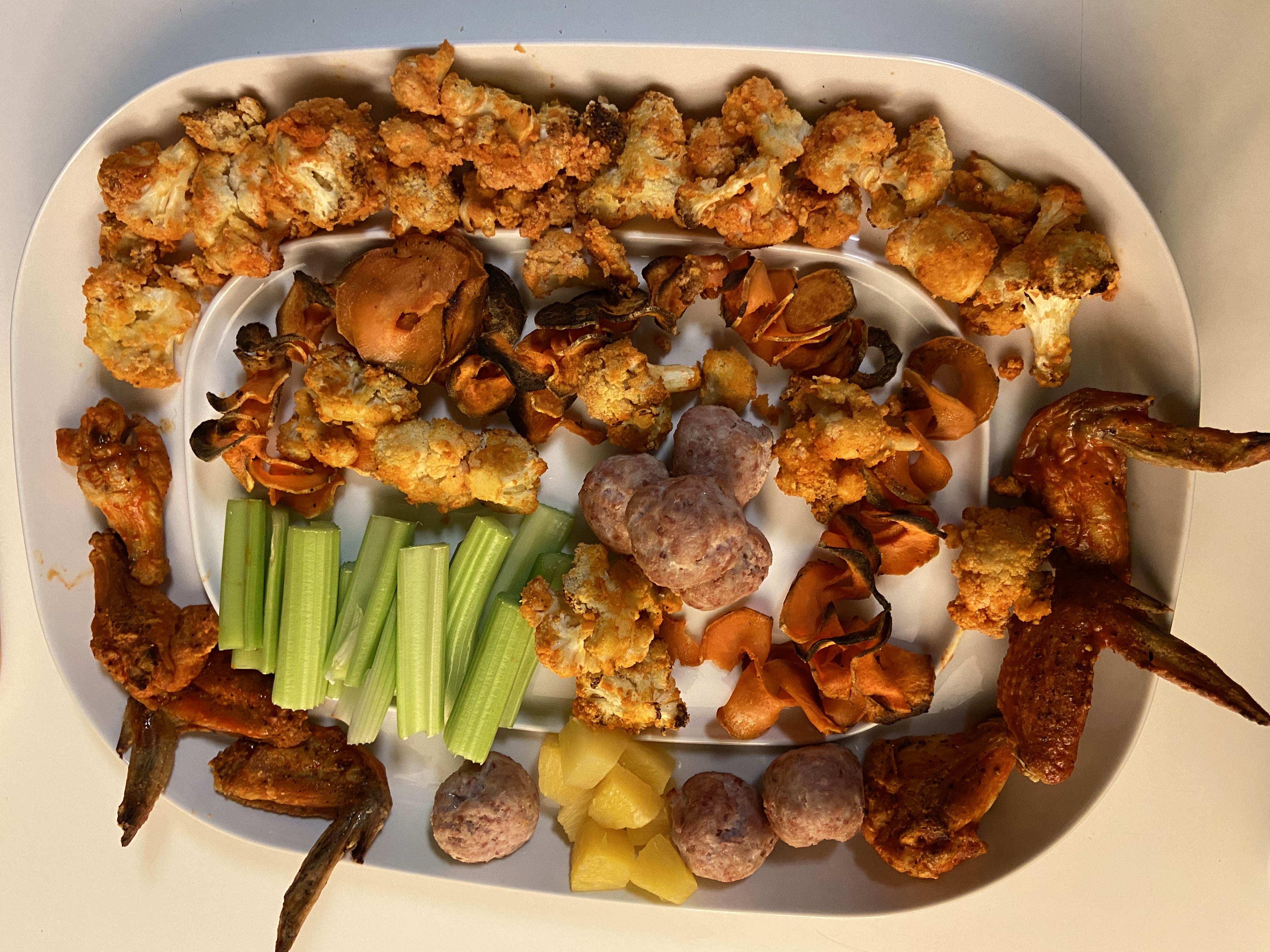 As many of you know, I embarked on a sugar detox with The Whole30 this month! I wanted to share my Whole30 update in case you are following along, need some encouragement, or just want some different ideas for food!
Of course, Whole30 is aimed at giving you an entirely new relationship with food, but it is quite difficult!.
If you are joining with me, share here. If you are looking for support, encouragement, or ideas on what in the world to eat on your own Whole30 adventure, check this out! 
(*This post may contain affiliate links from which I may receive a commission if you make a purchase.)
Want to know more about what The Whole30 is? Read about it here.  
Looking for my Aldi shopping list? Click here.  
If you are looking for a meal list, click here.  
If you are looking for some great recipe ideas, click here! 
What is The Whole30? 
Focusing on natural and nutritious foods, The Whole30 is simply a 30 day commitment to resetting your entire body. No sugar, dairy, legumes, or bread (among other items)! Although this detox helps your body kick your sugar addiction, you will also have to look at food differently.  
In only the first 10 days, I've learned that I don't really enjoy meat, but I can eat my weight in veggies! What I wouldn't do for a donut right now though!
On to my Whole30 update!
For more about The Whole30, read here, or check out the book The Whole30 by  Melissa Hartwig Urban and Dallas Hartwig.  
HOW DO I FEEL 
Ok, at my last Whole30 update, I was not feeling too bad, just tired. However, now I not only feel tired, I feel angry. Angry that so much time stands between me and my last/next donut.
For some reason, I have donuts on the brain! I completed my long run last week, and all I could think about was my local donut shop! Can you see why I need this sugar reset?!
I have also noticed that I am more easily frustrated the last few days. However, my office coworkers are wonderful and know that it is just the lack of sugar talking!  
SHOCKING OBSERVATION
The craziest thing that my husband noticed was that his usually severe asthma, has considerably reduced. Ordinarily he uses his inhaler every single day. Since we started The Whole30 10 days ago, he has continued his usual workout pattern but has used the inhaler only 3 times!
He is very curious to see what food effects him in the reentry period. We surmise that bread and grains create a lot of inflammation in his body leading to his asthma stresses.
HAVE I LOST ANY WEIGHT? 
You all want to know if my Whole30 update will result in some shocking weight loss… But, like I said, Whole30 stresses to give up the scale for the entire 30 days. I didn't.
If you are approaching this as a weight loss program, you probably won't be surprised to find that you lose weight at first. Whole30 talks about ups and downs in your weight. I have not lost any more weight.
BUT WHAT DID I EAT FOR THIS WHOLE30 UPDATE? 
Creating meals that don't all look and taste alike on Whole30 is difficult for me! So, what in the world did I eat?
Again, I have been following the shopping list and food list that I provided here, but I have made a few modifications as some items were out of season or out of stock.
Also, I used my fun money (read more about my fun money here) to buy some party foods for our home Super Bowl Party!
BUFFALO CAULIFLOWER BITES FOR THE UNEXPECTED WIN!!!!
WHOLE30 BREAKFASTS:
These last 5 days I have been eating scrambled eggs with Whole30 compliant salsa  or avocado. Not very exciting but simple and yummy. I even made a couple of eggs in the microwave.
But, my new morning grab and go snack is chia pudding. I love to eat oatmeal for breakfast, so I can make chia much the same way. I love to top it with fresh fruit or pour some of my kids' extra smoothie in with the seeds. Yum!
For my chia cups, I add about 1/2 cup of unsweetened almond milk to 2T of Chia seeds. Then, I top with blueberries, bananas, or whatever other fruit looks good that morning!
WHOLE30 LUNCHES: 
I have added some yummy salads for lunches these last few days. I added grilled chicken slices on a bed of butter lettuce, spinach, cilantro, carrots, onions, peppers, and avocado!
I am still eating my veggies for lunch too but would not be enjoying them nearly as much without adding this Tessemae's dressing that is also Whole30 approved.   
These salads were delicious!
SERIOUSLY! CHECK OUT THE TESSEMAE'S DRESSING! IT'S DELICIOUS!
WHOLE30 DINNERS:
I won't recap every single dinner, but I want to highlight a couple of unexpected meal surprises!  
First, DON'T LET THESE PICTURE FOOL YOU!!!: Zoodle Spaghetti with Meatsauce.
You might have noticed that I put a Zoodle recipe in my Pinterest Whole30 board. (Follow me on Pinterest here.)
It looked good, sounded good, and even prepared easily. (I love this spiralizer!)
I loved the zucchini cooked with mushrooms. I loved the sauce. But together, they created a meal that ended up in the trash!
Don't the pictures look great? Don't be fooled. It tasted terrible! I am sure that someone somewhere created a good zoodle recipe, but this was not it!!!
I LOVE MY SPIRALIZER! I USE THIS ONE FOR APPLES, POTATOES, ZUCCHINI AND MORE!
I will try zoodles another time…far in the future!
Chipotle Lifestyle Whole30 Bowls 
While we were out this weekend, we went out again for Chipotle's Whole30 approved bowls! CHECK THEM OUT HERE! 
I had the chicken salad that is topped with a healthy portion of guacamole, while my husband had the Cauliflower Rice burrito bowl. We were both full and happy! Thanks, Chipotle! 
(This steak dish was delicious too. Check it out here.)
WHOLE30 SNACKS: 
We added Pistachios and an applesauce/banana concoction to the snack mix this week. Although I know that muffin-type foods are not necessarily Whole30 compliant, having something grab and go saved me from cheating and getting a donut!
WHOLE30 SUPER BOWL PARTY FOOD:
On to our unexpected Whole30 discoveries this week!
With the Super Bowl, we knew that we didn't want to just sit and eat a salad. So we did some research and found several Whole30 compliant party foods.
We made our favorite spiralized sweet potato chips.
Isn't that spiral so satisfying?!
Then, we made one of my family favorites: ham balls (yes, I know that it is weird that I like this!). I like to cook them in pineapple!
My husband made a homemade dry rub and sauce for chicken wings.
And, I made my own buffalo cauliflower bites. They were the star of the show, and the two of us ate an entire head of cauliflower during the game.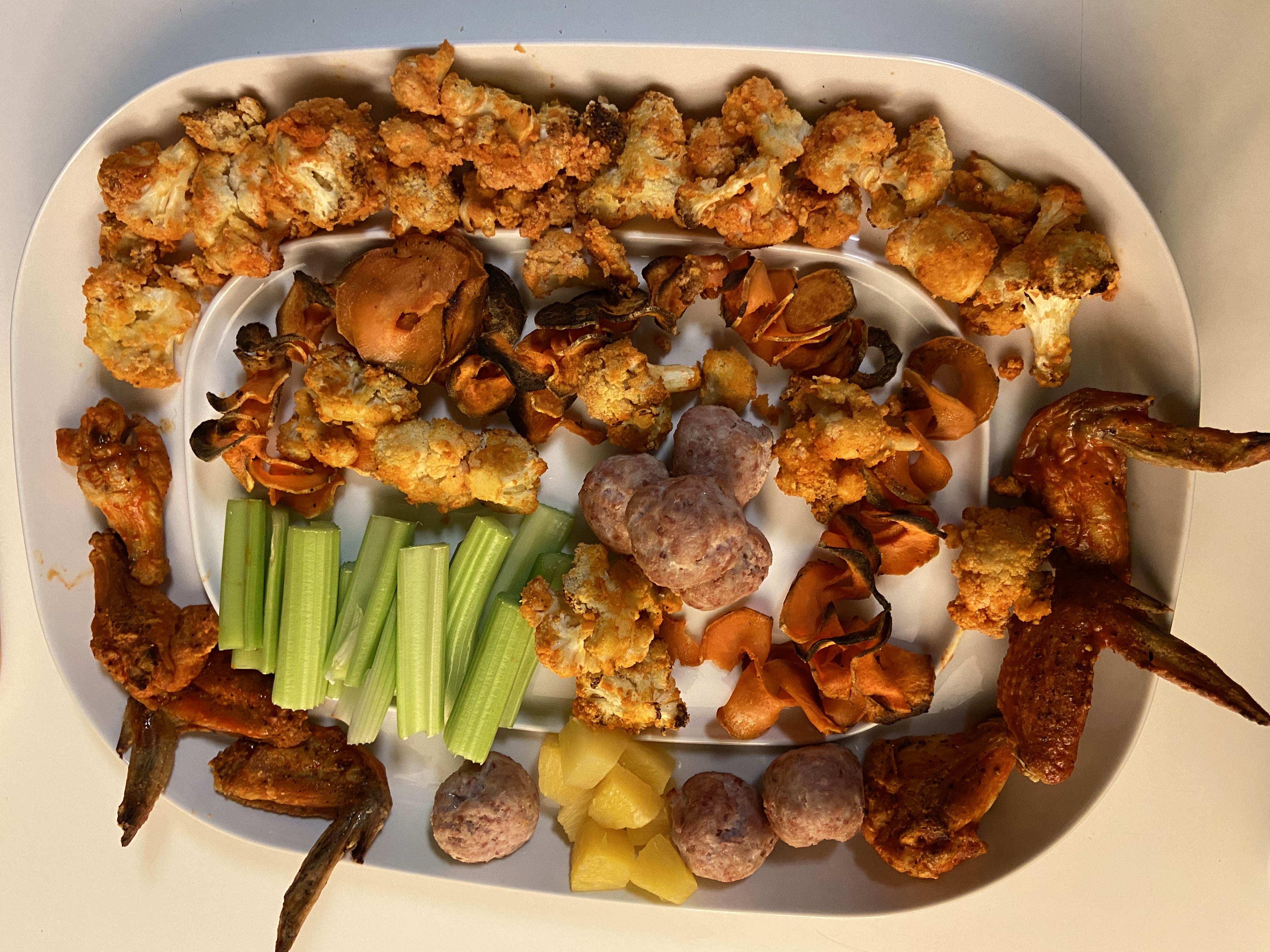 I simply broke the cauliflower into florets, coated it in 1 whisked egg, added about 1/2 cup of almond flour until coated, and baked for 30 minutes until brown. When I took them out of the oven, I tossed them in hot sauce, then broiled them another 5 minutes.
We will definitely be having the buffalo cauliflower bites again! Yum!
We were quite pleased with our Super Bowl spread and will be incorporating some of these recipes into our traditional party and football foods!
I will catch you at days 11-15!
In case you missed it, read days 1-5 here!  
Read more about The Whole30 here.
Read more about my fitness goals here.