AND, WHAT YOUR MOMMY IS TERRIFIED FOR YOU TO KNOW
When I became a mother, a new part of my heart opened up. I learned a new kind of love, a new kind of selflessness, and a new kind of sleeplessness. So many new thoughts and feelings overwhelmed me, and I don't know how to tell my kids.
In becoming a mother, I learned just how much my parents love me. I always knew that they loved me; I am a privileged daughter to be sure. But, I didn't understand the depth of their love until I became a mother myself. 
Despite the fact that mothers strive to show their love to their children. And, despite my attempts to verbally tell my children that I love them and physically show them my affection, I can't quite explain all of my thoughts and feelings.  
In fact, there are some feelings that I am terrified to tell them and some thoughts that I would be embarrassed if they knew!  
However, what I have found from other mom friends is that these feelings and thoughts and terrors are not unique to me. What I found is that many moms share the same feelings and thoughts that we don't know how to tell our kids young or old.  
Further, there are some things that we are terrified to even admit to our children.
So, in an effort to put the feelings into words, here are the things that you probably feel about your own children and that your mom probably feels about you! 
WHAT YOUR MOM DOESN'T KNOW HOW TO TELL YOU 
1. Your mom loves you so much it hurts her heart.  
When I knew I was pregnant, I learned a new kind of love. I saw that little squished face, and my heart nearly exploded with love.  
When I see my children succeed at something new, I feel like my pride will burst out of my chest. And, for some reason, when I look down at those cherubic sleeping faces after I creep into their rooms in the night, I feel like the whole world is perfect.  
(*As an Amazon Associate I may earn a small commission from purchases through links on this page.)
Your mom feels the same way about you. She thinks that you are beautiful, and special, and talented, and so much more.  
Her heart is so full of love for you, and you might never quite understand it.  
"I love you" just doesn't cut it. She doesn't know how to tell you how much she loves you.  
But, she feels love physically. She feels love for you just like she feels water in her hands or sun on her face. It is hard to catch or capture, but it is real and powerful and physical.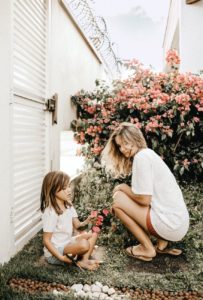 2. You make your mom so mad, her head hurts.  
Your mom doesn't quite know how to tell you how mad you make her.  
If her heart is exploding with love, then her head might explode from anger. She expects so much from you that when you do something stupid or irresponsible or downright dangerous, all that love turns into smoking flames coming out her ears. 
Her anger isn't borne out of some sort of displaced or redirected frustration. Instead, it is merely a reflection on her love. She expects more, worries more, and cares more because of her love.  
That much anger is felt physically: her heart beat quickens, her face turns red, and her head hurts. You really know how to push those buttons.   
3. Your mom imagines what your life could be.  
On one of the first nights that I was home with my first child, after all of the craziness of birth and ongoing complications, I remember envisioning my child's entire life in a matter of moments.  
I could see very clearly in that moment that he would go to school, go to college, marry, raise a family, leave my home, and become a professional. Considering the possibilities: the heartbreak, the detours, the ups and downs, I imagined his life.  
I understood very clearly that those precious few snuggly moments would not last, and I imagined all the best future possibilities.  
Your mom imagines your life in its infinite possibilities. Your mom has hopes and dreams and plans for you. She wants you to go off and fly and succeed, but she wants the best for you and your future.  
4. Your mom imagines her life without you.  
There are days as a mother when the kids are young or when they are disrespectful teenagers that become difficult.  
There are other days when childless friends zipline through Aruba or buy a new boat and you realize just how drained your bank account is from insurance plans, tuition, childcare, and that new set of braces.  
And, on those days –the hard ones when your friends are having a wild adventure — your mother might accidentally wander into an imaginary world where her clothes, her body, her money, her time, and her sleep are her own. She gave up a lot to have you.  
Although she will, of course, become immediately wracked with guilt, it will take even fewer small moments before she envisions that life and realizes that it is far less fulfilling than a life with her precious child.  
Her life without you would have fewer joys, smiles, love, adventures, and fun.  
It's ok, mommy, to think about what might have been. Because, inevitably, you will realize that this…this little snuggle, the cries, the boo-boo kisses, the talking back, the wedding dances, the first grandchildren….this…is so much better than ziplining in Aruba.  
For more reminders about these little moments, click here.
5. Your mom is terrified that you won't like her.  
Right now, mommy can't be your friend.  
Right now, I have to be your mommy: the disciplinarian, the provider, the boo-boo kisser, the chef, the caretaker, the tutor, the accountant and more.  
But someday. One of these days in the not-so-distant future, you won't need me anymore. You won't need your mommy to clothe you, to feed you, or even to support you monetarily.  
In those days, we can be friends…if you so choose. But, your mommy is terrified that you won't choose her.  
You see, your mommy is terrified that you might find that your mommy is not cool, not funny, not fun, and not even that nice. 
Your mom regularly fights the momster within and even the hope to have a full night of sleep. She dreams about the day when you pick up your own underwear and spread your own penut butter.  
But, she worries that when you are free and can make your own decisions and can put yourself to bed that you won't want to hang out with her.  
She is terrified that you won't want to be her friend or confidante. Because you are the most amazing thing in her world, she wants to be where you are, do what you do, and experience what you experience. If you are there, then it interests her. But, she still worries that you might not choose to be with her.  
6. Your mom is terrified to lose you.  
Far too many children are lost; far to many children are victims of tragedy. But, even beyond the tragic, your mother is terrified that you might grow apart from her –that you might turn away and never come back.  
She gave you her heart, her head, her body, her time, energy, spirit, identity, blood, sweat, and tears. And, she is terrified to see that investment walk away.  
She doesn't know how to say it, but you are always welcome back. Her heart and arms are always open to you. Like a tree growing toward the sun, her limbs and heart were grown to fit you.   
She doesn't know how to tell you, but she worries –she is haunted by the possibility—that you might make a choice to walk away.  
New Baby, Little Child, you are your mommy's world. You are so loved, so cherished, and so perfect, that your mother doesn't know how to express her feelings and fears.  
You terrify her. Your possibility excites her. And, her life is so much better because of you.  
She doesn't know how to tell you, explain to you, or even show you, but she probably feels this way nonetheless.