What can you expect to see, eat, and do at Agrabah Café in Disneyland Paris? Is Agrabah Café worth the time and reservations? In our opinion, yes! Check out why!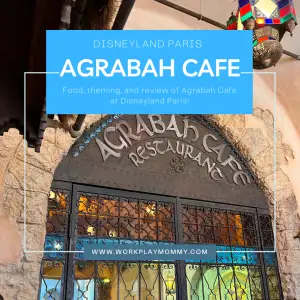 "Arabian Nights, like Arabian Dreams" about…Agrabah Café! After more than a year of closures, limited access, and spotty service, our family had the pleasure of dining in our favorite Disneyland Paris' buffet: Agrabah Café.  
Disneyland Paris is very different from Disney World in the United States, but it has no shortage of mouth-watering food or character theming.
RELATED POST: 10 Ways Disneyland Paris is Different from Disney World
However, even the quick-service dining can quickly price a family of 5 out of a multi-course meal. Therefore, our family likes to stay Club Level as much as possible.
RELATED POST: Disneyland Paris Empire State Club Level Family Review
But, when we were able to score a reservation at the coveted Agrabah Café, we skipped our Afternoon Tea time at the Empire State Club and donned our themed Aladdin apparel. This was an especially special treat for our daughter whose very favorite Disney Princess is Jasmine!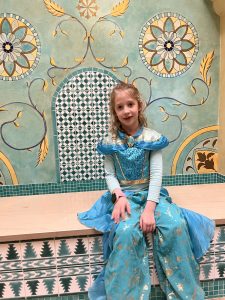 Agrabah Café Theming at Disneyland Paris
Obviously themed entirely based on the back streets of the Agrabah bazaar, Agrabah Café, located in Disneyland Paris' Adventureland, is a multi-story restaurant completely designed to look like a bazaar and medina.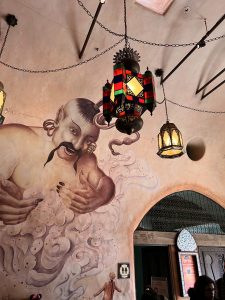 Disney engineers and designers are amazing. The restaurant is entirely interior, but guests really feel like they are outside dining in the streets of Agrabah.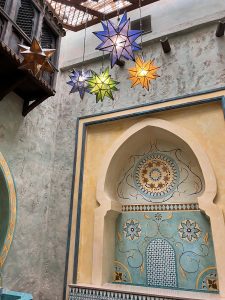 After you pass through the fountained courtyard, you pass through the streets of the bazaar to your table. And all of the food is served in stalls of the medina and bazaar.
Agrabah Café Theming
I feared that the restaurant would be loud and crowded. And, in fact, the entire place was packed with a line out the door. However, even seated in the large dining room, our family was able to enjoy a private and relatively quiet dinner.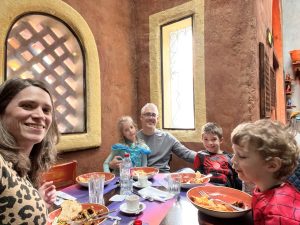 The service was wonderful. We were quickly provided drinks, high chairs, and even translations for our food options. Our family was even seated in a quiet corner of the restaurant.
No one in our group spoke fluent French, but we found no trouble getting help in English, Spanish, or even broken French.
The server addressed my daughter as princess, made my sons feel like paupers-turned-princes, and explained what we would find at the buffet.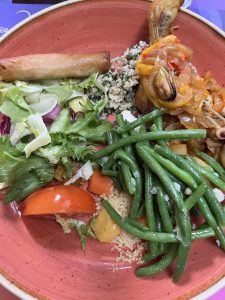 Agrabah Café Food and Buffet
As far as buffets go, Disney is at the top of the pile. However, we feared that we would exchange food quality for brilliant character theming.
This wasn't the case. All of the food was fresh, the variety was broad, and the desserts were worth the price of lunch alone!
The Agrabah Café serves North African and Middle Eastern styles of food, and has a wide selection for vegans. You will find yogurts, gyros, potatoes, salads, chicken, roasted vegetables, and more.
Ordinarily, I would expect these items to be rubbery and cold on any other buffet, but not at Disneyland Paris. Instead, the food was hot, fresh, and cleanly presented!
And, despite the variety of Middle Eastern cuisine, I feared that my children, who are not adventurous eaters, would find nothing they would eat. But, the buffet offered a broad selection of foods that stay true to the theming while not shocking my children!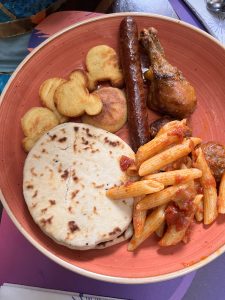 So, while I spread my plate with hummus, roasted vegetables, chicken, and couscous, my children enjoyed Mickey Shaped potatoes, pita, and chicken drumsticks. We all loved it!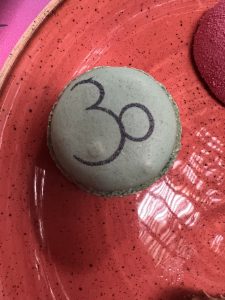 Agrabah Café Dessert at Disneyland Paris!
Don't overfill on the food though; be sure to leave room for dessert.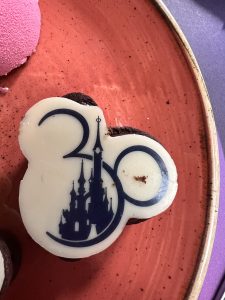 Of course you will find more traditional French desserts like macarons, but don't skip the baklavas at Agrabah Café at Disneyland Paris!
I didn't get a picture of all of the baklavas and desserts because I was too busy eating them. We even ranked which we liked best! I tried at least 4 different flavors!
Then, my children had the opportunity to try another plate of authentic baklavas to compare in Southern Spain!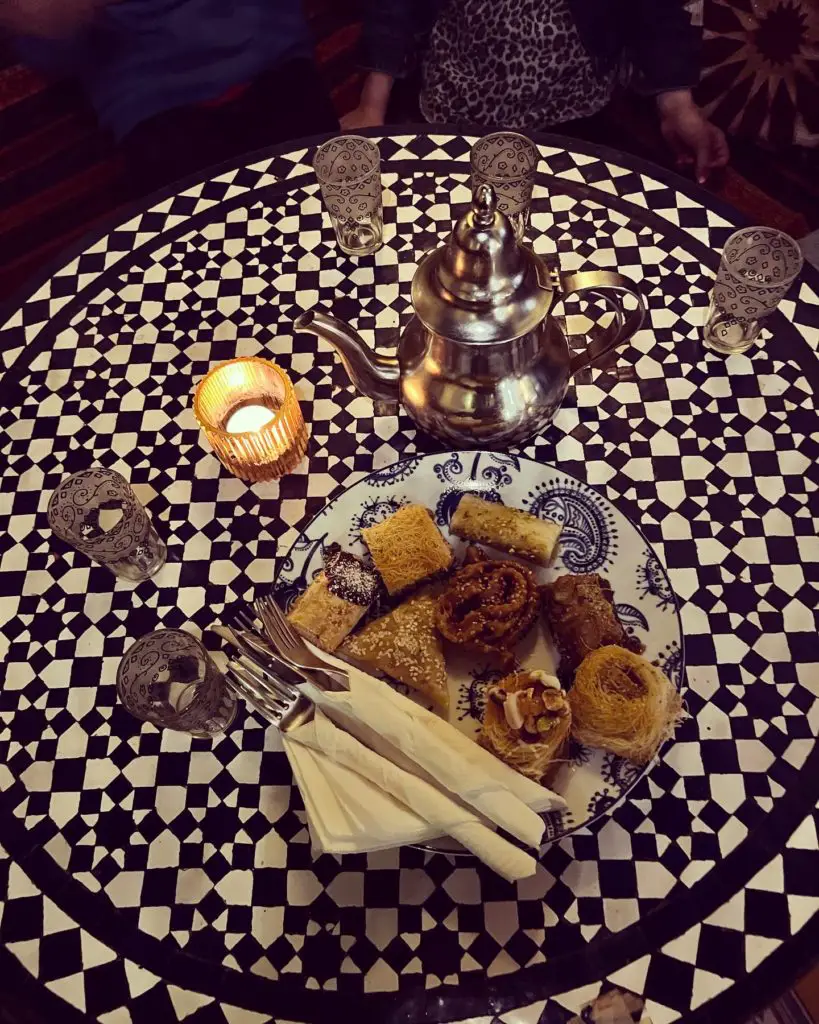 The food and desserts were excellent!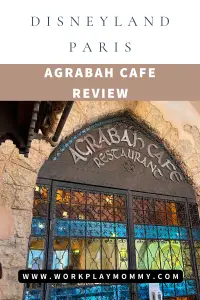 Disneyland Paris and the Agrabah Café were well worth it!
While we love the food and service at club level at the Disney resorts, Agrabah Café was a real treat.
The food and desserts were excellent. The service was prompt, attentive, and helpful. Plus, the theming was great, and my children absolutely loved it!
On a cold, rainy day in Paris, our family escaped to the Arabian streets of Agrabah and enjoyed our very favorite meal at Disneyland Paris!
To make a reservation at Agrabah Cafe, visit the site here.
You Might Also Be Interested In